SHORT FEATURES ABOUT
VIRGINIA TECH ALUMNI
CONTENTS
Hokie Kids Winner
| | |
| --- | --- |
| | Delaney Lam, daughter of Sheryl Lam (chemical engineering '83), is the winner of the online Virginia Tech Magazine Hokie Kids Spirit Contest. To see why the decision was a difficult one, check out the photo gallery. |
Fisk heads audiology organization

Carole Fraser Fisk (urban and regional planning '72) was named director of the American Academy of Audiology this year. A long-time advocate for the elderly, Fisk notes that more than half of the 30 million hearing-impaired people in the nation are senior citizens.
The academy serves 6,500 audiologists––master's and doctoral level professionals who diagnose and treat hearing problems. Fisk lobbies state and national governments on behalf of the audiologists and their patients, primarily to secure more health insurance
benefits for hearing diagnosis and treatment. "Many people with hearing loss don't come forward because of the cost, so they are never helped," she says.
The academy publishes a research journal, a membership magazine, and a registry of licensing and continuing education records, as well as providing continuing education programs for state licensure.
Fisk was formerly the director for public policy for Volunteers of America.
Hokie musicians rekindle Christmas spirit on CD
If you enjoyed the Blacksburg night life in the 1980s, you probably heard them at Mr. Fooz, the Barking Shark, Morgan's, 117 South Main, and other night spots. Now these 10 alumni musicians (who once played in modern rock bands including Nervous Romance, Not Shakespeare, and Scrod) have collaborated on a Christmas CD to benefit Children's National Medical Center in Washington, D.C.
Chris Moreau (political science '89), who now plays in Hip Check and Bang Crosby on weekends, came up with the idea of getting his Virginia Tech musician friends together with a few others to make a good Christmas CD for a worthy cause.
"Everyone I contacted was excited about the CD, even though it meant making the recordings at their own expense," Moreau says.
Selections include such traditionals as "White Christmas" and "Coventry Carol," as well as "The Ding Dang Mojo Christmas Song" and "Matunda Ya Kwanzaa." Bands, mostly from the D.C. area, include Polyknot, the Shakes, Tastes Like Chicken, and the Haunted Bordello, among others.
Tech alumni you may recognize are: Kurt Kratch (English '84), Greg Sherman (mechanical engineering '85, M.S. '87), Bob Braddock (architecture '91), Raj Banga (architecture '87), Wayne Hunt (communication '88), Russ Groover (theatre arts '88), Rob Santos (class of '89), and Cathie Aime (biology '87).
The CD, "The Santa Cause," can be purchased on the web at http://www.hokie.com/SantaCause or by calling (703) 764-7227.

| | |
| --- | --- |
| | Greg Sherman '85 and Kurt Kratch '84 (3rd and 4th from left), familiar faces in the '80s Blacksburg music scene, can be heard performing Christmas music as you have never heard it before on "The Santa Cause" CD to benefit the Children's National Medical Center in Washington, D.C. |
Alumna coordinates ecotourism to save the tiger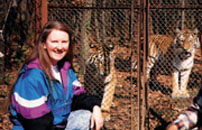 For Alisa Mercer (sociology '78), an environmental peace exchange to Russia in 1992 was the beginning of a mission to establish ecotourism in Siberia and save the Amur tiger.
Mercer, audio visual supervisor at New River Community College, believed if the people of Primorye (far east Russia) could earn an income from tourism specifically aimed at the tigers, the community would crack down on the tiger poaching that has pushed the great cat to the brink of extinction. She set up relatively inexpensive tours for international visitors; the cost includes a donation to an established tiger sanctuary.
Today, Mercer coordinates international visits to see the tigers as part of a faculty and staff development opportunity of the Virginia community college system and is expanding the program to include Virginia Tech faculty, staff, students, and alumni. Five 10-day trips, for up to eight people each, are proposed for 1999.
Visit the Save the Amur Tiger website at http://www.nr.cc.va.us/nrcc2/~stat/index.htm or contact Mercer at (540) 674-3600.
Paralysis doesn't stop Wulin from skydiving
Ned Wulin (horticulture '81) has been skydiving since his days at Virginia Tech. These days, however, Wulin leaves a wheelchair on the ground when he takes to the air.
Wulin was injured in a November 1996 plane crash that left him paralyzed from the waist down. Two other Tech alumni,Bobby Page (statistics '94) and John Elmore (forestry and wildlife '93), were also involved in the accident, though their injuries were less serious.For many, paralysis would have meant the end of skydiving. Not for Wulin. Eight times since the accident, Wulin has experienced the freedom of falling through the atmosphere using a rope system he devised for maneuvering his legs.
Wulin describes his first post-accident jump as "spooky," but continues to jump despite being severely limited by the paralysis of his legs. "Legs are bigger than arms and make a big difference in control," he explains. "It's like trying to guide a shopping cart through the aisles using only one finger to guide it."
Wulin works at his family's nursery, Hickory Hill Nursery, and serves as president of Skydive Orange Inc.
Page and Elmore, also members of the club, provide freefall photography and video tapes for other skydivers and have racked up more than 1,000 jumps each.
Grant-winning skills earn teacher award
Frank Taylor (zoology M.S. '84) was recently named one of 100 national Technology Scholars, yet another accolade for the well recognized Radford, Va. teacher.
With grant money from national corporations, Taylor's students bred monarch butterflies to be tagged, released, and monitored as part of a nationwide monarch watch program. Other grant money he obtained allowed students to do chemical and biological monitoring of a Radford stream. His students wrote and illustrated a field guide to area wildflowers under a local grant and will use the proceeds from its sales to create a guide to trees along the stream.
Taylor teaches biology and applied chemistry and has made more than 30 presentations at state and national conferences. Taylor's earlier awards include a 1991 Presidential Award from the National Science Foundation, 1996 Outstanding Biology Teacher from the National Association of Biology Teachers, and a Virginia Environmental Stewardship Award.
Jardine named Outstanding Young American
Philip Jardine (agronomy Ph.D. '85) is a recipent of one of the 1998 Ten Outstanding Young Americans awards, presented annually by the U.S. Junior Chamber of Commerce to individuals under 40 years of age for extraordinary leadership and service to humanity.
Jardine is a research scientist in the Environmental Sciences Division of the Department of Energy's Oak Ridge National Laboratory. His work examining how contaminants move through soils and rock systems was a major factor in his consideration for the award. The work increases understanding of how hydrologic, geochemical, and microbial processes interact, with the ultimate goal of reducing contaminant movement. Much of Jardine's research is applied to waste site cleanup and remediation.
Back to Contents



Phillip Millett '88 has the right stuff
Phillip Millett (marketing '88) is a pilot, not a television personality, but a crew from PBS affiliate WTVS in Detroit thought he had the right stuff to be on the air.
Millett is a first officer on a UPS 767 cargo jet that participated in a Michigan air show being videotaped by the television station. The camera crew interviewed Millett about his plane, and a producer liked the piece so much the station asked him to narrate a longer segment on the airshow. The 25-minute piece was used in an hour-long PBS special on air shows, which aired nationally in September.
Millett has been flying for UPS for three years. He is also a captain in the Kentucky Air National Guard.
Camicia named to Mining Hall of Fame
Nicolas Camicia (mining engineering '38) will add National Mining Hall of Fame honors to the long list of special recognitions he has received for service in the mining industry.
Camicia's leadership skills were instrumental in settling of the coal industry's biggest strikes, and he was able to build consensus at key times to avert other walk-outs.
Camicia put his Tech education to work in World War II, rehabilitating coal mines sabo
taged by retreating German forces. For this, he earned a Bronze Star. His service during and after the war in the Netherlands prompted Queen Juliana award him her country's highest military honor, the Orange-Nassau Medal.
In the U.S. mining industry, Camicia, at 22, became the youngest person to be promoted to mine superintendent. In 1964, he was named executive vice president of Island Creek Coal Co.
In the past, Camicia has received the National Coal Association's Distinguished Service Award, the 1975 Man of Conscience Award, and the 1978 Americanism Award. He served three years as chairman of the Coal Industry Advisory Board of the International Energy Agency, group composed of energy-industry leaders from throughout the world.
How to improve your laugh life
Jerry L. King (agricultural economics '80), of rural Hillsville, Va., makes a living being the perpetual class clown. He has a mission to help others lighten up, even on the job.
King is a speaker--official title: "motivational humorist"--who visits companies throughout the East and Midwest, teaching audiences how to use humor to handle stress. He's also published a book, Help, I'm Talking and I Can't Shut Up: How to Improve Your Laugh Life.
King's popularity is spreading westward, and he will soon take his act to California for the first time. According to testimonials from sources as diverse as the National Association of Child Care Professionals and the Supreme Court of Virginia, his program is dynamic.
King gives tips for handing stress, such as alerting co-workers of your mood by displaying a stuffed gorilla or Big Bird on your desk. And although the recipients might not appreciate this much, King suggests lightening up your life through such activities as paying an electric bill in pennies, or (try this at your own risk) filling out your tax return in roman numerals.Back to Contents


Home | News | Features | Research | Philanthropy | President's Message | Alumni | Classnotes | Editor's Page