Home
Philanthropy
Private giving continues to climb
by Kimberly Richards-Thomas '93, M.A. '95
Despite a slowing economy and a volatile stock market, private donations to Virginia Tech have once again increased this yeara pattern of growth that has regularly repeated itself since 1995. Private giving totaled $66.4 million in fiscal year 2000-01, a 20-percent increase over last year's total and the second highest in university history. Examined in isolation, the total clearly speaks well for the future of Virginia Tech. Examined in terms of the historical trend toward growth, the numbers speak volumes. Donor support of the university has steadily increased for more than a decade, with a particularly dramatic rise in the growth curve set off in 1995.
Between 1987 and 1994, private giving averaged $30.1 million a year. The yearly average between 1995 and today, on the other hand, is $51.5 million, an extraordinary 70-percent increase. Equally of note, private giving dollars have nearly doubled in the past five years, moving from $33.9 million in 1996 to today's total of $66.4 million. If Virginia Tech were a stock, investors would be scrambling to buy.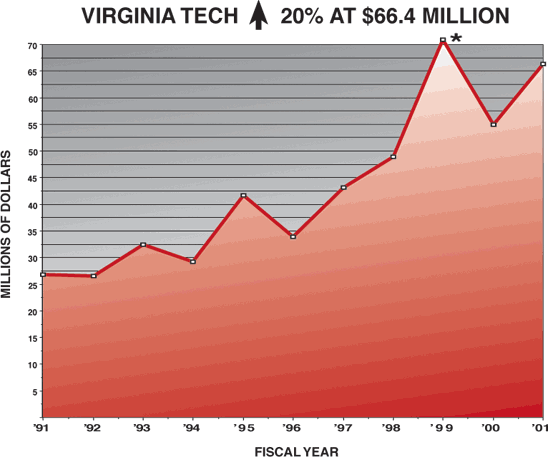 * This spike reflects the largest gift in university history, $23 million from DuPont.
As it is, Virginia Tech's donors are the investors behind this consistent, remarkable growth. In 1995, private giving hit a new high of $41.7 million. It is not a coincidence that this coincided with the launch of the last campaign. A comprehensive fundraising campaign always raises the level of private giving, at least temporarily. With 37 regional campaigns, unprecedented support from younger donors, and a greater number of participating alumni than ever before, the campaign had a far-reaching impact. More impressive is the fact that the numbers have continued to climb ever sinceevidence that Virginia Tech donors believe in the university they support.
In recent years, a spate of records has been set and broken, and that trend continued in 2000-01. Both Intercollegiate Athletics and the College of Engineering have earned record totals every year for a number of years running. Reflecting the recent success of Tech's nationally ranked football teams, Athletics marked its seventh consecutive increase in gift income, with $10.4 million. The College of Engineering set a new contribution record for the sixth consecutive year, with $12.5 million in regular private giving dollars and an extraordinary gift of $12 million in intellectual properties from DuPont. Annual Giving programs delivered a record total this year as well at $2.51 million, a 53-percent increase in funds and a 64-percent increase in the number of donors. The university also received $17.4 million earmarked for capital facilities, four times the amount it received in this category last year.
Private giving would not continue to rise if donors did not identify with Virginia Tech's land-grant mission, innovative research capabilities, and commitment to providing a top-notch undergraduate education. Such dramatic growth in private sector support will fuel expansion in another key area as wellthat of achieving top-30 research status.
"Virginia Tech supporters have been uncommonly generous, given the economic climate of the past 12 months,"says Elizabeth Flanagan, vice president of development and university relations. "The results are a strong vote of confidence from donors and bring us closer to our goal of becoming a top-30 research institution by 2010."