"You do what?" Hokies with unique careers by Juliet Crichton

It's probably a safe bet that relatively few of us can claim our line of work causes others to do a double take or turn green with envy. But among Tech's alumni, there are plenty whose professional lives turn heads and generate blank stares--and several of those Hokies have stepped forward to share with us just what they do.
He's not just fiddlin' around

A violin-maker, restorer, and dealer, as well as an accomplished violinist in his own right, Tim Donley (mechanical engineering '94) is a special sort of Renaissance man.

Donley, who views his trade as "an unusual blend of applied engineering, craftsmanship, music, art, and business," operates one of only two full-service string instrument shops in the Carolinas. "Many customers come to our shop--Donley Violin Company in Charlotte, N.C.--and comment that they had no idea anyone still did this. Folks are often surprised to find that such a trade still exists," Donley says.

Indeed, few vocations are as steeped in history and tradition. "The basics of the trade are nearly unchanged since the mid-1700s," Donley notes, "and my line of apprenticeship dates back to Giovanni Battista Guadagnini, a mid-16th-century Milanese violin maker. The art of violin restoration and making has been handed down from teacher to apprentice for generations, and my company is proud to be a part of that tradition."

"I began my apprenticeship under John Larrimore, a Richmond, Va., violin maker, the summer after my first year at Tech," Donley adds. "I enjoyed what I was learning in school, but my apprenticeship gave me a way to combine my love for music with the joy of working with my hands."

Even though he continued his study of the trade as Larrimore's only apprentice, Donley, upon graduation, began work as a mechanical engineer for United Chemi-Con, an electronic component manufacturer. "I designed production machines and loved it," he remembers, "but I loved the violin trade even more."

After completing his training with Larrimore in 2000, Donley opened a shop with a woodwind expert. Two years later, the violin business had so grown that Donley, in need of more space, formed his own shop in early 2003. "We have been growing steadily since and now have five full-time and three part-time employees, and roughly 3,000 square feet of retail space, offices, and workshops," he reports.
During his time at Tech, Donley says, he was often reminded that the best career path was simply the one he wanted most to take. "The faculty and staff at Tech always helped to create an environment where individual creativity was encouraged."
What more could a craftsman want?
To learn more about Donley Violins, visit http://www.donleyviolins.net/.

Advocate for the innocent
Even though she admits that folks typically shut down or try to change the subject when talk of her work arises, Barbara Hauser Bryan (M.A. English '82) has made an extraordinary career of helping families wrongly accused of child abuse.
A former investigative reporter for newspapers in Fayetteville and Goldsboro, N.C, Bryan notes that she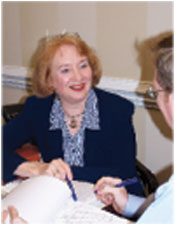 "was unceremoniously introduced to the world of false allegations and the ease of child removal from innocent citizens by a malicious false report [about her] that began in 1983 and culminated in visits from Child Protective Services [which investigates reports of abuse and neglect of children] in 1984." Had she not "personally experienced the wrong end of a false allegation," she says, "I would never have grasped how difficult it is to set it straight."
But set it straight she does. "Once I realized how difficult, usually impossible, it is for anyone to overcome a false allegation of child abuse," Bryan says, "I connected with careful and concerned people elsewhere and evolved into a family justice advocate often consulted by attorneys and others worldwide because of my generalist's view and no-nonsense explanation of what it will take to stop injuring children in the name of child 'protection.'"
Bryan, whose "all-purpose" title is family justice advocate, is the communications director for the National Child Abuse Defense & Resource Center, an Ohio-based, nonprofit organization that helps defense attorneys prepare for custody hearings. "Educating attorneys and others, as well as doing my utmost to help innocent families find a reasonable and fair defender in false allegations of child abuse, is unique."
Unique, to say the least. Having her efforts compared to those of Patrick Henry and James Madison (in an editorial that appeared in the December 11, 1991, edition of the Richmond Times-Dispatch), Bryan says, is "the day I should have died happy."
In a profession where few last very long because of the painful and delicate nature of the work, Bryan has, for 21 years, "combined common sense, science, and constitutional law on behalf of people mistakenly accused of child abuse or neglect, having survived the burden I try to lighten for others."

Africa or bust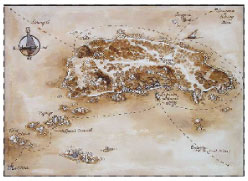 Currently the manager of Lukuba Island Lodge--a fishing lodge on an island in Lake Victoria--Mike Beckner (wildlife science '01) says that his interest in Africa began when he was a teenager. "My father worked for the Department of State, and we lived for three years in Pretoria, South Africa, where I developed a keen interest in rugby--I played for Tech--and African wildlife, as well as a lifelong dream of working in Africa."
After finishing his studies at Tech, Beckner returned to South Africa to complete an honors degree in wildlife management at the University of Pretoria, but was told he needed more education or work experience to land a job in the highly competitive field, especially as a foreigner. So, upon the expiration of his visa, he reluctantly returned to the states.
That's when Lady Luck came calling. A family friend who had been on a safari in Tanzania caught wind of Beckner's intense desire to pursue a career in Africa. She introduced Beckner to George Mavroudis--whose Tanzanian company conducts safaris--while he was on a marketing trip in the U.S. and, as the saying goes, the rest is history.
An intimate locale, as Beckner describes it, the Lukuba Island Lodge is eight miles offshore, near the town of Musoma, and offers game fishing (including Nile perch), bird watching of more than 70 identified species, hiking, and just plain relaxation--a genuine commodity after traveling on Tanzania's dusty, bumpy roads.
"I'm in a very remote spot," Beckner writes, "but I do have e-mail access (when there is a connection and when the power is on in Musoma) and a satellite radio, which means that the fishing villages near the lodge now like country music." More importantly, his apprenticeship to become a full safari guide is well underway. "That's what I came here for," he says.
To learn more about Lukuba Island Lodge, visit http://www.lukubaisland.com/. To learn more about a Tanzanian safari, e-mail George Mavroudis Safaris at gmsafaris@habari.co.tz.

Not your average stay-at-home mom
Imagine you're shopping at your local supermarket and you spot, right there among the boxes of breakfast cereals, a familiar face--and it doesn't belong to Tony the Tiger or Cap 'n Crunch. And then among the rows of cookies, that same familiar face, a real face, not one of the Keebler elves.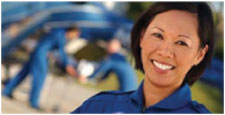 Chances are that face belongs to Lalaine Llorin Carroll (finance '85), an Orlando, Fla.-based freelance print model and commercial actress whom you can currently find on specially marked packages of Kellogg's Frosted Flakes, as well as Keebler's vanilla wafers, mini-vanilla wafers, and honey graham crackers.
But why is that face so familiar in the first place? Well, Carroll appeared in a Super Bowl commercial for Universal Orlando Resorts. Or perhaps you saw her--a staff member of the summer orientation program during her last two years at Tech--in the video you were shown as an incoming freshman at summer orientation. "I guess that's where I first got the 'bug,'' the mother of two admits.
Carroll, who notes that she neither planned for this career nor has had any particular training for it, says, "I find it amazing that I get paid quite well to pretend and play a role for a day. And I've also met some interesting folks. Last spring, I was signed for a commercial for New Alliance Bank and met a fellow Hokie, Andy Springer (business information systems '02). We had a good laugh about what surprises a degree from Virginia Tech can provide." (Last year, Springer was one of five finalists in ABC s "All My Children" Search for the Sexiest Man in America.)
Introduced to the profession while taking her son, Braxton, to auditions and job assignments--he had signed on with a few local talent agents after taking an acting class in the first grade--Carroll has now worked with both Braxton, now nearly 11, and her daughter, Lorin, who's nearly 8. Their family appearances include spots for Hilton Grand Vacations and numerous Disney projects. "The first job that my son and daughter and I worked together found us spending the day with Roger Clemens and Derek Jeter for an Armour hot dog commercial."
This self-professed stay-at-home mom also finds time to be a dedicated volunteer at her children's schools where, Carroll says, "the younger students have taken to calling me 'Miss Movie Star.'"
So, is there a red telephone down there?

You've seen the typical Hollywood depiction: the ubiquitous red telephone rings, and on the other end, a grave voice instructs some poor soul to launch the missiles. "Reality is a little more complex in my career," says Air Force Capt. Angela Riedel Jacobson (math '00), a nuclear missile launch officer stationed at F.E. Warren Air Force Base in Cheyenne, Wyo.

In civilian terms, Jacobson says, "I sit underground and launch nuclear missiles if the president of the U.S. directs us to. Yes, the Cold War is now over, but the threat still exists. We are on alert 24 hours a day, seven days a week, providing top cover for our troops fighting terrorism in deployed locations around the world."

Jacobson, who attended Tech on a three-year Air Force ROTC scholarship, is paying back with four years of service as a commissioned officer. "I arrived in Cheyenne in June 2001, following 10 months of grueling training in California, to be a qualified missileer with the responsibility to launch up to 50 Minuteman III Intercontinental Ballistic Missiles (ICBM) at a moment's notice if so directed."

Along with the responsibility comes a great deal of discipline. "My typical day as a missileer," Jacobson says, "begins at 5:30 a.m. when we attend mandatory physical training. Then we have pre-deployment briefings that give us an idea of what's going on for the day, such as any security issues, maintenance, weather conditions, and so on that could affect our 24-hour shift," a shift, incidentally, that begins with a "nearly three-hour drive to a remote location where we proceed 100 feet down an elevator into a nuclear-hardened capsule."

An underground capsule? We know what you're thinking ... yes, there are some comforts of home, "such as satellite television, a refrigerator, a microwave, and a bed, but no shower and no windows," Jacobson reveals.
"I've had the pleasure of being stuck underground with no sunlight or shower for 80 hours," she laments. But duty is duty, and the officers stay busy watching over the ICBMs for security alarms or maintenance problems; during quiet time, they watch a bit of television, read, sleep, and study for monthly tests or master's degree classes.
Jacobson more than knows the ropes. Selected as an ICBM combat crew deputy instructor, she taught classroom lesson plans to other missileers and provided simulator training. These days, as an ICBM combat crew evaluator commander, she evaluates missileers to make sure only the most proficient work the alert shifts.
In addition, the young captain has received the Crew Member Excellence Award (given to those with five consecutive evaluations with no errors), Top of the Line (awarded to those with the highest test scores and evaluation reports in a quarter), and Crew of the Year. Her most rewarding recognition, however, was her selection for the Guardian Challenge Team in 2002. "Guardian Challenge is like 'Top Gun' for missileers," Jacobson says, "and we competed with missileers from other bases to determine the best of the best."
And by the way, Jacobson adds, "I do not wear the launch key around my neck."

The good earth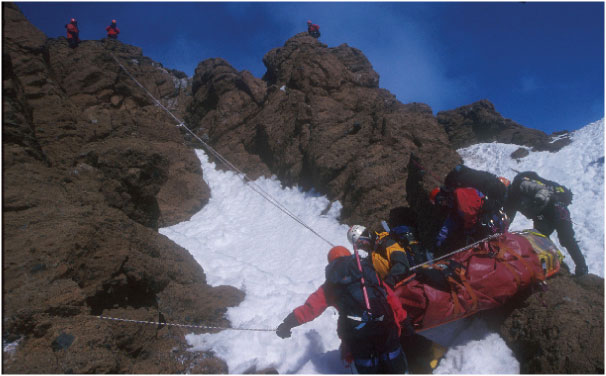 Chris Kugelman (exercise science '94) has worked, traveled, and lived on each of the seven continents--and he has the gorgeous photographs to prove it.
Currently enrolled in a postgraduate program in natural history/documentary filmmaking at the University of Otago in Dunedin, New Zealand, and working part-time for Quark Expeditions, which leads expeditions to the Antarctic, Kugelman seems to like the prospect of falling off the ends of the earth.
Kugelman's first job out of college was at the National Rehabilitation Hospital in Washington, D.C., and he planned on pursuing a graduate degree in physical therapy. During an internship working with disabled athletes in Colorado, however, Kugelman met a climber who had worked in Antarctica and so, seeking a change, he applied for a job there and was hired.

As a former field coordinator for the U.S. Antarctic program in McMurdo Station, South Pole Station, Kugelman has spent, all told, approximately 35 months on the ice, including a winter as field center supervisor. No wonder he chose to head to New Zealand.
Not surprisingly, Kugelman minored in biology at Tech and recalls that an entomology class encouraged his interest in the natural world, a trait that he feels is important in his aspiration to become a natural history filmmaker.
This world-traveler has a good eye, no doubt about it. He also lives his life on his terms and admits he has fulfilled numerous personal goals and dreams, allowing him to focus on creating a healthy lifestyle for himself.
That's one way of looking at it. In a story in The Washington Post, one of Kugelman's friends commented that anyone who chooses to return to the Antarctic time and again is either running from the law or insane.
We figure he's neither.
To view a sampling of Kugelman's photography, go to http://www.globetramper.com.

Train kept a-rollin' by Tracy Cook King '84
As a college student, Tony Lopacinski (business management '88), who began playing the guitar in the fourth grade, didn't plan on being a professional musician. "The only class I ever failed at Tech was Survey of Music, which I took one summer session," Lopacinski recalls. "The professor tested from his lectures, and I was spending too much time tubing down the New River."
Alongside his academic (and recreational) pursuits, Lopacinski played in a band called The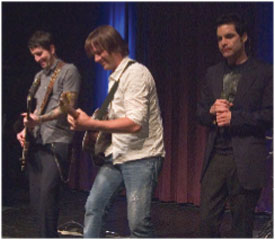 Noise Boys, a name coined by the residents of Vawter Hall, where the band members lived and rehearsed. The band, Lopacinski says, "became popular enough to open for the Beach Boys at Cassell Coliseum in 1987."
In the late '90s, Lopacinski and two friends formed Earth to Andy, whose CD, "Chronicle Kings," was released by Warner Brothers in 1999. And though he continues his work with the band, early last year Lopacinski auditioned for an opening in the Grammy Award-winning and multi-platinum-selling band Train, whose CDs include "Drops of Jupiter" and "Calling All Angels."
"I called a friend at Columbia Records who thought I'd be perfect, but I felt I was definitely the underdog," says Lopacinski. Apparently not, for the musician was signed to play guitar and harmonica and sing backup vocals on the tour supporting Train's current CD release, "My Private Nation."
Performing with Train, the Tech grad has appeared on the "Late Show with David Letterman," "The Tonight Show with Jay Leno," "Good Morning America," and "Today." Additionally, Lopacinski recently spent four days performing and recording in Birmingham, Ala., at the WorkPlay Theatre for Train's live album, which will be released this fall. "Train is a great band with a great crew and I'm proud to be a part of it," Lopacinski says.
With his first solo project recently released, Lopacinski--who lives in Harrisonburg, Va., with his wife, Sarah Blose (education '88), and their two children--is producing, engineering, and mixing CDs in his home studio for two up-and-coming Virginia bands.
While at Tech, Lopacinski remembers that a professor asked him what he would be doing if he didn't have to be in school and was in the "real world" making a living. "I said I'd be making music," Lopacinski remarks, "and he told me to find a way to make that my career and I'd be happy. I have always remembered that." Still, he adds, "I knew it was not an easy career choice, so I did what my parents advised me to do and got a degree to fall back on."
So far, it seems there's been no falling back.
To learn more about Lopacinski and his latest projects, visit his website at http://www.FaceMusic.net.
Tracy Cook King (finance '84) is a freelance photojournalist in Harwood, Md.

Uh, what's a doula?
Christine Winter Morales (liberal arts and sciences '90), a certified doula, could probably answer that question in her sleep.
A birth doula ("doula" is a Greek word meaning "woman's servant") helps pregnant women and their loved ones prepare for childbirth. "My main responsibility," Morales explains, "is during the labor and birth itself, at which time I provide continuous emotional, physical, and informational support, no matter how long labor lasts."
Morales reports that most people confuse her duties with those performed by a midwife. "Midwives do much more--providing clinical services and thus having far more training," she says. "I'm basically a well-trained, experienced, knowledgeable, and caring labor coach."
Hired directly by pregnant women, Morales admits that her interest in the field resulted from her first pregnancy in 1996. "My experience seemed to contrast with the stories told to me by so many women who were unhappy with their birth experiences, which inspired me to want to help others have the most joyful birth experience possible."
Regarding the business end of her profession, every doula offers her own package of services. For her $400 fee, Morales provides a range of services, including--but not limited to--emotional support and education during pregnancy; a recommended reading list of books (many of which she lends to her clients), handouts, videos, and relaxation tapes on issues relating to birth and breastfeeding; and 24-hour, on-call availability beginning two weeks before the mother's due date.
At Tech, Morales was trained to make presentations in the dorms to both male and female residents on sexually transmitted diseases, birth control, and related topics. "I was probably one of the few people who really took seriously everyone's favorite class--Human Sexuality," she laughs.
For more information about doulas, go to the Doulas of North America website at http://www.DONA.org.
---