Good sport, bad sport by Sherry Bithell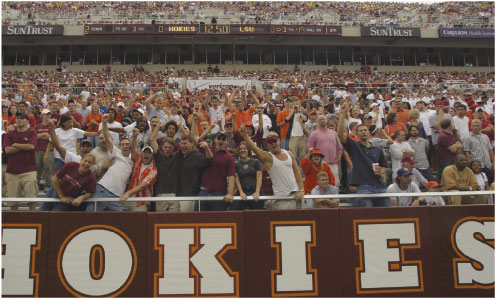 To many, it's a fine line between boisterous and obnoxious--one Hokie may consider booing a referee over a bad call to be justified, while another would find it to be poor sportsmanship. With negative fan behavior on the rise around the country, it's no wonder that people are asking: Where should the line should be drawn?
Defining the line
Any coach or student-athlete would say that he or she wants the exuberance of a loud crowd during sporting events. But over the past few years, some fans may have taken their supporting role too far.
A group of University of Maryland fans was criticized earlier this year after a nationally televised men's basketball game against visiting Duke University showed students wearing shirts with an expletive and chanting the same phrase. In March, Maryland State Assistant Attorney General John Anderson advised the university that it could constitutionally restrict vulgar chants and signs with "a carefully drafted policy" without violating fans' First Amendment rights. One argument in favor of taking such a step was that by restricting the negative behavior, the university would be protecting the rights of other fans, described by Anderson as "captives whose only recourse is to leave the stadium or stop attending games."
Yet Anderson also recommended that the University of Maryland first try other tactics before resorting to such extreme measures. In response, a student committee issued a list of recommendations, including starting an exchange program to allow students at games to trade in shirts with expletives for more innocuous ones and inviting head coaches to discuss fan behavior with each incoming freshman class. Senior and task force chair David Krieger pointed out in a June 24 Washington Post article that a proactive campaign was vital because crass fan behavior could hurt the university's reputation, affecting student recruiting and the reputation of its graduates as they apply for jobs.
The Maryland publicity is only one example of what the NCAA--which hosted a sportsmanship and fan behavior summit in February 2003--considers to be a recent nationwide increase in the incidence of negative fan behavior. Last fall, the organization announced its findings on the issue of fan behavior, noting that although there are many positive traditions, such as fight songs and cheers, "hostile traditions inconsistent with the values of sports have also crept into intercollegiate athletics (e.g., storming the field and tearing down goal posts, postgame riots)." The NCAA report cites 12 examples of such incidents, including the 2002 West Virginia-Virginia Tech football game, after which, it notes, "West Virginia students set fires on campus and tore down the goal posts at Mountaineer Field, even though the game was won at Virginia Tech's stadium."
R-E-S-P-E-C-T
As a new member of the ACC, Virginia Tech has even more cause to make a good impression. "This issue is critical in the sense that crowd behavior puts a public face on the image of a university," noted ACC Commissioner John Swofford in the Feb. 6 issue of USA Today. "We are institutions of higher learning. It is important we all try to set higher standards."
In August 2003, Virginia Tech launched a campaign that officials say is "designed to promote first-class fan conduct at all Virginia Tech sporting events." Hokie fans likely have already seen the program's logo, "Hokies Respect: The Moment, The Opponent, The Game, Themselves, The Competition," at venues across campus, including on stadium concession cups, schedule posters, and video boards.
The university is not limiting the campaign to a slogan, however. On Oct. 20, 2003, Athletic Director Jim Weaver e-mailed the university community about an upcoming home football game, specifically addressing "disrespectful t-shirts on the street concerning the University of Miami." In the message, Weaver defined "cheering and noise" as acceptable behavior and "disrespectful garments and booing" as unacceptable. "We would encourage our fans to continue to be the 12th person on behalf of the Hokies and to do so with respect for the University of Miami."
Virginia Tech also put its money where its mouth is by being one of the first schools in the country to incorporate collapsible goal posts. Fans may remember that, after a win at home over Boston College in 1999, members of the crowd rushed the field and eventually tore down both sets of goal posts, parts of which were then taken on a victory march down Main Street. Last fall, however, the new goal posts staved off another such incident, Weaver says. "We got the posts down in about nine seconds after the Miami game."
The director of athletics believes it is vital that Virginia Tech not incorporate poor fan behavior into its sports traditions. "In college athletics, there's really no place for some of the things that have occurred in recent years--absolutely no reason for fans, after games, to burn furniture and destroy property. That's just unacceptable, and it's not what college athletics reflect."
That the new campaign may take a little time to saturate into the fan culture was evidenced by a few incidents last year when Tech fans rushed the court and field after basketball and football wins at home. Still, Weaver points out that the fans were orderly and allowed the visiting teams to leave without confrontation.
"Obviously, we don't want any confrontations, we want good old-fashioned competitions and rivalry," Weaver says. "We're more about respecting the moment and respecting the opponent."
Although it may take time for Virginia Tech fans to exhibit the level of altruism shown at the University of Nebraska, whose crowd members stand and applaud the visiting team before it leaves the field--even if the Cornhuskers have lost the game--Weaver is optimistic about response to the "Hokies Respect" campaign.
"Virginia Tech is a first-class institution and we have first-class fans," he says. "We just want fans' behavior to reflect a first-class demeanor at all times."

Virginia Tech is one of several universities taking steps to promote positive fan behavior. Others include
the University of Illinois, which does not allow signs made by spectators to be displayed in its basketball arena;
the University of Arkansas, where cheerleaders and the band help drown out negative cheers and taunts; and
Lousiana State University, where undercover police officers dress as visiting fans at some home sporting events.