Campaigning for a brighter future
by Sherry Bithell
Sarah Koss, a junior majoring in biology, psychology, and studio art, plans to pursue a graduate degree and become a teacher. A Goldwater Scholar, Koss embodies the campaign goals of raising money to support students who will graduate with the skills to thrive in today's rapidly changing world and who are capable of conducting transformative research.
Doris Zallen, a professor in the College of Liberal Arts and Human Sciences' Department of Science and Technology in Society, was one of two Virginia Tech professors--and 12 professors statewide--to receive this year's Virginia Outstanding Faculty Award, the commonwealth's highest honor for faculty.
Bryan Atwood was one of 20 undergraduates and graduate students who worked on the award-winning Solar House for the 2005 Solar Decathlon. The Solar House--which took home honors for Best Architecture, Best Livability, Best Daylighting, and Best Electric Lighting and placed fourth overall--is just one example of the projects that come to life in the College of Engineering's Ware Lab.
Roop Mahajan is the director of the Institute for Critical Technology and Applied Science (ICTAS), one of the university's many interdisciplinary research centers. ICTAS focuses primarily on collaborative research in engineering, science, biology, and the humanities.
Sharpen your pencil--it's time for a pop quiz about Virginia Tech. Determine what the following items have in common: the Fralin Biotechnology Center; 922 new endowments for scholarships, professorships, programs, and other areas; Torgersen Hall, the university's most wired--and wireless--building; an increased payout of more than $2 million annually for scholarships and fellowships; the Merryman Athletic Center; a more than 124 percent growth in the value of the university's general endowment fund; and the Ware Advanced Engineering Lab.
Possible answers:
a) They're just a few of the myriad resources that enable Virginia Tech not only to graduate students who will succeed in the workforce and in life but also to conduct groundbreaking, transformative research.
b) They're examples of the primary contributors to the success and renown of today's Virginia Tech.
c) They're the result of the generosity of Virginia Tech's alumni and friends--or, as those folks are better known in these parts, the Hokie faithful. d) All of the above.
The correct answer, of course, is "d." In 1998, when Virginia Tech concluded its most successful capital campaign ever, Making a World of Difference, the university had raised $337 million--an impressive figure, given that the original campaign goal of $250 million had been considered too ambitious by many. In the end, that campaign not only provided much-needed support for the university's array of programs and its students and faculty but also demonstrated that the more than 71,000 individuals who gave back to Virginia Tech truly believe in its mission.
Today, the Hokie faithful are again being called upon to help the university. Virginia Tech has set for itself a formidable goal of raising $1 billion--four times what it sought and exceeded nearly 10 years ago--for The Campaign for Virginia Tech: Invent the Future, which launched its public phase on Oct. 20. By setting such a goal, the university has placed itself in the upper echelon of research universities across the country and around the world. Support from that diverse but unified group of individuals known as Hokies in meeting the campaign goal will truly transform Virginia Tech into the land-grant university of the future.
The seeds of knowledge
In the eight years since the last campaign ended, the relationship between research and economic development has become steadily more pronounced, due in part to the fast-paced world of technology, which has quickened the process between idea and implementation. As a result, knowledge and discovery today are capital, and Virginia Tech is well positioned to apply its strengths to delve more deeply into this new economy.
A university-wide campaign is vital in helping Virginia Tech meet its many diverse goals for achieving excellence, including graduating students who are prepared to thrive in an ever-changing world, conducting research that can transform lives across the globe, stimulating economic vitality both at home and abroad, and recruiting and retaining the best and brightest faculty whose knowledge and innovation are the heart of the university's future.
Each of the goals outlined in Virginia Tech's Strategic Plan is noteworthy and transformative. Moreover, each requires the resources that will ensure continued excellence or promote implementation and growth. To meet these needs, Virginia Tech began the quiet phase of the new campaign in July 2003 under the guidance of the Campaign Steering Committee (CSC). That committee's success in raising funds during the past three-and-a-half years establishes at least one very important concept: that Tech alumni firmly believe in the goals and strategies articulated in this campaign.
The public phase of the campaign will be led by the National Campaign Steering Committee, which--like the CSC--is comprised of talented and generous men and women. Chairing the committee are Dave Calhoun (business '79), chairman and CEO of The Nielsen Company, and John Lawson (geophysics '75), CEO and president of Virginia's largest building contractor, W. M. Jordan Company. (Go here for more on Calhoun and Lawson.)
Created to maximize the university's potential to invent the future, The Campaign for Virginia Tech: Invent the Future has set five funding priorities that envelop Tech's future direction: academic excellence, undergraduate experience, research facilities, service to community, and unrestricted giving. Each college and university program has outlined fundraising goals within the parameters of these priorities. And every goal, whether large or small, was created with one purpose in mind: to achieve pervasive excellence at every level of the university.
A commitment to academic excellence
At its core, Virginia Tech is a public university whose academic excellence is the foundation of all of its achievements. Although Tech boasts a world-class faculty, the university increasingly finds itself competing for the brightest minds, not only with other universities but also with the private sector. Therefore, cultivating the resources to attract and retain the current caliber of faculty, researchers, and graduate students who can continue the university's legacy of academic excellence is more critical than ever. The campaign is seeking $182 million in support for academic programs, chairs, faculty fellowships, graduate fellowships, libraries, and professorships.
A noteworthy example of Tech's top-notch faculty in action can be seen in the College of Engineering's Ware Advanced Engineering Lab, where faculty members provide a "hands-on/minds-on" experience by showing students how to turn theoretical concepts into practical applications--and then let the students go to work. Just a few of the many award-winning results of this faculty-student collaboration include the Human-Powered Submarine, the Solar House, and numerous autonomous vehicles. Support for this funding priority will fuel the future of this sort of experiential learning led by some of the finest faculty minds and will help to maintain the college's quality reputation, which includes being ranked eighth among engineering schools at public universities by U.S. News & World Report.
A first-rate college education, however, focuses on more than one discipline; the responsibility of all great universities is to provide a comprehensive education. Virginia Tech fulfills this duty through its core curriculum, recently renamed the Curriculum for Liberal Education, which requires students, regardless of major, to take courses in a range of subjects.
The university's largest college, the College of Liberal Arts and Human Sciences (CLAHS), plays a major role in ensuring that Tech students receive a well-rounded education, offering 36 percent of undergraduate lecture classes and 40 percent of all core curriculum credit hours. And without world-renowned faculty and the sharpest graduate students, there would be no one to teach the beauty of Shakespeare's writing, for example, or to encourage students to see life through lenses other than their own. It is vital that the college sustain the high quality of its instructors and researchers because without these individuals, it would be impossible for CLAHS to further its mission of studying human problems to help create a better world and imparting that knowledge to all Tech students.
This focus on society is not, of course, limited to one college. Tech's innovative new approach to graduate education incorporates research, study, and social responsibility to produce the leaders of tomorrow. Expanding graduate education is, in fact, a primary component of the university's strategic plan because in today's world, advanced degrees have become essential in producing literate individuals who will function and excel in an increasingly complex business and social environment. At Virginia Tech, the Graduate School leads the way with 140 master's and doctoral degree programs that serve approximately 6,100 students throughout the commonwealth. To meet the university's goal of annually enrolling 2,600 Ph.D. and 3,900 master's students by 2012, the Graduate School is seeking funding for graduate fellowships and senior faculty fellowships.
Tomorrow's best and brightest
Since its founding in 1872, Virginia Tech has produced hundreds of thousands of alumni, and its graduates are leaders, educators, scholars, and professionals whose contributions make a difference in the lives of others at home and around the world. The current generation of undergraduate students has a similar opportunity to benefit from the Virginia Tech experience, one enhanced by advances in technology and pedagogy.
Such opportunities, however, carry a higher price than ever before. Although Kiplinger's Personal Finance magazine still ranks Virginia Tech among the top 20 public colleges and universities nationwide that offer a first-class educational experience at a bargain price, Tech has had to increase tuition in order to uphold a quality academic environment. The undergraduate experience funding priority was designed to address this growing gap between tuition and the actual cost of a university education by setting a goal to raise $144 million for need-and merit-based scholarships, honors scholarships, and academic facilities. And in recognition of the fact that an important part of the undergraduate experience is not just about academics but also about learning about society and forming lifelong bonds with other students, faculty, and alumni, this campaign priority will support multicultural initiatives, athletic scholarships, and corps of cadets scholarships.
The College of Architecture and Urban Studies (CAUS), for instance, has produced, through its renowned top-ranked programs and departments, several generations of designers, analysts, and industry professionals. Foreseeing the need for its graduates to live and conduct business successfully on an international scale, CAUS has the longest-running study-abroad program at Virginia Tech. In 1994, the college led the effort to create the Center for European Studies and Architecture (CESA), a study-abroad facility in Riva San Vitale, Switzerland.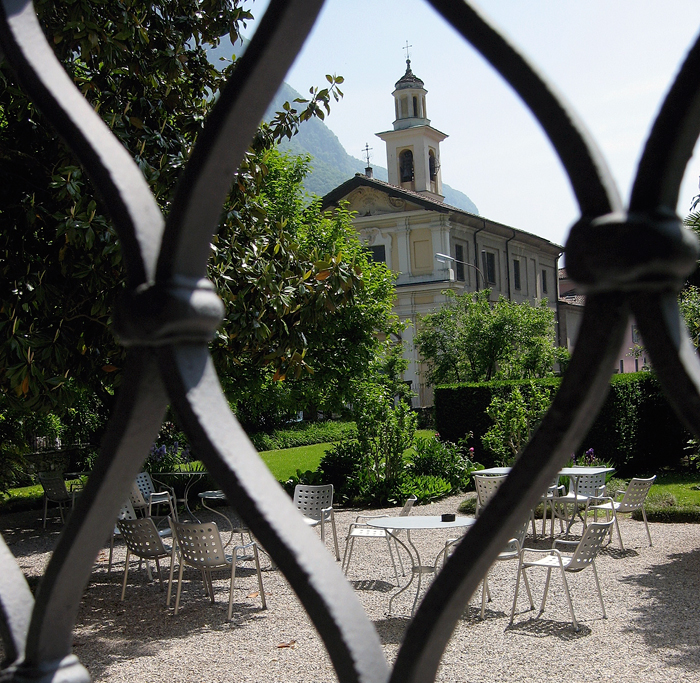 The gardens of Casa Maderni, which houses the Center for European Studies and Architecture, provide a quiet place to study or relax--and to admire the view of the 17th-century Chapel of St. Rocco.
CESA serves today as a study-abroad home for students from all disciplines, playing a prominent role in providing multicultural experiences. As technology and business increase the need for professionals who can function in a diverse world, CAUS wants future generations of students to take advantage of this eye-opening opportunity, and The Campaign for Virginia Tech: Invent the Future will raise funds to renovate and expand what has truly served as a home-away-from-Blacksburg for so many students.
Tech is also educating students on campus about the many cultures and perspectives in the world around them. Because learning to work with and understand others is essential to succeed in today's multinational world, the Office of Multicultural Affairs was created to expose students to the perspectives, talents, and skills of people from all cultures and backgrounds. To expand the efforts of the Office of Multicultural Affairs, the campaign is seeking support for several valuable initiatives, including the Opportunities Scholarship Program, which will advance diversity on the Virginia Tech campus; MOSAIC, the Multicultural Opportunity Social Awareness Interest Community, a shared academic and residential intercultural environment that is housing its first students this fall; and programs created to enhance diversity, such as seminars, support meetings, and mentoring activities.
Because the Virginia Tech Corps of Cadets is one of only three such programs at public universities nationwide, even alumni who were never part of the corps take pride in the regiment and its cadets, who represent a tradition of leadership and service. Today, the university sees the value not only of sustaining but also in building the program by increasing the regiment to 1,000 cadets. Enrollment is up from 10 years ago, but during the past five years, the average annual membership has been 745 cadets. By growing the endowment of the Emerging Leader Scholarship program, the corps can provide financial support for a greater number of deserving cadets.
A place for discovery
In facilities across campus and around the world, Virginia Tech professors and researchers have generated startling breakthroughs. Did you know, for instance, that Virginia Tech consistently ranks among the top 15 schools in the nation for the number of patents received? To continue this tradition of discovery, the facilities funding priority seeks $130 million to provide the university's innovators with the most modern, well-equipped lab spaces and work areas.
If the 20th century was the century of information technology, the 21st century is going to be the century of DNA. Because the future will be built around our understanding of all life sciences, Virginia Tech has adopted an initiative to bolster this field of study. The 2006 Campus Master Plan calls for a Life Science District that will bolster interdisciplinary research. Located in the area encompassing the Virginia-Maryland Regional College of Veterinary Medicine (VMRCVM), the Virginia Bioinformatics Institute, and the parking lot between Wallace Hall and Litton-Reaves Hall, the new district is already taking shape with its first building, Life Sciences I, now under construction on Washington Street. The next building will be the intriguingly named ICTAS II, which will be constructed in what is now the Litton-Reaves parking lot.
The Institute for Critical Technology and Applied Science--or, as it's known on campus, ICTAS--was created in 1997 to promote interdisciplinary research among engineering, science, biology, and the humanities with the goal of enhancing economic development and the quality of life in the commonwealth, the nation, and the world. Current research focuses on nanoscale science and engineering and on fuel cells, both areas with strong potential to change lives worldwide. But without the most modern facilities and high-tech equipment, Tech researchers won't be able to keep pace with technology and developments taking place elsewhere. The Campaign for Virginia Tech will ensure that ICTAS II will help make the university a pioneer in the research of tomorrow.
Another campaign goal is to raise funds for Life Sciences II--also included in the Life Science District--which will house core research by faculty from the College of Agriculture and Life Sciences and the VMRCVM. This research will continue to focus on such international diseases as West Nile virus, encephalitis, and malaria. Just step back and imagine what a powerful impact Virginia Tech would make worldwide if our researchers could eradicate even one of these maladies!
The VMRCVM's contributions to this effort are part of the college's translational medicine outlook--because almost every human disease has a naturally occurring counterpart, veterinary medicine research often expands what is known about human diseases. To further such discoveries, as well as to support its work with such zoonotic diseases (animal diseases that are contagious to humans) as the avian flu, VMRCVM is seeking to build a Translational Medicine Complex. Included in the complex--also to be located in the Life Science District--will be the Life Science II research facility and a new instructional building that will allow the college to expand its enrollment to help meet a predicted shortage of veterinarians in the next two decades.
Meet the co-chairs:
David Calhoun and John Lawson

| | |
| --- | --- |
| David Calhoun '79 | John Lawson '75 |

Like countless other Hokies who believe that Virginia Tech provided them with the foundation for their achievements, David Calhoun (business '79) and John Lawson (geophysics '75) have volunteered to serve as co-chairs of the Campaign for Virginia Tech: Invent the Future. And like many Hokie faithful, both men hail from families loyal to the orange and maroon.

Calhoun, chair and CEO of The Nielsen Company, is one of several members of his family to have graduated from Virginia Tech. He jokes that his mother was so intent upon his following in the clan's footsteps that she "brought the whole family to the house to make sure I was going there."

While at Tech, Calhoun says that he was inspired by several of his professors, especially Wayne Leininger, whose class in cost accounting directly impacted his career path. Joining General Electric (GE) after graduation, Calhoun completed the company's Financial Management Program and in 1981 joined GE's corporate audit staff. Having made his way up the corporate ladder, he was GE's vice chairman of infrastructure when he left the company in 2006 for his current position.

Calhoun, who spoke at the 2005 Commencement, says that the university has remained such a mainstay in his life--family ties aside--because of the excellent education he received, along with what he calls the esprit de corps of the Hokie faithful, especially in supporting the university.

Certainly, Lawson, CEO and president of Virginia's largest building contractor, W.M. Jordan Company, is one of those supportive alumni to whom Calhoun refers. In addition to co-chairing the campaign, Lawson is also a member of the Virginia Tech Board of Visitors and has pledged a significant gift to lay the foundation for the Myers-Lawson School of Construction in the College of Architecture and Urban Studies.

"Virginia Tech has done so much for me in helping me build self-confidence and establish a professional career in the construction business," says Lawson, who began working for W.M. Jordan after graduation. "I value the friendships and bonds I have formed within the Virginia Tech community." Those bonds extend to family ties, too; his father, Robert T. Lawson (mechanical engineering '48), is also a Hokie.

Having played a role in the university's last capital campaign, Lawson has seen firsthand the lasting effects. "We can do things now that people didn't think we were capable of," he says, "things we didn't think we were capable of."

Readying for the public phase of the Campaign for Virginia Tech: Invent the Future, both men acknowledge the efforts of the "quiet phase" steering committee, led by Eugene Fife (business '62), which has been hard at work since July 2003. Calhoun is "moved by what they have accomplished," and Lawson notes, "They have built the kind of momentum that is critical in this type of endeavor."

As Newton's First Law of Motion dictates, "An object in motion tends to stay in motion . . . unless acted upon by an unbalanced force." Given their enthusiasm for Virginia Tech, these two dedicated Hokies will undoubtedly maintain the hard-earned momentum set in motion by Fife and other previously unsung heroes of the quiet phase committee.
Engaging the world
Virginia Tech is proud of its land-grant heritage and continues to make vital academic and cultural contributions to its many constituencies, from its students, faculty, staff, and alumni to the citizens of Southwest Virginia, the commonwealth, the nation, and the world. Far from a cloistered tower of academe, the university has always embraced and seeks to continue its tradition of interacting with its community and the world by raising $81 million for the funding priority known as Virginia Tech and the community.
Artistic expression has always been a means by which humankind has communicated its feelings, values, and social issues. Beethoven's "Eroica Symphony" expresses the composer's displeasure with the tyranny of Napoleon Bonaparte, and Picasso's "Guernica" is a powerful anti-war statement, painted after a massacre during the Spanish Civil War. The power of art is that it can convey so much without words, and institutions such as Virginia Tech must play a part in not only nurturing but also sharing artistic talent with the community at large. The proposed Center for the Arts will allow the university to do so by providing a venue for university theatre productions, performances by the chamber orchestra and wind ensemble, and opera workshops, as well as for faculty, student, and alumni art exhibits and visiting artists for all arts programs. The center is envisioned as becoming a prominent cultural feature of Southwest Virginia, and The Campaign for Virginia Tech: Invent the Future seeks to make this vision a reality.
Also making a considerable impact on the commonwealth is 4-H, the youth development education program conducted by Virginia Cooperative Extension and formed by Virginia's two land-grant universities, Virginia Tech and Virginia State University. The 4-H motto, "Learn by Doing," is applied to 10 primary program areas, ranging from animal science, in which kids work with live animals to learn responsibility and scientific principles, to careers and economic education, which teaches workforce preparation and youth entrepreneurship. Students in 4-H are also encouraged to participate in local and state competitions that provide opportunities for presentations and public speaking. The program, in essence, jump-starts today's children to become tomorrow's leaders.
Virginia Tech's W.E. Skelton Educational Conference Center, located at Smith Mountain Lake, has offered programs to more than 120,000 children in the past 40 years and today subsidizes 47 percent of the cost for each child who attends 4-H camp. Nonetheless, the families of many deserving young Virginians are still unable to afford the fees. One goal of The Campaign for Virginia Tech: Invent the Future is to endow the center's programs and to cover its facilities costs, which will considerably reduce its annual operating costs and free up money to further subsidize the camp fees so that more children can participate in 4-H's character-building programs.
There can be no argument that Virginia Tech athletics is one of the biggest draws to the campus. Whether it's sitting in Lane Stadium on a cold November day chanting "Let's go, Hokies!" or standing in Cassell Coliseum cheering a game-changing shot, supporters of Virginia Tech's 21 athletics programs will agree that such moments bring together the university community in an almost palpable bond of orange and maroon. To ensure that the Hokie Nation continues to thrive, the campaign seeks support for a new basketball practice facility east of Cassell Coliseum for the men's and women's teams and an indoor training facility that would allow Rector Field House to be restricted to use of the indoor track all year long.
Boldly moving forward
While a well-plotted course of action is imperative for a comprehensive institution of Virginia Tech's size and stature, the university is unable to capitalize on unexpected opportunities. To prevent the loss of any future chances to boldly embark on new frontiers, the university seeks to raise $15 million for the endowment of the President's Discovery Fund as a funding priority.
A stream of unrestricted funding, the President's Discovery Fund will provide Tech's leaders with the latitude and resources to build upon the university's current competitive advantages by acting decisively as unanticipated options not built into the strategic plan become available. For example, if a world-renowned professor were to suddenly express interest in coming to Virginia Tech, the Discovery Fund could provide supplementary monies for making that desire a reality. Or if two departments in different colleges wanted to combine their individual research for practical application, the fund could support this cross-disciplinary effort. And perhaps it's as simple as providing the funds to secure available matching grants, an investment that would further propel the university.
By endowing the President's Discovery Fund, alumni can ensure that the university will be able to nimbly capitalize on unforeseen opportunities.
Upward and onward
It is the university's vision of the future that The Campaign for Virginia Tech: Invent the Future hopes to bring to fruition. The success of the last campaign, Making a World of Difference, proved that Tech's base of supporters is loyal to its very core, not only to the university but also to its leaders and their plans for the years and decades to come. Such future plans will be supported by the balance of the campaign, including annual and planned giving, which are the backbone of all fundraising and a vital component to sustain, as well as projects that are on the horizon but aren't yet articulated enough for solid financial goals to be set.
It was the success of the Making a World of Difference campaign and the heights to which our university has soared since its completion that make it both challenging and pleasurable to try to imagine just how profound an impact can be expected from The Campaign for Virginia Tech: Invent the Future. Says Campaign Director Mary Grace Theodore, "The campaign will create momentum. It will engage the next generation of Hokies who will go on to transform Virginia Tech. Our job is to make it easier for them to participate in that process."
Indeed, it will be the support of the Hokie faithful that will position the university not only to meet but also to exceed the campaign motto--support that will give Virginia Tech the resources for inventing a promising and beneficial future for its students, faculty, and staff, as well as its alumni, the commonwealth, and the world.