FEATURE
Campus Canines
Exploring the human-animal bond at Virginia Tech
Up Pup. Pup is up.
Cup Pup. Pup in cup.
Pup Cup. Cup on pup."
The first three pages of Dr. Seuss' classic, "Hop on Pop," feature a playful puppy, a character recently brought to life at the Blacksburg library when 6-year-old Emma read "Hop on Pop" aloud.
The dog listening to Emma wasn't a puppy but an adult golden retriever named Yogi, trained for just this sort of thing. The PAWS to Read program, a service function of the Virginia-Maryland College of Veterinary Medicine, uses dogs as a sounding board for children learning to read.
The reading program is just one of the outreach activities at the Center for Animal-Human Relationships and one of many ways—including an innovative project to film puppies in 3-D—in which canines take part in campus life at Virginia Tech.
The bond
When Yogi visits the library with his owner, Dr. Virginia Corrigan, a veterinarian and community practice resident in the vet med college, reading to him is simple: just sign up for a 10-minute time slot. Hui Li has noticed that the dog's presence helps her 6-year-old, Ryan, concentrate, even though her son is usually hesitant around other dogs.
"He seems very relaxed today instead of nervous," Li said after her son read "Oscar and the Frog" to the dog.
Said Corrigan, "Yogi makes them feel more comfortable. Yogi seems to respond to them, too. He knows his role for this. He gets really calm. He's really sweet."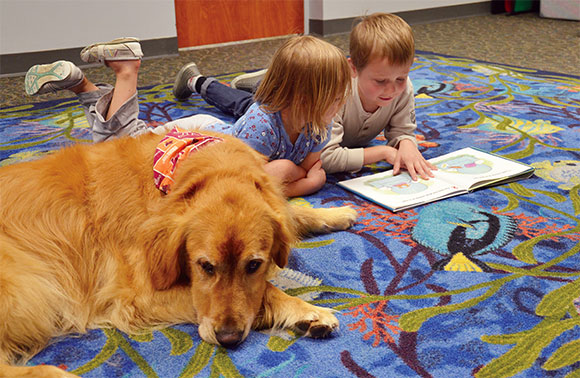 An article on canine-assisted reading programs in the October 2013 edition of "The Reading Teacher," the International Reading Association's peer-reviewed journal, reported that the heart rate and blood pressure of children decreased when they were in contact with a dog while reading, and that the reading programs produce measurable improvements in reading fluency. In medical, therapeutic, and educational settings, well-trained dogs can produce, in humans, "emotional and social benefits such as quelling anxiety, facilitating coping, and reducing the perception of discomfort for a wide span of ages and populations," according to the article.
In other words, the myriad benefits of the human-animal bond are on full display in PAWS to Read and CENTAUR, an academic center that promotes education, research, and service in the field. One of the center's most visible efforts is VT Helping PAWS (Pet-Assisted Wellness Service), a therapy animal program that provides training and certification for vet med faculty, staff, and students and their animals. Approximately 20 owner-and-animal teams actively serve the community in nursing homes, assisted living centers, libraries, schools, and even at Tech's Cook Counseling Center and the Women's Center.
Five days a week, Trent Davis, a staff counselor at Cook, utilizes a trained dog—either his yellow Labrador, Moose, or Yogi—for counseling sessions. Of the 1,000 or so students he has counseled in the past few years, only three weren't interested in the dog—and two of those simply thought they would be distracted.
"The students come to rely on the dog as a friend, a safe element in the room," Davis said. "The dogs have a sense of when someone is struggling. They'll nuzzle a person. I think it's pretty clear that they can smell stress and understand fear."
Davis said the presence of dogs is known to reduce cortisol (the stress hormone) and increase oxytocin (often called the bonding hormone) in humans. Sure enough, during finals week, Helping Paws dogs lighten the moods of stressed-out students at Newman Library.
"You just see the stress melt away from their face," said Dan Muehlhaupt, a veterinary student who co-chairs VT Helping PAWS with fellow student Virginia Yarrington, under the guidance of Dr. Bess Pierce, associate professor of community practice in the Department of Small Animal Clinical Sciences and CENTAUR director. Said Muehlhaupt, the impact of human-animal encounters is "usually very obvious, and it can be very dramatic."
At nursing homes, older people tend to tell stories about their dogs. Those who are disabled or mentally handicapped are equally enthralled with the animals. "Animals don't judge you. They're not looking at your inability," said Muehlhaupt, a third-year student pursuing a doctorate of veterinary medicine and a master's of public health for infectious diseases. "The human-animal bond is incredibly strong, and working in a therapy program solidifies the need for the bond."
In addition to VT Helping PAWS, the center operates Caring for Canine Heroes, which benefits service and working dogs and their handlers in law enforcement and search-and-rescue in the region; and a pet loss support hotline. The center trains and advocates and cares for animals—not just dogs, but horses, cats, and more—that act as service animals (such as seeing-eye dogs), therapy animals (those employed in animal-assisted activities), and working animals (such as law enforcement and military animals).
Puppies in 3-D
Inside a circular fence and surrounded by multiple cameras, several puppies were immersed in a research project to produce benchmark data for canine socialization and movement … which, to them, meant being puppies.
"They're lively. They're cute. They're all over the place," said Thomas Tucker, associate professor of creative technologies in the School of Visual Arts. "One second they're gnawing their brother in the ear; the next second they're scratching. And the next second they're trying to climb out of the pen."
Why all the cuteness in 3-D? The practical application is in analyzing how dogs move—and how owners can intervene with treatment when something goes awry. Working dogs, for instance, tend to suffer from lower-back problems, where the hips and vertebrae connect, because the animals are often standing on their hind legs.
Pierce and Tucker share an interest in the three-dimensional modeling of how dogs move, and they landed, as co-principal investigators, a SEAD (Science, Engineering, Art, and Design) Major Initiative Program grant from Virginia Tech's Institute for Creativity, Arts, and Technology to conduct a pilot study on the feasibility of a visual tool that merges a dog's external movements with skeletal movements.
Tucker used multiple cameras to capture three-dimensional movements on a dog's outer skin, while a Georgia Tech colleague wrote the algorithms and software to unite the visual data in a dense point cloud. A radiologist, meanwhile, took CT scans of dogs to produce skeletal readings that can be integrated with the point clouds.
Tucker worked this summer to combine the outer and inner data. Next, he and Pierce plan to seek federal funding to develop a larger, more portable, automated system with eight to 10 cameras that can be easily transported and then clipped in at exact angles, allowing researchers to collect data for a broad library of body types.
A working canine can be quite an investment—the military spends $30,000 to $45,000 to train a dog, Tucker said—and such a system would allow trainers to more quickly identify health and socialization issues before the issues become problematic. As Pierce noted, the interdisciplinary project fits well with CENTAUR's mission of keeping dogs healthy so that they can serve their communities.
At the library, as Yogi patiently listened, Corrigan slid her index finger across the pages of "Hop on Pop," under the words. The six-year-old girl placed her hand over Corrigan's, reading the words aloud. When they came across the book's most difficult words, Corrigan helped her sound out the consonants.
"My father can read big words too, like Constantinople and Timbuktu," read the girl.
One word at a time, one dog at a time, the human-animal bond is alive and well at Virginia Tech.
---
Mutts with a Mission
Each of the 70 to 80 million dogs owned in the U.S. has touched a life in a different way, according to each person's needs. For veterans and wounded warriors, U.S. Army Staff Sgt. Brooke Corson recognized a specific capacity for the animals—as service dogs.
In 2008, Corson (animal and poultry science '01) founded Mutts With a Mission Inc., to provide service dogs, especially those trained for psychiatric and mobility services, for veterans and wounded warriors.
"There are [numerous] programs specifically designed for guide and hearing dogs. They focus specifically on that one thing," said Corson, who no longer serves on active duty. "Government statistics say that 100,000 out of 700,000 veterans and wounded warriors in the United States have PTSD [post-traumatic stress disorder]. We've chosen to focus on psychiatric service dogs to help alleviate PTSD. We also focus on mobility dogs, because often PTSD comes with traumatic brain injuries."
According to the National Journal, 22 veterans per day commit suicide. "If we can help one veteran from taking his life, then we've been successful," Corson said. "If we can help 100 veterans improve their lives, even better. One person at a time, one dog at a time—and we've done it."
The program trains a varying amount of dogs per year—six are set to graduate in 2014— and includes an owner-training program where veterans can enroll their own pets to be certified. The program also utilizes rescue and shelter dogs, as well as dogs from reputable breeders. While each dog must be tested for temperamental and physical health, many breeds have the potential to serve. "A lot of programs have had success with labs, standard poodles, mutts, and pitbulls," Corson said. "I wouldn't say there there's really one breed over another that we're successful with."
Mutts With a Mission is launching an online program for veterans who are farther away from the organization. "We're trying to help as many veterans as we can, but at the same time we're not going to sacrifice the quality of our service dogs," Corson said. "Our focus is to help veterans and help them regain the independence that they've lost due to their disabilities or their injuries that they've sustained in service to our country, keeping us a great nation and a free nation. This is just our way of giving back to these veterans."
English major Nikki Clemons is a Virginia Tech Magazine intern.