PRESIDENT'S MESSAGE
Timothy D. Sands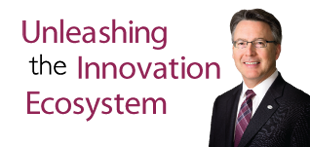 Those of us who have spent time in American higher education know that there's something slightly different, dare I say special, about land-grant universities. Advancing the boundaries of knowledge while closely wedded to job-creating initiatives, universities like Virginia Tech are at the center of the 21st-century "innovation ecosystem."
Although we are generally considered Virginia's leading economic development university, we have the potential to do still more. Our challenges here are not dissimilar from those of other land-grant universities, but I think we are in a better position to resolve them.
Corporate America sometimes is frustrated, rightfully in my opinion, with higher education's penchant to argue over intellectual property (IP) rights. Universities should and must engage in commercialization and entrepreneurship, and Virginia Tech is playing its part well. However, we must alter our approach.
Read more