FEATURE
Sparks
Creative space offers entrepreneurs "time, space, and permission"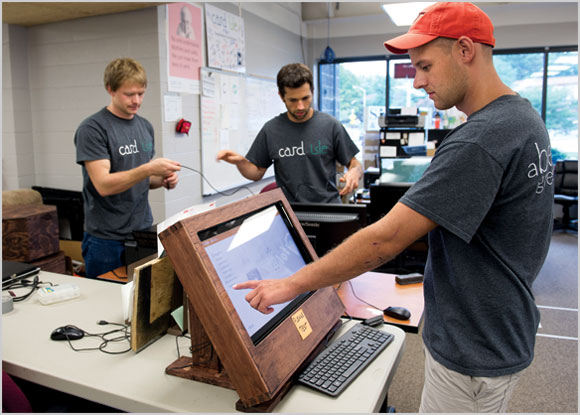 Card Isle, a startup company developing a greeting-card kiosk, anchors a corner of NuSpark, a creative space adjacent to campus. Team members pictured (l. to r.) include chief operating officer David Henry (mechanical engineering '12, M.S. industrial systems engineering '12), chief technology officer Adam Donato, a Ph.D. candidate in mechanical engineering, and chief marketing officer Stephan Sabo (mechanical engineering '13). Photo by Logan Wallace.
The grass wasn't growing in late January when Ryan Farley (mechanical engineering '12) and Steve Corcoran, a former finance major, moved their fledgling business into NuSpark, a new creative space in downtown Blacksburg that allows entrepreneurs to commercialize their ideas.
The co-founders of LawnStarter, an online platform connecting customers with lawncare providers, wanted to unveil their concept as soon as the grass started turning greener.
NuSpark became the perfect fertilizer. Launched in mid-April, LawnStarter now operates in Northern Virginia; Richmond, Virginia; Yorktown, Virginia; and Austin, Texas. Farley and Corcoran spent the summer in Austin in the highly selective TechStars startup accelerator program, learning how to disrupt the trend of poor customer service in a $71 billion industry.
"We're expecting to be in multiple major cities with deep penetration next year, with hopefully hundreds of providers on our platform," Farley said.
What they found at NuSpark wasn't just the "bright lights to keep you up late at night," said Farley, noting that the team was sleeping in three-hour stretches, sometimes at NuSpark, ahead of the launch. They found mentors, collaborators, training, and more.
"Farm team"
The idea for NuSpark came from conversations among a handful of key players in the region's ecosystem of innovation, and the space was cobbled together in a collaborative fashion that neatly previewed the cooperative environment NuSpark affords entrepreneurs. The venture is supported through the Virginia Tech Foundation; the Roanoke-Blacksburg Technology Council; the Roanoke Blacksburg Innovation Network; Tech's Corporate Research Center (CRC); VT KnowledgeWorks; Tech's Institute for Creativity, Arts, and Technology (ICAT); and the National Science Foundation's regional I-Corps program.
Nestled in a ground-floor, 4,200-square-foot area in Collegiate Square at the corner of Prices Fork Road and North Main Street, NuSpark offers rent-free space for faculty, staff, students, and members of the public—anyone over the age of 18—to turn early-stage ideas into new ventures.
"NuSpark is more than just space—it is programming and community," said John "Jack" Lesko, associate dean for research and graduate studies in the College of Engineering and the university's liaison to I-Corps, a partnership in the mid-Atlantic to find entrepreneurial faculty and students and help them bring their discoveries to market. "NuSpark is a safe place to fail, and it builds a community of entrepreneurs-in-training that learn from each other through formal and informal programming and interaction."
Entrepreneurs share what they learn, whether it's helping set up a company's legal structure or finding the right programmer or videographer. Tenants undergo training to identify potential partners, activities, customers, revenue, and more. NuSpark currently houses about a dozen teams, all of which are facing a deadline: When a company reaches either 12 months at NuSpark or $500,000 in gross revenue and/or capital funding, they move on. "That's one of the things we want here—positive churn," said NuSpark director Sherry Walker. "We've started an entrepreneurial community here. It's a support system. It's an educational system."
NuSpark provides "entry-level hands-on experience in becoming an entrepreneur," long before company formation, said CRC President Joe Meredith. In later stages, a company can take advantage of VT KnowledgeWorks programming "when it is time for incorporation and access to capital."
Or as Lesko put it, "You can think of NuSpark as a farm team for the majors."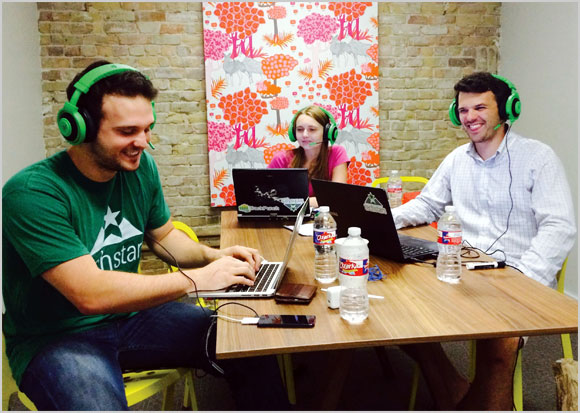 Steve Corcoran (left) and Ryan Farley '12 (right), who recently completed the TechStars accelerator program in Austin, Texas, launched their business in Blacksburg.
Worlds converging
In the NuSpark conference room, whiteboards donated by the Blacksburg branch of Rackspace are the backdrop for monthly brainstorming discussions on Bitcoin, the digital currency. Elsewhere, furniture donated by ICAT—which occupied the office space before moving into the Moss Arts Center—aids NuSpark's innovators. "We're almost seven months old," Walker said in early August. "Like most startups, we're trying to figure out how to make it work."
Furniture isn't ICAT's only imprint on the entrepreneurial community. The research institute is positioned at the nexus of science, engineering, art, and design—often called SEAD—and as ICAT director R. Benjamin Knapp noted, "Industry is based on these worlds converging."
Offering an explanation, Knapp said a phone is purchased for its aesthetics and how the customer interacts with it, with little regard for the engineering behind the device. "When you have a start-up, you need a business person. You need an engineer. You need a designer. You need all of these people," Knapp said.
ICAT fosters not only research, but also education, community outreach, and entrepreneurship. Part of ICAT's mission focuses on introducing SEAD and entrepreneurial sensibilities to K-12 classrooms—a creative inflow, so to speak, to Virginia Tech—while its involvement with NuSpark encourages creative outflow. NuSpark's purpose of accommodating brand-new ideas mirrors the institute's. "ICAT's mantra is time, space, and permission," Knapp said. "At Virginia Tech, we want faculty and students to flourish and do these things and profit from what they do."
Scaling up
Admission barriers to NuSpark are low: a video application explaining why the space will help, and a scalable idea with the potential for economic impact. As NuSpark evolves, Walker is seeking additional grant funding for a prototyping area in which inventors can make things. One existing venture, for instance, could use more space to fine-tune its kiosk for printing greeting cards (seen at left). As it is now, they've taken over a corner of the open floor with construction materials.
In the long term, NuSpark's founders hope that Blacksburg becomes better known as a place to create a job, not just find one, a place known for actively encouraging new startups and developing "innovative products that creatively destroy the way things are done today, like what iTunes did for music distribution," Lesko said. "I hope that NuSpark is and continues to be a supporting element of that culture and ecosystem."
LawnStarter's Farley, for his part, was "pleasantly surprised by the Blacksburg entrepreneurial environment." Most of the initial startup funding came from local angel investors, many of whom are Virginia Tech alumni. And a computer science major, working on another project at NuSpark, joined LawnStarter full-time shortly before TechStars began.
If the trend lines hold, future entrepreneurs won't be the least bit surprised.