You could say it all started with the Nov. 13, 1993, 45-24 win over Syracuse that sent the Hokies to the Independence Bowl. That certainly ranks as one of Head Football Coach Frank Beamer's favorite moments in Lane Stadium.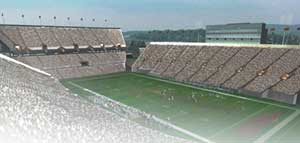 "We'd had a lousy team the year before, but that year we turned this program around--that was the start of it, really," Beamer says. "We'd been trying to get to a bowl game and had come up short a couple of times, but we made it when we really needed to. At a critical time, you might say," he adds.
"It" is the success of Virginia Tech's football team, including its top-10 reputation, its streak of eight consecutive bowl games a feat, Beamer quickly points out, matched by only six other teams in the countryand its rise to national media stardom.
Now the Athletics Department has plans to capitalize on that success by improving the team's home turf, beginning with the expansion of Lane Stadium's south end zone. Virginia Tech athletics will launch a $15-million fundraising campaign to support the $36-million project, which will add more than 11,000 seats to the stadium, including approximately 1,160 bleacher seats with backs and 1,200 club seats, and 15 luxury suites. "We really tried to organize the seating to give options to our fans," says Athletic Director Jim Weaver.
Other amenities will include an improved visiting team locker room, which can be divided into two locker rooms for opponents in other sports during the rest of the year, and a more convenient, high-technology media center. The expansion is scheduled to be completed in time for the first home game of the 2002 season.
"I think this is a real test to say, Do we want to continue in the direction we're going?" says Beamer. "You've got to go one way or the otherit's hard to stay the same in this business. We're playing at a high level, but we've got to keep improving everything, including the stadium."
According to Weaver, "The team's continued performance in the upper echelon of college football has created an unparalleled interest in Virginia Tech." The exposure has enhanced the team's ability to sign nationally ranked high school athletes, in turn helping ensure the continued success of the program. This year's recruiting class, which included three of the top four prospects in the state, was considered eighth-best in the nation by CNN/SI.
"I think it's helped the Athletics Department and the football program in particular, but I also think it's helped the university community as a whole," says Weaver. Aside from the obvious benefit that fewer alumni are asked, "What's a Hokie?" by the uninitiated, other potential effects attributed, at least in part, to the team's widespread publicity include an increase in admissions applications.
There is no question that the Virginia Tech commercials shown during nationally televised games have given the university a unique opportunity to showcase its mission, faculty, staff, and students. "If you play on national television a lot, your product comes across," Beamer says. "We have a good product in Virginia Tech, so everything at the university gets a little credit."
A key advantage of the expansion will be the stadium's improved capacity to accommodate growing numbers of Virginia Tech alumni and other supporters who have contributed to home-game sellouts the past two seasons. "Last year, we turned away up to 3,500 people who wanted season tickets," Weaver says. In addition to providing more season tickets and guest tickets for students, the expansion will serve fans who aren't season ticket holders but do want to attend certain games. "We'll have seating for individual game tickets again, so a fan can come just to see us play Virginia or Miami," Weaver says.
This enlarged crowd capacity, combined with the structure of the south end zone, which will be a foot higher than the east side of the stadium, will add to the Hokies' already impressive home-field advantage. Beamer frequently attributes home-game wins to the crowd noise, and he believes the expansion will increase that factor exponentially. "The south end zone is going to go straight up, so all that noise will stay right in there," he says. "I think it could be the loudest place in the country."
In fact, he adds, "there are going to be stadiums that seat more, but I think as far as every seat being good, and having a real home field advantage, once we complete the stadium, we'll have the best playing facility in the country."
Both men point out that the expansion is not just an addition to the stadium but a statement about the program. "This serves notice to the country that Virginia Tech football is going to do everything it possibly can to stay in the upper echelon," Weaver says.
Beamer agrees. "We've been good the last eight years, but our best years are ahead of us," he says.
For more information on the south end zone expansion.
Editor's Note: The Lane Stadium project, although not funded with state taxpayer monies, requires capital authorization by the Virginia General Assembly. As Virginia Tech Magazine went to press in March, the General Assembly and the governor were unable to agree on budget modifications for the upcoming fiscal year. Since no budget was passed, Virginia Tech's request to modify the earlier funding authorization for the stadium project languished. Every possibility is being evaluated to get the project back on track. However, it is possible that construction will be on hold for one year until the state legislature can meet again.

---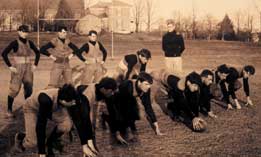 From a wheat field to a 55,075-seat stadium, Virginia Tech football fans have cheered their teams from a pastiche of playing areas over the past century.
Tech's first football team played its season opener in a wheat field. The field, located about where Shanks Hall stands today, had been laid off for the October 21, 1892, event with a plow and was described as "about as level as a side of Brush Mountain." Fans standing along the sidelines watched Tech beat the St. Albans Lutheran Boys School of Radford 14-10.
Two years later, President John M. McBryde offered part of the horticulture farm, then located near today's Memorial Chapel, for use by both the athletic and military departments. The small, ungraded area, known as Sheib Field, was enlarged in 1902, a small wooden grandstand erected, and the name of the site changed to Gibboney Field.
With additional improvements, including an enlarged grandstand, in 1909 came another name change: Miles Field.
Tech completed its first stadium, Miles Stadium, in 1926. It seated 3,700 fans. The first football game played there ended in a 6-0 triumph over the University of Virginia in Tech's first homecoming game. By the time the last game was played in Miles Stadium on November 7, 1964, temporary bleachers had increased fan seating to 16,000.
The stadiumand the playing field that preceded itwas named for C. P. "Sally" Miles '01, who served at various times as football coach, director of athletics, graduate athletic manager, professor, and dean of the college.
Miles Stadium was razed in 1964. Construction then commenced on Lane Stadium, and its first game, played by the freshman team, followed on September 24, 1965, ending in a tie with the University of Maryland. The first varsity game, played on October 2, 1965, ended in a 9-7 squeaker over William and Mary.
The stadium was dedicated at the homecoming game against the University of Virginia on October 23, 1965, and fans, who watched the Hokies beat the Wahoos 22-14, also witnessed the first Governor's Day game.
Major construction on Lane Stadium, which seated 35,050 fans, was not completed until 1969. Later additions ultimately increased the number of seats to 55,075.
Private funds and gifts completely financed its construction. It was named for Edward Hudson Lane '10, then chairman of the board of Lane Co. and a former member of the board of directors of the VPI Educational Foundation, president of the Student Aid Association, and former member of Tech's board of visitors.
The playing area became Worsham Field in 1991 to honor longtime Hokie supporter Wes Worsham, who pledged $1 million to the university's Second Century Campaign.