Hokie fans chime in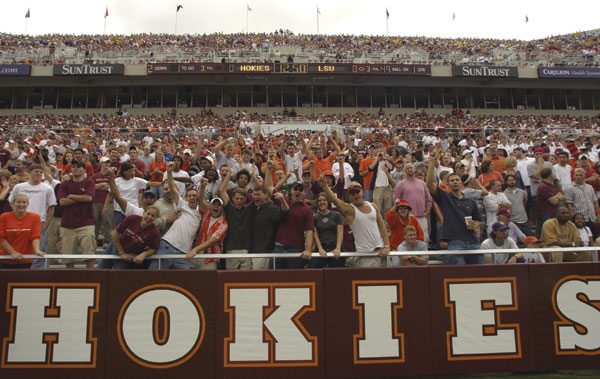 I read the article "Good Sport, Bad Sport" in the Fall 2004 issue and wanted to let you know that the actions taken by VT seem to be effective. Some of our friends from the Raleigh area who are N.C. State alumni attended the Virginia Tech-N.C. State game. They returned telling us how impressed they were with the VT students and fans. They were greeted in a friendly manner by the students and treated with respect at the game. We were proud to hear such a positive report. Keep up the good work!
Jack Farmer '60
Cary, N.C.
I was a bit taken aback by the suggestions for fan behavior in the "Good Sport, Bad Sport" article in the Fall 2004 edition of Virginia Tech Magazine. We can all agree that lewd and vulgar clothing should be discouraged, but it seems ridiculous to define booing as unacceptable. This is part of what defines a home field advantage. What's next? Will we spot the visiting team a touchdown in all games played at Lane Stadium?
Todd Allen '86
Richmond, Va.
I was very happy to read in the latest issue of Virginia Tech Magazine that good sportsmanship by our fans is being promoted. We had the happy occasion to go to the first game between Tech and Texas A&M here in Texas in 2002. We wore our Virginia Tech clothing, of course. We arrived early so we could attend the alumni pre-game activities. We were very surprised to be warmly greeted by the A&M fans and students. More than once, we were asked to join one of their groups for a bit of pre-game refreshment. Some of the A&M folks sitting near us during the game gave us the history of their songs, cheers, and other school traditions. One lady bought several of us Tech fans bottles of cold water during halftime. It was a hot day and we were up in the nosebleed section, very far from the refreshment stands, so her kind gesture was greatly appreciated. Even after we had won, the fans were nice to us, and retiring U.S. Senator Phil Graham said something nice to us on the way to our car. The only sour part was a very obnoxious, loudmouth fan who made things a bit unpleasant for the people sitting near him in the stands. Unfortunately, he was a younger alumnus from Virginia Tech.
John L (Jack) Williams '59
Hurst, Texas
What a joy it was to read the article "Good Sport, Bad Sport" in your fall issue. With a Hokie husband, two Hokie sons, and long-time season tickets, I have enjoyed the home football games for many years, with one exception. The "boos" heard throughout the stadium as the opposing team enters the field have been a constant source of embarrassment and shame to me as so many of our fans stoop to such inhospitable and unsportsmanlike behavior! At the recent Virginia Tech/Georgia Tech game in Atlanta, I waited to hear the "boos" as our team entered the stadium. There were none! My thought was, "What quality fans! Can't we be more like that?" Thank you for the efforts being made toward that goal.
Pat Inge
Blackstone, Va.
Just wanted to pass along some positive feedback. I live in North Carolina and have several UNC friends. Two of them approached me several days after our football victory and told me how nice the VT fans were. It pays to be polite and mature, even about our sports. Please pass this along to Coach Beamer also.
Larry and Patti Cahoon '68
Asheboro, N.C.
---
The gobbler lives on
Enclosed is a picture of our "Virginia Tech" wall in our home. The gobbler picture was given to us in 1963, the year I was president of the Washington Alumni Chapter. I was the first woman president of a Virginia Tech alumni chapter. The gobbler picture is one of three that were painted. The other two were in the ice cream bar in the student activity building. I was told that those two no longer exist. The one we have was painted by Jack Vawter.
The rest of the wall pertains to Tech, too--the wood below the gobbler is a plank that came from Miles Stadium when Lane Stadium was built. When we moved from Virginia to Texas 30 years ago, the wall came with us.
Jacklin Moffit Fagleson '42
Nacogdoches, Texas

---
Editor's note: The Fall 2004 President's Message referenced "Virginia Tech's seven colleges and school of veterinary medicine." This was not intended to imply that the Virginia-Maryland Regional College of Veterinary Medicine is not considered one of the university's eight colleges.
---
ALUMNI QUESTION
Virginia Tech Magazine is pleased to introduce a new feature. Often, alumni send us questions about the workings of the university, traditions, history, and more. Now, each issue of the magazine will feature such a question with an answer from an expert or administrator in the appropriate area. If you have a question you'd like to see answered, please send it to Virginia Tech Magazine, 105 Media Building, Blacksburg, VA 24061 or to vtmag@vt.edu.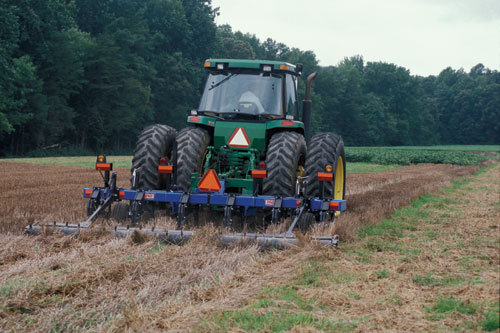 Question: What happens to vegetables and other produce raised as part of experiments? Can they be consumed or used, or do they have to be thrown away?
Several faculty members in the College of Agriculture and Life Science collaborated to come up with the following:
Answer: We do not sell the fruits and vegetables that are grown as a part of our research activities for a number of reasons. Most of the research is conducted on small plots rather than on a commercial scale. As well, harvesting and sorting the produce and handling sales would require extra people and administrative systems, which is cost-prohibitive. In addition, some of the trials involve testing of non-registered chemical control agents, so the produce must be destroyed. Another important consideration is that we do not want to compete with local businesses that sell fresh fruits and vegetables.
---