Virginia Tech Magazine's online feature, "On the Web," gives web-savvy readers more news and stories about some of the exciting things happening at the university today. "On the Web" will be updated with web-only content on a quarterly basis.
---
VIRGINIA TECH'S ASHLEY WHITE NAMED TO USA TODAY ALL-USA FIRST TEAM
by Liz Crumbley
Virginia Tech senior Ashley White, a University Honors student pursuing degrees in both materials science and engineering and music performance, has been named to USA Today's All-USA College Academic First Team.
White is one of 20 undergraduates selected from a field of more than 600 students nominated by colleges and universities throughout the United States. The All-USA first team students met the criteria for outstanding scholarship and leadership and for extending their intellectual talents beyond the classroom.
USA Today, the nation's best-selling newspaper, published the students' photographs and accomplishments in a two-page color spread on Feb. 17 and awarded each student a cash prize of $2,500. This is the second time USA Today has honored White, who was named to the All-USA third team in 2004.

White is the daughter of Sheila and David Rose of Newport News, Va., and Stephen and Susan White of Ashland, Ore. She is the granddaughter of Mary White and the late Robert White of Roanoke, Va., and of Warren and Mavis Boone of Rocky Mount, Va.

Being named to the All-USA first team is the most recent among numerous honors accorded White, who in November 2004 was selected to receive a British Marshall Scholarship. The two-year Marshall scholarships, which are worth about $75,000 each and cover all graduate study and living expenses at Cambridge University in England, are awarded to only 40 undergraduates in the U.S. each year. Marshall scholars are chosen for their accomplishments as intellectually distinguished undergraduates who will become future leaders and decision-makers.
"At a very young age, Ashley demonstrated talent in science and engineering and considerable ability with the violin," said Charles Dudley, director of Virginia Tech's Honors Program. "Her experiences in college have reflected both of these talents and she has approached her education with a true relish."
Since 2000, White has performed as student concert master with the New River Valley Symphony, and in 2001, she became first violinist for the Virginia Tech Spring String Quartet. She also teaches private violin lessons at the Performing Arts Institute of Virginia and coaches violin students for youth orchestras.
During the summer of 2003, she used her University Honors Scholarship to fund an 11-week tour of Paraguay and Mexico, where she worked with youth orchestra programs. "I want to continue to study music and to work with youth orchestras," said White, who considers the 2003 tour to be one of her most significant accomplishments as an undergraduate.
"Ashley is a multi-faceted student with a personality that just won't quit," said John Husser, chair of the Department of Music in the College of Liberal Arts and Human Sciences. "There is no such thing as 'no' to Ashley. She came here with a plan to earn two degrees in four years. In addition, she has accomplished incredible outreach by sharing her love of music with children in Mexico and South America."
White spent the 2004 spring semester in Italy, studying engineering and music at the University of Rome, and during the summer worked as an engineering intern at the Massachusetts Institute of Technology. She also has interned at NASA Langley, the Thomas Jefferson National Accelerator Facility, Cornell University and Lawrence Berkeley National Laboratory.
Already a published researcher, White is co-author of a scientific paper on aerogel materials published in the Dec. 2003 issue of the Journal of Non-Crystalline Solids and of an experiment published in the 2000 Virginia Junior Academy of Science Proceedings. She is a member of the ceramics research group led by David Clark, head of the College of Engineering's Department of Materials Science and Engineering.
"When Ashley arrived at Virginia Tech she had a keen interest in aerogels, and she has pursued this interest fervently while working in my research group," said Clark. "There is no doubt that her research will be highly valuable in designing advanced materials for a diverse range of future applications, including the biomedical field."
As a graduate student at Cambridge, White will work in the area of materials engineering and she plans to conduct research in bio-materials. At this time, her professional goal is to work in academia, although she also is interested in the field of public policy.
"Ashley is a person of integrity and energy, of talent and confidence, and of curiosity and adventure," said Dudley.
In addition to the Marshall and University Honors scholarships, White has received a Barry Goldwater Scholarship, a highly competitive national research award for undergraduates; and the Lewis Hoffman Award, presented by the American Ceramic Society to only one undergraduate annually. In 2002, she was inducted into Phi Beta Kappa.
White has received numerous other scholarships while at Virginia Tech, including the Hokie Scholar Award, which pays full tuition for four years; Pulley-Louden Scholarship; Gilbert and Lucille Seay Scholarship; Pamplin Leader Award; Music Department Scholarship; and the Alfred E. Knobler Scholarship.
White, who will graduate in May 2005, is the fourth Virginia Tech student named to USA Today's All-USA First Team. Past honorees are Susan Cox, a 1992 aerospace engineering graduate; John Michael Schmidt, a 1998 biology and environmental sciences graduate; and Sarah Airey, a 2001 electrical and computer engineering graduate.
---
VIRGINIA TECH DINING KEEPS CUSTOMER SERVICE FRESH (WITH RELISH!)
by Heather Riley Chadwick
Virginia Tech is consistently ranked among the top universities in providing its students with the very best in dining options. One important way they make that happen is keeping in touch with student preferences and needs.
Virginia Tech's Office of Housing and Dining Services has created a variety of customer service programs, including satisfaction surveys, which allow students to rate their preferences online; a customer advocate, who personally assists students with their needs; a Mystery Shopper program, which places students in the dining centers to observe and record customer satisfaction; a Student Advisory Committee, comprised of students who provide feedback and ideas; quality control surveys; website information and links; and Table Talk Live sessions.
Every semester, students voice their ideas and suggestions at more than a dozen Table Talk Live sessions. "These sessions provide a great opportunity for our dining staff to answer questions about our facilities, food, and service, but most importantly, to find out what students like," said Rick Johnson, director of housing and dining services. "It is a great pleasure for us to facilitate this kind of face-to-face communication with our customers."
The following improvements and additions are new as a direct result of fall 2004 Table Talk Live comments and suggestions:
In Shultz Express, students will now find Belgium waffles, soup-to-go, coffee on the breakfast bar as a beverage of choice, novelty ice creams, Ritz Bits® crackers, and Chips Ahoy® cookies.
Shultz Dining Center now offers a baked potato bar, hamburger and hot dog station, and nacho bar two nights a week.
West End Market has added tiramisu, southwest chicken salad, a rib eye sandwich, and croissants at Leaf and Ladle for use with the tuna salad and shrimp and chicken salads. On Sunday nights, West End Market is now open until 8 p.m.
Deet's Place now has Wally's Biscotti®, blueberry and raspberry scones, premium chocolate milk, apple juice, a rotating sandwich menu as well as a standard Deet's croissant sandwich, white tea, and an extended line of tea offerings.
DXpress has presented its own personal pan pizzas, chicken tenders, corn dog nuggets, ice cream novelties, and soup-to-go.
D2Go now features premium entrees: rotating vegan and vegetarian selections in Olives, rotating Pan Asia selections, decaf tea, balsamic vinegar, Splenda®, more dessert selections in La Patisserie, and a variety of hot grilled sandwiches at Gauchos. And as a pilot program for spring semester, D2's service hours have been extended to 2 p.m. at lunchtime. As popularly requested, the 12 oz. water cups and lids in all the dining centers have been replaced with 16 oz. cups and lids.
For a schedule of the spring 2005 Table Talk Live sessions, go to http://www.studentprograms.vt.edu/dining/table_talk_live.php.

---
GOVERNOR NAMES THREE FROM VIRGINIA TECH AMONG THE 2005 VIRGINIA OUTSTANDING FACULTY MEMBERS
by Mark Owczarski
In February, Gov. Mark R. Warner recognized today 12 outstanding faculty members from Virginia's colleges and universities for their excellence in teaching, research and public service. Among the 12 were three Virginia Tech professors--Rick O. Claus, Lewis Hester Chair of Engineering in the College of Engineering; E. Scott Geller, professor of psychology in the College of Science; and Lucinda Roy, Alumni Distinguished Professor of English in the College of Liberal Arts and Human Sciences.
"Everyone benefits from the dedication and knowledge of these outstanding individuals--students, institutions of higher learning, and the Commonwealth of Virginia," said Gov. Warner at a presentation ceremony in the Old Senate Chamber of the Virginia State Capitol.
The Outstanding Faculty Awards Program (OFA) is administered by the State Council of Higher Education (SCHEV) and funded by Dominion, the long-term corporate underwriter. An OFA award is the Commonwealth's highest honor for faculty at Virginia's public colleges and universities. Now in its 19th year, the OFA program awards faculty members selected from a pool of candidates nominated by their peers. "This award recognizes the finest among Virginia's faculty at our institutions of higher education for their superior accomplishments in teaching, research, and public service," said SCHEV Executive Director Daniel J. LaVista.
"The OFA program has a well deserved reputation for fostering faculty excellence. Dominion is proud to underwrite it and we look forward to continuing the partnership for many years," said Thos. E. Capps, chairman and chief executive officer. Dominion has committed $75,000 per year for a three-year minimum to support the program. In the past year, the Dominion Foundation, the philanthropic arm of Dominion, has approved more than $1 million in grants to higher education in Virginia.
"Dominion is one of the Commonwealth's most valued corporate citizens and a long-time friend of higher education," said Warner.
The majority of the Dominion Foundation's $75,000 annual gift was distributed today as $5,000 honoraria to each of 12 OFA recipients. The remainder of the gift was used by SCHEV to host the awards presentation and a luncheon for award recipients and their family members.

Claus, who holds a joint appointment in the departments of materials science and engineering and electrical and computer engineering, is the associate director of the Applied Biomedical Center, and the director of the Fiber and Electro-Optics Research Center (FEORC) at Virginia Tech. He is also co-editor-in-chief of the Institute of Physics journal, Smart Materials and Structures. Since joining Virginia Tech in 1977, Claus has served as the principal investigator on more than 500 separate research programs totaling nearly $35 million. Within FEORC, he has submitted more than 100 patent disclosures and published more than 950 papers in lightwave technology and applications. Alone, Claus has authored 30 issued patents, six of which are licensed and the basis of manufactured products; he has also involved students in the writing of nearly 1,000 publications. Since FEORC's initial funding in 1985, a total of 20 companies--employing more than 200 Virginians--have been spun off from Claus' work with students.

In recognition of his efforts, Claus received the Lifetime Achievement Award from the Optical Engineering Society in 2002 and was named Virginia Outstanding Scientist by the Virginia Science Museum in 2001. He has also received the Tutor Award for Teaching from the Society of Automotive Engineers and the C. Holmes MacDonald Award from HKN, the national electrical-engineering honor society. Claus holds a Ph.D. from the Johns Hopkins University.
Geller is a professor in and the director of the Center for Applied Behavior Systems in the Department of Psychology, where he has worked since 1969. His 160-page curriculum vita attests to his exceptional research and scholarship; he has led research grants totaling $5.3 million, published more than 250 research articles, 40 book chapters, and 19 books, and presented more than 1,000 papers at professional meetings. Geller has intensively mentored undergraduate and graduate students and has included them as co-authors on research publications and conference presentations.

For 35 years, he has applied his research to such real-world problems as energy conservation, environmental protection, and transportation safety. If you drive one of General Motors' Saturn automobiles, you have Geller to thank for the seatbelt reminder buzzer's four-second delay--those who buckle up immediately never have to hear the buzzer. One popular safety magazine's editor recalled a session at which Geller presented, where the audience spilled out into the hallway to hear his "seriously pumped and passionate" presentation, noting that he has always had the knack of making ivory-tower research somehow interesting. Geller holds a Ph.D. from Southern Illinois University at Carbondale.
Roy is the chair of the Department of English. In 1997, the same year she was promoted to full professor, she received one of Virginia Tech's highest accolades, an appointment as an Alumni Distinguished Professor--a lifetime endowed professorship recognizing "extraordinary academic citizenship and distinguished service within the Virginia Tech community." She was the first woman and the first person of color to be chosen by the university for this endowed chair. Roy has long been recognized as a pioneer in creative uses of technology in the classroom and has been instrumental in obtaining a substantial grant from the Alfred P. Sloan Foundation to support innovative projects.

Roy is an outstanding teacher, and her creative scholarship is an integral part of her teaching. Her poetry collection, The Humming Birds, won the Eight Mountain Poetry Prize. And, one of her published novels, Lady Moses, was chosen by Barnes and Noble for its "Discover Great Writers" Series in 1998. Her works-in-progress include another novel, a play, a story for children, and a novel for young adults.

In the personal-statement portion of her nomination materials, Roy explained that she has "developed a 'creed' that guides [her] as a teacher and a creative scholar: learning is a process that must be nurtured; the greatest joy is found in asking the hardest questions; the young are the most valuable gift we have; and finding connections between ostensible differences and unlikes is the key to genuine discovery." Roy holds an M.F.A. in creative writing from the University of Arkansas and an Honorary Doctorate of Letters from the University of Richmond.
Other 2005 Outstanding Faculty Awards Winners include Gayle F. Childers, professor of mathematics at J. Sargeant Reynolds Community College; R. Ed Freeman, Elis and Signe Olsson Professor of Business Administration at the University of Virginia; Matt R. Hyre, assistant professor of mechanical engineering at Virginia Military Institute; Cynthia M. Jones, Professor and Eminent Scholar of Biology at Old Dominion University; T. Mills Kelly, assistant professor of history at George Mason University; Katharine C. "Kitty" Kersey, University Professor of Early Childhood Education at Old Dominion University; Roland B. Minton, professor of mathematics at Roanoke College; Kate F. Slevin, Chancellor Professor of Sociology at the College of William and Mary; and Judy L. Twigg, associate professor of political science at Virginia Commonwealth University.
The General Assembly and the Governor created the OFA Program in 1986. Since being implemented in 1987, a total of 205 Virginia faculty members have received this honor.
Dominion is one of the nation's largest energy companies. The Dominion Foundation contributes more than $6 million a year to education, health and human services, community development, and environmental and cultural programs in areas where the company does business. Producers of energy, with an energy portfolio of about 28,340 megawatts of generation, Dominion also serves retail energy customers in eight states.
---
PROFESSORS ARE PART OF NEW INTERNATIONAL SCIENTIFIC MAGAZINE
by Sally Harris
Four Virginia Tech professors are part of the new magazine Elements: an international magazine of mineralogy, geochemistry, and petrology.

Robert J. Bodnar, of Blacksburg, University Distinguished Professor of Geosciences in the College of Science at Virginia Tech, served as guest editor of the inaugural issue. Michael F. Hochella Jr., of Blacksburg, professor of geosciences, is one of three principal scientific editors and "will be one of the guiding forces in shaping this magazine and the science it will cover," according to Pierrette Tremblay, managing editor. Nancy L. Ross, of Blacksburg, professor of mineralogy and associate dean of the College of Science, is a member of the magazine's advisory board.

In addition, Tremblay said, "the next issue will pay special recognition to Dr. Paul Ribbe, emeritus professor, for his editorship of the Reviews in Mineralogy and Geochemistry. Ribbe, who retired in 1996 after 30 years as professor of geosciences at Virginia Tech, was editor of 57 volumes of the journal. He was honored with a symposium at the 116th national meeting of the Geological Society of America.

"Bodnar earned a bachelor's degree in chemistry from the University of Pittsburgh, a master's degree in geology from the University of Arizona, and a Ph.D. in geochemistry and mineralogy from the Pennsylvania State University. He was appointed a University Distinguished Professor in 1999 and has earned numerous awards, including being named a Fellow of the Mineralogical Society of America and receiving the National Science Foundation's Presidential Young Investigator Award.
Hochella, a Virginia Tech alumnus, went on to earn a Ph.D. from Stanford University, where he was a research professor for nine years. He rejoined Virginia Tech in 1992. Hochella leads a project that was recently awarded $1 million from the National Science Foundation's newest initiative, Nanoscale Science and Engineering. His awards include the Humboldt Research Award and Fellowship and the Dana Medal.
A native of Blacksburg, Ross joined the Virginia Tech Department of Geological Sciences in 2000 as professor of mineralogy after 12 years at University College London. She was named associate dean for research, graduate studies, and outreach for the College of Science in 2004. She obtained her bachelor's degree from Virginia Tech, a master's degree from the University of British Columbia, and a Ph.D. from Arizona State University. Ross is a fellow of the Mineralogical Society of America.
Elements was unveiled at the recent Geological Society of America meeting in Denver, Col., according to Tremblay. Bodnar "has assembled a collection of five invited peer-reviewed papers covering ore-forming fluids; volatiles in magmatic-volcanic systems; water in the mantle; fluids, faulting, and flow; and extraterrestrial water," Tremblay said. Bodnar also wrote the introduction.
Seven organizations serve as co-publishers of Elements: the European Association for Geochemistry, the International Association of Geochemistry and Cosmochemistry, the Mineralogical Society of America, the Mineralogical Society of Great Britain and Ireland, the Mineralogical Association of Canada, the Geochemical Society, and the Clay Minerals Society. Members of the societies, plus 1,300 libraries around the globe, will receive the magazine. Subscriptions currently number approximately 9,000.
---
SEQUENCING OF MARINE BACKTERIUM WILL HELP STUDY OF CELL COMMUNICATION
by Susan Trulove
The opportunity to anno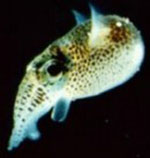 tate the genome of the glow-in-the-dark bacterium, Vibrio fischeri, which lives in symbiotic harmony within the light organ of the bobtail squid, has helped a Virginia Tech microbiologist advance her research on quorum sensing, or how cells communicate and function as a community.
Researchers studying the newly sequenced genome of the marine bacterium V. fischeri, described this week in the Proceedings of the National Academy of Science (PNAS), have so far observed both differences and similarities in gene arrangement between it and pathogenic Vibrio species. V. fischeri has a lower GC content than other sequenced Vibrio species, but it is still more closely related to them than other organisms. (Among the four nucleotides that make up DNA--adenine, guanine, thymine, and cytosine (ATGC)--'A' pairs with 'T' and 'G' pairs with 'C'. The more GC content, the more tightly DNA strands bind.)
Despite the fact that it is a symbiont, V. fischer's genome contains genes that may have toxin activity. "Analysis of this sequence has revealed surprising parallels with Vibrio choleraeand other pathogens," said Ann Stevens, associate professor of biology in Virginia Tech's College of Science.
This sequence research is described in the PNAS online early edition the week of Feb. 7, 2005 (http://www.pnas.org/), in the article, "Complete genome sequence of Vibrio fischeri: A symbiotic bacterium with pathogenic congeners," by E. G. Ruby, professor of medical microbiology and immunology at the University of Wisconsin, Madison, previously at the University of Hawaii; C. Lupp; J. McCann; D. Millikan; A. Schaefer; and C. Whistler of the University of Hawaii at Honolulu; M. Urbanowski and E. P. Greenberg of the University of Iowa at Iowa City; J. Campbell at Integrated Genomics; A. Dunn and E. Stabb at the University of Georgia at Athens; Marie Faini and Ann Stevens of Virginia Tech; R. Gunsalus of the University of California at Los Angeles; and K. Visick of Loyola University Chicago.
Stevens studies how cell-to-cell interaction regulates bacterial processes that include antibiotic or toxin production, biofilm formation, and bioluminescence. One of the longest studied models of quorum sensing is the bioluminescent marine bacterium V. fischeri.
"It was selected by Drs. Ruby and Greenberg to be sequenced exactly because it is so well studied," Stevens said. "This was also the first time a non-pathogenic Vibrio species has been sequenced and there is the potential for valuable lessons as it is compared with the pathogenic species. I was particularly pleased when my graduate student, Marie Faini, and I were given the opportunity to be members of the team that annotated the sequence."
Annotation is a complex process that assigns functions to genes. Having access to the genetic sequence in order to perform this chore gave Stevens and Faini early access to specific information about the genes of the bacterium she has been studying for several years.
Many different bacteria use quorum sensing. Stevens explains that cells release autoinducer molecules. The numbers of these signal molecules increase with cell density, until they initiate various reactions, such as light production--or, in a pathogen, the release of toxin once a certain level of bacteria build up.
Stevens studies the regulation system of the cell-to-cell communication. "Our quorum sensing research group at Virginia Tech is working to build a more complete understanding of the molecular processes that occur at the point that a bacterium changes its gene expression pattern in response to quorum sensing," she said. The genome sequence has allowed Stevens to begin exploring the connection between quorum sensing and other global regulatory networks through a combination of comparative genomics and experimental molecular biology.
Other researchers are focusing on the relationship between the bacterium and its animal host. The PNAS article concludes, "If we are to understand the unifying themes underlying these contrasting bacteria–host interactions, we must begin to use comparative genomic approaches with closely related pathogenic and beneficial microbial species."
Marie Faini O'Brien of Frederick, Md., earned her master's degree in biology in April 2003.
For questions about quorum sensing, contact Ann Stevens at (540) 231-9378 or ams@vt.edu. Learn more at http://www.biol.vt.edu/faculty/stevens/.
The lead author of the PNAS article, E.G. Ruby, is at (608) 262-5911, egruby@wisc.edu. Learn more at http://www.medmicro.wisc.edu/department/faculty/ruby.html.
Direct questions specific to PNAS content to the PNAS News Office at (202) 334-1310 or PNASnews@nas.edu.