---
---
Memorial product honors two corps alumni
A new licensed Hokie product--a distinctive car magnet--pays tribute to two corps of cadets alumni, U.S. Army 1st Lt. Jeffrey Kaylor (information systems '01) and Army 1st Lt. Timothy Price (forestry '01), both of whom were killed in action in Iraq in 2003 and 2004, respectively. All proceeds from the sale of the magnets will benefit the Emerging Leaders Scholarship endowments established in memory of the fallen officers. The first two magnets purchased were presented to Kaylor's widow and Price's father in a halftime ceremony at the Virginia Tech versus University of Virginia basketball game in late January. The magnets can be purchased online at http://vt.universitysportwear.com. During its first month of sales, the magnet netted more than $10,000 for the scholarships.
Architecture program ranked in the top 10
The architecture program in Virginia Tech's School of Architecture + Design has once again been ranked among the very best in America. In its 2005 rankings, DesignIntelligence, the only national college ranking survey focused exclusively on design, ranked the architecture program 10th nationwide. In addition, the graduate program in architecture was ranked among the top 10 in the South. The rankings reflect the results of a survey asking professionals to assess which, of the more than 100 National Architectural Accrediting Board-accredited programs, best prepared students for the practice of architecture. According to DesignIntelligence, the survey targets individuals in firms who have direct experience with the hiring and performance of graduates: design partners, managing principals, and human resource directors.
TOP
Dean of College of Engineering to step down
According to President Charles Steger and Provost Mark McNamee, Dean of the College of Engineering Hassan Aref will step down from his position as dean but will continue to hold the Reynolds Metal Professor endowed chair. McNamee is conducting a national search to select a new dean for the college.
TOP
Highty-Tighties hightail it down Pennsylvania Avenue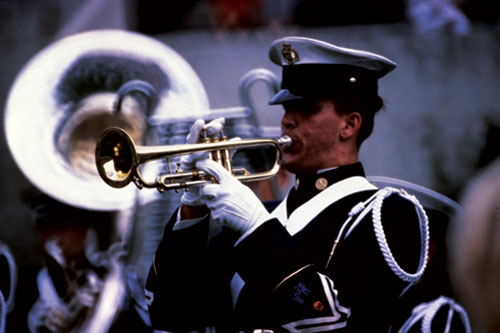 The 96-member Virginia Tech Corps of Cadets Regimental Band was among the 30 bands selected--from the 157 that applied--to march in the 2005 Presidential Inaugural Parade held in Washington, D.C., on Jan. 20. The honor marked the band's 11th inaugural parade appearance; the Highty-Tighties' first appearance was in President Woodrow Wilson's inaugural parade in 1917.
TOP
Changes to May commencement schedule
Because the installation of new lighting at Lane Stadium will not be completed by mid-May, the starting times for Tech's commencement ceremonies on Friday, May 13, have been changed. The University Commencement Ceremony held in Lane will begin at 6 p.m. instead of the previously scheduled 7:30 p.m. The Graduate School Commencement Ceremony in Cassell Coliseum has been rescheduled to begin at 1:30 p.m. For more information about the spring commencement activities, call the Commencement Hotline at 540/231-3208 or visit the commencement website at http://www.vt.edu/academics/GraduationInfo.html.
TOP
Hokies United sponsors "Silent Parade of Flags"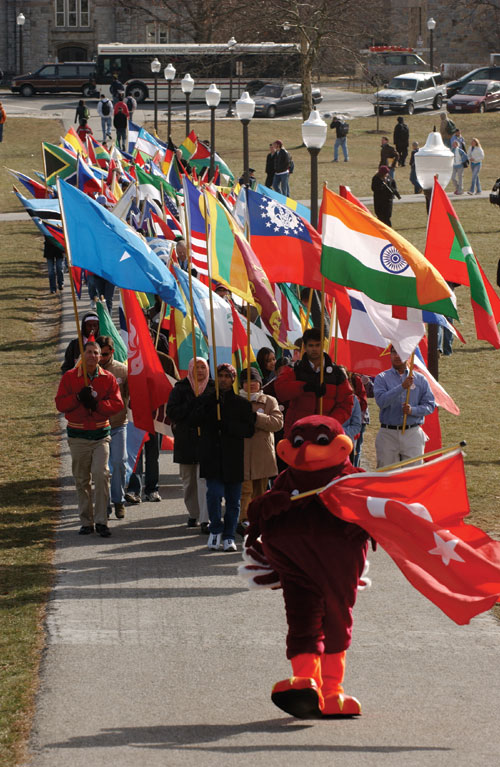 Hokies United, a student organization dedicated to responding to local, national, and international tragedies that impact the Virginia Tech community, sponsored a "Silent Parade of Flags" on Jan. 28 to remember and support Southeast Asians affected by the tsunami. To symbolize solidarity, students from all nations carried dozens of international flags, led in the procession by the flags of those nations most severely affected by the tsunami. The event kicked off the "Hokies United Challenge," a campaign to raise $100,000--or $3 for every Tech student, faculty member, and staff member--for tsunami relief. Approximately 700 Tech students, numerous alumni, and several faculty and staff members hail from nations affected by the tsunami.
Virginia Tech has confirmed the death of one alumnus as a result of the tsunami. Chandra Wijesundera (M.S. agronomy '88) died on December 26, 2004, in Galle, Sri Lanka, while traveling with his wife and younger son. All three were killed when the tsunami struck their train.
TOP
Engineering professor honored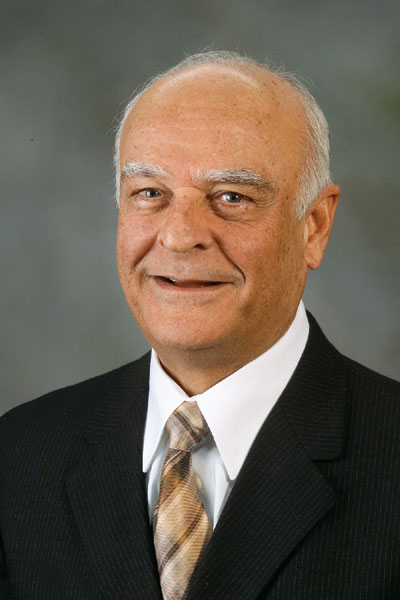 University Distinguished Professor of Engineering Science and Mechanics Ali Nayfeh, who has directed more than $25 million in engineering research, received Virginia's 2005 Lifetime Achievement in Science Award from the Science Museum of Virginia and will receive the inaugural Lyapunov Award from the American Society of Mechanical Engineers for his lifetime contributions to the field of nonlinear dynamics. Nayfeh was also invited by the Office of Naval Research to join its High Capacity Alongside Sea Base Sustainment team, which will design ship-to-ship transfer in high seas, allowing ships to refuel and restock at sea.
TOP
MBA program ranked by Financial Times
In the London-based Financial Times 2005 rankings of 127 full-time M.B.A. programs globally, Pamplin College of Business' M.B.A. program was ranked 36th among U.S. business schools--up from 43rd last year--and 58th among all programs. In notable sub-categories, Pamplin ranked fourth in "percentage salary increase" M.B.A. graduates received, an indicator of alumni career development and purchasing power. Twenty criteria, including alumni career progress and the school's research productivity and diversity, were used to determine the rankings.
TOP
Professor appointed to Head Start Advisory Panel
Professor of Human Development Victoria R. Fu, a pedagogical consultant at Tech's Child Development Laboratory School, is one of 10 child development experts appointed by U.S. Department of Heath and Human Services Secretary Tommy G. Thompson to serve on a panel to assess the progress in developing and implementing the Head Start National Reporting System. The panel will help ensure that the goals of the Head Start program are being met and that children are better prepared to learn when they enter school.
By joining Apple's iTunes on Campus program, Virginia Tech became one of several universities taking steps to stem the illegal downloading of music by students. Beginning this fall, current faculty, staff, and students are able to access the iTunes software at no cost to the university. iTunes offers an extensive library of more than 700,000 songs for Mac and PC customers to purchase and download for a small fee. "Virginia Tech's use of iTunes will allow students to download songs legally and will also assist faculty members who may use music in their curricula," says John Krallman, the university's director of Information Technology Acquisitions. This partnership emerged in response to the growing national debate over copyright infringement when music, photographs, and other electronic information are downloaded from the Internet. Earlier this year, the Record Industry Association of America filed lawsuits to stop illegal music usage and subpoenaed several universities, including Virginia Tech, to provide the names of students using IP addresses to which the association had traced music downloads.
TOP
VMRCVM observes silver anniversary
In observation of its 25th anniversary, the Virginia-Maryland Regional College of Veterinary Medicine (VMRCVM) continues its yearlong celebration, "Breaking New Ground in Veterinary Medicine," a theme alluding to both the origins and the aspirations of the college. Kicking off with a tribute dinner to former VMRCVM Dean Peter Eyre, the anniversary events--which included a "College Family Day" and a monthly "Community Vet School"--culminated with a "Grand Celebration" on April 8-9. Major programs during the final weekend were the college's first "Legislative Day," the annual Open House, a formal dinner at the Hotel Roanoke, and the unveiling and dedication of the first major piece of sculpture ever installed on the Virginia Tech campus. For more information, visit the college's website at http://www.vetmed.vt.edu/.
TOP
Professor awarded Fulbright Distinguished Chair
France Belanger, associate professor of accounting and information systems in Virginia Tech's Pamplin College of Business, has been awarded a Fulbright Distinguished Chair, considered among the most prestigious appointments in the Fulbright Scholar Program. Recipients are generally senior scholars with significant publication and teaching records. Belanger, who is an Alumni Research Fellow in her department and directs the Pamplin College's Center for Global E-Commerce, will spend the summer of 2006 in Portugal, where she will teach a master's level class on strategic information systems and conduct doctoral seminars at the Technical University of Lisbon's School of Business and Economics. Belanger's research interests focus on the use of telecommunication technologies in organizations, in particular for distributed work and electronic commerce.
TOP
"Charter initiative" passes muster in General Assembly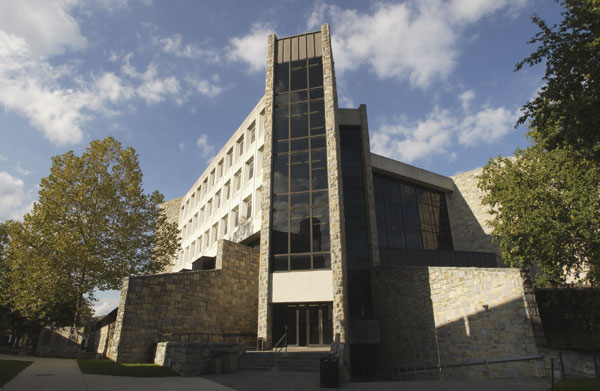 During this year's legislative session, the Virginia State Senate and House of Delegates passed landmark bills granting Virginia's public colleges and universities greater control over their financial and administrative affairs. The legislation--now known as the Restructured Higher Education Financial and Administrative Operations Act--requires all public institutions seeking greater administrative autonomy to develop six-year financial, academic, and enrollment plans to define how they will help meet state needs. Under the legislation, all state colleges and universities will remain state agencies but will not become political subdivisions of the state.
"The legislation will not only benefit individual universities, it will also help the commonwealth," ensuring not only a strong but more flexible higher education system, says Minnis Ridenour, Senior Fellow for Resource Development and Virginia Tech's principal liaison for this initiative. "This is a significant development towards helping Virginia Tech achieve its goal of becoming one of the nation's best universities."
The bill defines 10 conditions that an institution must meet to be eligible for increased financial and administrative autonomy. Among the conditions, the schools must
provide access to all citizens of the commonwealth, including underrepresented populations, and ensure that the cost to attend remains affordable;

offer a broad range of undergraduate programs of the highest quality that meet students' needs as demands and disciplines change;

define steps to ensure high retention and graduation rates;

develop comprehensive articulation agreements with the Virginia Community College System;

contribute to statewide economic development efforts;

provide assistance in helping improve elementary and secondary school systems;

conduct business operations that maximize efficiency and meet the commonwealth's management standards; and

develop a six-year financial plan that projects all revenues, including tuition and fees.
Colleges and universities that demonstrate compliance with the act's key provisions will be eligible for additional financial and operational authorities. By October, the State Council of Higher Education for Virginia, in cooperation with House and Senate committees, representatives from the colleges and universities, and other state officials designated by the governor, will develop a set of measurable indicators to determine if an institution has met the conditions set forth by the legislation.
TOP
---
Researchers develop uses for cotton gin residue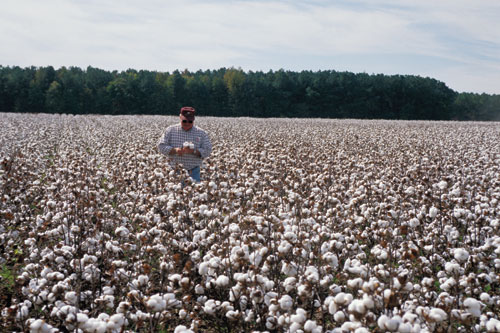 With a goal to add value to the state's cotton crop, Professor of Biological Systems Engineering Foster A. Agblevor has developed the manufacturing processes that can extract glucose and xylose from cotton gin residue, which can then be used to make ethanol, potentially an automobile fuel, and xylitol, a sugar. "Our work shows a manufacturing process for extracting both products simultaneously from the cotton residue so in the future it is possible that a manufacturing company could produce both the ethanol and xylitol products," Agblevor said. An Iowa firm that produces ethanol from corn is interested in developing the technology.
TOP
Professors provide training after tsunami
In the wake of the devastation wrought by the December tsunami, Professors of Human Development Fred Piercy and Margaret Keeling, both family therapists, are in residence at Atma Jaya University in Jakarta, Indonesia, training psychologists, social workers, and volunteers in culturally sensitive psychosocial interventions. Based on their extensive prior work experience in the Asian archipelago, Piercy and Keeling are using cultural and religious rituals to support the healing process among Indonesians.
TOP
System X available for "Big Science" research
Research time on Tech's 2200 processor supercomputer, System X--the world's fastest academic supercomputer--is now available on a cost-recovery basis to computational and engineering researchers. Allocation requests will be judged on scientific merit by a faculty committee, and internally funded allocations will be available to Tech researchers. For more information, visit http://www.tcf.vt.edu/.
TOP
NSF approves $12.5 million funding renewal for Virginia Tech-based Center for Power Electronics
In Dec. 2004, the National Science Foundation (NSF) announced a four-year, $12.5 million funding renewal for the Virginia Tech-based Center for Power Electronics (CPES). One of 19 active Engineering Research Centers in the U.S., CPES develops power electronics technology to reduce energy consumption costs. Using electric circuits to convert and control electric energy efficiently, power electronics technology is part of most electrically powered machines and a variety of devices ranging from railroad trains to stereos. The center is led by Director and University Distinguished Professor of Electrical and Computer Engineering Fred Lee.
TOP