That the corps of cadets is the keeper of tradition at Virginia Tech is evident in the solemn pylon dedication ceremonies conducted to honor our alumni who have made the ultimate sacrifice while serving in the armed forces. The terror attacks of Sept. 11, 2001, occurred less than a week after Virginia Tech re-dedicated the War Memorial in a special campus ceremony, and since then, the names of seven alumni have been added to that memorial, all of them engraved on the Ut Prosim pylon in a total of four ceremonies.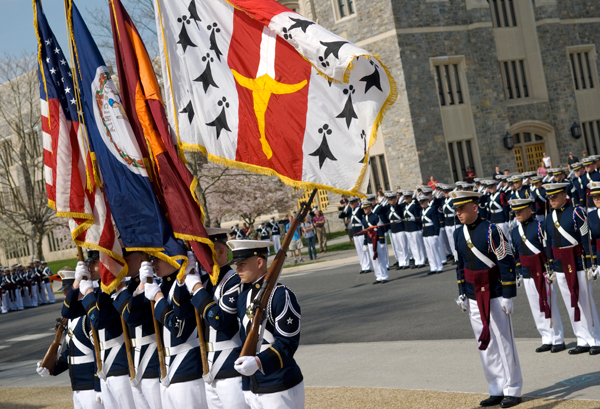 The first of these ceremonies took place on Nov. 1, 2003, to honor Army 1st Lt. Jeffrey Kaylor (management science '01), who died on April 7, 2003, in the invasion of Iraq. The following spring, Army 1st Lt. Tim Price (forestry '02) returned to campus after his first combat tour in Iraq and spent time at the memorial remembering his fallen classmate. A few months later, Price returned to Iraq, where he was killed by a sniper on Sept. 7, 2004. The ceremony to dedicate the addition of his name to the pylon took place on Nov. 27, 2004.
On April 29, 2005, three names were added during a third ceremony. Specialist Nick Mason (Class of 2006), a sophomore and member of the Virginia National Guard, was killed by a suicide bomber in Mosul, Iraq, on Dec. 21, 2004. Army Sgt. Nathaniel Nyren (forestry and wildlife '95) died on Dec. 28, 2004, while on convoy duty in Iraq. And Marine Cpl. Chris Weaver (history '02) lost his life in an ambush on Jan. 26, 2005.
The most recent ceremony took place on April 11, 2008, to honor Navy Lt. Nick Brantley (communication '01), who died when his helicopter went down on Sept. 25, 2005, and Army Sgt. Jesse Clowers (management '03), who was killed by an improvised explosive device in Afghanistan on Aug. 12, 2007.
Each ceremony is attended by the entire regiment in formation, and remarks are made by Virginia Tech President Charles Steger, Vice President for Alumni Relations Tom Tillar, and Commandant of Cadets Maj. Gen. Jerrold Allen. After honors are rendered, the families of the deceased unveil the engraved names of their loved ones on the pylon.
The Virginia Tech War Memorial is one of the most inspiring monuments on campus. Eight pylons reach skyward, engraved both with the core values upon which the university was founded and with the names of 424 alumni who lost their lives in the line of duty. The Pylons stand above the War Memorial Chapel, which is adorned with the regimental colors and histories of the seven Medal of Honor recipients we number among our alumni--a number exceeded only at West Point and Annapolis.
Our campus changes every year, but some things will always remain the same. Our roots as a military institution are deep, and today's corps carries forward the meaningful traditions of that heritage with great honor and dignity.
Ut Prosim.
Col. Rock Roszak '71, USAF (Ret.) is the alumni director for the Virginia Tech Corps of Cadets.