The other day, an employer of several Virginia Tech graduates remarked how reliable and trainable our alumni are when compared to alumni from other "highly reputable universities." This is a compliment that I hear fairly often. I believe this is because our faculty and staff have always held fast to an earnest work ethic that, in turn, fosters similar values in our graduates, helping them to stand out in a diverse range of professions throughout the country.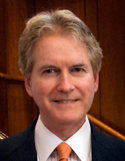 According to Time magazine, we are experiencing our 13th official recession since the Great Depression--unlucky number 13. However, our university continues to make great strides by using its resources--from faculty and staff members to equipment and sustainability efforts--efficiently and conservatively, but not at the expense of providing a first-rate education for our students. That is why Tech remains ranked by several publications as a top bargain in higher education; Kiplinger's, for example, ranked Tech its 15th top value among public colleges and universities nationwide.
I would ask those of you who make or influence hiring decisions to consider favoring Hokies for their dependability. The value of their degrees has been enhanced by the successes of you, the alumni, who first earned the reputation for an exemplary work ethic. This slower economy will challenge many new graduates, but the Hokie Nation network can give them a leg up in exchange for their contributions to the university's recent successes, of which there have been many.
For instance, last year, Virginia Tech moved up 12 places in the most recent research rankings, from 54th to 42nd nationally--no other university saw such a drastic rise. Our faculty and students have been recognized nationally by such prestigious organizations as the National Science Foundation, and several students were named Goldwater and Fulbright scholars. A prestigious MacArthur Fellowship was awarded to a member of our faculty, providing a no-strings-attached grant to pursue any scholarship or research desired. A DesignIntelligence study cited Virginia Tech's
architecture program as ranking along with those at Harvard, Yale, and Columbia universities as the top among "America's World-Class Schools of Architecture," and our engineering, agriculture, and business colleges and programs continue to be cited among the top in the country.
There are also points of pride outside the classrooms and the research labs. Last year, the football team won its second consecutive ACC title--its third such title in five years--and in January won the BCS Orange Bowl. Superlative performances by such young athletes as softball pitcher Angela Tincher and track Olympian Queen Harrison continue to make Virginia Tech known both across the country and around the world.
In Roanoke, the new Virginia Tech Carilion School of Medicine is under construction and is slated to accept its first class in 2010. Many additional programs and facilities are part of the current university fundraising campaign for the university, The Campaign for Virginia Tech: Invent the Future. Its $1 billion goal is ambitious in these tough economic times, but we believe that it is achievable through alumni and friends who realize that their gifts are investments in the success of current and future students.
A popular quote that I have always associated with Virginia Tech says, "If I can see further, it is because I stand on the shoulders of giants." As an institution, Virginia Tech stands on the shoulders of all alumni and faculty and staff members who have been a part of and have served the university, providing the foundation for today's reputation and a valued work ethic. While rankings may be tangible evidence of success, more important is the confidence our alumni have in the university that they helped to shape. It is on your shoulders that Virginia Tech stands, thrives, and continues to invent the future.

Tom Tillar '69
Vice President for Alumni Relations