CORPS OF CADETS
VPI Company Prepares Civilian Leaders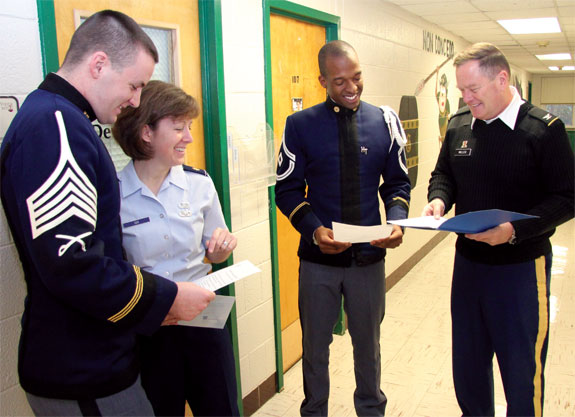 VPI company commander Patrick Nichols (left) and first sergeant Kareim Oliphant (middle) fine-tune their résumés and leadership skills under the tutelage of Col. Dave Miller and Maj. Carrie Cox.
It is an exciting time to be in the Corps of Cadets. As many of you know, we began this year with the largest corps since 1969: 949 cadets. Not as widely known is the fact that cadets in the Civilian-Leader Track, known as VPI Company, now comprise nearly 20 percent of the total. These are hard-working, dedicated cadets who see the value in developing their leadership skills, and their majors are as diverse as those of the corps as a whole.
Established more than 10 years ago as the first structured professional-development program for non-ROTC cadets, the Civilian-Leader Track allows cadets to graduate with the same great corps leadership and development experiences available to their classmates destined for the armed forces. Whether they're organizing blood drives, collecting for the food pantry, or sending packages overseas to the troops, these cadets hone their leadership skills through service to others. When they graduate, they, too, will be serving their country—but will do so in the business, government, and nonprofit sectors.
As we upgrade the curriculum and programs for all cadets, we are also creating unique opportunities geared toward the special circumstances of those in the Civilian-Leader Track. Successful Tech alumni frequently visit to share their life experiences and corps alumni discuss how their unique corps experience helped them add value to the organizations that hired them. VPI Company cadets also benefit from presentations by experts in résumé writing, job searches, interviewing techniques, and other skills that will help these cadets launch their careers.
Working with the university's Career Services office, the corps is connecting with organizations and businesses that are interested in tapping cadets for internships and job opportunities. Many businesses and government agencies are sending representatives to campus specifically to speak to VPI Company about the benefits of joining their team. At a time when ethical leadership and proven organizational skills are at a premium, more and more employers are finding their way to the Corps of Cadets. Our goal is for every one of our Civilian-Leader Track cadets to record at least two internships before graduating.
We're asking Virginia Tech alumni to consider being part of the internship initiative. If you have a LinkedIn account, request to join the Virginia Tech Corps of Cadets group to view a list of cadets interested in internships or full-time employment, and you can match your organization's openings to the cadets' qualifications and interests.
To learn more about how a cadet, as an intern or an employee, can add value to your organization, contact Col. Dave Miller at 540-231-9455 or dmiller3@vt.edu.
Maj. Gen. Randal D. Fullhart is the commandant of cadets at Virginia Tech.