ALUMNA PROFILE
Letitia Long: A Global Vision
Alumna leads intelligence agency in new era of collaboration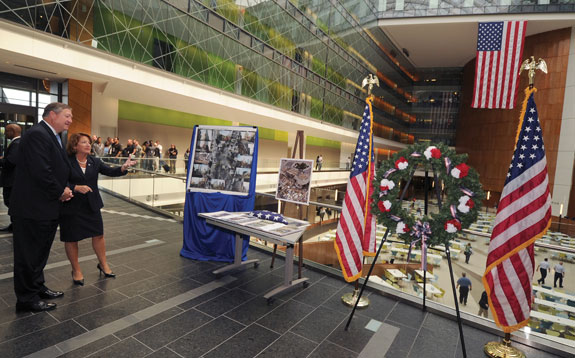 Letitia Long '82, director of the National Geospatial-Intelligence Agency (NGA), gives the secretary of the U.S. Air Force a tour of NGA's new headquarters in Springfield, Va. Photos courtesy of Tony Boone, NGA.
The National Geospatial-Intelligence Agency (NGA) headquarters in Springfield, Va., isn't what one might picture for an intelligence agency. Its sprawling atrium, the ceiling covered with Mylar fabric to let in ambient light, provides a wide-open gathering place for staff. The openness is no accident, but rather an intentional design meant to facilitate a culture shift that promotes face-to-face collaboration, especially among analysts.
At the head of the agency, in an office that looks out onto the rolling Virginia mountains, is Director Letitia "Tish" Long (electrical engineering '82). Time spent with Long reveals a leadership style that depicts this shift toward openness and collaboration occurring, post-9/11, across the intelligence community, a shift she described as the transition from a "need-to-know" atmosphere to a "need-to-share and need-to-provide" culture. She greets everyone with a warm smile, listens closely to those around her, and asks genuine questions. NGA staff members praise both her down-to-earth attitude and her deft leadership.
NGA's work is serious business. In an era of instantaneous access to information and rapidly evolving technologies, the agency fuses satellite imagery, photos, analysis, and information about a point and place on the Earth, providing intelligence data to a wide range of clients, from the military to first-responders who are often operating in life-and-death situations. "I would like the war-fighter to have the best and most recent classified geospatial intelligence when planning or in the middle of an operation," Long said. Access to the information NGA provides also helps determine the extent of natural disasters and aids first-responders in search and rescue. When Navy SEALS planned a clandestine operation against Osama bin Laden, when Hurricane Irene struck the East Coast, and when a massive earthquake rocked Haiti, NGA played a vital role in putting the right information in the right hands.
Guided by Long, the agency is tackling a number of issues, such as decreasing resources, the pitfalls of bureaucracy, and changes in information technology. "It's a bureaucracy, so trying to keep forward momentum is a challenge." Still, she doesn't let anything slow her down. "I like to take what some might see as challenges and turn them into opportunities," said Long, who applied to a number of schools, including Stanford and MIT, before a visit to the Virginia Tech campus on a warm spring day won her over.
The conflict between the occasionally cumbersome and slow-to-change aspects of a bureaucracy and the swiftly evolving way society communicates, shares, and analyzes data is one of the primary challenges—she refuses to use the word "obstacles"—Long faces at the helm of NGA. As technology evolves, the intelligence community needs to keep up, she said, noting that many federal and Department of Defense laws were written in a time before smartphones and Google. Nevertheless, change is happening—a shift symbolized by the state-of-the-art Springfield headquarters.
She also notices a growing emphasis on diversity, including what she calls "diversity of thought." "In solving intelligence problems, including diversity of thought is essential," said Long. "[In] the Osama bin Laden operation, the intelligence community witnessed the true value of merging many thoughts and perspectives, and we must to continue to replicate this kind of integration across the enterprise in the future."
Long's journey to NGA director started before she'd even crossed the stage at commencement. Her long history of civilian federal service dates back to 1978, when she started as a project engineer-in-training with the U.S. Navy, where she continued her work after earning her degree in 1982. She's taken on a number of roles since then, including deputy director for information systems and services for the Defense Intelligence Agency and that agency's first chief information officer. She was named to her current post in August 2010.
Lynn Schnurr (health and physical education '75), chief information officer for Army Intelligence and director of the Intelligence Community Information Management Directorate, has known Long for more than 15 years. "[Long's] reputation is just impeccable throughout the community as someone who's a natural leader. She's humble, has the intellect to understand and make the right decisions, [and is] someone who listens extremely well to people," Schnurr said. "[We can] feel so comfortable knowing that someone like her is in such an important position."
Long credits her success to a number of factors, including seeking out strong mentors and taking the jobs she knew would push her to grow professionally. "I tell people, if you take the job you're perfectly ready for, you'll be bored." Though Long calls herself an introvert, she works hard to engage others in an extroverted fashion.
The first woman to lead a major intelligence agency, Long said she'd offer the same advice to anyone, male or female. "Be excellent at all you do. Build the skills you need to be excellent in your field. ... Speak with authority, but be a good team player." She added, "Always be honest. Don't compromise yourself or your values."
In a new era of information-sharing, Long, because of her personable demeanor and extensive history of dedication to the intelligence community and public service, is well equipped to lead an agency tasked with ensuring that information reaches those who need it most. In short, Long personifies the NGA motto: "Know the Earth ... Show the way ... Understand the world."