LETTERS TO THE EDITOR
A legacy carved in Hokie Stone
Much has been said about Hokie Stone over the years, but nothing has been mentioned about the stone contractor responsible for a great deal of the stonework completed between 1959 and 1983. My father, Dante O. Martin Jr., was that man.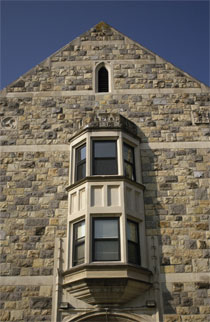 While his father, my grandfather, was in charge of the stonework on several buildings on campus, notably Burruss Hall, Newman Library, War Memorial Gymnasium, and some classroom buildings, it was my dad who was responsible for the beautiful stonework on a great number of buildings at Virginia Tech. He brought us to live in Blacksburg in 1959, where he bid successfully on one construction project after another. The years passed, and his stonework graced the War Memorial, Lane Stadium, and Rector Field House; classroom buildings such as McBryde Hall and Whittemore Hall; and dorms such as Ambler Johnston, Slusher, Slusher Tower, Pritchard, and Vawter.
There are many more, and I wish I could name them all. But sadly, the one who knows—my father—passed away in 1983, not long after retiring. His last stone project was the new addition to Newman Library.
My mother, Ada A. Martin, still lives in Blacksburg. She always was by dad's side, and she is a wealth of information on all of the years he spent making Virginia Tech more beautiful than it already was. As for me, I love to view the campus as a wonderful set of monuments to my dad.
Elissa Martin Devens (French '77)
St. Augustine, Fla.
Living Pylons: A Call for Submissions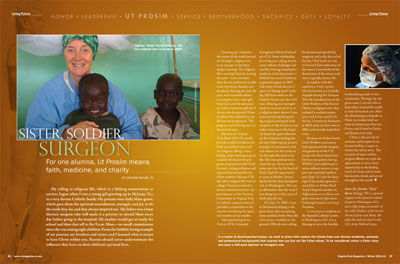 In a series of alumni-penned essays, we want to share with readers the stories from your diverse academic, personal, and professional backgrounds that express how you live out the Pylon values. To be considered, select a Pylon value, and send a 100-word abstract to vtmag@vt.edu.
Correction
In a winter edition Class Notes wedding entry, Erika A. Weiberth's first name was incorrect. Virginia Tech Magazine regrets the error.