AROUND THE DRILLFIELD
From us to you: a refreshed magazine
Starting in early November, as the regular production process continued on the winter edition, a core group of editors and graphic designers began meeting on a weekly basis to redesign the magazine—all of it, from the page numbers to the font, from the table of contents to the paper width.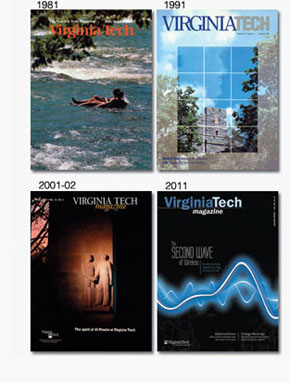 Drawing from countless other magazines published inside and outside academia alike, we methodically narrowed the stacks into our favorite approaches, mimicking some sections here, inventing others there. Wide-ranging discussions ensued, and our attention to detail was just as rigorous as the way we construct the magazine on a regular basis.
In your hands is the end result, a publication we feel is just the right blend of best practices and brand-new: more contemporary and dynamic while respecting the powerful traditions of the Hokie Nation. Among other features, note the larger paper, larger font size, more-arresting presentation of photographs, and icons for online content.
We invest so much care in the magazine for sound reasons. A fall 2010 readership survey revealed that the magazine is your primary source of collecting information about the university and that it strengthens your connection to Virginia Tech at a rate above the national average for alumni magazines. In a summer 2011 survey, we learned that readers of the print edition remember more of the stories than do our online readers.
In other words, you've told us the magazine is valuable; and if you've read this far, we hope you'll keep turning those pages. As always, we welcome your feedback.
Jesse Tuel, Editor
vtmag@vt.edu
---

In 2003, we started instrumenting the football players with six accelerometers that measure the head acceleration and transmit that [data] wirelessly to the sidelines, where we capture every single impact in practices and in games. We did this for the past eight years. And if you look at all of our programs, we have over a million head impacts we can analyze, so we know exactly how many times players are hit, what direction, and how hard. We used that information to develop the basis and the foundation for our helmet evaluation system."
—Stefan Duma, professor of biomedical engineering and sciences at the Virginia Tech-Wake Forest University School of Biomedical Engineering and Sciences, on the research behind a groundbreaking helmet-rating system, the first of its kind to gauge how well commercially available football helmets protect against concussions and other head injuries. Now Duma is studying children's sports helmets.
---
Addressing issues faced by women in science
Virginia Tech hosted "A Showcase of Female Scientists" to explore the unique struggles of female scientists to balance work and family issues, along with what women in science can do to help advance their careers while maintaining a healthy personal life. The March 12-13 event was organized in part by AdvanceVT, which helps the university prepare, recruit, and retain world-class female faculty members.
Virginia Tech again cited among "best value" public universities
Virginia Tech is again one of the "best value" public universities in the U.S., according to The Princeton Review Best Value Colleges for 2012 list, which consists of 75 public and 75 private colleges and universities. Institutions were selected based on surveys of administrators and students at more than 650 public and private colleges and universities.
Kiplinger's Personal Finance also named Tech to its list of 100 best values in public colleges for 2011-12. The ranking recognizes four-year colleges and universities that combine an outstanding education with economic value. Each year since the ranking began in 2006, Kiplinger's has included Virginia Tech among the top public universities for its value.
Exploring the benefits of the human-animal bond
The Virginia-Maryland Regional College of Veterinary Medicine is adding to the body of evidence about the benefits of the human-animal bond and is also reaching out to the local community to increase these interactions through the Center for Animal-Human Relationships.
In January, representatives from the veterinary college and its partners convened to form an advisory group to direct the center's clinical and research activities. "We aim to discover new knowledge about the benefits people and animals derive from one another and provide opportunities for people to experience the therapeutic benefits of companion animals," said Dr. Bess Pierce, associate professor in the Department of Small Animal Clinical Sciences.
---
Forecast: 70-plus degrees—and snow
The VT Snow Freestyle Team brought winter back to Virginia Tech with SnowJam 2012. On March 15, the student organization piled more than 30 tons of snow onto the Drillfield to host a snowboarding and skiing performance event. Skiers and snowboarders from six colleges and universities showcased their skills on a freestyle arena constructed specifically for the event.
More ...
---
White House welcomes computer science student
Elena Nadolinski, a freshman computer science major, was one of six women honored at the White House as a recipient of the National Council for Women in Information Technology Award for Aspirations in Computing. The award recognizes young women at the high-school level for their computing aspirations and achievements. Nadolinski was attending W.T. Woodson High School in Fairfax, Va., when she learned of this honor, but the trip to the White House did not occur until December 2011.
Rescue Squad wins life support skills competition
Members of the Virginia Tech Rescue Squad placed first in the Advanced Life Support Skills competition at the National Collegiate Emergency Medical Services Foundation Conference in Baltimore on Feb. 25-26. By winning the event, the Virginia Tech Rescue Squad qualified to compete in the Journal of Emergency Medical Services (JEMS) Games held in Baltimore on Feb. 29. There, the Virginia Tech team placed eighth out of 14, including teams from such major metropolitan areas as New York City.
Jury returns verdict against commonwealth
The trial of Peterson/Pryde v. Commonwealth was heard in Montgomery County in March concerning the deaths of two students in the April 2007 shootings on campus.
A jury returned a verdict against the commonwealth and, in effect, the university. Although the jury returned a large award amount, based on current state code the commonwealth's liability is limited to $100,000 per plaintiff.
"Certainly, we are disappointed with the decision," said President Charles W. Steger in a letter to the university community. "We stand by our long-held position that the administration and law enforcement did their best with the information available. The heinous crimes committed by Seung-Hui Cho were an unprecedented act of violence that no one could have foreseen.
"The tragedy of April 16 will live long at Virginia Tech. That sorrowful day brought unimaginable horror and heartbreak. This university community, and especially the families of those who perished or suffered, endured pain that, to this day, is hard to describe."
A decision whether to appeal rests with the Office of the Virginia Attorney General. As of press time, no decision had been made.
---
"My Virginia Tech"

I teach because it's an exciting environment. It's a discovery every day. Every day, it's new. Every day, there [are] new problems, new things to solve. And every day, one of my students does something amazing."

---
Disappearance of mammals in Everglades linked to pythons
Collaborative research led by John "J.D." Willson of Virginia Tech's College of Natural Resources and Environment and Michael Dorcas of Davidson College has linked precipitous declines in formerly common mammals in Everglades National Park to the presence of invasive Burmese pythons. The most-severe declines, including a nearly complete disappearance of raccoons, rabbits, and opossums, have occurred in the remote southernmost regions of the park where pythons have been established the longest period of time. In this area, populations of raccoons dropped 99.3 percent, opossums 98.9 percent, and bobcats 87.5 percent. Marsh and cottontail rabbits, as well as foxes, were not seen at all.
U.S. News ranks engineering, business, public affairs programs among best
Virginia Tech's College of Engineering again ranked among the nation's 25 best engineering schools for graduate studies, according to U.S. News & World Report's America's Best Graduate Schools 2013 survey released in March. The Pamplin College of Business also ranked high—37th among part-time master's of business administration programs, as did the public affairs program, part of the College of Architecture and Urban Studies' public affairs program. The latest annual survey ranks the College of Engineering at 24, the same slot it held in the previous report.
At Rolls-Royce plant, Obama discusses economy, partnerships
President Barack Obama touted the Commonwealth Center for Advanced Manufacturing, a private-partnership between Rolls-Royce and Virginia Tech and other leading Virginia universities, during his March 9 visit to the Rolls-Royce Crosspointe plant in Prince George County, Va.
Obama described his proposed National Network for Manufacturing Innovation. Budgeted at $1 billion, the network will consist of more than a dozen Institutes for Manufacturing Innovation around the nation, each serving as a regional manufacturing hub designed to increase manufacturer competition and encourage U.S. investment, according to the White House.
"It's a partnership between manufacturers—including this one—U.Va., Virginia Tech, Virginia State University … the commonwealth and the federal government," Obama said of the center. "So think of this as a place where companies can share access to cutting-edge capabilities. At the same time, students and workers are picking up new skills. They're training on state-of-the-art equipment; they're solving some of the most important challenges facing our manufacturers."
Students brainstorm solutions to alleviate retirement problem
What started out as a class project for four Tech seniors and aspiring financial planners has turned into one of the most rewarding experiences of their college careers, said the participants. In recognition of their innovative ideas to address declining savings rates in America, the team won the grand prize in the 2011 iOME. Challenge (Meaning "I owe me," iOME encourages youth to think about their futures.) The students also received a $10,000 cash prize and an all-expenses-paid trip to Washington, D.C., in late April to present their ideas to policymakers and members of Congress. The annual competition encourages the 80 million members of the millennial generation to help solve America's retirement problem and change the world by investing now in their own lifelong financial security. The students' proposal? An increase in hands-on financial education and availability of financial counseling.
Kathleen Alexander receives NSF grant to research human-animal linkage in water quality
Kathleen Alexander, associate professor of wildlife in the College of Natural Resources and Environment, has received a $250,000 National Science Foundation grant to investigate the links between humans' and animals' influences on water quality and, in turn, how water quality affects their health. Alexander's research will focus on the Chobe River region of northern Botswana, where she has lived for most of the past 20 years.
Robert Dunay named a most-admired educator
Robert Dunay, the T.A. Carter Professor of Architecture in the School of Architecture + Design, was named one of the 25 Most Admired Educators of 2012 by the magazine DesignIntelligence. This marks the third time that Dunay, who is also the director of the Center for Design Research, has received such recognition from the magazine, which released its annual list of admired educators in the November/December 2011 edition.
Tech receives funding to develop middle school STEM programs
The School of Education at Virginia Tech and the College of Education at the University of Kentucky were awarded $1.3 million from the National Science Foundation to implement and evaluate an inquiry-based after-school program for middle school students in Appalachia. The three-year project, entitled "Studio STEM: Engaging Middle School Students in Networked Science and Engineering Projects," uses engineering design activities that integrate digital modeling, social media, and game development tools to engage youth in investigating science, technology, engineering, and mathematics (STEM) concepts and skills.
Installation of university's first major solar panel system under way
The installation of Virginia Tech's first major solar photo-voltaic power system, to be located on the top level of the Perry Street Parking Garage on the Blacksburg campus, is under way. Once completed, the photovoltaic system will include 480 solar panels covering about 16,000 square feet. Annually, the system is expected to generate about 136,000 kilowatt-hours, or about 13 percent of the parking garage's annual energy use. Scheduled to be completed later this spring, the $1.2 million project was funded through a grant from the American Recovery and Reinvestment Act of 2009.