PHILANTHROPY
Center for 21st Century Studies Broadens Students' Horizons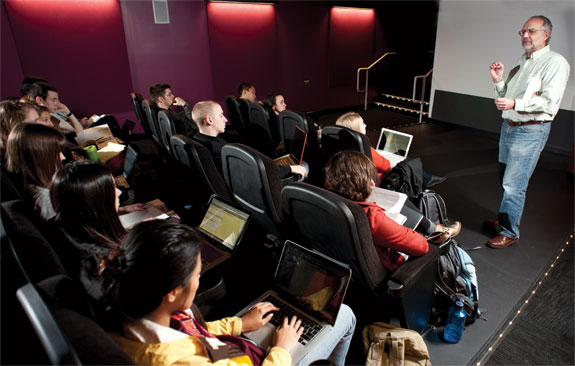 Illumination: English Professor Robert Siegle leads students toward global perspectives as James Flannagan listens in the middle of the second row.
As English Professor Robert Siegle described how Mohandas Gandhi used insights into both India's and England's cultures in his campaign for India's independence, students listened attentively in the small, dark theater used for the first of three courses in the College of Liberal Arts and Human Sciences' new signature program, the Center for 21st Century Studies.
The program's second course will take place in dramatically different surroundings, as Siegle and his students travel to Morocco, Turkey, and Sri Lanka. They will stay with local families, work on service-learning projects, and have discussions with faculty members at several universities.
The goal is for the students to develop a deeper understanding of each country and the historical, social, political, and economic issues that affect it. During a third course in the fall, that firsthand knowledge will help students a great deal as they read academic literature on the countries and write research papers, Siegle said.
The program, which he directs, is one of the college's flagship initiatives and is a major focus for fundraising.
"It's important that we subsidize the cost of the travel through private funding because we don't want that [expense] to be prohibitive to any student," said Sue Ott Rowlands, the college's dean.
While the ultimate goal is to create a permanent endowment for the program, donors have already contributed significantly to help with travel costs.
James Asselstine (political science '70), of New York, a managing director at Barclay's Capital, is one of several alumni to donate to the program so far.
"I think university graduates who have an understanding and appreciation of different political and economic systems and cultures are going to be increasingly valued by potential employers, and I think international experience has become an increasingly important part of a well-rounded education," he said.
Asselstine added that traveling to the Netherlands and meeting with government officials there was one highlight of his own experience at Virginia Tech.
Another program donor is Jerry Hulick (political science '73), of Spotsylvania, Va., a general agent emeritus of MassMutual and currently the senior planner of The Washington Group Special Care Planning Team.
Though he did not study abroad while at Tech, he said many Hokies who did have told him how valuable it was. "What I hear from students and alumni repeatedly is that their international experiences while in school were a huge factor in their success and made an impact after they graduated," Hulick said.
Eighteen students are scheduled to travel with the program in its first year, including James Flanagan, a sophomore international studies major who is in the Air Force ROTC and plans to work in intelligence.
"What I really want to get from these courses is the ability to think in different ways," he said. "Being able to understand people helps you to make a more informed analysis of them, even if you don't necessarily agree with them."
Flanagan added that he was "extremely grateful for this opportunity."
Albert Raboteau is the director of development communications.
---
Husband's International Career Inspires Widow to Support Budding Engineers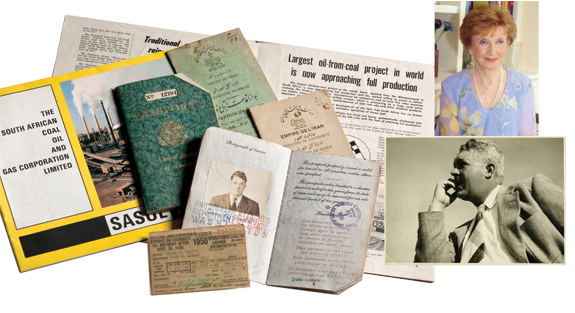 Comer Yeatts '36 and Maria Luise Yeatts
When a 17-year-old farm boy from Virginia's Pittsylvania County arrived at what was then Virginia Polytechnic Institute with $200 on loan from an aunt and a desire to become an engineer, it's unlikely he or his family imagined the distinguished international career that lay ahead of him.
But such a career quickly took shape. Immediately after earning his civil engineering degree in 1936, Comer Yeatts was hired by fellow Hokie Gordon Jones (civil engineering '32) to work as a field engineer for the M.W. Kellogg Company. Yeatts was sent to work in Texas City, Texas, and, within a few years, he was assigned his first of many complex international projects.
Yeatts' postings included Canada, England, India, Iran, Pakistan, and multiple U.S. locations. But his "crowning achievement," according to his widow, Maria Luise Yeatts, was serving in South Africa as the resident construction manager for the world's largest plant to make oil, gasoline, chemicals, and waxes out of coal.
During that project, which he ran from 1951 to 1956, Comer Yeatts had to contend with a remote site, an international workforce, and numerous technical challenges, according to a profile of him in one of his company's newsletters from the early 1960s.
"To watch his jobs go up, you might wonder if there were a two-fisted, fire-eating boss inside the construction shack," the profile stated. "Instead, Comer is a smiling, cordial, soft-spoken, Virginia gentlemen [sic] of friendly, but few, words."
After retiring in 1976, Comer Yeatts returned to Pittsylvania County, where he and his wife lived on a farm until his death in 1990. A few years later, inspired by the way education had opened up otherwise unimaginable opportunities for her husband, Maria Luise Yeatts, who now resides in Williamsburg, Va., established the Comer V. Yeatts '36 Engineering Scholarship.
"Virginia Tech's education allowed him to reach his potential," she said. "I wanted to provide the same opportunity to other prospective engineering students from the Pittsylvania County area to achieve their dreams of going to Virginia Tech."
The most recent scholarship recipient, junior computer engineering major Benjamin Smith, of Danville, Va., hopes to pursue a career programming intelligent systems that control robots or autonomous vehicles.
As a boy, Comer Yeatts used to take his toys apart to see how they worked, his widow said. Smith, who also displayed an engineer's mindset early on, built his own computer out of parts at age 9, but said that "if it wasn't for scholarships and grants, [Virginia Tech] wouldn't have been an option."
Since its creation in 1996, the Yeatts scholarship has helped several aspiring engineers like Smith to pursue their ambitions, just as their scholarship's namesake was able to do.
Albert Raboteau is the director of development communications.