ALUMNI SHORTS
Alumni spread culture of caring
In 1991, Alumni Distinguished Professor E. Scott Geller coined the term "actively caring," describing behavior that goes beyond the call of duty to care for others.
In the wake of April 16, 2007, "actively caring" took on a renewed importance. In 2008, Brandon Carroll (applied economic management '11) and Shane McCarty (marketing management '11) approached Geller with the idea of applying "actively caring" to the university. Under Geller's direction, Carroll and McCarty—along with Taris Mullins (English '09), Ryan King (finance, accounting, and information systems '11), and Joey Zakutney (marketing management '11)—founded Actively Caring For People (AC4P), an organization seeking to establish a more civil, compassionate, and interdependent culture inspiring intentional acts of kindness. AC4P draws upon research principles from the Center for Applied Behavior Systems and Center for Peace Studies and Violence Prevention at Virginia Tech. Five years later, the movement has spread to other colleges and universities and K-12 schools.
McCarty, a Ph.D. student in industrial and organizational psychology, conducts research associated with "actively caring" and reducing bullying behavior in schools. "We certainly have a vision to affect education nationwide. Our 'actively caring' process that we're currently evaluating in middle schools [is one that we hope can] become a foundational program for this entire movement," said McCarty. The group has presented the concept around the country, including in Virginia, Ohio, California, Arizona, and New York.
Geller initially coined "actively caring" to encourage workplace safety in industrial settings. "I have been at Virginia Tech 43 years and continue to love my work. Why? Because I see the fruits of my labor, and what these students are doing to promote Actively Caring in schools says it all," said Geller.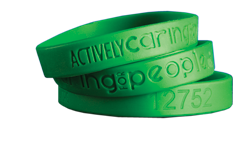 Playing a visible role in the movement, green silicon wristbands are passed from person to person during acts of kindness and can be tracked online using serial numbers. "You can now log online and share your story and then track where [the bracelet's] been. In some cases, you can see five or six people who got it before you. It really creates a sense of community," said Mullins.
Since graduation, Carroll, McCarty, Mullins, King, and Zakutney have each pursued separate career paths, but maintain close relationships because of AC4P. "We were all certainly friends before all of this started, but it's only strengthened the relationships we have," McCarty said.
by Rommelyn Conde (communication '07), a graduate assistant for University Relations.
• "Psychology professor, students say recognizing daily acts of kindness makes a huge impact" (Virginia Tech News, Spotlight on Impact, July 2011) »
• "Virginia Tech students' pay-it-forward movement travels worldwide" (Virginia Tech News, May 2012) »
---
Alumna offers treasure trove of parenting tips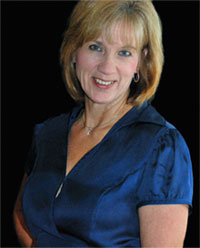 Karen DeBord '76, '91
Drawing upon 30 years of research in child development, Karen DeBord (management, housing, and family development '76, Ph.D. family and child development '91) knows that the best answer to many parenting problems is to be proactive.
After retiring as a North Carolina State University child development professor, DeBord launched Possibility Parenting, a website to support parents. She developed a number of tips, many of which focus on establishing exactly what children yearn for: a true connection with the most important people in their lives—their parents.
1. Meet emotional needs. "A child's task the first year is learning [how to] trust. Gaze at the child. Let the baby hear the rhythm of your voice. Sing and read. A baby's brain is making connections that can be healthy and warm or [accustomed] to arguing. It does matter how adults act around an infant."
2. Practice makes perfect. "Often, parents feel frustration about having to tell their children over and over again to do things. This is part of being a parent and part of the development of children. They must practice in order to learn."
3. P's and Q's take time. "Intellectually, preschool children don't understand rules. Observe a toddler playing a game like Go Fish; you end up sorting the cards by color or suit. Rules click in by the time a child is about 6 years old."
4. Embrace tradition. "Family routines, special occasions, and rituals are fodder for good memories. Think about how you are establishing traditions, and remember to keep them going."
5. Disconnect to connect. "Often, parents are at a loss for how to connect with children. Avoid the TV as a quick fix. Reading, cooking, or even gardening are all fun ways to [develop] a closeness that will create resiliency in the relationship for the tough years ahead."
6. Impulsivity is okay. "Adolescent children often act first, then step back and say, 'Whoops!' They will learn greater self-control through experience and brainstorming with parents about how to make a decision."
by Sarah Fitzgerald, a junior majoring in communication and English and an intern with Virginia Tech Magazine.
---
Delaware's roads under alumna's watchful eye
As chief engineer and director of transportation solutions for the Delaware Department of Transportation, Natalie Barnhart (civil engineering '89) oversees all road and bridge projects for the state.

Natalie Barnhart '89
Barnhart's career at the department began right after graduating. "I started in the engineering trainee program, which has you rotate through different divisions to help you find the particular area that suits you," Barnhart said.
The prospect of hands-on work kept Barnhart interested in construction. Given the chance to work outdoors, oversee projects from start to finish, and even commute to work using the very same roads and bridges she helped with, Barnhart remained in the construction division until being appointed to her current position in 2009.
"There's a great sense of satisfaction in my line of work, seeing the projects come to life and seeing people enjoy [them] for years to come," Barnhart said. "Also, knowing that we're keeping people safe on our roads [is] a big part of our work."
Currently, Barnhart is overseeing completion of the Indian River Inlet Bridge, a $150 million cable-stayed span. Some 2,600 feet long and 108 feet wide, the bridge offers residents and visitors access to Delaware's beaches. Presently, the bridge has two traffic lanes, which will double to four lanes by the end of construction. The official dedication is scheduled for late spring 2012. "It's been a long time getting here, so it's nice to see people starting to enjoy the bridge and drive on it. It's the highlight of my career so far," said Barnhart.
Barnhart, who earned an M.B.A. at the University of Delaware, cherishes her time in Blacksburg. "My experience at Tech was great. It wasn't just a great technical education, but a well-rounded education," she said. "It prepared me well for my profession."
by Rommelyn Conde (communication '07), a graduate assistant with University Relations. Photo courtesy of the Delaware Department of Transportation.
---
Lost—for nearly 40 years and found
In 1974, John Wright's class ring and other jewelry were stolen from his home in Hingham, Mass. Hoping to locate the ring, Wright (chemical engineering '57) and his wife, Mira, searched area pawnshops, with no luck. Years passed, and the Wrights moved; they now live and run a business in Albuquerque, N.M.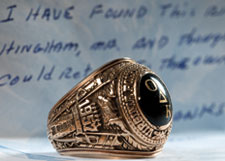 In December, a package containing a 1957 class ring was delivered to the university's Office of the President. Enclosed was a note from a man named John Kichler, which read: "I have found this ring in Hingham, Mass., and thought you could return [it] to the owner." Inside the ring's band, there was an inscription: "John L. Wright."
Almost 40 years later, Wright was reunited with his lost ring. "[I was] quite excited because it's one of those things that, if you don't wear it all the time, you at least keep it as a lifetime keepsake," Wright said. "It still fits just as well as it did when I first got it." Wright proudly wears the ring on a daily basis. "I have 10 grandkids, and now they say, 'I've never seen you wear jewelry before, Grandpa.'"
– Rommelyn Conde '07