ALUMNI ASSOCIATION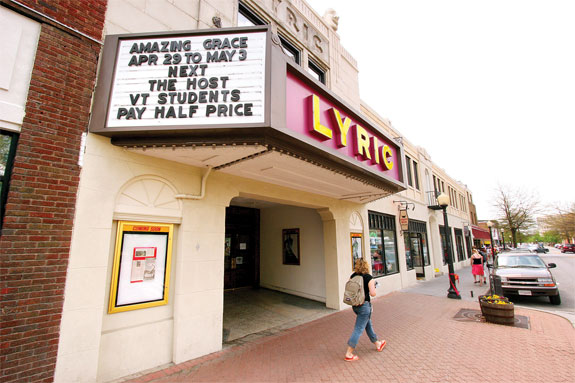 A project to document the story of Blacksburg's iconic Lyric Theatre with a book that interweaves history, photos, and special memories is in the works. Do you have a fond memory of the Lyric you'd like to share? Learn more about this special publication and how to share your memories at www.thelyric.com.
---
2013 Reunions
Class reunions for the 20th through the 50th anniversaries are held at five-year intervals. Each reunion includes optional campus tours, a Friday evening meal, and plenty of time for reminiscing and dancing. Saturdays feature a morning brunch and pregame festivities, followed by the game. Seeing the Hokies play in Lane Stadium is a treat for all reunion participants. Special seating is arranged for reunion registrants at Tech's sold-out games, and rooms are set aside at The Inn at Virginia Tech for reservation by reunion registrants. Banquets and brunches are at the inn as well. For more information on the 2013 homecomings and reunions, visit www.alumni.vt.edu/reunion/.
Sept. 7 – Western Carolina
Young Alumni Reunion
Class of '93 – 20th Anniversary
Sept. 21 – Marshall
Class of '88 – 25th Anniversary
Oct. 5 – North Carolina
(traditional parade)
Class of '63 – 50th Anniversary
Oct. 12 – Pittsburgh
Class of '83 – 30th Anniversary
Oct. 26 – Duke
Class of '73 – 40th Anniversary
Class of '78 – 35th Anniversary
Nov. 16 – Maryland
Class of '68 – 45th Anniversary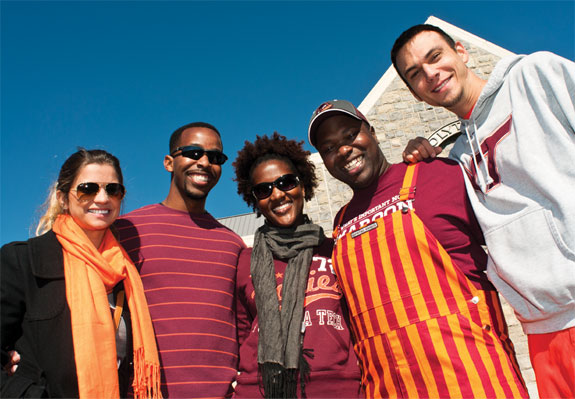 2013 Homecomings
Multiple homecomings are hosted throughout the football season to coincide with home games. Eight academic college programs are spread across the home schedule, along with special homecomings for graduate alumni, Corps of Cadets alumni, and other groups. Homecomings are open to all alumni of the host groups, regardless of graduation year. In each case, there is a game-day gathering, plentiful pregame tailgate food, and the opportunity to reunite with friends, faculty, and staff. Lodging and game tickets (if needed) are available to registrants on a first-come, first-served basis, so it's best to register early. For more information on the 2013 homecomings and reunions, visit www.alumni.vt.edu/reunion/.
Sept. 7 – Western Carolina
College of Liberal Arts and Human Sciences homecoming
Special Event: Alumni Chapter Officers Forum
Sept. 21 – Marshall
College of Agriculture and Life Sciences homecoming
Corps of Cadets homecoming
Oct. 5 – North Carolina
(traditional parade)
College of Engineering homecoming
Special Event: Highty-Tighties homecoming
Special Event: Recreational Sports homecoming
Oct. 12 – Pittsburgh
College of Science homecoming
College of Natural Resources and Environment homecoming
Oct. 26 – Duke
Graduate Degree Alumni homecoming
College of Architecture and Urban Studies homecoming
Special Event: Marching Virginians homecoming
Nov. 16 – Maryland
College of Veterinary Medicine homecoming
Pamplin College of Business homecoming