OFF THE SHELF
Book Notes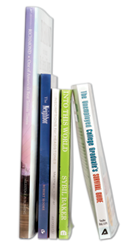 Books by alumni
NONFICTION
Chris Holland (statistics '92) and Jack Shostak (statistics '89), "Implementing CDISC Using SAS: An End-to-End Guide," statistics, software, SAS Press.
Tom Hood (marketing '78), et al, "Richmond, One of America's Best Tennis Towns," sports, Dementi Milestone Publishing.
Nathan Jones (business information technology '05), et al, "Professional iOS Network Programming: Connecting the Enterprise to the iPhone and iPad," app development, Wrox Press.
Bonnie Kerrigan Snyder (M.Ed. student personnel services '93), "The Unemployed College Graduate's Survival Guide: How to Get Your Life Together, Deal with Debt, and Find a Job After College," career, Adams Media.
Frank N. Wilner (economics '75, M.S. business '77), "Amtrak: Past, Present, Future," economics, rail, Simmons-Boardman Books.
FICTION
Sybil Baker (communication '86), "Into This World," novel, family, Korea, Engine Books.
Robert Moore (chemical engineering '60), "The Neighbor," novel, contemporary, Tate Publishing & Enterprises LLC.
Dan Sizemore (political science '82), "The Money Maker," novel, pyramid schemes, self-published.
Books by faculty/staff
Matthew Vollmer, assistant professor, English department, co-editor, "Fakes: An Anthology of Pseudo Interviews, Faux Lectures, Quasi-Letters, 'Found' Texts, and Other Fraudulent Artifacts," anthology, short stories, satire, W.W. Norton & Company.
Matthew Vollmer, "Inscriptions for Headstones," essays crafted as epitaphs, Outpost19.
---
Featured author
Rob Dietz
Rob Dietz (M.S. environmental science and engineering '00) is the coauthor, with Dan O'Neill, of "Enough is Enough: Building a Sustainable Economy in a World of Finite Resources."
With an unconventional background in economics and environmental science, Dietz has come to question a widely accepted assumption—that the economy has to grow. He contends that we can overcome environmental crises and improve quality of life by changing the economic focus from more to enough. Below is an excerpt from "Enough is Enough," reprinted with the author's permission.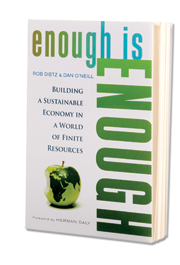 A game of checkers offers very little insight into how to solve the world's intertwined environmental and social problems, or so I thought.
I was playing against my 5-year-old daughter when we decided it would be more fun to see how high a tower we could build. At first, we recklessly plopped down two or three checkers at a time. But as the tower grew, we changed our approach. With the steady hands of a surgical team, we added one checker at a time. By this point, our formerly straight tower had taken on a disconcerting lean. On our final attempt to increase its height, the mighty tower reached the inevitable tipping point and came crashing down to earth. My daughter's reaction: "Sometimes when things get too big, they fall."
She somehow summarized the root cause of humanity's most pressing environmental and social problems: Our economic tower has grown too large, and it's threatening to collapse under its own weight. Beyond that, it's threatening the integrity of the checkerboard and the well-being of the players.
But we can build a better economy. We can meet our needs and care for the planet at the same time. This is our checkerboard, after all, and we don't have to play by the old rules anymore.