ALUMNUS PROFILE
Tried and True
Alumnus leads criminal investigations after 9/11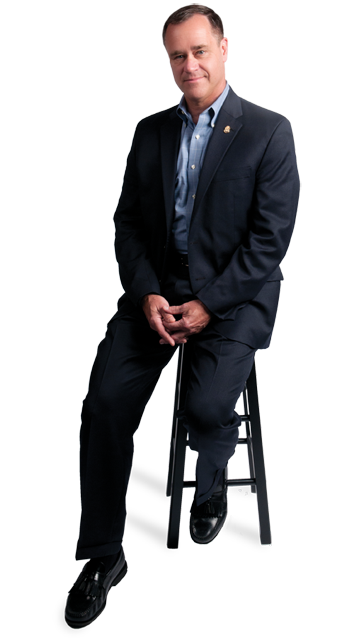 Flip the normal criminal investigative process upside down. There is no neatly compacted crime scene from which an investigator collects evidence, talks to eyewitnesses and the suspect, and builds a case.
Instead, there is the World Trade Center in New York City. There is a field near Shanksville, Penn. There is the U.S.S. Cole, bombed in a Yemeni port. Inside a small room in a temporary building at Guantanamo Bay, there is a terrorism suspect of completely unknown identity who reveals nothing.
The suspect's interrogation is one of the more than 10,000 interviews conducted in Cuba as part of more than 1,400 criminal investigations in the global war on terror in the three years following 9/11. The interrogations—and the nation as a whole—are tainted with the desperate urgency to uncover the next seemingly imminent attack.
Those interogations are what retired Col. Britt Mallow (sociology '77) oversaw as commander of the Department of Defense's (DOD) Criminal Investigative Task Force (CITF), an entity comprised of investigators from the Army, Navy, Air Force, FBI, and other agencies. Formed in the aftermath of 9/11, CITF sought justice by building cases destined for military tribunals, and its jurisdiction spanned sites of terrorist acts around the globe. Prosecution, though, took a back seat to intelligence-gathering, and Mallow and his colleagues found themselves fighting against interrogative methods widely deemed as torture.
Taking command
Raised in a military family, Mallow was a natural fit for the Virginia Tech Corps of Cadets, and knowing he wanted to go into the military police, he majored in sociology. Mallow's career in military law enforcement, spanning 29 years, afforded him plenty of continuing education, including two master's degrees.
Commanding U.S. Army military police units of increasing size and responsibility, Mallow was often overseas, directing police functions at Army installations and antiterrorism operations for all Army forces in Europe. In an Arabic-language course in the mid-1980s, he met his wife, Lynda, then an intelligence analyst working for the Air Force. In 1990, when the couple was working for the U.S. government in Europe in the middle of the first Gulf War, their daughter, Kathleen, was born.
In 2000, Mallow became deputy commander of Army Criminal Investigation Command (CID). After 9/11, he was tapped to lead CITF and shape the legal process for investigating al Qaeda. (He was CITF commander until 2005, when he retired.) Early on, Mark Fallon, then a Naval Criminal Investigative Service (NCIS) special agent, met with Mallow to determine how NCIS would engage with CITF.
Fallon stayed on as Mallow's deputy commander, helping to design CITF's reporting structure and facilities, training, and personnel needs. Launching CITF was a colossal task. For instance, whereas the FBI had been the primary investigative agency for domestic terrorism, CITF drew in multiple agencies, and the prosecuting venue shifted from the Department of Justice to military tribunals. On all fronts, Mallow displayed incredible "political savvy," Fallon said.
A high-stakes puzzle
One suspect is seated in a room at Guantanamo Bay. A special agent and a translator are inside, possibly with Mallow and a behavioral consultant watching through a window or on video surveillance. All are adept at reading people, watching for cues in body language, and establishing rapport. In the oral tradition of Arab cultures, even a rant signals a suspect's desire to tell his or her side of the story.
In Cuba, even a preliminary step such as establishing a person's true identity was shrouded in mystery. "Most of [the suspects] were captured with just scraps of paper, or nothing. You had to go by what they were doing when you captured them, what they said, what pieces of physical evidence [they had], and the circumstances other people might describe," said Mallow. "You're given somebody, and you don't know what their name is. You don't know with whom they were involved. You suspect that they were involved in some terrorist acts, and you have to sort all that out with very, very thin bits of evidence. … Everything was a puzzle."
All the while, angst in the national security community was decidedly high following 9/11. "We were all concerned that there was going to be another attack. It was imminent, and we needed to stop it. The … pressure was intense," Mallow said.
In this atmosphere, the tension between criminal investigators and intelligence officers was palpable. The criminal investigators had experience in conducting adversarial interrogations within a specific legal environment, but intelligence interrogators were in the driver's seat.
"We were dealing with challenges created by individuals who had no experience in interrogations or al Qaeda, pushing for what some will call enhanced interrogation techniques and what others will call torture—tactics that DOD has since disallowed—[and] dealing with them at a time in our nation's history when passions were inflamed," said Fallon, now the director of ClubFed LLC, offering strategic consulting in the public and private sectors.
"Our mission came second behind the intelligence mission," Mallow said. "We really thought there was some wasted effort trying to cast around for a new way to get these people to talk rather than sticking to the tested methods that our investigators were using. It was very frustrating when we were pushed aside. Although we talked to some high-level officials, we couldn't change the way everyone would operate. And you know it's not right—but beyond that, you know it's not likely to work," Mallow said.
Still, Mallow kept CITF above reproach; Fallon called him a "true patriot." "The principled, centered leadership that Britt brought to the table helped ensure that CITF personnel fulfilled their responsibilities and did so honorably," said Fallon. "We would tell them, 'History will look back on how we performed during this war with al Qaeda, and [we want you] to be sure that your children and grandchildren are proud of the way you served your country.'"
Leaving a legacy
Now retired from the military, Mallow works at MITRE, a noncompetitive systems engineering corporation that manages federally funded research-and-development centers and serves federal agencies exclusively. There, he helps agencies, including federal law enforcement entities, address system-wide challenges related to information technology, information security, intelligence programs, and more.
At MITRE, Mallow reports to Jeff Hormann, who launched a computer-crimes unit in the Army CID under Mallow's command in the late 1990s. "He so impressed everyone [at MITRE] that it was essentially a no-brainer to hire him," Hormann said. "I still consider him a mentor and a great leader."
Mallow is certain that Americans are safer today than they were prior to 9/11, chiefly because of a sea change in thinking in the national security community. The CITF brought together law enforcement, intelligence, legal, and IT experts, all of whom learned from each other. Analysts began to think like cops, and vice versa. "They created what I like to think of as … a new sort of culture of national security, where people will look across discipline boundaries," Mallow said. "If, in some part, myself and the other leaders I worked with were able to contribute to that generation of smarter people, that's probably the best thing we did."
Reconnecting with Virginia Tech, Mallow—who recently joined the College of Liberal Arts and Human Sciences Alumni Advisory Board—praised such efforts as the Center for 21st Century Studies and the Center for Peace Studies and Violence Prevention for "putting people with diverse perspectives together to work on big problems." The sheer velocity of global change worries Mallow more than another 9/11, and he's encouraged to see "that folks are really stretching our ways of thinking about problems. That's probably the best legacy and the best chance for us to be safer in the future, is to harness that kind of brainpower," he said.
Mallow is clearly energized by academia. In the long term, he sees himself helping students prepare for the national-security challenges of tomorrow. "If I were to have the opportunity to interact with students on a larger scale, that would be a dream for me," Mallow said.