HOW TECH TICKS
'Commencement Junkies'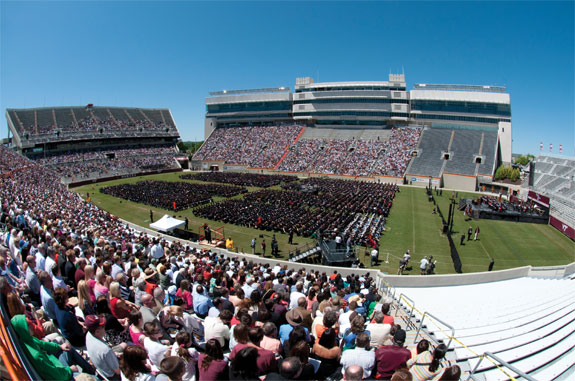 As students bear down to meet the requirements of graduation, university staff members are hard at work on commencement. A few of these self-described "commencement junkies" filled us in on what it takes to pull off such a massive ceremony.
Charged with coordinating and planning the ceremonies, the University Commencement Committee is an all-volunteer group, said Dan Taylor, a professor of agricultural and applied economics who started as a commencement usher about 25 years ago and now heads the committee.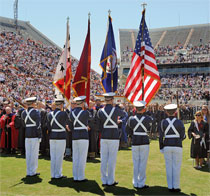 • Leading up to commencement, grounds employees put in four 10-hour days to prepare the campus for visitors. Every lawn is mowed, every street swept.
• More than 30 facilities workers put in five eight-hour days—that's more than 1,200 work hours—to set up spring commencement. Immediately after the ceremony, workers spend about three hours taking everything down.
• In the Office of the University Registrar, it's standard practice for staff members to pull all-nighters, checking and double-checking that the right forms are in place and that each potential graduate's credits add up.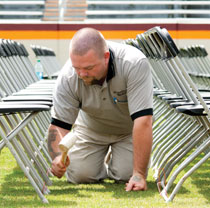 • Commencement speakers are chosen by the Office of the President with input from undergraduate representatives. One long-standing tradition is to invite the Virginia governor to speak in the year after a gubernatorial election.
• Chairs—3,000 to 5,000 of them—are rented. Each chair is fixed to the field by two anchors.
• About 30,000 people descend on the Blacksburg area for a typical spring commencement.
• About 30 to 40 volunteer marshals help direct students to their places, while about 120 volunteer ushers help parents and well-wishers reach their seats in time.
• A Roanoke company sets up the stage and sound equipment.
• Unless weather conditions become dangerous, the ceremony will continue as the rain falls. There isn't a rain site, and rescheduling is out of the question.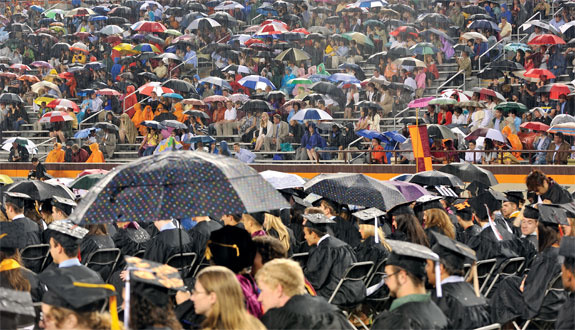 • As the Corps of Cadets' Color Guard is shuffled to and from the various ceremonies across campus, the university provides them with quick meals.
• Security is ever present. For first lady Michelle Obama, one of the spring 2012 commencement speakers, members of the U.S. Secret Service joined additional university police officers, and facilities workers began their day at 4 a.m. in order to pass through security.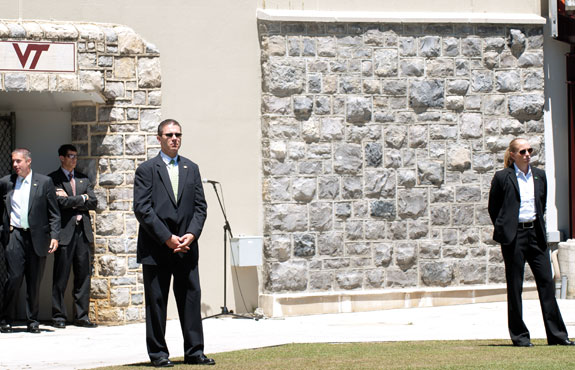 Jesse Steele is a graduate assistant with the marketing and publications unit.