Going Local
Dining Services has partnered with the Department of Dairy Science to offer "Virginia Tech Milk" in D2 at Dietrick Hall. Students harvest the milk on campus from the herd of dairy cows at Virginia Tech's Dairy Center. The milk is then pasteurized by the James River Department of Agribusiness and served through the milk dispensers at D2.
---
Helmet research to draw in additional sports
Hockey, baseball, softball, and lacrosse players will soon have better information about helmet safety available to them. Stefan Duma, Harry C. Wyatt Professor and head of the Virginia Tech-Wake Forest University School of Biomedical Engineering and Sciences, is expanding his groundbreaking research into football helmets and concussions. Ratings on hockey helmets are expected in fall 2013, followed by youth football in 2015, and then baseball, softball, and lacrosse in 2016. During that time, all ratings for adult and youth football helmets will continually be updated and released to the public.
Team explores new territory in supercomputing
Wu Feng, an associate professor of computer science in the College of Engineering, has set his sights on a lofty goal: to herald a new age in multi- and many-core parallel computing that he believes will "transform supercomputing."
The U.S. Air Force's Office of Scientific Research has awarded Feng up to $6 million over five years to pursue a large-scale interdisciplinary effort aimed at achieving a substantial increase in the simulation speed of computational fluid dynamics in micro air vehicles, a class of unmanned aerial vehicles, using accelerator-based supercomputers.
The key to Feng's approach is to couple innovative advances in algorithms and mathematics with engineering progress in the co-design of hardware and software in supercomputing. For the project, he has pulled together an internationally recognized team of researchers from Virginia Tech and North Carolina State University.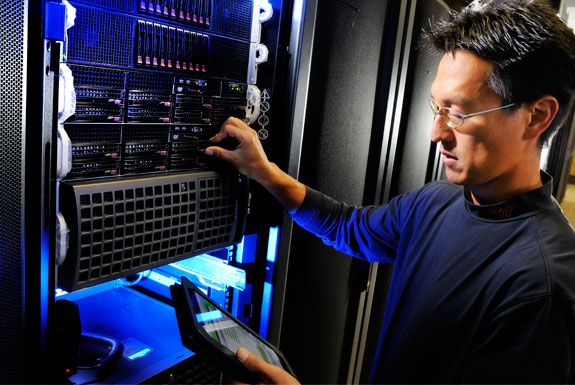 Wu Feng, associate professor of computer science. Photo by Jim Stroup.
Virginia Tech among universities to receive grant to launch program for entrepreneurs
In February, the University of Maryland, George Washington University, and Virginia Tech jointly announced $3.75 million from the National Science Foundation to launch a regional Innovation Corps (I-Corps) node with one sweeping goal: find the best entrepreneurial student and faculty researchers and help them bring their discoveries to market.
I-Corps takes researchers through a seven-week program based upon Stanford University's Lean LaunchPad course, with additional elements designed just for I-Corps participants. The program emphasizes talking to as many potential customers as possible, pivoting in response to insights, building low-cost prototypes to get customer feedback, constantly adapting, and building a scalable business model.
The program is designed to foster a culture of entrepreneurship among researchers and students. Intended outcomes will include a new startup, patent, or technology license to a company.
Virginia Tech tops 'best value' lists
Virginia Tech has landed on Kiplinger's Personal Finance list of the 100 best values in public education for 2012-13. The ranking cites four-year colleges and universities that combine outstanding education with economic value. Since the ranking began in 2006, Kiplinger's has included Virginia Tech each year among the top public universities for its value in this annual survey. Virginia Tech made the list due to "its high four-year graduation rate, low average student debt at graduation, abundant financial aid, a low sticker price, and overall great value."
Virginia Tech is also included again among "best value" public universities according to The Princeton Review Best Value Colleges for 2013 list. Partnering with USA Today, the Princeton Review selected "best value" institutions based on its surveys of administrators and students at more than 650 public and private colleges and universities. More than 30 data points covering academics, costs, and financial aid were considered. Institutions were evaluated using data provided by each school as well as opinion data collected from students at each school.
Professors Burkhart and Dove named Virginia's Outstanding Scientists
Harold E. Burkhart, University Distinguished Professor and the Thomas M. Brooks Professor of Forestry in the College of Natural Resources and Environment (CNRE), and Patricia M. Dove, C.P. Miles Professor of Geosciences in the College of Science, have been designated Virginia's Outstanding Scientist of 2013 by the Virginia governor's office and the Science Museum of Virginia.
"Forest scientists consider Harold Burkhart the father of forest biometrics, which explores the theory and applications of quantitative models of forest stands," noted Virginia Tech President Charles W. Steger. "Harold's international leadership in this basic research vastly improved forest development, particularly in the South."
"Professor Burkhart's modeling methods have been adopted, extended, and applied in Virginia, across America, and around the world, thus contributing to the goal of sustainable management of forest resources," said Paul Winistorfer, CNRE dean. "He has significantly advanced the science of sustainability."
Dove, who in 2012 was elected as a member of the National Academy of Sciences, is the director of the Biogeochemistry of Earth Processes research group. "The College of Science is extremely proud of Professor Dove and all of her achievements," said College of Science Dean Lay Nam Chang. "As our only active member of the National Academy of Sciences, she has become one of the world's foremost authorities on biomineralization. A world-class science program starts with world-class researchers like Patricia."
Changes at the helms of business, veterinary colleges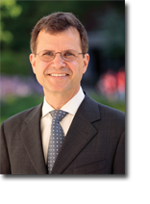 Richard E. Sorensen, dean of the Pamplin College of Business, will retire June 30 after 31 years of service. Sorensen was appointed dean and professor of management science (now business information technology) at Virginia Tech in July 1982.
Robert T. Sumichrast (pictured), currently the dean of the Terry College of Business at the University of Georgia, will succeed Sorensen as dean at Virginia Tech on July 1.
Dr. Gerhardt G. Schurig, dean of the Virginia-Maryland Regional College of Veterinary Medicine, will be stepping down from his position in the summer. Appointed as the college's third dean in 2004, Schurig first joined the veterinary college faculty in 1978.
X.J. Meng awarded $2 million grant to study chronic hepatitis E
Dr. X.J. Meng, professor of virology in the Virginia-Maryland Regional College of Veterinary Medicine, received a five-year, $2 million grant from the National Institutes of Health. Meng directs one of the world's leading hepatitis E virus research centers, the Center for Molecular Medicine and Infectious Disease, where he and his colleagues have spent years studying the hepatitis E virus and are now turning their attention to chronic cases of the virus, which causes more than 20 million liver infections per year. The project seeks to develop a chronic hepatitis E model to study how the disease progresses and its possible prevention and treatment.
Tomorrow's cruise control could have environmental features
By tapping into GPS data, a predictive eco-cruise control system being developed by the Virginia Tech Transportation Institute could save fuel and reduce emissions. Traversing steep grades isn't fuel-efficient, and conventional cruise control applies the throttle in the pursuit of constant speed. But if a route is mapped out with GPS and grades are predicted, a vehicle can move slightly faster downhill and slightly slower uphill to achieve an average speed that saves fuel.
The system, being developed by Hesham A. Rakha, a professor of civil engineering and the director of the Center for Sustainable Mobility at the institute, along with other center researchers, students, and colleagues at other institutions, could be adapted to the wide range of passenger cars and light trucks sold in the U.S.
U.S. News hails master's program in information technology
U.S. News & World Report has again honored the online master's program in information technology at Virginia Tech as one of the nation's best distance-learning courses in its recent Top Online Education rankings. Additionally, the online master's program in computer information technology—offered by the College of Engineering and the Pamplin College of Business—is ranked third in the U.S.
Scientific breakthrough opens door to understanding universe
Physicists at Virginia Tech, as part of a collaboration with U.S. and Chinese researchers, took part in one of 2012's top scientific breakthroughs, according to Science Magazine. The team, working at the Daya Bay reactor facility in China, discovered the third and final known neutrino mixing angle. The discovery was heralded by the magazine as one of nine runners-up to the discovery of the Higgs-boson.
"This is a well-deserved recognition for a result that has changed significantly the research in an important area in physics," said College of Science Dean Lay Nam Chang, himself a physicist.
The discovery may have opened exciting new doors in physics. "The standard model of particle physics, which describes the behavior of all particles from neutrinos to the Higgs boson, is very frustrating," said Jon Link, associate professor of physics. "The model works so well that for decades everywhere we've looked we've found things to be in agreement with the model. But in neutrino physics there may be something interesting going on. There is evidence of a fourth type of neutrino and possibly more. For example, when we look at neutrinos coming from a nuclear reactor, like Daya Bay, we see about 6 percent fewer than we expect from calculation. This can be interpreted as evidence of additional neutrinos mixing with the three known types."
Researchers study Australian track record of construction safety
The National Institute of Safety and Health awarded approximately $1 million over five years to Brian M. Kleiner, director of the Myers-Lawson School of Construction, and his colleagues to study how the construction industry in the U.S. can change its processes and practices to improve the safety and health of its workers.
Kleiner and his colleagues are looking at the development of occupational safety and health guidelines for the initial stages of design, especially, in the construction industry—and they're looking at practices in Australia. The Aussies recorded an injury rate per 100 construction workers that was approximately 43 per cent lower than figures from the U.S. in 2011.
"Laws and regulations in Australia increasingly place responsibility for an accident on those who expose others to occupational health and safety risks. This contrasts with the United States where safety is typically left to the constructor of a project," said Andrew McCoy, co-principal investigator on the project and assistant professor in the building construction department.
Virginia Tech teams with energy company to identify carbon storage alternatives
Virginia Tech's Virginia Center for Coal and Energy Research is teaming with CONSOL Energy Inc. to explore the feasibility of storing carbon dioxide in unmineable coal seams and the potential for enhanced coal bed methane recovery.
Conducted by the College of Engineering's Department of Mining and Minerals Engineering and funded by the U.S. Department of Energy's National Energy Technology Laboratory, the pilot project will begin this fall in Buchanan County, Va. Three existing coal bed methane wells donated by CONSOL will be converted for carbon dioxide injection, and researchers plan to inject and store as much as 20,000 tons of carbon dioxide into the coal seams. Three new wells will be drilled to monitor reservoir pressure, gas composition, and the carbon dioxide's path.
The targeted coal seams are in the Pocahontas and Lee formations and range from 900 feet to 2,200 feet in depth and from 0.7 feet to 2.5 feet in thickness. The injection will be performed during a one-year period and builds on a recently completed 1,000-ton injection test that took place in neighboring Russell County, Va., in 2009.
It is expected that the coal seam will absorb the carbon dioxide and potentially release even more methane for collection and use, as occurred in the smaller test in Russell County.
"The results of this test will be vital to assess the potential of geologic storage in Appalachian coal seams as a safe and permanent method to mitigate greenhouse gas emissions while enhancing coalbed methane recovery," said Michael Karmis, the Stonie Barker Professor of Mining and Minerals Engineering at Virginia Tech and director of the research center.
Prospective students jockey for positions at veterinary college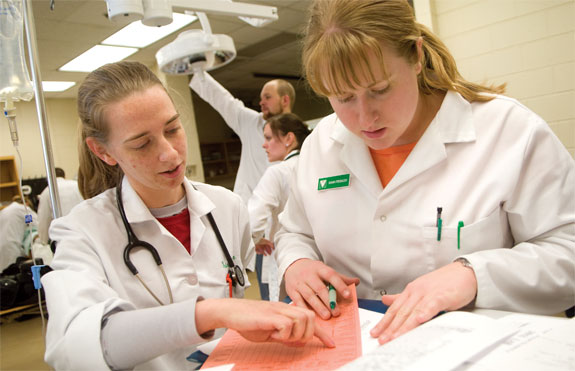 Students at the Virginia-Maryland Regional College of Veterinary Medicine. Photo by Kelsey Kradel.
A record-breaking 1,220 prospective students submitted applications to the Virginia-Maryland Regional College of Veterinary Medicine (VMRCVM) last fall, representing the fourth-largest applicant pool in North America, according to figures from the Association of American Veterinary Medical Colleges.
The 273 candidates who interviewed with the veterinary college are vying for 120 seats in the Class of 2017. "There are about 6,000 prospective students who apply to North American veterinary schools through a common application process," said Dr. Jennifer Hodgson, associate dean for professional programs, who explained that candidates apply to five schools on average. "This means that we see one out of every six applications in North America."
Like some medical colleges, including the Virginia Tech Carilion School of Medicine, VMRCVM utilizes a multiple mini-interview format to assess a candidate's non-cognitive skills, such as critical thinking, problem solving, communication, ethics, and leadership. All interviewees participate in eight scenarios, which last six minutes each, and rotate through interview rooms for evaluation of how they respond to the scenarios.
The college was the first in the U.S. to adapt the format, which was developed at McMaster's University in Ontario, for use in a veterinary program. Today, four other veterinary schools use the format. With the arrival of the Class of 2017 in August, every veterinary student at the college will have made it through the new interview process.
Nighttime, illuminated: Researchers uncover the secrets of sleep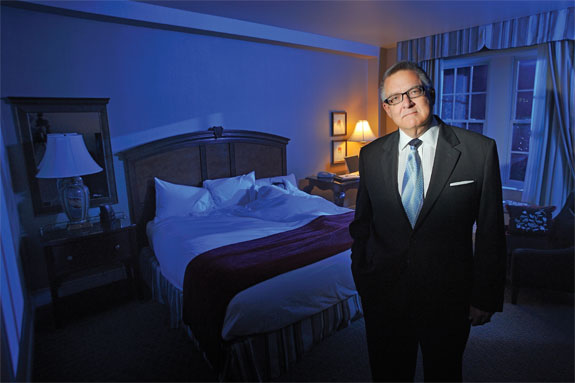 History Professor A. Roger Ekirch. Photo by Jim Stroup.
After 20 years of research into nighttime habits before artificial lighting, history Professor A. Roger Ekirch in the College of Liberal Arts and Human Sciences has resurrected the idea of "segmented sleep," demonstrating that the eight hours of sleep most people strive to get goes against natural sleep cycles.
Ekirch's research reveals that people slept very differently before the Industrial Revolution. "The nighttime slumber to which we aspire, not always successfully, is consolidated," Ekirch said, "whereas the dominant form of sleep from time immemorial consisted of a 'first sleep' and a 'second sleep.'"
For his award-winning book, "At Day's Close," Ekirch consulted diaries, medical texts, and court records, in which he discovered more than 500 references in a variety of languages to this bimodal sleep pattern. His findings are also supported by modern science. In a recent study at the National Institute of Mental Health, subjects deprived of artificial light for up to 14 hours a day experienced the same pattern of sleep depicted in historical sources.
Ekirch's research has been referenced in scholarly articles, magazines, newspapers, and, increasingly, medical publications, both in the U.S. and abroad. A BBC News Magazine article on his findings received a record 1.5 million hits during its first day online. And a growing number of sleep specialists have also embraced Ekirch's findings, seeing a link between certain varieties of insomnia and segmented sleep.
Ekirch, who has authored four books, said he enjoys writing about men and women "who lived on the margins." He is currently working on a fifth book about the far-reaching impact of the most violent mutiny in the history of the British Royal Navy.
Across campus, other researchers are also burning the midnight oil. Christopher Barnes in the Pamplin College of Business explored the connection between lack of sleep and ethics. He and three other scholars conducted four studies in different settings to examine the influence of low levels of sleep in decision-making situations involving ethical considerations. "We consistently found that people were more likely to behave unethically when they were short on sleep," he said.
In 2011, the Arlington Innovation Center: Health Research, in Virginia Tech's National Capital Region, received a $1.5 million cooperative research and development agreement from the U.S. Army for neuroimaging studies of human performance. "The central scientific effort of this project will be to improve our understanding of how the brain stem and thalamus regulate sleep in humans, and how these systems are affected by stress and sleep restriction," said Seong K. Mun, director of the center and a professor of physics.
Learn more:
Historian's research illuminates today's sleep »
Can a lack of sleep make you behave unethically? Researchers think so. »