ALUMNI SHORTS
For architecture alumna, Ut Prosim proves foundational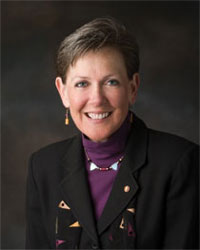 Helene Dreiling '81
As executive director of the Virginia Center for Architecture, Helene Dreiling (architecture '81) spends most of her time working to raise awareness of the profession and volunteering for the American Institute of Architects (AIA). She traces her dedication to this cause back to a study-abroad trip she took while she studied at Virginia Tech.
"After several months of study in Switzerland, Italy, and France, I came to realize that the arts and culture are … important influences in the daily lives of Europeans," said Dreiling. "Not only do they appreciate good design, they expect it. I have dedicated much of my professional career [to] elevating the public's awareness and appreciation of architects and architecture, undoubtedly as a result of this early inspiration."
Dreiling began serving the AIA 11 years ago, most recently as secretary. In May 2012, she was chosen as president-elect for 2014. She is the first Virginia Tech graduate—and third Virginian—elected to the post. In the multifaceted position, she will be representing the interests of more than 80,000 architects, advocating within the field, in the broader design and construction industry, in the legislative arena, to the general public, and to international audiences.
Volunteerism and nonprofit work come naturally to her. "I always say that [my service] springs from the Ut Prosim spirit," said Dreiling, who plans to continue raising awareness of and respect for architecture during her presidency.
Emily Goodrich is a sophomore English major and an intern with Virginia Tech Magazine.
---
Hokies earn GAP 50 awards
Seeking to identify and celebrate Virginia's next generation of entrepreneurs, the Virginia Center for Innovative Technologies announced the winners of the GAP 50 award in December 2012 as part of Gov. Bob McDonnell's "Year of the Entrepreneur" initiative. Among the winners named in the Roanoke-Blacksburg region, nine were Virginia Tech alumni, students, or partners.
• Hussein Ahmed (M.S. computer science and applications '08), founder and CEO, KustomNote.com, Blacksburg.
• Eddie Amos (communication '85), senior vice president and CTO, Meridium, Roanoke.
• Sam English, partner with Virginia Tech Corporate Research Center (CRC), president and CEO, Attention Point, Roanoke.
• Doug Juanarena (electrical engineering '75), vice president, RackSpace, Blacksburg.
• Nathan Latka, former student, co-founder and CEO, Heyo, Blacksburg.
• Peter Lazar, partner, Virginia Tech CRC, CEO of eBroselow, Blacksburg.
• Jack Lesko (M.S. materials engineering science '91, Ph.D. engineering mechanics '95), associate dean of research and graduate studies, Virginia Tech.
• Caroline Pugh, a junior majoring in business information technology, COO of VirtualU, Blacksburg.
• Bob Summers (computer engineering '98), "chief geek," Friendeo, Blacksburg.
---
Alumni among ranks of elite firefighters
by Su Clauson-Wicker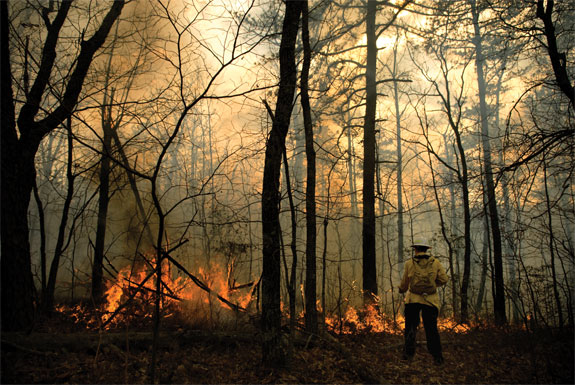 Tom Speaks (forestry and wildlife '79), Mike Wilkins (forestry and wildlife '76), and Mike Quesinberry (forestry and wildlife '83) are now part of an elite group. The three alumni recently became type 1 incident commanders, the highest wildfire-fighting rank.
Such a commander leads a management team assigned to the nation's largest, most complex fires. Only 20 people nationally hold the rank at a given time, and reaching the position requires 20 to 25 years of training, experience, and successive leadership in the firefighting arena.
A fourth Hokie, Joe Ferguson (forestry and wildlife '77), became the first type 1 commander for a National Incident Management Organization (NIMO) team in 2006, overseeing the Atlanta team. NIMO teams are smaller than standard management teams (seven people compared to about 33) and "help wildland fire agencies address issues and improve future fire management," according to NIMO's website.
All four alumni started their firefighting careers on forestry Professor Dick Vasey's wildfire fighting crew.
"Firefighting gets into your blood," said Quesinberry, who took over Ferguson's former job as full-time commander of the NIMO team in Atlanta. "We all have our passions; some like to hike, some like to skydive — [and] firefighters are like the skydivers of forest service work."
Although they're no longer on the front lines, all the alumni have been in tight situations. They all know what it's like to outrun a fire, their hearts thudding in their throats. They are masters of strategy, and of reading weather, land, and risks.
"We're very safety conscious now," said Wilkins. "We take a step back, look at things, and strategize. We don't put ourselves in front of a fire we can't stop. There is no point in giving up your life for a natural resource. Risk your life for another life, but not for trees."
The four commanders, who have been friends for decades, said the Virginia Tech firefighting crew is a special fraternity. "We're a tight group," said Speaks. "For bonding, nothing quite compares to the fire experience and going to Virginia Tech."
Su Clauson-Wicker is a writer for the College of Natural Resources and Environment.
• The full version of this article is available at http://cnre.vt.edu/magazine/articles/201302/virginia-tech-claims-four-top-wildland-firefighting-ranks.html.