Super Hokies in the Super Bowl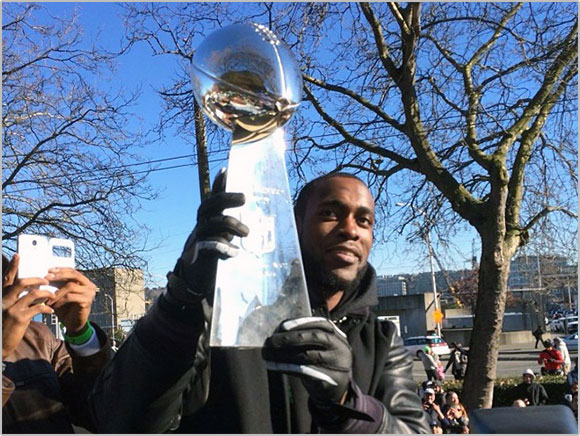 Seattle Seahawks strong safety Kam Chancellor '10 was one of three Hokies in the Super Bowl.
With 111.5 million viewers, Super Bowl XLVIII became the most-watched telecast in U.S. television history—but three Hokies experienced the game on the field instead of in front of a TV.
Kam Chancellor (human development '10), the strong safety for a brutal Seattle Seahawks secondary known as the "Legion of Boom," continued to capitalize on a playing style developed at Virginia Tech. "I think a lot of my game became more elite in college," he said. "I think that's pretty much how I got my craft."
On media day before the game, Chancellor, among the tallest, heaviest safeties in the league, said, "All the hard hits show how much I love this game and how you're supposed to play the game. It's just a matter of proper tackling. Then you can get your feet set and explode through anybody."
Explode he did, racking up 10 tackles, two defended passes, and a key interception. In fact, Chancellor played such a crucial role in Seattle's domination of Denver's vaunted offense that many proclaimed the safety should have been named the game's most valuable player.
Joining Chancellor on the Seahawks sidelines was Nick Sorensen (business and marketing management '00), a Hokie quarterback and defensive back who played several seasons in the NFL before going on to become Seattle's assistant special teams coach. Sorensen praised Chancellor's performance and the work ethic he built at Virginia Tech. "He's still a hardworking, Hokie-type guy," Sorensen said of Chancellor. "He brings his lunch pail to work every day, just like he did at Virginia Tech."
The big game was Sorensen's third shot at a championship. He played on the 1999 Virginia Tech team that lost the national title to Florida State in the 2000 Sugar Bowl. Then, in his rookie season in the NFL, he was a member of the St. Louis Rams team that lost to the New England Patriots in Super Bowl XXXVI.
"The joke in my family was the third time is a charm," said Sorensen, who points to Virginia Tech Coach Frank Beamer's emphasis on special teams as a driving force in his pro career. "I owe Coach Beamer a lot of credit because I understood the importance of special teams," said Sorensen, who saw action on several NFL teams. "That's how I made it every year."
On the other sideline, Vinston Painter (apparel, housing, and resource management '13) wore the Denver Broncos' orange and blue. Although he didn't play in the game, the rookie tackle is proud to be on the Bronco's roster.
"It was a fun ride. I'd never been to the national championship in college, so this was that big game," Painter said. "It was a great atmosphere to be in, a great experience. I never would have thought I'd go the Super Bowl my rookie year. This past season has been a dream come true. Just making it to the NFL and getting drafted was satisfaction enough, but going to the Super Bowl just topped off an amazing year. A lot of things you dream about as a kid happened to me this past year."
---
Steger to continue service to Virginia
Charles W. Steger, who will step down as Virginia Tech's president on June 1, will begin service on the Virginia Commission on Higher Education Board Appointments, which evaluates and recommends candidates for university boards of visitors. Steger is one of Gov. Terry McAuliffe's five appointments to the commission. Learn more at Virginia.gov.
Halting crop destruction in India
Virginia Tech researchers who first discovered a devastating pest in India and devised a natural way to combat it have now assigned an economic value to their counterattack: up to more than $1 billion over five years. Those figures represent the amount of damage that the papaya mealybug would have wreaked on farmers and consumers in India without scientists' intervention.

Of the parasitic wasps imported from Mexico, the Acerophagus papayae, left, was found to be effective against the papaya mealybug in India. The right image shows one of the other wasps deployed, Anagyrus loecki. Photos courtesy of Muni Muniappan.
The papaya mealybug had ripped through crops, including papaya, eggplant, and tomato, in southern India—causing mold and stunted growth—before Rangaswamy "Muni" Muniappan of Virginia Tech identified the pest and spearheaded the natural control program. The intervention, which cost a relatively modest $200,000 in its first year, prevented a total of between $524 million and $1.34 billion in crop damage over five years, reported Muniappan and other scientists in the February issue of the journal Crop Protection. Learn more »
Research overturns assumption about mercury in the Arctic
For years, scientists have assumed that if mercury is high and increasing in fish in the North American and European Arctic, the same is true of fish elsewhere in the Arctic. But a team of scientists from the U.S., Russia, and Canada has discovered that assumption is wrong in much of the continental Arctic.
In addition to differences in mercury processes as a result of diverse atmospheric, geological, and biological conditions, "it turns out that the economic decline of the former Soviet Union, which collapsed in 1991, appears to have been good for the Arctic environment in that part of the world," said Leandro Castello, assistant professor of fish and wildlife conservation in the College of Natural Resources and Environment and the first author of a paper about the finding.
Castello's paper was published by Environmental Science & Technology, a journal of the American Chemical Society. Learn more »
Feng honored with outstanding faculty award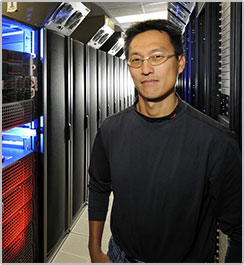 Wu Feng, professor and Elizabeth and James Turner Fellow in the Department of Computer Science in the College of Engineering, was named a 2014 Outstanding Faculty Award winner by the State Council of Higher Education for Virginia. The award, sponsored by the Dominion Foundation, a philanthropic unit of the energy company based in Richmond, Va., is the commonwealth's highest honor for university faculty, acknowledging commitment to excellence in teaching, research, knowledge integration, and public service.
Feng, who also holds professorships with the Virginia Tech Bradley Department of Electrical and Computer Engineering and the Virginia Tech Faculty of Health Sciences, is internationally recognized for his research in energy-efficient parallel computing.
High-speed Internet for rural areas
Wireless@Virginia Tech is testing new technologies that will make it possible for high-speed Internet to reach more Virginia homes and businesses through a project called the "Spectrum Management Research Testbed—Self-Sustaining Broadband Network."
Traditional broadband access by wireless Internet service providers relies on increasing the number of end users to recover infrastructure costs and realize a profit.
Because rural areas have a lower population density, however, there is little incentive for service providers to build there. As a result, the absence of broadband limits business and education growth for the region.
Over the past several years, the government has made additional radio frequency spectrum available for sharing among government, commercial, and public wireless systems. One of the benefits will be the availability of new spectrum for providers to improve access in rural areas.
Wireless@Virginia Tech has developed technologies that will permit service providers to generate additional revenue by providing mobile spectrum-sharing testbed services to government and industry members. The revenue created through research and development activities will effectively provide more end users for the infrastructure and lower service costs needed to make "last mile" broadband more viable. Learn more »
Business growth in the New River Valley attracts Virginia Tech alumni
Rural by most standards, Virginia's New River Valley—which comprises the counties of Floyd, Giles, Montgomery, and Pulaski and the city of Radford—has become a hotbed of opportunity. In the past two years, the area has been ranked among the best places in the country for job growth by CNBC, Forbes, 24/7 Wall St., and NewGeography.com.
Since 2010, employment in Montgomery County, Va., including Blacksburg and Christiansburg, has jumped 6 percent, and wages have risen 5.3 percent. The unemployment rate has fallen to 5.6 percent, retail sales are up 11 percent, and the area's population continues to climb at a steady pace.
Not surprisingly, Virginia Tech alumni are greatly impacting economic growth in Montgomery County. Since 2010, at least 12 alumni have founded or led companies that have created nearly 500 new jobs and sparked $13 million in economic growth. Several companies, including Comprehensive Computer Solutions, Harmonia, Modea, and UXB International, have been named to Inc. Magazine's prestigious list of the nation's fastest-growing companies.
Montgomery County has a supportive entrepreneurial culture that is cultivated by the Roanoke-Blacksburg Technology Council and is home to several successful corporate parks, including the Virginia Tech Corporate Research Center and Falling Branch Corporate Park in Christiansburg. Learn more at www.impact.unirel.vt.edu.
THE TECH SECTOR: Learn more in the Virginia Tech Magazine series that highlighted a range of tech-sector businesses thriving in the New River and Roanoke valleys.
Sugar power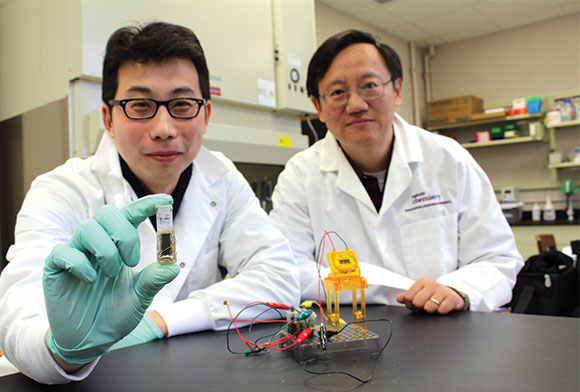 (From left) Zhiguang Zhu (M.S. biological systems engineering '09, Ph.D. '13) and Associate Professor Y.H. Percival Zhang; photo by Zeke Barlow
Imagine refilling a dead battery with sugar to rejuvenate it, setting off a reaction akin to our metabolism. In as soon as three years, according to Y.H. Percival Zhang, associate professor of biological systems engineering in the College of Agriculture and Life Sciences and the College of Engineering, conventional lithium-ion batteries could be replaced by bio-batteries that run on sugar—and are cheaper, refillable, and biodegradable.
"Sugar is a perfect energy storage compound in nature," Zhang said. "So it's only logical that we try to harness this natural power in an environmentally friendly way to produce a battery." While other sugar batteries have been developed, Zhang's has an energy density an order of magnitude higher, allowing it to run longer before needing to be refueled.
The findings, which Zhiguang Zhu (M.S. biological systems engineering '09, Ph.D. '13) published in the journal Nature Communications, could help keep hundreds of thousands of tons of toxic batteries from ending up in landfills. And our world of battery-powered devices would be that much sweeter. Learn more »
Human genome sequencing benchmark set
Led by biomedical engineer Justin Zook of the National Institute of Standards and Technology, a team of bioinformaticians from Harvard University and the Virginia Bioinformatics Institute at Virginia Tech has presented new methods to integrate data from different sequencing platforms, thus producing a highly reliable set of genotypes that will serve as a benchmark for human genome sequencing.
"Understanding the human genome is an immensely complex task, and we need great methods to guide this research," Zook said. "By establishing reference materials and gold-standard data sets, scientists are one step closer to bringing genome sequencing into clinical practice."
The methods put forth by the researchers make it increasingly possible to use an individual's genetic profile to guide medical decisions to prevent, diagnose, and treat diseases—a priority of the National Institutes of Health. The team's research was published in the Feb. 16 issue of Nature Biotechnology. Learn more »
Student team aims to help newborns breathe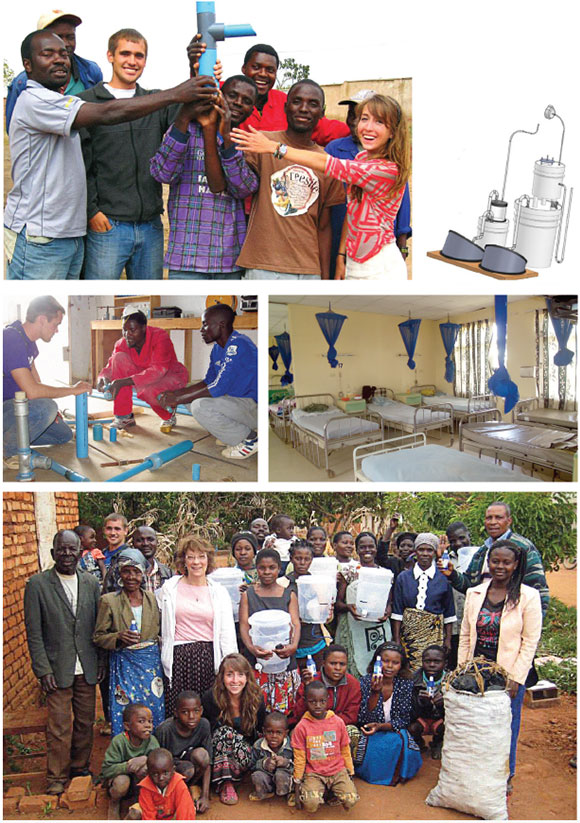 Preparing for their senior design project, mechanical engineering students Garret Burks and Ashley Taylor (top left) traveled to Malawi in summer 2013 to learn more about the country, its people, and its hospital resources. The team is designing and building an infant respirator that can be used without electricity. Photos courtesy of Ashley Taylor.
Virginia Tech mechanical engineering students Garret Burks, of Harrisonburg, Va.; Jamie Cabaleiro, of Cary, N.C.; Megan Cash, of Felton, Del.; Lisa Gonzalez, of Fairfax, Va.; and Ashley Taylor, of Fort Chiswell, Va., wanted to work together on a senior design project that could have an immediate impact.
The team's mentors, Al Wicks, associate professor in the Department of Mechanical Engineering, and Dr. Andre A. Muelenaer Jr. (biological sciences '75, M.S. zoology '79), associate professor of pediatrics at the Virginia Tech Carilion School of Medicine and adjunct professor at Virginia Tech-Wake Forest University School of Biomedical Engineering and Sciences, pointed the students toward the need for an infant resuscitator that could function without electricity, which can be unreliable in underdeveloped countries.
And the Global AIR (Assistance of Infant Resuscitation) team was born.
In order to see such need firsthand and to assess local resources that could be used to develop a sustainable neonatal resuscitator, two of the team's members traveled to Malawi. Drawing from information gathered during the month-long stay, the students elected to use parts available in Malawian hardware stores so that the resuscitator "can be fixed there and sustained," Burks said. They also aim to keep the total cost under $100. Learn more »
Global AIR carries on the legacy of livesaving work initiated by former Virginia Tech professor Leon Arp, who mentored Muelenaer and whose infant respirator was profiled in the fall 2012 edition of Virginia Tech Magazine.
The Hokie Nation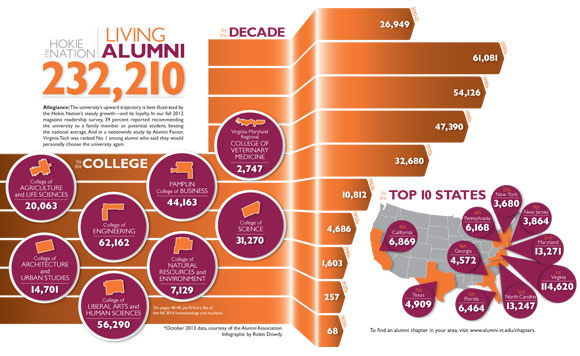 October 2013 data, courtesy of the Alumni Association. Infographic by Robin Dowdy; click to enlarge.