FEATURE
Inspiration Then and Now
How an inventive culture defines Virginia Tech—and saves lives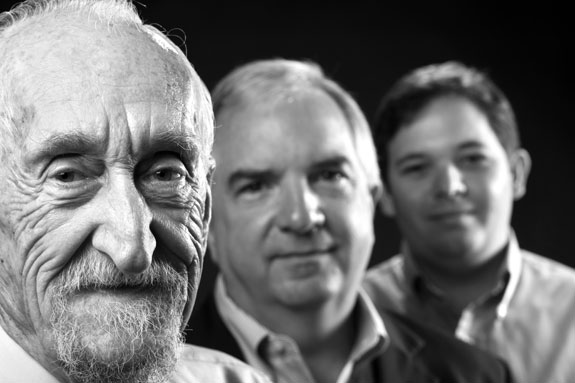 Life cycle: Former professor Leon Arp (left) mentored Andy Muelenaer '75, '79 (middle) in the creation of life-saving medical devices when Muelenaer was an undergraduate, and now Muelenaer is serving in the same role with graduate student Thomas Ruscher (right) and other students.
The doctor told Air Force Staff Sgt. Paul Spolski to be prepared for the worst.
Born three months premature in 1970, Carrie, his firstborn child, was suffering from respiratory distress syndrome, a life-threatening condition that, at the time, affected 25,000 infants in the U.S. annually and was the leading cause of death in the first week of infants' lives.
"The air went out of me," Spolski recalled. "I thought we were going to lose her for sure."
Spolski, his wife, and newborn daughter were in Langley Air Force Base, but hope was waiting on the other side of the commonwealth. Carrie's pediatrician recalled an article he'd read about a Virginia Tech professor, Leon Arp, who had invented an infant respirator while he was pursuing his doctorate in industrial education, a degree he completed at Iowa State University in 1965. The pediatrician met with the base's commanding general. Soon enough, Arp and Gene Dillon, a technician in Tech's mechanical engineering department, were en route to Langley on the general's personal jet.
The trip to Carrie's bedside was documented by Life magazine in a four-page photo essay. The respirator ensured that the Spolskis' first meeting with Arp wouldn't be their last. Since reconnecting with Arp and his wife, Kathleen (Kathy), about 20 years ago, Darkes and her parents have kept in touch with the Blacksburg couple. Darkes credits Arp, a professor emeritus of mechanical engineering, and the infant respirator he invented with saving her life.
"It was neat to sit down and actually chat with him," Darkes said, recounting with emotion her first meeting with Arp. "It [felt like we had known] each other forever. I think I just hugged him and thanked him.
"I'm blessed to be [alive]. Not everybody can say that they've been saved by someone and put in Life magazine. It's pretty incredible."
On a visit to Blacksburg in September, Darkes and Spolski reunited with the now-82-year-old Arp. "I'm here because of [him]," said Darkes, a first-grade teacher and married mother of two boys who lives in Mountain Home, Idaho.
A breath of inspiration
As a junior in high school, Arp converted a washing machine into a device to develop color film. His interest in and aptitude for the design and construction of electromechanical devices would serve him well when, in 1961, one of his twin sons was born with respiratory distress syndrome. Arp clearly saw that the medical community did not have the methods or equipment to assist his child. "It became painfully obvious that not one damn thing was being done to effectively assist [my] son's labored breathing," said Arp, an inventor who is not one to mince words.
Intrigued by the idea of a respirator, Arp discovered that his son's pediatrician, Dr. William C. McCormack, was just as committed to addressing the syndrome. McCormack spent hours teaching Arp the anatomy and physiology surrounding the problem, and Arp received immediate feedback to his questions. "It was like having a private medical professor at my elbow," Arp said. "Without his dedicated support, I could never have learned enough about the medical problem to be able to formulate a successful respirator design and the medical action protocol for its use."
Respiratory distress syndrome is characterized by stiffened lungs caused by the absence of a protective substance called surfactant. In a fight for oxygen, an infant with adequate strength will dramatically increase his or her breathing rate. Taking measurements, Arp determined that afflicted infants were breathing at a rate upward of 100 to 120 breaths per minute, a rate far faster than existing adult respirators could handle. For a respirator to aid in breathing, then, the device had only milliseconds to sense the onset of an infant's inhalation and send an exact volume and concentration of oxygen into the lungs.
Moreover, Arp knew that the device had to be supremely sensitive, able to respond to the miniscule negative air pressure exerted by an infant's tiny lungs at the beginning of inhalation. He developed a sensor that reliably triggered the respirator, and ensured that the device would reset before the next breath.
Because of its sensitivity and short response time, the sensor allowed Arp's respirator to assist a child's breathing, as opposed to the rate-controlled method employed by adult respirators. "That [sensor] was the key to the whole thing. That was my first patent," said Arp, who held four patents by the time he came to Virginia Polytechnic Institute (today's Virginia Tech) from Iowa State University in 1966.
Bringing his invention to Virginia, Arp partnered with two pediatricians in two Roanoke hospitals. In a study from June 1967 to October 1968, they applied Arp's respirator and his methods to 200 infants in respiratory distress—4.8 percent of the hospitals' live births—and improved the infant survival rate at the hospitals from 62.8 percent for those not treated with the respirator to 86 percent for those treated with it. The group published the results in consecutive 1969 editions of the Anesthesia and Analgesia journal—where Darkes' pediatrician would read about the invention that would save his patient's life. Alongside such era-defining marvels as the Apollo moon landing, the respirator was named by the National Society of Professional Engineers as one of the top five engineering achievements of 1969.
On the respirator's success, Arp credited the help he received from machinists and technicians such as Dillon, Jack Gray, Marshall Smith, and Teet Henderson. "I am not an engineer of any kind," said Arp, whose degrees are in industrial education—the study of the materials, tools, and processes of industries. "However, I did do my homework, and the device did exactly what it was intended to do."
Incredibly, the respirator didn't go mainstream. In the early 1970s, it was licensed by a medical-device manufacturer that converted the machine "back into a slow, insensitive" device that was "incapable of assisting the very rapid respiration" of infants with the syndrome, Arp said.
Even so, the power of innovation would not be bridled. The torch would be passed.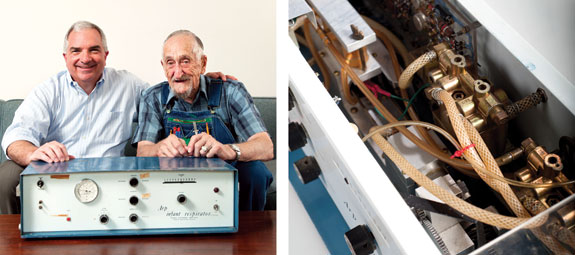 In the 1970s, Leon Arp and Andy Muelenaer '75, '79 collaborated on a device that provided oxygen to patients' hearts and lungs. At left, the two visited in Arp's home.
Passing the torch
Leon Arp wasn't in the car with Dr. Andy Muelenaer and Al Wicks, but his legacy was.
In 2004, Muelenaer (biological sciences '75, M.S. zoology '79), a Roanoke-based pediatric pulmonologist, and Wicks, an associate professor of mechanical engineering, were driving to Washington, D.C. Muelenaer described an ever-present problem in pediatric pulmonology: monitoring airflow in infant tracheostomy tubes. Blocked tubes account for about a 6 percent mortality rate, Muelenaer said. Wicks had soon sketched on a napkin a solution that involved shooting sound waves through the tube's air flow, measuring air speed like Doppler radar does.
The solution is a now a working prototype—an air-flow sensor for tracheostomy tubes—developed in the Pediatric Medical Device Institute (PMDI), a nonprofit entity led by Muelenaer and Wicks. Thomas Ruscher, a graduate student pursuing degrees in mechanical engineering and computer engineering, has spent two-plus years developing the sensor, and among PMDI's efforts, the sensor is the closest to being ready for commercialization.
PMDI works with a consortium of children's hospitals in Virginia and North Carolina to develop medical devices that meet the clinical needs of physicians. Ruscher, who works out of Randolph Hall on PMDI-related research, described the institute as a "nonprofit that solicits ideas from physicians for devices they'd like to see developed." One student is studying how to detect early signs of cerebral palsy by placing sensors on an infant's limbs. Using similar sensors to measure movement, another project aims to help doctors provide precise dosages of medication for newborns suffering from opiate withdrawal. Another student is developing a software program that would help medical providers determine dosages of medications and the size of equipment to use for CPR based on the child's age, condition, and weight. The institute has a couple dozen devices in the works, in various stages of development.
"The biggest problem for pediatric devices is the typically small market," said Wicks, PMDI's chief technical officer. "Kids tend to be pretty healthy, so the market size tends to be much smaller than the bigger manufacturers want to deal with." Even so, the air-flow sensor may prove useful for adult tracheostomy tubes. And the institute is able to leverage the resources of consortium hospitals throughout the mid-Atlantic, effectively casting a wider net in the creation of life-saving devices. "There's a tremendous amount of need out there for pediatric devices, and we are simply trying to fill the void," said Wicks, who spoke on his way back to Blacksburg from Washington, D.C., where he had just presented at a conference for the Food and Drug Administration (FDA) meant to improve the relationship between the agency and entrepreneurs by ensuring that prospective inventors understand how to move a device through the approval process.
Amazingly, the legacy of Leon Arp leads directly to PMDI. After the infant respirator, in the early 1970s, Arp turned his attention to an extracorporeal membrane oxygenation device, which provides oxygen for distressed hearts and lungs. Working under Arp's tutelage was a young undergraduate—none other than Andy Muelenaer. Arp inspired the student to pursue a career in pediatrics and children's medical devices.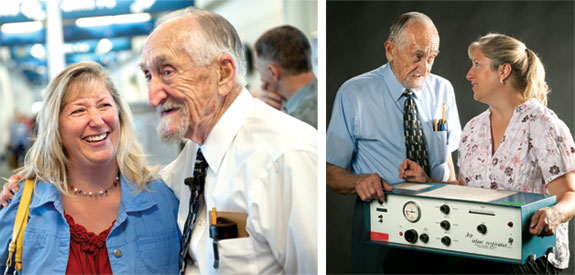 Carrie Spolski Darkes reunited with Arp at the Roanoke airport when Darkes and Spolski flew to Blacksburg for a visit.
From Arp, Muelenaer learned to address a problem faced by pediatricians by modifying adult machinery or building a new device. He "increased my confidence" to invent solutions, said Muelenaer, who is an associate professor in the Department of Pediatrics at the Virginia Tech Carilion School of Medicine and PMDI's president and chief medical officer.
Muelenaer met Wicks through the Carilion Biomedical Institute, a partnership launched in 1999 by Carilion, Virginia Tech, and the University of Virginia to promote biomedical research and commercialize medical devices as an economic engine for the region. An idea Muelenaer had for placing a tube into infants' stomachs led him to be named the partnership's chief medical officer. Soon after, the pair was asked to share their expertise with a U.S. Senate committee studying medical-device creation for children, during which they proposed a network of children's hospitals funded by the government. The model became legislation and their consortium of hospitals eventually landed grant funding from the FDA via the University of Michigan.
In the circle of innovation, Muelenaer has returned to his roots, inspiring students in the same building in which he was first inspired by Arp. "I started in Randolph Hall," Muelenaer said, "and I'm right back in Randolph. It all comes back around."
Likewise, the techniques that saved Darkes have been rediscovered. What Muelenaer finds remarkable about Arp's infant respirator was the professor's "genius… to sense that the baby was taking a breath [and to] assist that breath." Arp had broken from conventional methods, such as a "bellows" approach of slamming air into a baby's lungs, which damaged the fragile tissue. Arp recognized, too, that excessive levels of oxygen were harmful to still-developing retinal and blood vessels, so his respirator delivered the right amounts. And when the rest of the medical community used endotracheal tubes, which were potentially dangerous to infants, Arp used a nasal mask.
Today, all of these advances are commonplace. Muelenaer said that neonatologists now are able to anticipate respiratory distress syndrome, deliver drugs to speed up lung development, treat a baby with artificial surfactant (a more recent, and critical, factor), and use advanced respirators that allow the baby to trigger gentle ventilation. "We're really practicing the principles [Arp] discovered and promoted in the '60s and '70s," Muelenaer said.
The spirit of invention
From his Blacksburg home, Arp presses on. An avid photographer who served in the Air Force in photo intelligence, he was preparing this summer for an upcoming photography exhibit. More than 200 prints in handmade frames—including uncirculated portraits of Marilyn Monroe, whom he met in 1950 at a base in Japan—leaned against the interior walls of his home. Outside, Arp pointed to a boat trailer with an attached engine that, at the flip of a lever, gently lowers the boat into the water—evidence of the ingenuity that earned him 25-plus patents.
Whether in Arp's driveway, on campus, in Carrie Darkes' Idaho home, or around the world, the visionary efforts of Virginia Tech and its people sustain—and even save—lives.
Denise Young, assistant editor, contributed to this article.