Terri and Steve Tunick and their children, soon-to-be alumnus David and daughter Rachael, have relished their connection to Tech. Photo by Kelsey Kradel.
Virginia Tech senior David Tunick. Photo by Kelsey Kradel.
The Virginia Tech experience: A parental perspective
When David Tunick graduates this spring, he will have a degree in chemical engineering and a wealth of career-related experience. But Virginia Tech is not just about academic achievement. David found a mentor, joined a fraternity, was a member of a living-learning community, and embodied the university motto, Ut Prosim (That I May Serve), by participating in the Big Event and Relay For Life. Along the way, he took advantage of the kind of experiential learning that promotes personal growth and lifelong fulfillment.
At Virginia Tech, families are our valued partners in ensuring a positive educational experience, and we work with them to provide the very best education for our students—from orientation through graduation, both in and outside the classroom. Together, we make the Virginia Tech journey one that prepares students for rich and rewarding lives.
We recently had a chance to talk with David's parents, Steve and Terri Tunick, of Sewickley, Pennsylvania, who became members of the Virginia Tech Parent Committee, about David's Virginia Tech experience and how the university can provide resources, information, programs, and services that support families' unique values and aspirations.
What made you choose Virginia Tech?
We looked at about eight colleges for David. In high school, David liked his chemistry and physics classes. He wanted to major in engineering and, in particular, chemical engineering. David wanted a large campus and a college with great school spirit. As we walked around the Virginia Tech campus, we were amazed at seeing numerous students wearing Tech T-shirts and hoodies. Yes, we saw a lot of maroon and orange. David also liked the architecture of the buildings, the large Drillfield, and the overall welcoming feel on campus.
How did David find his place at Virginia Tech?
David's roommate introduced him to his high school friends. David, Danny, and Ryan attended New Student Orientation events and become close friends. At our first Family Weekend, we walked up a hill to meet David and his friends at a hockey practice. Danny greeted us by saying that they had "adopted" David into their group. Later, they all became roommates in an off-campus apartment. David also joined Alpha Chi Sigma, the professional chemistry fraternity. In classes, he joined study groups and worked on group projects, and he met more people and developed more friendships. Along the way, David has made great memories—he passed his hardest semester in engineering, attended Tech football games, took his girlfriend to her sorority dances, and floated down the New River on inner tubes with friends.
Mentors and hands-on experience through internships and co-ops are so important to a student's growth and development. What did David do outside the classroom that enhanced his education?
David developed a mentor relationship with Preston Durrill, one of his professors. Dr. Durrill has been very supportive with David's class selections, his academic progress, and the direction of his professional career. In many classes, the professors talked about the importance of internships and co-ops to enhance the learning experience, allowing students to utilize their academic education in the workplace and to discover what they like and dislike in a job. Internships and co-ops offered David an opportunity to "test-drive" the direction he wanted to go. David had a 10-week commercial operations and seven-week industrial marketing internship with Bayer. Also, he had a seven-month production management co-op with Cargill. He learned how the business aspect worked at Bayer and how supply chain management operated at Cargill. David worked eight hours a day, five days a week, and put in extra hours if a project needed to be completed by a target date. He built upon his work habits, addressed his strengths and weaknesses, developed confidence, and established a network of professional contacts. David has become a more-experienced candidate as he enters the job market. He has also met with Career Services to review and edit his résumé, practice mock interviews, and review a plan of action when attending job fairs.
What are you most proud of?
We are most proud of David's perseverance. He has a can-do attitude. Chemical engineering is a difficult major, and David had to study hard. He learned to not be disappointed by setbacks and to overcome barriers in order to succeed. Due to an unfortunate childhood injury, David learned during his first year at Virginia Tech that he would need two additional surgeries on his right knee. During winter break, he had the first surgery and returned to campus in January. Schiffert Health Center removed his sutures. His next surgery, a cartilage transplant and bone graft, occurred that summer, followed by 10 weeks of physical therapy. Again, David returned to college, navigated the large campus, and maintained his academic schedule. His professors understood when he was late for a class, and they modified his seating so he didn't have to navigate a lot of steps.
What are David's plans for the future?
David is interviewing for engineering jobs to gain hands-on experience in manufacturing and processing plants. He wants to learn about profitability, making a quality product, maintaining safety standards, global markets effects, environmental regulations, and sustainability. David would like to eventually combine his engineering skills with his interest in business.
Why did you become involved with the Virginia Tech Parent Committee?
Our daughter, Rachael, attended Indiana University, and although we attended parents weekend and football games, we never felt connected to the university. When we were asked to join the Virginia Tech Parent Committee, we thought it would be a great opportunity to learn about Tech—its past, present, and future plans. We feel like Hokies and are connected to a great community. We are proud that David will be completing his chemical engineering major, and we know he has worked hard and has been inspired to do his best.
What have you learned through your involvement with the Virginia Tech Parent Committee?
We learned more about why David chose Virginia Tech. We have met parents of ROTC students and listened to their conversations about patriotism, dedication, and loyalty to America. We have met parents with family legacies of several generations who have attended Virginia Tech. We learned about the various resources that the university offers its students. When David talked about his experience at job fairs and the Smith Career Center, we were able to engage in productive conversation.
Why is it important for families to be involved in their students' education?
Education is an important privilege and opportunity not to be squandered. We believe that education is not just what students learn in books, but also the kind of environment the university promotes, the ideals that students embrace and believe, how professors relate ideas and inspire curiosity, and how education can be used to improve the future. The college experience is what you make of it—and that includes the student and his or her family. When parents are involved and knowledgeable, they can help guide their children's education and pursuit of a career.
Overall, how would you describe your son's Virginia Tech experience?
David is a Hokie for life. He has gained an excellent education, met great friends, and been inspired to invent the future. He also really enjoyed the excellent food on campus.
For more information about the Division of Student Affairs' Parent Committee and other resources for Hokie families, contact Penny Helms White, director of family and alumni relations, at phwhite@vt.edu or 540-231-3284.
---
Cosmopolitan Hokies
Virginia Tech's Global Education Office helps students explore, learn, and engage with other cultures in order to challenge their assumptions, broaden their perspectives, and understand what it means to be responsible citizens of their nation and the world.
Spring

2016
9

programs
22

faculty/staff
193

students
Destinations:
Dominican Republic, England, India, Ireland, Switzerland, Trinidad, United Arab Emirates
Winter

2015-16
15

programs
21

faculty/staff
214

students
Destinations:
Antarctica, Australia, Costa Rica, Dominican Republic, Ecuador, Italy, Japan, Morocco, New Zealand, Panama, South Africa
---
School of Neuroscience opening in fall
In early November 2015, the Virginia Tech Board of Visitors voted to create a School of Neuroscience—the first of its kind in the U.S.—to be administratively housed in the College of Science, but with close ties to the Virginia Tech Carilion Research Institute.
The school, which was approved in late March by the State Council of Higher Education for Virginia and will be directed by Professor Harald Sontheimer, is expected to increase the quality of undergraduate programs and the number of students completing graduate degrees in neuroscience—a broad and interdisciplinary field that seeks to understand the workings of the human neurological system, including decision-making and creativity.
---
Moment
A stench in time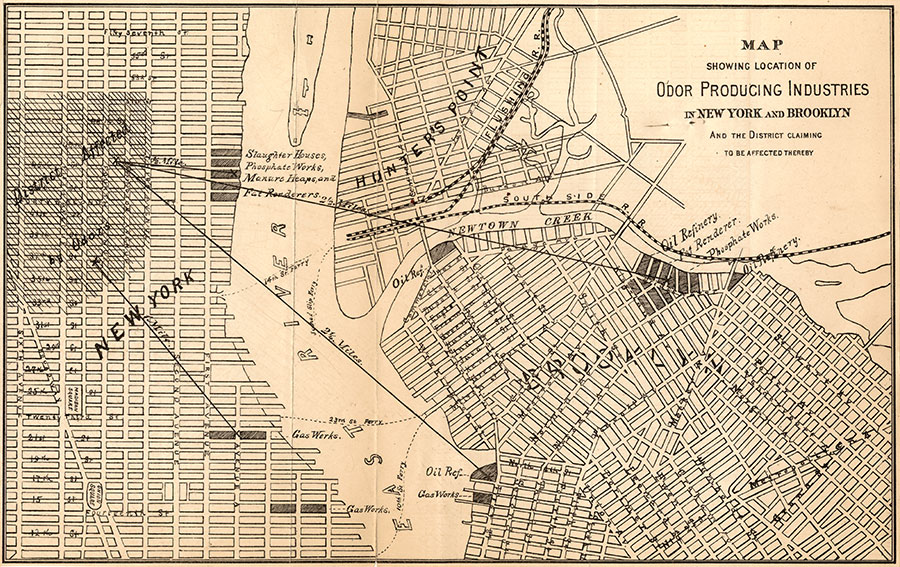 "Map Showing Location of Odor Producing Industries of New York and Brooklyn and the District Claiming to be Affected Thereby," circa 1880, File: New York City Board of Health–Notes, Box 52, "Charles F. Chandelle Papers," Columbia University Rare Book and Manuscript Library, New York. Image courtesy of Columbia University Rare Book and Manuscript Library.
Foul smells may cause a wrinkle of the nose, but sometimes they can save lives, too.
Melanie Kiechle, assistant professor of history, studies scents at the intersection of urban and environmental history. She documents how people react to problems they perceive through their sense of smell—such as the 19th-century Industrial Revolution's pollution in New York City—and what those moments tell us about cultural and societal changes.
One of her studies centered on an 1880s civic dispute over whether the scents of Brooklyn-based industries were carrying to midtown Manhattan. Examining the papers of Charles Frederick Chandler, a professor at Columbia University and former president of the Manhattan Board of Health during the 19th century, Kiechle discovered a map titled "Map showing location of odor producing industries in New York and Brooklyn and the district claiming to be affected thereby."
"I knew [Charles Frederick Chandler had been] president of the board while there were controversies about odors causing bad health in New York City, but I didn't know he would actually have anything. There were papers about everything he was dealing with: how much to pay street sweepers, reports about poisonous cosmetics, reports about bad milk being sold. I opened up another file, and there's this map, which shows very clearly the grid of New York City and Brooklyn."
As one might imagine, locating smell in history is difficult. "It's not the first thing people talk about," Kiechle said, "so for someone to have written about odors, they had to have been either really memorable or really bad. The map was fantastic for me because it shows so many of the different things I'd been discussing, especially conflict and confusion over how the area was changing."
Upon studying the map, Kiechle concluded that even its title is revealing: "Whoever made [the map] doesn't believe that the people complaining about the odors are actually receiving the odors from Brooklyn. There's a grid, which is mostly empty, but there's a shaded area—the district that claims to be offended by the odors—and then arrows pointing to that. One originates far back in Brooklyn, marked that it's 2 1/2 miles to the place where people are complaining. Other arrows, which are only one-half-mile long, point to industries on the edge of Manhattan Island, which were much closer to the area with complaints."
Amidst the area's growth and progress, Kiechle said, "the board of health had pushed everything that smelled bad out of Manhattan: slaughter houses, manure heaps, and garbage dumps. The two that produced the worst odors were oil refiners and super-phosphate fertilizer manufacturers, which are connected because of the use of sulfuric acid. Oil refiners used the acid to filter impurities out of the oil, creating something that was called sludge acid. The oil refiners then sold sludge acid to fertilizer manufacturers who spread it on carcasses to speed the decomposition process. After the carcasses had been spread with sludge acid, they would be laid out in the sun—and not just one or two, but a huge complex full of rotting animal bodies. That had to create a powerful stench."
As a historian who routinely confronts why the past matters to the present, Kiechle was attentive to the map's relevance today. "In 2010, Newtown Creek, which runs between Brooklyn and Queens, was named an Environmental Protection Agency Superfund site," she said. "That's the creek they were complaining about in the 1880s—the creek in the middle of the map—where they were dumping sludge acid. Clearly, this industrial buildup was having lasting results—and not just from sludge acid. The area remained an industrial district well into the 20th century, and people continued to dump things into the creek, creating an environment that's profoundly unhealthy even now. In 1880, people were realizing that the area was already problematic and dangerous."
"It seems so odd that a bad smell would make people sick and they'd think it was making them sick," Kiechle said. "That's not how we conceive of getting sick—we think about germs and viruses—but, in fact, by reacting to odors, 19th-century New Yorkers were identifying what was indeed dangerous in their own time."
---
Flushed with success
Toilet power might be closer than ever to making local wastewater treatment facilities more energy efficient, thanks to research by biological systems engineer Xueyang Feng and environmental engineer Jason He.
An article in Scientific Reports detailed how Feng and He traced wastewater bacteria and discovered that the working relationship between two specific substrates—lactate and formate—produced more energy than either did separately. This work will help take the mystery out of how electrochemically active bacteria create energy and could assist in further developing a new treatment system called a microbial fuel cell.
"This is a step toward the growing trend to make wastewater treatment centers self-sustaining in the energy they use," said Feng.
His research also includes wastewater ammonia. Mohan Qin, a doctoral student in He's lab, built a system that recovers ammonia and removes other contaminants while generating electricity. The idea earned an award for best technological advancement from the International Society for Microbial Electrochemistry and Technology.
---
Virginia Tech Magazine App for iOS and Android
---
---
---
---
---
Around the Drillfield
---