How Tech Ticks
90,000-plus condolence items
by Mason Adams
In the days following April 16, 2007, people made, collected, and sent a broad range of objects to Virginia Tech that accumulated around campus, especially on the Drillfield, in Squires Student Center, and at the president's office. Many items were also shared with families who lost loved ones and with those who were injured.
In all, more than 90,000 condolence items were sent by individuals from all 50 states and 80 countries.
The university's Special Collections team, assisted by a Library of Congress advisory group, began archiving the materials by identifying categories, sorting first by format and then by source.
In certain instances, the team kept only representative items. If identical items were received, one was kept, and the duplicates were funneled to community organizations. Each gift, however, was documented individually, and metadata about the objects was compiled in a spreadsheet using 54 fields to facilitate searches.
The end goal was to archive a collection that would be of use — not just to the Virginia Tech community and to families of the victims, but to future researchers.
Format
textiles • quilts • sculptures • paintings • banners • posters • condolence books • poetry • audio • resolutions
Source
colleges • universities • K-12 schools • businesses • governments • religious affiliates • individuals • international tributes
The April 16, 2007, Condolence Archives are housed in Special Collections, located in Carol M. Newman Library.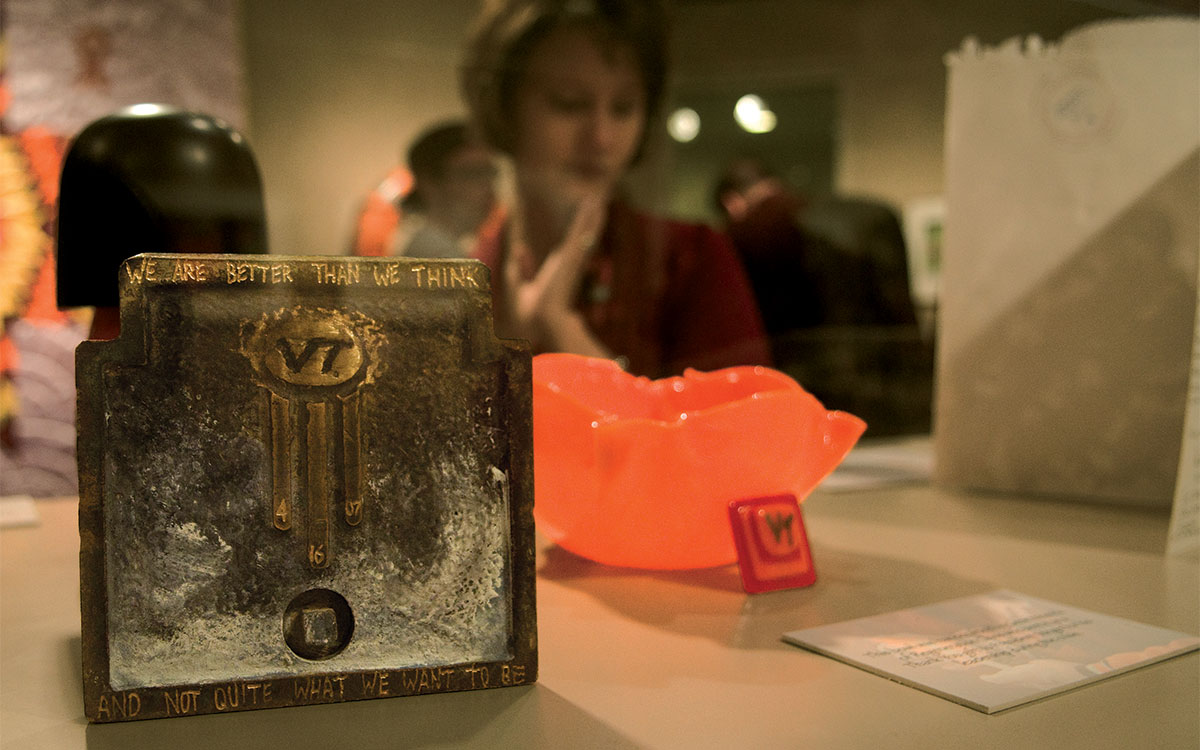 The 15 selection criteria for the archive
1) Reflections of pop culture that distinguished regions
2) Sociological interest, including materials from those affected by other tragedies
3) Personal messages
4) Materials that personalized the 32 lives lost
5) Materials from student government organizations
6) Outliers and otherwise unusual gifts
7) Aesthetics: especially attractive or expressive materials
8) Items from engineering schools or organizations
9) Materials from departments of foreign language or literature
10) Materials from resident advisors
11) Unique and special materials, such as an American flag flown in Iraq
12) Things from places similar to Virginia Tech
13) Things from institutions different from Virginia Tech
14) A cross-section of contributions from various sources
15) Geographical interest: materials from around the world signed in different languages