Athletics

Skills and gills

Rising senior Klaudia Nazieblo
Photos by Logan Wallace
Swimming is an equal mixture of skills and gills. Getting off the starting block fast requires fierce athleticism, focus, and perfection. Submerged in this winning combination is rising senior Klaudia Nazieblo, a Poland native majoring in economics.
At the NCAA championships in Indianapolis in March, Nazieblo earned honorable mention All-American status in the 200 butterfly for the third time in her Tech career. Her strong build allows her to dominate in distance racing. "During the race, I know how to pace my body and my emotions," said Nazieblo, who trains with the team's distance coach.
The successes have not gone to her head, though. Even with years of practice, she respects her favorite event, the 200 "fly," and its high demands. "It's a different mentality and a different distance," she said. "Experience is crucial."
Video by J. Scott Parker
Nazieblo's commitment is spurred not only by the excitement of racing, but also by the challenge of the training grind. "I'm waking up at 4:55 a.m., driving to Christiansburg, and at 5:30 a.m., I swim," said Nazieblo, who retains a cheerful disposition even though, during the school week, she rises before the sun. "Then I have breakfast, go to class, have another practice, eat, do homework, go to sleep — and then I'm waiting for another day."
Despite this strict regimen, Nazieblo considers her time at Tech a "true opportunity." "In Poland," she said, "sports and college are not correlated, so I needed to find a way to continue my sports career."
With that goal in mind, Nazieblo visited the U.S. with friends following high school graduation. After speaking with the swimming coaches at Tech, she prepared for the SATs because, if nothing else, "learning the language would be beneficial." Ultimately, she decided to become a Hokie.
Some 4,560 miles away from home, Nazieblo finds her comfort in the competition. "If I'm standing on the blocks before the 200 'fly,' I'll talk to myself in my own language. It brings energy to me while I'm waiting to attack."
And she does attack. During her four years with the H2Okies, Nazieblo set four individual school records, as well as two relay team school records.
Allysah Fox (multimedia journalism '18) is an intern for Virginia Tech Magazine.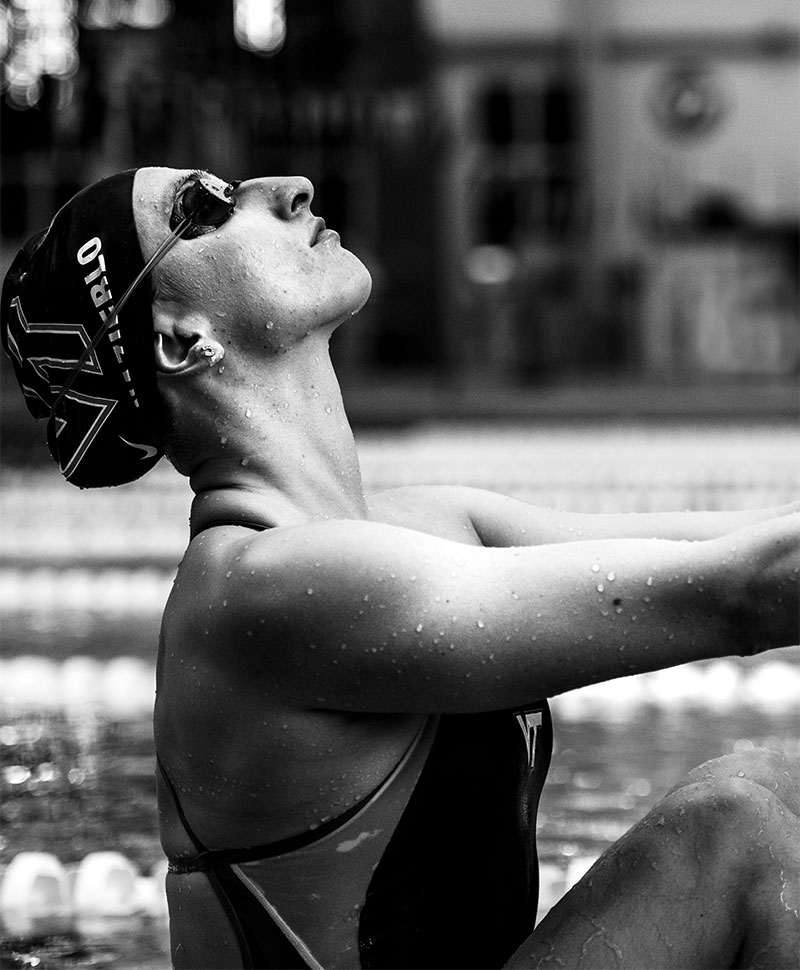 Best times and school records
NCAA
50 Backstroke — 24.14 seconds
100 Backstroke — 51.86 seconds
200 Backstroke — 1.53.04 minutes
200 Butterfly — 1.53.77 minutes
Nazieblo holds school records as a member of the following relay teams:
4x800 Freestyle Relay
4x400 Medley Relay
Statistics provided by the Virginia Tech Department of Athletics.