A New Crop of Hokie Stone
Tech grows, but keeps its style
by Christian Moody
If you graduated from Virginia Tech more than three years ago, the map you know of campus has the same relevance as a 1989 map of Eastern Europe. A lot has changed.
Where you remember parking lots, open spaces, even the Prairie, now stand new buildings or structures still under construction. The modern Tech skyline includes the spires of cranes lifting ever more steel girders into place.
No fewer than a dozen building projects have been recently completed, are in progress, or will soon be under way on campus. Construction fences are as common as boxwoods, and Hokie stone waits on pallets to become an immutable part of Virginia Tech scenery.
| | | |
| --- | --- | --- |
| | | |
| Merryman Athletic Center | New Residence Halls | ACITC model |
Yet, as the campus becomes more dense, the buildings remain accessible. "We want to preserve the integrity of the campus with the core campus primarily pedestrian--where most people can walk to all their classes," says university architect Scott Hurst (architecture '74). Also preserved is the collegiate Gothic architecture style set in Hokie stone in the tradition of the renowned collegiate architect, Ralph Adams Cram.
A new architecture building was dedicated last fall. The true size of Burchard Hall in the Cowgill plaza is hidden. That's because the building named for the late architecture dean, Charles Burchard, is mostly underground. Four large, glass pyramids provide natural light into the heart of the building, and a stairway leads from a kiosk in the plaza to subterranean offices and studio space.
| | | |
| --- | --- | --- |
| | | |
| McComas Center | Fralin Biotechnology Center | Burchard Hall |
One of the first major projects to be completed in the latest building phase was the new engineering building located next to Whittemore Hall. Yet unnamed, the $16.2-million facility opened its laboratory space and offices in fall 1997.

A dramatic change to the face of campus is occurring at the university's Mall entrance from Blacksburg's Main Street. The Advanced Communication Information and Technology Center (ACITC) takes the form of a building that bridges the Mall, providing 150,000 square feet of new space attached to Newman Library. The $26.9-million ACITC will house research and teaching programs in information technology and will be completed in July 2000. The window-lined bridge will double as a reading room and computer study area.

New Engineering Building
| | |
| --- | --- |
| Remember the Prairie? It was a formidable tundra at 7:45 a.m. during winter months and the stage for a frenzy of activity on spring's first warm afternoons. The Prairie has shrunk. While Pritchard, Lee, and O'Shaughnessy halls still tower around its southern perimeter, the north end was closed earlier this decade when Payne Hall dormitory was built. Now, two new residence halls, temporarily dubbed New Residence Hall East and New Residence Hall West, also stand in the northern half of the old Prairie. | |
| | The Prairie has sprouted a new crop of Hokie stone residence halls. |
Though they perpetuate the Hokie Stone architectural tradition, the new residence halls have a much different atmosphere from that of huge Pritchard and Lee halls. Ed Spencer, director of Residential and Dining Programs, says school officals took a look at residence halls and asked themselves some questions: How do you build community among students? How do you instill a sense of pride about living quarters?
One way is by building new dorms shorter on beds, but longer on comfort, they decided. The new facilities house just 220 to 280 students in suites that share a bathroom and living room. The new residence halls also contain kitchens, activity rooms, a fitness area, and a post office.
Another residence hall is going up across West Campus Drive from Wallace Hall. Named Harper Hall for the late Home Economics Dean Laura Jane Harper, it is expected to open next fall. At nearby Cochrane Hall, the athlete's dormitory, the dining room has been expanded to an ultra modern food court now serving students from all over campus.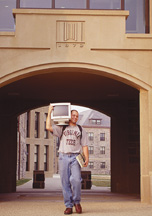 Despite the apparent building boom, the new residence halls are not increasing the number of on-campus rooms for student housing. Although the number of students admitted has increased modestly in the past decade (about 2,000 additional students), campus building reflects the university's attempt to catch up with space deficits created by growth in the early 1980s. Enrollment has reached a target level of 25,000 and now will remain constant. New construction is part of a plan to phase out some of Tech's older dorms, converting them into academic buildings.
The upper quad dormitories are targeted to be among those transformed into academic office buildings. Major Williams and Femoyer halls were both former dorms which now house offices. Shanks Hall is next on the list for conversion.
The success of the football team has fueled a flurry of improvements to Tech's athletic facilities. Football revenue is the primary funding source for the softball field, outdoor track, and baseball field improvements; Merryman Center was funded by private contributions.
Students are now fully enjoying McComas Hall, a new student health and fitness center separate from the facilities operated by the athletic department. Named for the late President James McComas, the hall includes a gymnasium, pool, three basketball courts, an elevated jogging track, weight facilities, locker rooms, and the student health facilities.
The additions to campus are being financed through a combination of state dollars, student fees, and private donations. The total capital outlay for all projects currently on the planning board is approximately $150 million.
Just off campus, the Corporate Research Center (CRC) is in a perpetual state of growth and construction. Dozens of small, private companies, mostly involved in cutting-edge technology and research, have moved into Tech's research park. The CRC, a for-profit, wholly-owned subsidiary of the Virginia Tech Foundation, has grown to 12 office buildings and has space for eight more. Small companies have been moving in as soon as suites are finished.
Several projects are in the planning stages. Full funding has been received from General Assembly for a 90,900-square-foot building housing teaching labs near Derring Hall known as Chemistry and Physics Phase II.
Planning money has been approved for an alumni center, which may be located near the golf course. Planning money has also been allocated for an agriculture and forestry research facility to be located adjacent to Cheatham and an addition/renovation project in the dairy science area.
A second duck pond located next to the Veterinary Medical Complex was actually created to contain storm water runoff. Its softly graded curves and greenery give it a parklike appeal. The ducks found it on their own.
For returning alumni, a walk around campus can be a revelation. The old stomping grounds aren't quite the same. Whether it's a new dorm where an open space used to be, a new academic building in a former parking lot, or even a bright, new athletic facility that shows Tech's competitive spirit, the signs of progress are likely to be a bit disorienting. Even the latest map may not be correct for long-the price of progress.
Christy Pugh, former interim assistant editor, contributed information for this article.
---
Identity set in stone

by Christian Moody

Virginia Tech's Hokie stone, set in the dignified collegiate Gothic architectural style, embodies the identity the university set out to establish a century ago. Few alumni realize this progressive university began as a spartan technical college that adopted the collegiate Gothic style in an effort to elevate its austere, utilitarian image.

Performing Arts Building, formerly the YMCA.
When Virginia Agricultural and Mechanical College, as Tech was first known, was founded, funding from Richmond was meager and inconsistent. The first presidents preferred to keep an architectural low-profile to avoid any appearance to the state legislature of extravagance. In fact, the early buildings were so unadorned that Tech's fifth president, Joseph Eggleston, compared them to "poverty stricken textile mills."
In its first quarter-century, the school's mission was constantly being questioned. Early on, President John McBryde realized Tech needed to establish an identity that would distinguish it as a progressive institution providing service to the commonwealth, not as a rural, struggling trade school.
The gifted medievalist architect Ralph Adams Cram visited McBryde around 1901 and suggested collegiate Gothic as the architectural style. As defined by Cram, Gothic was the repository of "exalted ideals of education and religion." This style suited Tech's evolving identity perfectly, providing the campus with an image harkening back to venerable British universities such as Cambridge and Oxford. It also called for the use of limestone quarried next to campus (where Derring Hall now stands), saving on the transport of brick and employing dozens of local stonecutters.
The first move toward a new architecture, however, came in the late 1890s, when a group of alumni headed by William Dodd (later ambassador to Germany) raised funds for a campus YMCA building, constructed in Romanesque style of rough-faced limestone quarried on campus.

The first McBryde Hall honored the president who brought the collegiate
Gothic style to campus.
"The new building was an instant success," said J. Daniel Pezzoni (architecture '84, M. Arch.), an architectural historian, in an article for Smithfield Review. Before long President McBryde and his faculty referred to the new style fondly as "our native limestone." Brick construction continued on the Upper Quad, but the south and west areas of campus employed the local stone. Cram liked the limestone on the YMCA building (now the Performing Arts Building) and even suggested the older buildings be refaced.
The ideas of Cram and McBryde were endorsed by succeeding presidents Paul Barringer and Eggleston, who both fought persistently, although not altogether successfully, for adequate state funding of facilities and salaries.
Eggleston, a friend of Cram's, created controversy by persuading the board of visitors to allow the new, relatively unknown architectural firm, Carneal & Johnston of Richmond, to submit a plan for the entire campus based on Gothic style and the use of quadrangles, similar to European universities. Eggleston quelled disgruntled alumni asking for a more established firm by promising all plans would be submitted to a consultant with a prominent reputation, generally thought to be Cram. The only evidence of Cram's involvement was a remark by architect J. Ambler Johnston '04, of Carneal & Johnston, that Cram "had quite an influence on our way of thinking."
While the 1905 chapel was the first Gothic building, the original McBryde building, dedicated in 1914, "did what Dr. Eggleston wanted: it set the pace for everything since," Johnston later wrote. The original McBryde building was the first to feature a prominent front tower, later included in other campus buildings, most notably Burruss Hall.
While subsequent construction did not preclude brick, new buildings around the Drillfield were erected in the collegiate Gothic style, complete with the characteristic rough stone, lancet-arched doors and windows, and corner towers. The academic buildings on the north side of the Drillfield feature battlements, which work into the Gothic style to project the image of a citadel of academia.
Today, no academic or student building will be constructed on campus without some native limestone in its facade. According to university architect Scott Hurst, this is a directive of the board of visitors, whose buildings and grounds committee must approve all plans.
Now quarried around Blacksburg, the Hokie stone emerges in a range of hues, described as three colors "white, pink and black." In time, all the stone will succumb to weather and turn gray, like Price Hall.
Using Hokie stone on outer walls is about twice as expensive as brick, according to the university's office of capital design and construction. But the value of Hokie stone to Tech cannot be measured in dollars.
Thanks to the vision of architects and administrators nearly a century ago, the identity that Tech needed was found in the Gothic style and "our native limestone." Inside the stone collegiate gothic walls, the former agricultural and mechanical institute has evolved into a university on the leading edge of technology, architecture, information science, and many other fields.

Home | News | Features | Research | Philanthropy | Alumni | Classnotes | Editor's Page