---
---
New engineering dean named
| | |
| --- | --- |
| Richard C. Benson | In April, Provost Mark G. McNamee announced the appointment of Richard C. Benson as the new dean of the College of Engineering. Benson, who comes to Virginia Tech from Penn State University, where he has served as head of the Department of Mechanical and Nuclear Engineering since 1995, says, "I am thrilled to be coming to Virginia Tech and can't wait to get started. This college has so many assets, including top-rate curricula, internationally recognized research programs, and tremendous depth and breadth of the faculty, that I am confident we can achieve our goals of greater national prominence and impact." Benson will start as dean on Aug. 10. Previously, Benson served as associate dean for graduate studies in the College of Engineering and Applied Science (CEAS) at the University of Rochester and then as chair of the university's Department of Mechanical Engineering. Benson's teaching interests are structural mechanics, design, and applied mathematics. In 1981, he was honored as the top teacher in the CEAS. |
School of Architecture + Design wins NCARB prize
A Virginia Tech team has been awarded the NCARB (National Council of Architectural Registration Boards) Prize for the Creative Integration of Practice and Education in the Academy. Thirty-three entries, representing 26 colleges and universities, were juried for the 2005 NCARB Prize. Developed by Kathryn Clarke Albright, associate professor and foundation program chair in the School of Architecture + Design, Virginia Tech's winning entry, "Chicago Studio," is a set of architecture classes that provides an alternate model for a traditional upper-level design studio. The studio is built around a series of integrated, collaborative courses that introduces daily professional-practice activities in an urban setting. The courses require student teams to create a collective master plan for one of three sites along the Chicago River; students then individually design a building for that master plan.
TOP
Graduate programs fare well in U.S. News & World Report
Graduate programs in education and engineering at Virginia Tech fared well in U.S. News & World Report's 2006 "America's Best Graduate Schools" survey, released in April. The career and technical education graduate program climbed to third in the nation after being ranked fifth among vocational/technical graduate specialties for the past four years. The program has been a top-10 selection for 11 consecutive years. The College of Engineering rose this year from 32nd to 31st overall and achieved a rating of 18th among engineering schools at public universities. Individual engineering graduate programs ranked in the top 30 are industrial (eighth), civil (11th), environmental (12th), aerospace (13th), mechanical (20th), materials (26th), and electrical (29th).
TOP
Boyer named Faculty Member of the Year


John Boyer

John Boyer, an instructor in the Department of Geography in the College of Natural Resources, received the Students' Choice Award for Faculty Member of the Year, sponsored annually by the Student Alumni Associates of the Virginia Tech Alumni Association. Since 1998, Boyer has taught World Regions, a university core-curriculum course that typically enrolls nearly 600 students a semester. For the course, Boyer created an online "accompanying text" and introduced a highly popular, weekly international film series, "Geography Night at the Movies," to reinforce themes covered in class.

Students go into overdrive to beat cancer
Virginia Tech students raised more than $102,000 for the American Cancer Society during this year's Relay for Life, leaping past the $75,000 raised last year. More than 100 teams--comprised of 1,200 participants from 36 student organizations, 31 Greek sororities and fraternities, 20 community teams, 16 academic societies, and 11 corporations--participated in the event held April 22-23 at Johnson Miller Track. This is the fourth year that the Student Government Association has worked with the American Cancer Society to hold the Relay for Life, a nationwide event in which participants walk laps all night to honor cancer victims and survivors and to raise funds to find a cure for the disease.
TOP

Dining services wins three national awards
The National Association of College and University Food Services awarded Tech's Office of Student Programs three Loyal E. Horton Dining Awards, considered to be the ultimate professional tribute in college and university culinary arts. Shultz Dining Center's "Hollywood Night," held in February, received a gold award in the "catering special event" category for its four-course meal and interactive Oscar night theme, where students voted for their Academy Award picks. The newly remodeled D2 Dining Center took a silver award in the "residence hall multiple concepts or outlets" category. Shultz and D2 both were awarded an honorable mention for "residence hall theme dinner" for the customer-appreciation Luau Dinner in April, complete with a Hawaiian buffet, exploding volcano, fire pit, and professional hula dancer.
TOP
Who's hiring Hokies?
According to Career Services, the following employers hired the largest numbers of bachelor's degree graduates (listed in order from the most to least hired) in the last three years for which data currently are available:
CLASS OF 2003
1. U.S. Navy
2. Lockheed Martin
3. U.S. Army
4. Virginia Tech
5. Northrop Grumman
6. Ferguson Enterprises
7. Accenture
8. U.S. Air Force
9. Enterprise Rent-A-Car
10. AMS (American Management Systems)
CLASS OF 2002
1. Virginia Tech
2. U.S. Air Force
3. Ferguson Enterprises
4. U.S. Navy
5. U.S. Army
6. SAIC
7. NVR/Ryan Homes
8. AMS
9. Booz Allen Hamilton
10. Lockheed Martin
CLASS OF 2001
1. Virginia Tech
2. Accenture
3. U.S. Navy
4. U.S. Air Force
5. PricewaterhouseCoopers
6. Lockheed Martin
7. AMS
8. U.S. Army
9. Marriott Hotels
10. Arthur Andersen
Naval ROTC wins most scholarships; senior wins top award


The Virginia Tech Naval Reserve Officers' Training Corps (ROTC) students have earned more Navy and Marine Corps national scholarships than any other school this year--16 in all. The scholarships pay full tuition, fees, book costs, and additional living expenses of up to $400 per month. As well, midshipman First Class Kenneth P. Dittig received the Admiral James L. Holloway Jr. Award for excellence in all areas. The award is given each year to the top-ranked graduating Naval ROTC midshipman in the country.
TOP
VMRCVM celebrates 25 years

University of Maryland (U.Md.) President C.D. Mote Jr. (left), Tech President Charles Steger, and Virginia-Maryland Regional College of Veterinary Medicine (VMRCVM) Dean Gerhardt Schurig toasted the college's first 25 years during a black-tie gala in early April. Schurig kicked off the event by announcing a new partnership with the U.Md. College of Medicine at Baltimore that will allow students to jointly earn a D.V.M. from the VMRCVM and a master's of public health from U.Md.

TOP
---
Alumni honored on Founders Day
William E. Betts Jr.

William Goodwin Jr.

Eugene E. Fife

Eddie F. Hearp




Five alumni were honored during Virginia Tech's 2005 Founders Day celebration, held May 13-14.

William E. "Ping" Betts Jr. (architectural engineering '32; M.S. '33) received Virginia Tech's most prestigious honor, the William H. Ruffner Medal, which recognizes notable and distinguished service to the university. Betts has served as director of the Virginia Tech Educational Foundation and the Virginia Tech Alumni Association and on the Lynchburg-Amherst-Nelson Regional Capital Campaign Committee. He is also a member of the College of Engineering Committee of 100, the Virginia Tech President's Council Membership Committee for Lynchburg, and the Academy of Engineering Excellence. Betts, who established the William E. Betts Jr. Professorship in the Department of Civil Engineering, is a Senior Benefactor in the Ut Prosim Society and a past recipient of the Virginia Tech Alumni Association's Distinguished Service Award and the College of Engineering Distinguished Alumni Award.

William H. Goodwin Jr. (mechanical engineering '62) received the Virginia Tech Alumni Association's Distinguished Achievement Award, which honors personal and/or professional achievement of enduring significance and value to society. Also a graduate of the University of Virginia's Darden Graduate School of Business Administration, Goodwin has given his time and leadership to the U.Va. Board of Visitors, the Darden School Foundation, and the Virginia Commonwealth University Engineering Foundation. Goodwin's commitment to Virginia Tech has helped create such outstanding facilities and programs as Torgersen Hall, The River Course, and scholarships and professorships for the corps of cadets and the College of Engineering. Goodwin and his wife, Alice, founded the Commonwealth Foundation for Cancer Research and have supported a multitude of non-profit organizations.

The Virginia Tech Alumni Association also honored three alumni with the 2005 Alumni Distinguished Service Award, which recognizes outstanding service to the university and the association.

Eugene "Gene" E. Fife (business administration '62), who served as an officer in the U.S. Air Force, is a member of the Virginia Business Higher Education Council, a non-profit organization committed to educating state leaders and the public about higher education's vital role in Virginia's economy. He also has served on the Virginia Tech Foundation Board, the Virginia Tech Foundation Executive Committee, and the Campaign Steering Committee, and is a benefactor of the Ut Prosim Society and funds scholarships for students from Hinton, W.Va.

Eddie F. Hearp (management '65; M.S. business administration '66) is a past president of the Virginia Tech Alumni Association, a Lifetime Golden Hokie, an Endowed Scholarship Participant, and a member of the Ut Prosim and Legacy societies. He also has been a member of the Alumni Center National Leadership Campaign, Foundation Board, Bowman Society, and Hokies for Higher Education. Hearp, a former board member of the Virginia Tech Athletic Fund, served as co-chair, along with his son and daughter, of the Roanoke Valley Campaign Committee, which raised more than $34 million for the Virginia Tech Campaign for Excellence.

Marcella K. Arline (food science and technology '74), a member of the Agriculture Leadership Council, has served on the board of directors of the Virginia Tech Agriculture Alumni Organization and the Virginia Tech Alumni Association. Arline is also a member of the Shippensburg University College of Business Advisory Council.
TOP

---

2005 Commencement

During this year's commencement, Virginia Tech awarded bachelor's degrees to 3,962 undergraduates and associate's degrees to 40 College of Agriculture and Life Sciences students. Additionally, 1,106 graduate student degrees were conferred, including 898 master's degrees, 24 Ed.D.'s, and 184 Ph.D.'s, as well as 88 D.V.M. degrees.

---

Newman Library turns 50

Beginning Sept. 17--exactly 50 years from the day Newman Library opened its doors in 1955--University Libraries will begin its year-long birthday celebration.

Preliminary plans for the celebration include a tailgate party on Sept. 17 (the day of Tech's opening home game against Ohio University), a semester-long exhibit examining how the library has changed over the years, and a rededication ceremony in the spring.

All are invited to celebrate Newman's importance to the campus community for the past 50 years and to learn about the library staff's vision for the library for the next 50 years.

If you used to work in Newman Library or if you have a memory to share regarding the library, we encourage you to tell your stories in the online guestbook available at http://www.lib.vt.edu/50th. More information on Newman's history and the events planned for its 50th birthday is also available at the site.
CAREER researchers think outside box

CAREER grants are the National Science Foundation's most prestigious awards for creative junior faculty who are considered likely to become academic leaders, and Tech's most recent winners seem to be on the path to fulfilling that promise. Allan MacKenzie and Tom Martin, assistant professors in the Bradley Department of Electrical and Computer Engineering, each have won a five-year CAREER award worth $400,000. By coalescing economic theory and wireless communications technology, MacKenzie is working to develop a theory to explain how wireless network components--which operate with disparate and limited information--can cooperate more effectively to achieve network-common goals. Such a theory could lead to more efficient power control and interference avoidance for wireless networks and also could provide analytical tools to other researchers working to create more powerful networks for a variety of applications. Martin's CAREER research will focus on improving the design of electronic textiles (e-textiles). He and his colleagues in the E-Textiles Lab are attempting to develop "smart" clothes that, through wires and sensors woven into the fabric, can monitor such factors as the speed a jogger is running or the blood pressure of a cardiac patient. As well, he has been working with representatives from Dan River Inc., a textile manufacturer in Danville, Va., on a prototype e-textiles fabric that the company will attempt to set up on looms. If successful, the project could help rejuvenate the textile industry there.
DOE gives $12 million for coal research
Although President George W. Bush's comprehensive National Energy Policy cites the importance of increasing energy supplies while protecting the environment, coal, a staple energy resource, "contains many undesirable impurities and, hence, emits pollutants during the course of production and utilization," says Roe-Hoan Yoon, professor of mining and minerals engineering and director of the Center for Advanced Separation Technologies (CAST). Now, the center's efforts to develop cleaner fuels will be aided by a $12 million grant from the U.S. Department of Energy's National Energy Technology Laboratory (NETL). A multi-university energy consortium established in 2001 and led by Virginia Tech, CAST develops advanced technologies in solid-solid and solid-liquid separations for mining industry use to produce high-quality solid fuels in an environmentally sustainable manner. For the three-year NETL project, CAST will conduct broad-based research to develop advanced technologies in physical separation, chemical/biological separation, and environmental control, which have crosscutting applications in the mining industry.
TOP
DoD funds advanced military wireless networks research
The U.S. Department of Defense (DoD) has awarded a $246,000 Defense University Research Instrumentation Program (DURIP) grant to researchers in Virginia Tech's Bradley Department of Electrical and Computer Engineering for advanced research on wireless communications networks that are critical during military maneuvers. Thomas Hou, assistant professor of electrical engineering and principal investigator on the DURIP project, will work with Professor Jeffrey Reed, deputy director of Virginia Tech's Mobile and Portable Radio Research Group, and research scientist Shiwen Mao to create a testbed platform--the first of its kind at a U.S. university--for wireless mobile ad hoc networks and wireless sensor networks. Military mobile ad hoc wireless networks can be set up to connect military groups that need to maintain communications while on the move. Wireless sensor networks, on the other hand, are stationary and are often deployed in areas hostile to humans to relay a variety of observational data.
TOP
Potential consequences of antibacterial products need reassessment
R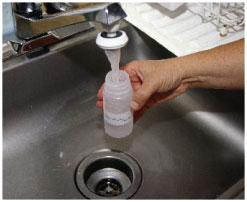 esearchers at Virginia Tech have discovered that the use of antimicrobial soaps and other products may be directly exposing consumers to significant quantities of chloroform. Peter Vikesland, assistant professor of civil and environmental engineering, has found that when the chemical triclosan, present in many antimicrobial soaps, reacts with chlorine in tap water, chloroform is produced. Chloroform is classified by the Environmental Protection Agency as a probable human carcinogen. Triclosan is a synthetic antimicrobial agent, which is classified as a Class III drug by the Food and Drug Administration (FDA). As the result of its broad-spectrum, bacteria-fighting ability, triclosan is increasingly used in personal care products, cosmetics, antimicrobial creams, acne treatments, lotions, and hand and dish soaps. It also is used as an additive to plastics, polymers, textiles, and implantable medical devices. Triclosan is most often used to kill bacteria on the skin and other surfaces and is sometimes used to preserve a product, including food. The American Medical Association has been urging the FDA to closely monitor and possibly regulate the home use of antimicrobials, such as triclosan.
TOP