Professorships provide uncommon opportunities for exploration by Amy Boyce M.A. '97 and Jenise Jacques
Professors are a curious lot by nature. Like the great explorers Lewis and Clark, the professors at Virginia Tech are driven to push the boundaries of their fields to tap new knowledge and make discoveries.


Gregory Buhyoff

Gregory Buhyoff is one such explorer. Recently retired from his 30-year post in the Department of Forestry in the College of Natural Resources, Buhyoff says that one of his proudest accomplishments was serving as the Julian Cheatham Professor for the last 15 years of his term. "My appointment to this professorship has meant a great deal to me in my professional career since it has provided me many uncommon opportunities for exploration in my research and teaching endeavors," remarked Buhyoff at the dedication of the Cheatham Hall expansion project.

The Julian N. Cheatham Professorship in Forestry was established by Alyce Cheatham as a lasting memorial to her husband, Julian (business '33), whose dedicated vision and generosity made the construction of Cheatham Hall a reality in 1972.

Living up to the legacy of Julian Cheatham, an explorer in his own right, has been a tremendous honor for Buhyoff. "I have had a very important responsibility to make sure my efforts reflected well upon the Cheatham name."
In addition to boosting Buyhoff's research efforts, funds from the professorship have benefited graduate students with tuition assistance and the costs for professional travel to scientific meetings, as well as faculty members with research and teaching expenses. "I have always felt a professorship should be a shared experience in which many people and organizations benefit from the endowment," notes Buyhoff.
Like Buyhoff, Ernest Sullivan is fascinated by opportunities to explore new territory. In 1993, Sullivan, who was looking to expand his horizons beyond his teaching post at Texas Tech, applied for a teaching position at Virginia Tech.
Ernest Sullivan

The following year, Sullivan was named the Edward S. Diggs Professor of English. There are two Edward S. Diggs professors at Virginia Tech, positions made possible through the generosity of the estate of Hattie S. Diggs, wife of Edward S. Diggs (agriculture '14).

The Diggs professors are charged with improving the quality of undergraduate education at Virginia Tech; as a result, neither Sullivan nor Edward Weisband, the Diggs Professor of Political Science, teaches graduate classes.

Sullivan is a well-respected scholar of Renaissance literature who received his Ph.D. from UCLA in 1973. He spent 22 years at Texas Tech, where he taught a variety of courses to both graduates and undergraduates.

In addition to their teaching duties, Weisband and Sullivan also manage the Edward Singleton Diggs Teaching Scholars program. Established in 1992, this program recognizes exceptional undergraduate teaching at Virginia Tech. A Diggs Roundtable is held each fall to show off the winners' innovative teaching.
Sullivan says that he likes being able to try different things with his teaching and that the students at Virginia Tech are some of the best he has taught and are well-suited to imaginative teaching techniques. "They're willing to try just about anything," he remarks.
The importance of endowed professorships cannot be overstated, Sullivan adds. "Ideally, such endowments should be used to attract exceptional academic performers." At Virginia Tech, however, the professorships are also frequently used to retain such performers, as the university ranks in the 20th percentile for faculty salaries as compared to peer schools.
"Academic performers are not that different from athletic performers," observes Sullivan. "If Frank Beamer woke up one day and found himself in the bottom fourth of all Division I football coaches, he'd go somewhere where he could get paid. So will the top scholars."
Because endowed professors are generally the best scholars in the nation, they provide a number of benefits to the institutions that hire them. According to Associate Provost Patricia Hyer, "Endowed professorships help Virginia Tech retain dedicated and highly productive faculty who are always being recruited by other institutions."
One highly regarded faculty member who has stayed rooted at Virginia Tech over the decades is Frank Gwazdauskas, who came here as a brand new Ph.D. student 30 years ago. "Virginia Tech has been really good to me," he says. "I have enjoyed the area and the people are really great."
Frank Gwazdauskas

Gwazdauskas notes that Virginia Tech has provided him with opportunities to explore the field of dairy science. And his explorations have not been lacking results. Based on his research accomplishments, Gwazdauskas was named the David and Margaret Lincicome Professor of Dairy Science in 1996.

Gwazdauskas' work with transgenic animals right here at Virginia Tech is creating a better tomorrow for humankind. A transgenic animal is one that carries a foreign gene that has been delibertely inserted into its DNA and transmitted to the next generation. "Transgenic animals are efficient, cost-effective, and safe systems for obtaining complex therapeutic proteins for the treatment of numerous life-threatening diseases in humans," says Gwazdauskas. Along with fellow university colleagues, he put Virginia Tech on the transgenic research map 15 years ago with the birth of "Genie," the first transgenic pig born at a land-grant university in the United States.
Because of his life-altering work, Gwazdauskas was invited to make a presentation at the Ninth International Congress on Biotechnology in Animal Reproduction held in Chennai, India, in 2002. Funds from the professorship made this trip a reality. Indeed, endowed professorships allow faculty members to capitalize on these global opportunities and exchange ideas and thoughts with colleagues worldwide. Gwazdauskas is just one of several faculty members who are internationally regarded in their fields of study.
Gwazdauskas also has witnessed the benefits his endowed professorship offers dairy science graduate students. More than 25 students have had the opportunity to engage in transgenic research, with several advancing to successful careers in biotechnology, academia, and related areas.
In a letter updating David Lincicome on the activities the professorship has provided, Gwazdauskas writes that "your support and interest in our programs have allowed for the training of a number of graduate students and a generation of new knowledge."


Marching to the beat of your drum by Jenise Jacques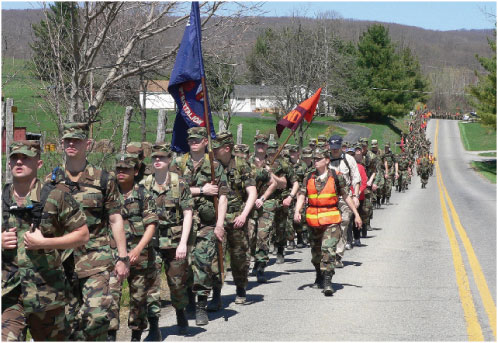 The Virginia Tech Corps of Cadets is truly going the distance.
As part of its training process each semester, the entire freshman corps hikes a 13-mile segment of Addison Caldwell's route from his home in Craig County. Caldwell walked a total of 26-28 miles to become Tech's first student on Oct. 1, 1872.
Now, you have an opportunity to be a part of the historical march by sponsoring a cadet with a gift of $500. The sponsored cadet will walk in your honor with your name pinned on his/her uniform. In addition, you will receive a photo of your cadet and a thank-you note for your gift.
Funds raised through the cadet sponsorships will be used to meet the commandant's priorities, which include support for the Emerging Leadership Scholarship program and Highty-Tighty freshman scholarships. "Support from our alumni is the number one reason we have been successful in rebuilding the corps and increasing our commitment to excellence in leadership education," says Maj. Gen. Jerrold P. Allen, commandant of cadets. "We are building tomorrow's leaders today."
This is the fifth year that the corps has sponsored both a fall and a spring Caldwell March, the latter of which symbolizes the successful completion of a long and demanding training year for the freshman class. Upon completion of the march, freshmen go on to assume increased leadership responsibilities as team leaders and staff assistants next year. The march, which is the last major training exercise of the semester, also marks the end of the present cadet command.
The fall march stretches from Caldwell's homestead and over Sinking Creek Mountain to Jefferson National Forest. In the spring, the cadets complete the second leg of the route, which takes them from where they left off in the fall and over Brush Mountain, then into Blacksburg.
Addison Caldwell, Tech's first student and first cadet, is honored by the corps as a true example of self-determination. The Virginia Tech Corps of Cadets, which has been in the business of refining leaders of exemplary character since the founding of the university, considers it an honor to retrace the steps of the university's first student.
To sponsor a cadet for the fall 2005 Caldwell March, please send a check payable to the Virginia Tech Foundation, Inc., denoting "sponsor a cadet" in the memo portion of the check. Checks should be mailed to Dave Spracher, Virginia Tech, 201 Pack Building, Blacksburg, VA 24061.
For more information, please contact Spracher at 800/533-1144 or dlsprach@vt.edu.
For more details on the Caldwell March, see April Sky: Homer Hickam and the Caldwell March.
Circle of Excellence Retreat 2005: Inspiring women of Virginia Tech
by Amy Boyce M.A. '97
Women and Leadership in Philanthropy
2005 Circle of Excellence Retreat

The third annual Circle of Excellence Retreat was held June 5-7 at The Homestead in Hot Springs, Va. The retreat, which currently serves as the flagship event of the Women and Leadership in Philanthropy (WLP) program, celebrates excellence at Virginia Tech. Alumnae, friends, and some of the university's best and brightest faculty were invited to participate in the two-and-a-half day forum.

This year's retreat was headlined by Denise Shuster Greenfield (international studies '88), who served as the first female regimental commander of the Virginia Tech Corps of Cadets. She was joined by special guest Christina Royal, Virginia Tech's current regimental commander.

One would be hard-pressed to find a better person to talk to a group of women dedicated to serving Virginia Tech than Shuster Greenfield, who currently resides in the United Kingdom and is assigned to the Advanced Concepts Branch of the Joint Analysis Center. She commented that the Virginia Tech Corps of Cadets does a wonderful job preparing its young men and women for the challenges they will face after graduation--whether those challenges occur during the course of military service or not.




"Often, students leave college and find themselves surrounded by people who need and expect strong leadership," says Shuster Greenfield. "Virginia Tech graduates have the knowledge and ability to provide that leadership." She is proud to be a part of Virginia Tech's Corps of Cadets. "I love this corps. I love what it teaches. I love what it stands for.

Royal says she is also proud to be a part of the corps tradition and that she values the leadership skills she is learning. "I wouldn't change any of my experiences for the world and I am thankful to God, my family, the corps, and everyone who has supported me."

In addition to Shuster Greenfield's presentation, the participants were treated to presentations by Virginia Tech faculty on a variety of topics, from the large wild cats that captivate our imagination to the differences in the ways men and women think; from libraries in the Internet age to issues facing Indonesia in the aftermath of the recent tsunami; and from culturally centered design to the variety of ways that Virginia Tech supports families throughout their lives. There was also an opportunity to learn about wealth management and investment strategies.

The second evening featured a presentation on Jackie Matisse by nationally recognized painter, writer, and founder of the Mountain Lake Workshop, Ray Kass. Matisse, one of the many world-renowned artists that the workshop has brought to Southwest Virginia, used Virginia Tech's CAVE, or "virtual reality theater," to create digital representations of her art, Kites Flying In and Out of Space.

Gerhardt Schurig, dean of the College of Veterinary Medicine, returned to The Homestead this year to talk about the importance of animal health in relation to human health. Capping off the retreat was a presentation by Clara Cox, director of publications and outreach communications, who highlighted the amazing changes women have brought to Virginia Tech.

"The programs reflected the range of interests of the women who attended," said one participant. "The whole weekend was stimulating."

Building upon this enthusiasm, the WLP initiative will expand to include more opportunities for women who are interested in becoming involved at Virginia Tech. For information on the Women and Leadership in Philanthropy program or the Circle of Excellence Retreat, please visit the website at http://www.givingto.vt.edu/wlp or contact Mary Grace Theodore at 540/231-6234.
Amy Boyce is special projects editor for the Office of University Development.
Jenise Jacques is the former development communications manager.
---