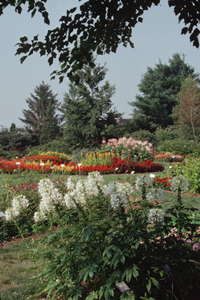 The Hahn Horticulture Garden
Bill Brockett, of Haymarket, Va., recently gave Virginia Tech a gift of green -- about $10,000 worth. But Brockett did not give it in cash; instead, he donated 22,000 square feet of sod for the Hahn Horticulture Garden. Holly Scoggins, the garden's director, is grateful for the new grass: "It turned an absolute sea of exposed soil and mud around the Peggy Lee Hahn Garden Pavilion into a lush green lawn." The thousands of students, visitors, and researchers who visit the garden every year will be grateful, too.
Although gifts worth millions of dollars receive the most attention, they are not the only ones that are valued and appreciated. Donations counted in the thousands rather than the millions, or in blades of grass or pages in a book, can make an important difference, too. Such gifts often go to smaller programs, special research projects, or individual scholarships. Gifts-in-kind can make a unique impact on campus, whether they help fill in bare patches of a garden or bare walls in campus buildings.
Finally, such gifts are important because they are within the reach of most alumni and friends. Few of us can donate a million dollars to the university, but many of us can donate a hundred or even a thousand dollars. Here are some other ways that these gifts are making a big difference to Virginia Tech.
Women's Center
Virginia Tech's Women's Center is a national leader in sexual assault prevention education and outreach. When Participant Productions, a producer of the film "North Country," was looking for a college campus where they could hold a screening of the film, they recognized Virginia Tech for its success at spreading the word about gender issues. They awarded the Virginia Tech Women's Center a grant to host the event, which drew 200 people. They also made a gift of $5,000 to the Women's Center to continue its education and outreach activities. With this gift, the center plans to bring in a nationally known speaker to educate students about how to recognize, prevent, and report cases of sexual assault. As a result of its programs, the Women's Center has seen an increase in the number of victims of violence coming to the center for help as people have become more aware of the center's services and its potential to create a safer environment for students.
| | | |
| --- | --- | --- |
| Black bears | | |
| | | With a gift of $18,000 from the Camp Younts Foundation, the Department of Fisheries and Wildlife Sciences was able to conduct research on wild black bears brought into captivity during the winter. The Virginia Tech Center for Bear Research uses adult female black bears captured as "problem bears" (bears that damage bee hives, corn crops, etc.) to learn about bear reproductive physiology and cub growth and development. In addition, the bear research team has made discoveries about bone metabolism and hormonal changes in bears during hibernation that could yield valuable insights into osteoporosis and depression in humans. The gift from the Camp Younts Foundation enables the center to care for the bears, measure the cubs' growth, and follow their development. The researchers use sophisticated and expensive equipment that does not fit into yearly budgets, so private funding makes all the difference. |
Corps memorial scholarship

As Lt. Col. Scott Sturgill '85 prepared for his May 2006 wedding to Doris Carder, one important person was missing: his older brother, Arthur, an Air Force officer who passed away in 1996. For the past 10 years, Scott has contributed to the Arthur E. Sturgill Jr. Memorial Scholarship Fund, which provides a scholarship to one Air Force ROTC student each year. The scholarship started out as an annual scholarship program, with yearly contributions going directly to the scholarship recipients, but it is Scott's goal to endow the fund so that it will provide scholarships in his brother's honor in perpetuity. To this end, he and Doris encouraged their wedding guests to consider making donations to the scholarship fund in lieu of wedding gifts; to date, their family and friends have contributed more than $7,000. Their collective gift represents a big step toward an endowment that will make an impact on many cadets and ensure that Arthur's memory lives on.

XX
Art collection



Bob Gilmore '64 has been collecting art since childhood, when he used to ask his parents for paintings instead of toys. He recently gave the university a collection of paintings and limited edition prints worth $16,000, the first of several gifts he hopes to make. The art will be displayed in the university's galleries, in buildings around campus, and in traveling exhibits.

Gilmore donated his art to the university because he wants to share it with a larger audience. "I want others to enjoy these things, not because I gave them but for the beauty of them," he explains. Gilmore chose these pieces not because they are his least favorite -- to the contrary, he was distressed to say goodbye to some of them -- but because he thought they were important pieces, many of them by artists he has known personally. Gilmore hopes his collection will inspire new artists and gallery visitors to see the world in a different way.
Gifts of all shapes and sizes are important to the university. For more stories about how your giving can make a difference or to find out how to make a gift, large or small, visit our website at www.givingto.vt.edu.

Alexandria Marder is special projects editor for the Office of University Development.