Ring recollection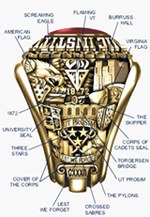 The similarities between my two alma maters have long been a source of interest for me. The cover story about Virginia Tech's class ring (Winter 2006) brought back memories of when I was an undergraduate at MIT and a member of the class ring committee.
I am now confident that when the MIT tradition of the "Brass Rat" -- as its ring is called because of the way the school mascot, a beaver, is depicted on the flat, stoneless top face of the ring -- began in 1929, it was inspired by Tech's own ring and those of the military academies. Because the ring is customized by each class (at both Tech and MIT) to represent it accurately, interest in and ownership of rings at these institutions is much greater than that at other schools, although the pride and prestige factor of having attended one of these schools probably doesn't hurt.
The world changes, as do some characteristics associated with entire generations, but part of what links us together at Tech is our traditions. Even though I may not have been able to participate in them as an undergraduate, I still feel an enthusiastic pride that such traditions continue.
B. Hunter '00 | Meredith, N.H.

Gown helps town
I re-read with great attention "Metropolitan Blacksburg?" by Juliet Crichton in the Fall 2005 issue of Virginia Tech Magazine. I want to congratulate you for this superb work. It is highly readable and thoroughly researched and casts the perfect light on just what Blacksburg is in the year 2006. I only wish that all of our citizens could benefit from reading the story, as it would psychologically and philosophically prepare them for the future. (Blacksburg, in terms of population, is larger than 93.4 percent of Virginia's 229 cities and towns.)

Roger Hedgepeth '52, '56 (former mayor) | Blacksburg, Va.

Humans versus nature
I read some of the letters about global warming and climatic changes (Spring 2006). It should be obvious that human activities and behaviors have affected climatic changes. One factor has to be population explosions. Since the beginning of recorded history, the population has risen from very few to 6 billion-plus. How long will it take the 6 billion to double? And then double again?
There are two kinds of infrastructures, natural and human-made. There must be a balance between what humans build and the natural support systems upon which all life, including humankind, depends for survival.
Where I live, natural forests continue to be completely destroyed by a method known as "clear cutting." These forests have been a vital buffer between the surface of the earth and the atmosphere. They have regulated the temperature between the earth and the sky, preventing the violent mixing of air masses of different temperatures, which has protected us from tornadoes and hurricanes. These trees also have acted as natural air purifiers, taking in carbon dioxide and giving back oxygen. Their leaves have formed organic layers on the forest floors to create a habitat for further plant life, which in turn has supported wildlife. The trees have purified the ground waters, and the hydraulic actions of their root systems have maintained the ground-water levels.
I believe the preservation and conservation of such forests is vital to the survival of humankind. If forests are totally destroyed, we may be unable to re-propagate them.
Wallace L. Icenhour '58 | Chase City, Va.

Extremely proud
I recently read your wonderful article about the "Extreme Makeover" project (Spring 2006). I just wanted to thank you for the great background on the project and especially for naming so many of the students who participated. How exciting that the community could come together to do such a great thing for a deserving woman.

My son, Kevin, will be in his third year in architecture at Tech this fall, and although he did not participate in this project, he looks forward to similar projects. He only applied to one program at one university and was more than happy that he was accepted at Tech.

I don't think Kevin realized (I know that my wife and I did not) that he would spend so many hours in the architecture studio. I am sure that you [author Heather Chadwick] see many bleary-eyed students as you come and go from Cowgill Hall. Yet, Kevin has been most pleased to be in the program, and I am proud to be a "Hokie parent."

I congratulate you on sharing this story with the Tech "family." I am sure that your hard work brought lots of good press to the university.

George Curran | Hampton, Va.

Not about the brand
Your article on the re-branding of Virginia Tech (Spring 2006) convinces me that we are watching the slow crumble of America. The attitude that it is more important to look good than to be good started in the entertainment industry and now pervades every segment of our society, including education. Instead of questioning the quality of the survey done by U.S. News & World Report or the intelligence of the participants, the author concludes "that in some cases, it is all about the brand." That attitude does not make me proud of the institution where I earned my degree.
Armond "Nick" Acri '80 | Jackson, Wyo.

Final word on Bosco
I have been traveling and just finished reading the story about "Bosco," or Professor William Henry Rasche, in Virginia Tech Magazine (Winter 2006) and have one more story to share about him.
In fall 1946, I had just returned to VPI, as it was known then, and was in a class of his. The class was packed, and the majority of us were returning veterans under the GI Bill. During the first session, Professor Rasche slowly, majestically looked around at us and said, "Harumph! Some of you should be plumbers!" Considering that most of us didn't have the prospect of a job within the next year or two, how right he was!
Having the privilege of being in Bosco's class was certainly a memorable experience and, in fact, one of my most wonderful memories of Virginia Tech.
Bennett Nathanson '47 | Bala Cynwyd, Pa.

Better late than never

I think it is finally time to turn in my Virginia Tech post office box key. When I entered Virginia Tech in September 1952, I was assigned post office box No. 5660 in the old Student Activities Building. For some reason, when I departed Tech, I failed to turn in my post office box key. No one asked me for it, and I suppose I just kept it on my key ring as a keepsake.
After graduation, I served a tour in the U.S. Air Force, which took the key and me to all 50 states. In addition, we traveled to Spain, Morocco, Guam, the Philippines, Portugal, Newfoundland, Nova Scotia, Prince Edward Island, and Mexico. After my service tour was completed, I went to work for RJR Nabisco, which required further travel, so the key and I went to Germany, Luxembourg, Puerto Rico, and Jamaica. Since I retired, we have also visited Italy, France, Hungary, Slovenia, Austria, the Czech Republic, New Zealand, Australia, Japan, China, Ireland, Scotland, Aruba, and the Virgin Islands.
While I cannot begin to calculate the miles that this key has traveled, I do know that it has been a fond remembrance of my time at Tech. My class celebrates its 50th reunion in October, so the key and I have been together for 54 years.
Here is the key. I am sure the post office doesn't need it, but you may do with it whatever you please.
Roger Simmons '56 | Wilmington, N.C.
Editor's note: Taking responsibility for a key that is more well-traveled than the entire magazine staff was a daunting prospect, so we contacted the Alumni Association, which will add the key to its collection of Virginia Tech memorabilia.
---

Calling all alumni . . .
We want to hear about the strangest place you've ever run into a Hokie, whether it was a long-time co-worker you suddenly learned had attended Tech or a chance meeting at the South Pole. Mail your story to Virginia Tech Magazine, 105 Media Building (0109), Blacksburg, VA 24061; or e-mail it to vtmag@vt.edu. These recollections may be printed in a future issue.