ALUMNI ASSOCIATION
Distance learning enhances experience for students and alumni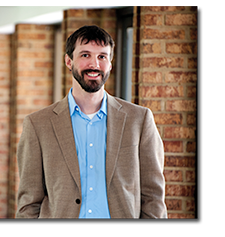 As a Virginia Tech graduate, I want all students to be able to participate in quality educational experiences. Distance learning allows for a broader curriculum and options for instructional delivery, often bringing students together from distant places on the globe. Most importantly, distance learning provides students with increased opportunities to enroll in classes that will move them forward in their academic and professional careers.
Virginia Tech offers distance-learning courses at both the undergraduate and the graduate levels, including required courses and free electives during the fall, spring, and summer semesters. Online course credits are transferable throughout the institution and beyond. Undergraduate enrollments have grown annually, rising to 18,442 in the 2011-12 academic year—equivalent to more than 600 30-seat classrooms.
While there is no undergraduate degree that can be earned completely through distance learning, including online courses as a part of an academic career can help students graduate early, double major and/or minor, fulfill major and minor requirements, and stay on track each semester with course scheduling options. Virginia Tech's 560 graduate distance-learning course offerings include more than 30 master's and certificate programs in a variety of fields.
Through the efforts of Virginia Tech's Institute for Distance and Distributed Learning (IDDL), two professional development certificates have been established to prepare faculty to teach at a distance. In this model, Tier 1 instructors, typically new to the online environment, receive tool-based professional development, and Tier 2 participants examine strategies, pedagogy, and best practices. Faculty who have participated have consistently earned higher ratings in student perception assessments than those who have not. To date, 300 individuals have participated in the certificate programs.
Peter Macedo (physics '97, M.A. curriculum, design, and instruction '98) is the director of Virginia Tech's Institute for Distance and Distributed Learning.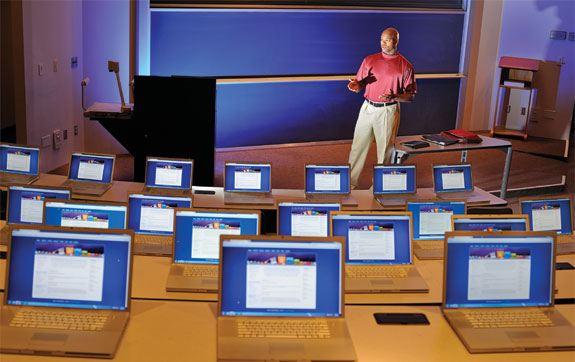 Quinton Nottingham '89, '91, '95, associate professor of business information technology
Some examples of online courses include
• English 1654: Introduction to Science Fiction, an award-winning class recognized for its innovative use of collaborative wiki assignments.
• Science and Technology Studies 2054: Engineering Cultures, created by University Distinguished Professor Gary Downey.
• Biomedical Sciences and Pathobiology 2135: Human Anatomy and Physiology, the first Virginia Tech online class to integrate a hands-on lab component.
In addition, some graduate degrees are offered entirely online. These include
• The master of arts in political science, credited with being the university's first online master's program, launched in 1997.
• The master of arts in instructional technologies, considered one of the finest instructional programs in the country. Students range from K-12 educators to professionals in business, government, and nonprofits.
• Master of information technology, recognized in 2012 for the second year as one of the nation's best distance-learning programs by U.S. News & World Report.
For its excellence in developing distance-learning programs, Virginia Tech will receive the National University Technology Network (NUTN) 2013 Institutional Achievement Award at a NUTN conference in September.
The panel of reviewers called Tech's submission the "gold standard" of nominations, citing the university's organizational commitment to distance learning and its methods for ensuring effectiveness and quality, efforts to advance the field, encouragment of faculty members, and creation of the Institute for Distance and Distributed Learning as a resource.