Weighing in at 5 foot 7 inches and 170 pounds ...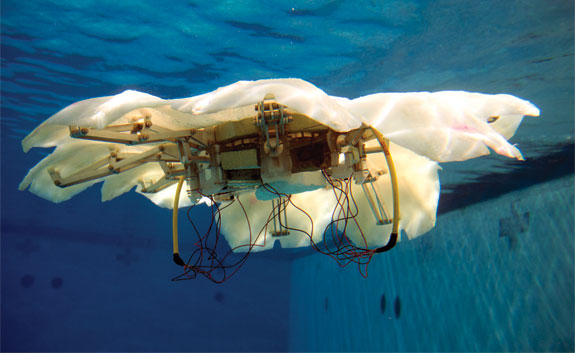 Researchers in the College of Engineering have unveiled a life-like, autonomous robotic jellyfish. The prototype, 5 foot 7 inches in length and weighing 170 pounds, is a larger model of a robot created by the same team in 2012. Both robots are part of a multi-university, nationwide project funded by the U.S. Naval Undersea Warfare Center and the Office of Naval Research. The goal is to place self-powering, autonomous machines in waters for the purposes of surveillance and monitoring the environment, in addition to studying aquatic life, mapping ocean floors, and monitoring ocean currents.
---
Hiring practices recognized by Virginia Values Veterans
As the number of veterans returning home from Iraq and Afghanistan has increased in recent years, Virginia Tech has expanded its efforts to help veterans find employment at the university.
Recognition of these efforts came most recently in the form of certification from the Virginia Department of Veterans Services' Virginia Values Veterans (V3) program, designed to help companies hire and retain military veterans. Among the commonwealth's 53 certified organizations, Virginia Tech is the only university.
In 2011, 1,700 of the 47,000 people who applied for jobs at Tech identified themselves as veterans. As part of the certification process, the university has committed that at least 5 percent of all new hires in 2013 will be veterans. As of fall 2012, the university employed about 300 veterans.
Space@Virginia Tech to lead study to improve communications
Due to the intensity of solar radiation, the Earth's atmosphere becomes electrically active at altitudes above approximately 300,000 feet, the same height at which radio waves and GPS signals propagate. The atmosphere affects these signals, garbling them and interrupting communications for such users as ham radio operators and radio trackers.
One of the main causes of these disruptions is thought to be waves generated in the lower atmosphere by weather systems. As the waves move upward they distort the electrically active region, resulting in instabilities at high altitudes that perturb GPS and radio signals.
Now, researchers at Virginia Tech are teaming with scientists from three other groups to build a small satellite dedicated to global observations of these waves in the mesosphere, thermosphere, and ionosphere, the atmospheric layers above the earth. Funded by the National Science Foundation, the project is capped at $900,000 and led by Greg Earle, a professor of electrical and computer engineering and a member of the Space@Virginia Tech research center.
Tillar receives Legacy Award from Greek community
At the Fraternity and Sorority Life year-end celebration in April, Vice President for Alumni Relations Tom Tillar (biological sciences '69, M.A. student personnel services '73, Ph.D. student personnel services '78) was recognized with the Legacy Award for his service to Pi Kappa Alpha and Virginia Tech's fraternity and sorority community. Tillar has served Pi Kappa Alpha's local chapter as faculty or chapter advisor for nearly 40 years and also served as the university's second director of fraternity and sorority life. At the national level, he served on the Pi Kappa Alpha foundation board, including two terms as president, and also served as the regional president.
Relay For Life raises $573,000-plus for research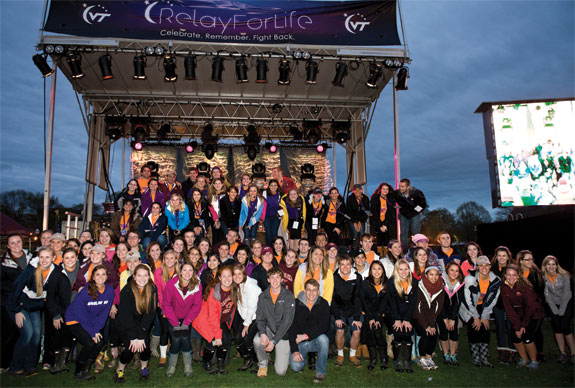 This year's Relay For Life, held April 19-20, had raised $573,000 by mid-June for the fight against cancer, with the total expected to rise before the campaign ends on Aug. 31. The April event drew 543 teams and 6,035 participants as the capstone of a year-long effort to contribute to the American Cancer Society.
Researchers alter mosquito genome with goal of controlling disease
Zach Adelman and Kevin Mylse, both associate professors of entomology in the College of Agriculture and Life Sciences, successfully used a gene disruption technique to change the eye color of a mosquito, a critical step toward new genetic strategies aimed at disrupting the transmission of diseases such as dengue fever. In a groundbreaking study published in the journal PLOS One, the scientists used a pair of engineered proteins to cut DNA in a site-specific manner to disrupt a targeted gene in the mosquito genome. Science magazine heralded these transcription activator-like effector nuclease proteins, known as TALENS, as a major scientific breakthrough in 2012. Applying TALENS to the mosquito genome is a new approach, and the ability to genetically engineer mosquitoes will allow for a better understanding of how the virus infects the insect.
Undergraduates develop technology to deter human trafficking
Three University Honors students won first and second place in a Campus Challenge sponsored by the U.S. Agency for International Development and anti-trafficking agencies. Undergraduates Wes Williams, Nicholas Montgomery, and Kwamina Orleans-Pobee developed the first-place concept, AboliShop. Employing an established database developed by an anti-trafficking agency, AboliShop is a Web-browser extension that informs online shoppers if the items in their shopping cart are at risk for using forced or exploited labor in their development or distribution. The team's second-place concept was a hotline allowing users to send anonymous instant messages if they were trafficking victims or had witnessed possible trafficking.
Guru Ghosh named Outreach and International Affairs vice president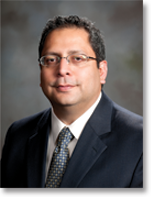 Guru Ghosh, the university's associate vice president for international affairs since 2011, has been appointed vice president of Outreach and International Affairs. Ghosh has nearly 20 years of experience in higher education administration and has held service positions on boards for organizations supporting international education initiatives. At Virginia Tech, he has worked to establish the university's campus in India, to expose more faculty members to international research and engagement work, and to expand student experiences in places where Virginia Tech has an international presence.
Performance hall named within the new Center for the Arts
The performance hall within the Center for the Arts, opening this fall, has been named in honor of longtime donors Nicholas and Fay Street, of Bristol, Va., and William C. "Jack" and Sandra Davis, of Blacksburg. The Street and Davis Performance Hall encompasses approximately 84,000 square feet of the $97 million center. "This entire project is really a collaborative effort," said Ruth Waalkes, the university's associate provost for the arts and the center's executive director. "There is funding from the university and funding from the state, but the private funding that is going into this building is significant, and these gifts from the Streets and Davises have been particularly meaningful for us."
Doctoral student researches tax evasion in Greece
By way of his research on tax evasion, Nikolaos Artavanis (Ph.D. finance '13), of Athens, Greece, has captured national and international attention and made an impact on policy. Artavanis co-authored a recent study on tax evasion in Greece that is currently among the top 10 papers on tax law in the Social Science Research Network, considered the world's premier open-access repository of scholarly research. The study, which found that professionals were the biggest tax dodgers, received extensive coverage by the media in the U.S. and abroad.
Undergraduate Man and Woman of the Year named
Darya "Dasha" Nesterova and Nicholas Onapa were named Virginia Tech's 2013 Undergraduate Woman and Man of the Year, respectively. The annual honors are the most prestigious non-academic undergraduate honors at Virginia Tech and are awarded to those students who have exceptional and balanced achievement in academics, leadership, and service.
Nesterova is a senior majoring in biological sciences in the College of Science, with minors in psychology and medicine and society. Onopa is a senior majoring in public and urban affairs in the College of Architecture and Urban Studies, with minors in international studies and business leadership.
University awarded $1.59 million for agricultural research in developing countries
Virginia Tech has received $1.59 million to continue agricultural research in Bangladesh, Indonesia, and Nepal. The awards for three federal contracts funded by the U.S. Agency for International Development represent a vote of confidence in the university's development work, ongoing since 1993. In each country, the Integrated Pest Management Innovation Lab works with local nongovernmental organizations, universities, and research institutes to advance and disseminate agricultural research. Virginia Tech also partners with scientists from Penn State, Ohio State, Washington State, and Clemson universities on the work in South and Southeast Asia.
Leading cause of accidents: Driving while tired
A 100-car naturalistic driving study conducted by the Virginia Tech Transportation Institute (VTTI) indicates that fatigue is a cause of 20 percent of crashes, rather than the 2 or 3 percent previously estimated based on surveys, simulator studies, and test tracks. Employing a data-acquisition system developed by VTTI engineers, researchers observed driver behavior prior to a crash, and visible fatigue was shown by drivers in 20 percent of all crashes and 16 percent of all near-crashes. "Applying the findings to the population at-large, these results suggest that drivers are at a four times greater risk of a crash or near-crash if they choose to drive while fatigued," said Tom Dingus, director of VTTI.
Researcher finds neglected disease a threat in Africa
Under a grant from the National Science Foundation, researchers working with disease ecologist Dr. Kathleen Alexander, associate professor of wildlife in the College of Natural Resources and Environment, have identified banded mongoose as infected with Leptospira interrogans, the pathogen that causes leptospirosis, a significant health threat in Botswana. This two-phase disease begins with flu-like symptoms but can cause meningitis, liver damage, pulmonary hemorrhage, renal failure, and even death if untreated. Alexander, a veterinarian and researcher, is working with Botswana's government to identify immediate research and management actions, particularly the need to alert frontline medical practitioners and public health officials that leptospirosis infections can potentially occur in humans.
Real estate degree fully approved
This fall, undergraduate students will be able to enroll in a real estate degree program now approved by the State Council of Higher Education for Virginia. The innovative degree is a partnership across six colleges: Agriculture and Life Sciences, Architecture and Urban Studies, Pamplin College of Business, Engineering, Liberal Arts and Human Sciences, and Natural Resources and Environment. The program will integrate the knowledge taught in classes across campus to create a unique degree option that fits the diverse needs of the real estate industry.