ALUMNI SHORTS
From El Salvador to Blacksburg: 7 Hokies in Search of a Dream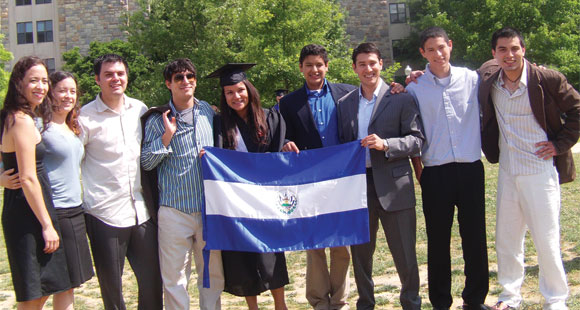 The Folgar family: Beatriz; Ruth; Christian '09; Carlos Alberto; Aida '10, M.A. '11; Rodrigo; Francisco; senior computer science and computer engineering major Carlos Jr.; and master's of industrial and systems engineering graduate student Juan '12
For the Folgar family, Virginia Tech embodied the fulfillment of a long-standing dream—to send a generation of siblings and cousins from El Salvador to America for college. Luis Folgar (materials science and engineering '04) was the first member of his family to attend Virginia Tech, drawn to the university by its top-notch engineering programs. The charming campus and town sealed the deal, according to his uncle Carlos. Within a matter of years, six family members would follow Luis:
• Luis' brothers, Christian (mechanical engineering '09) and Juan (industrial and systems engineering '12)
• his uncle, Carlos (Ph.D. materials science and engineering '10)
• and cousins, Aida Cruz Folgar (economics '10, M.A. '11); Carlos, a rising senior studying computer science and computer engineering; and Ricardo Cruz Folgar, a rising senior studying mechanical engineering.
According to Juan, the dream started with his grandfather, the first in his family to earn a professional degree. "His dad didn't believe he had a chance to be a professor, but his uncle helped him out. ... It was such a big change in his life that he wanted his sons and daughters to get a degree."
Carlos, now a glass process engineer at Corning Inc. in New York, recalled that legacy. "My parents were teachers, and for them, having a good education was a priority." Though the cost of sending multiple family members to a university in the U.S. often seemed out of reach, the entire family sacrificed—and they're all certain the money was well spent. "We're not just investing in something that is gone [in] a short period of time, but is forever," said Carlos. "Your family's education is your best investment."
Juan, who is now pursuing a master's degree in industrial and systems engineering, calls Blacksburg the family's second home. "Now, every time the family meets, we start talking about Virginia Tech. It has become something more than a university—it's a big part of our lives and memories."
The family has high hopes for the younger Folgars. Carlos' youngest son is still deciding where he wants to attend college, and Luis already hopes his children, ages 2 and 3, will carry on the Hokie tradition.
---
Marrying photography and the natural world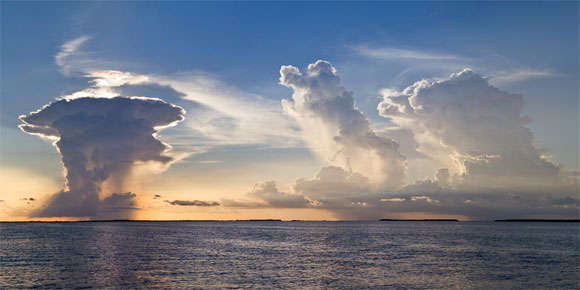 Mac Stone Photography: Key Largo, Fla.; (rollover) Encampment, Wyo.
Mac Stone grew up in Florida exploring backcountry swamps. After graduating from Virginia Tech, Stone (international policy, Spanish, environmental affairs '06) was eager to find a way to combine his love of photography with his intense interest in the environment.
Though he still considers the Everglades his "Mecca for wildlife and adventure," he now leads a highly mobile life. He began his career in Honduras, where he lived in a national park teaching photography to underprivileged children. He has since worked, among other positions, as a field biologist in the Florida Keys for the Audubon Society, as a fly-fishing guide and photographer on a Wyoming ranch. He's currently the executive director of Naturaland Trust, which works to protect land in upstate South Carolina.
Stone credits a summer study-abroad trip to Ecuador as one of the most formative experiences of his time at Virginia Tech. "I hoped to combine all three majors in a more immersive way," said Stone. "I'm still close with the family I lived with there." Not only did he forge relationships and improve his Spanish, but he also explored the country's beaches, rainforests, and mountains—plenty of inspiration for a budding photographer.
Stone calls photography a "steady hum through [his] life." He has risen to international acclaim, with his photos appearing in BBC Wildlife, National Geographic Traveler, Audubon Magazine, and Ranger Rick.
And he isn't slowing down. Stone has self-published several books—one in Spanish, another that was sold to guests at the Wyoming ranch where he worked—and now he is working on a coffee table book about the Everglades.
"The more you marry your hobbies with your education, the more marketable you'll be because your passions are what make you unique," said Stone. "Everywhere I've traveled and worked has been fueled by the desire to combine stunning landscapes with meaningful employment. My photography has always played a big role in securing these jobs and then sharing the experiences with others."
To see more of Stone's wildlife photography, visit www.macstonephoto.com.

NPR's Talk of the Nation, Science Friday, Feb. 18, 2011: Mac Stone, wildlife photographer and field biologist