FEATURE
From Robots to Romance, Firsts in Virginia Tech History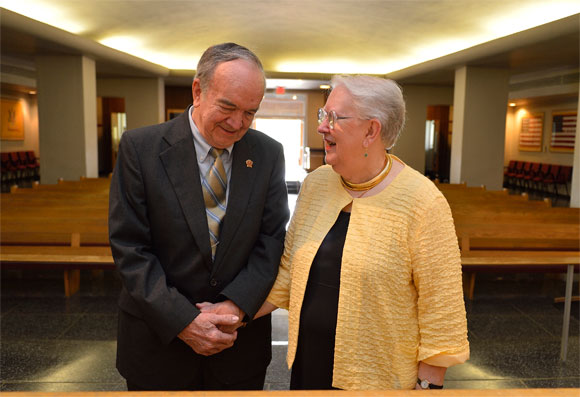 When the Newberns, the first couple married in War Memorial Chapel, returned for a visit in early June, a surprise rendition of "Bridal Chorus" (often called "Here Comes the Bride") greeted them as they entered. Photo by Jim Stroup.
It truly was a race to the altar.
Patricia "Pat" (Porter) Newbern (foods and nutrition '60, M.S. '61) and Julian E. "J.E." Newbern (aerospace engineering '54) decided they wanted to be the first couple married in the just-finished War Memorial Chapel, so they scheduled a wedding for June 5, 1960, seven days after the facility was dedicated. But fate intervened. "Unfortunately, J.E.'s father died and was buried that day," said Pat.
Meanwhile, other couples had scheduled the chapel for the afternoon of June 11 and on June 12. "As soon as the funeral was over, we called and were told that we could be first if we got married at 11 a.m. on Saturday, June 11. So, we jumped at the opportunity," Pat said. The Chesapeake, Virginia, residents have been together ever since.
The Newbern wedding, which was attended by 11 guests, ended up beating out two brides who were Pat Newbern's classmates: Sandy Collier (clothing textiles and related arts '60), Pat's roommate who, along with hubby-to-be James "Jim" Jones (electrical engineering '59) thought they had the chapel first on June 12; and Ann Haugh (general home economics '60), who married Richard "Dick" Lehmann (animal science '58, M.S. '60) on the afternoon of June 11.
1800s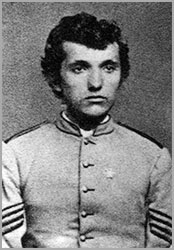 Student (1872)
Sixteen-year-old William Addison "Add" Caldwell and his older brother, Milton M. "Mic" Caldwell, walked as many as 28 miles across two mountains from their home near Sinking Creek in Craig County, Virginia, to Blacksburg, and Add became the first student to enroll in VAMC when the new school opened its doors on Oct. 1, 1872. Add was nominated for a state scholarship that covered his tuition of $30; his college fees of $10; and, if he roomed in the Preston and Olin Building, his $5 per-month rent for an unfurnished room.
Curriculum (1872)
The first-year curriculum specified instruction in commercial arithmetic, bookkeeping, algebra (through equations of the first degree), English, geography and map drawing, descriptive astronomy, penmanship and free-hand drawing, physiology, hygiene, habits and manners, French or German, farm or shop practice, military tactics, and lectures on the sociological value of the agricultural and the mechanical arts.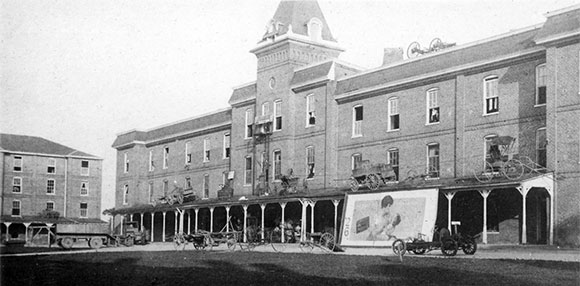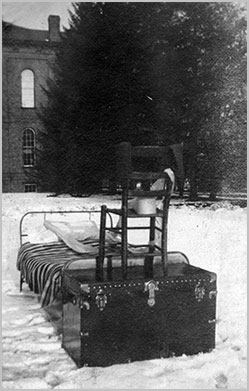 Pranks (1872-1925)
Boredom was a constant during the early days of Virginia Agricultural and Mechanical College (VAMC), and to alleviate the tedium, cadets turned to a standby from ancient times—pranks. No one recorded the first prank, but one of the earliest was the magical transformation of President Charles L.C. Minor's red cow into a white one. Other early standards included sending a roommate's belongings home to his girlfriend or staging a fake duel. Sophomore Night, a later development, became a cadet "tradition" that culminated in 1925, when sophomore cadets took cows to the top floor of the barracks; placed a farm wagon, harrows, grain drill, skeleton, and horse-drawn hearse on the roofs of various barracks; took two steam rollers from a highway construction job and brought them to campus for a "bullfight" between two students; headed a grocery truck down a basement stairway; filled the barracks quadrangle with all manner of livestock; and hauled a fully assembled fire hose reel up a flag pole.
Commencement (1873)
The exercises that marked the end of the first year lasted for four days—even though the ceremonies were devoid of actual graduates. The exercises began on Sunday, July 6, 1873, and included religious ceremonies, inspections, orations by students, and a review of the cadets. They ended the following Wednesday night, when Virginia Gov. Gilbert C. Walker delivered the commencement address. The first students—who received certificates, not degrees—didn't graduate until Aug. 11, 1875.
International student (1874–75)
The first international student at Virginia Tech—James Dunsmuir, of British Columbia, Canada—arrived early in the school's existence. He went on to serve in the British Columbia legislative assembly and as a director of the Canadian Pacific Railway.
Alumni Association (1875)
The Alumni Association was first organized Aug. 11, 1875, by the 12 members of the first graduating class.
Baseball game (1877)
The first known baseball game against an off-campus opponent was in 1877, when VAMC beat Roanoke College 53-13. Organized baseball was not played regularly, however, until 1892.
Library books (1878)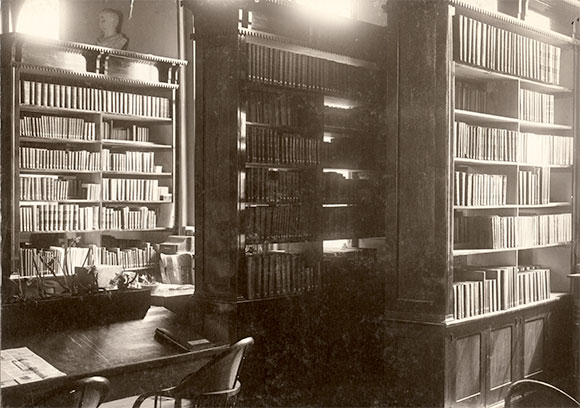 During its early days, the Virginia Agricultural and Mechanical College "library," which was nothing more than a space in a small chamber that doubled as an office, relied on the largesse of others for its books. The result in that first school year was a motley collection of state agency documents and reports, 501 volumes in all, including 80 books from the Presbyterian Board of Richmond and 50 prayer books or hymnals from the City Mission Society of Richmond. The library was so useless for academic pursuits, said Lyle Kinnear, author of a book on Tech history entitled "The First 100 Years," that "… most of the publications henceforth gathered Blacksburg dust instead of that of their point of origin."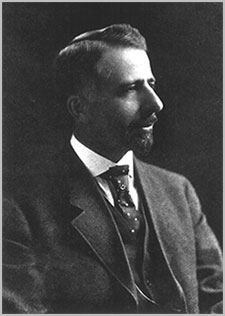 The first record of VAMC spending money for acquisitions wasn't until 1878, when the school shelled out $38.10 (the average annual library budget now is about $8.8 million), according to "History of the Virginia Tech Library, 1872-1928," by Ralph Minthorne Brown. And it wasn't until 1903 that the university established what would be considered a true library and hired its first professional librarian, Mary G. Lacy. The first record of a major collection being donated to the library was in 1927 when Professor W.B. Alwood (pictured), a pioneer in Virginia horticulture and entomology who was considered the savior of the Virginia fruit industry, gave 4,000 books, pamphlets, and original manuscripts.
Alwood, in fact, was involved in a number of other firsts: He was the first professor and head of the Department of Horticulture, Mycology, and Entomology, and he documented a collection of plants that represented the first arboretum on campus. The large bur oak on the Drillfield next to the April 16 Memorial, now known as the Alwood Oak, is the only living member of that collection.
Degree (1883)
VAMC's first degree of any type was the bachelor of arts, presented to William J. Havener and Robert J. Noell.
Graduate study (1891)
President John M. McBryde introduced graduate study in 1891. The first master of science degree went to McBryde's own son, Charles N. McBryde, in 1892. Later, Charles McBryde was one of the discoverers of a serum for the prevention of hog cholera that saved untold millions of dollars. John McBryde later was awarded the first honorary degree, a doctor of science, given in 1907.
Football team (1892)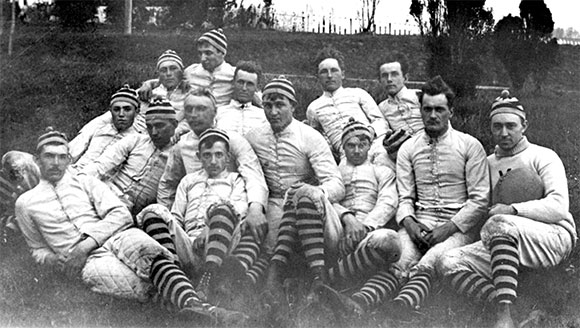 The first football game at VAMC was really a rugby match played behind Lane Hall in fall 1891. Two teams were organized in September 1892, and Professor W.E. Anderson was the first captain, while Dean Ellison A. Smyth Jr. served as the first coach and manager. VAMC beat St. Albans Lutheran Boys School, 14-10, in its first official game on Oct. 21, 1892.
Regimental commander (1895)
Woodson P. Waddy
Telephone (1898)
The first telephone to be used at Virginia Tech was installed in President John M. McBryde's office. It was also the first telephone in Blacksburg.
Medal of Honor (1899)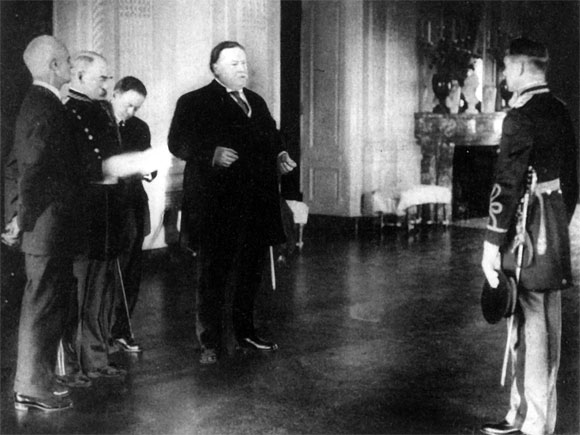 Antoine A.M. Gaujot, Class of 1901, was the first of seven Hokies to receive the Medal of Honor. During the Battle of San Mateo in the Philippines in 1896, he tried under heavy enemy rifle fire to locate a ford in order to help his unit cross a swollen river to attack. Unable to accomplish this, he swam with a companion to the enemy side where he secured an enemy canoe and returned it to the friendly side of the river. Interestingly, his brother, Julien E. Gaujot (above, receiving the medal from then-U.S. President William Taft), Class of 1894, became the second former VPI cadet to earn the medal. Julien had been heard to comment, " … I got to get me one of them things for myself if I bust," and he did—for lifesaving actions on the Mexican Border in 1911, the only time a soldier was ever awarded the medal for actions of a peacekeeping nature.
1900s
Hall of Fame (1899–1905)
C. Hunter Carpenter, who followed an agricultural engineering degree in 1902 with graduate studies, was the first Virginia Tech player elected to the College Football Hall of Fame. In the days when a student could play for more than four years, he played fullback on the 1899 and 1900 teams and halfback on the 1901, 1902, 1903, and 1905 teams. In 1904, he played for the University of North Carolina.
Season tickets (1908)
The first football season tickets admitted holders to all home games and some in Roanoke.
Class ring (1912)
Fred K. Prosser designed the first Virginia Tech ring for the Class of 1911, one year after they had graduated. The ring included two eagles (which have been on the class ring design ever since) and a flat stone. It cost $6 to $8. Like many alumni to follow, Prosser lost his own ring.
Medal of Honor, World War I (1918)
Earle D. Gregory (electrical engineering '23), known as the "Sgt. York of Virginia," was the first Virginian to receive the Medal of Honor in World War I. At Bois de Consenvoye, France, on Oct. 18, 1918, he single-handedly captured 22 German soldiers and two machine guns, saving countless American lives. The university's Gregory Guard precision drill team is named in his honor.
Women students (1921)
Mary E. Brumfield, Billie Kent Kabrich, Lucy Lee Lancaster, Carrie T. Sibold, and Ruth Louise Terrett (along with another seven part-time coeds) were the first women to enroll at Virginia Agricultural and Mechanical College and Polytechnic Institute.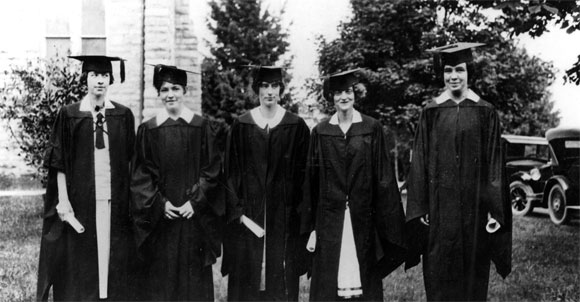 Reactions to the development differed. The 1922 school yearbook, The Bugle, put it this way: "At VPI she has caused a wretched condition."
The newspaper The Virginia Tech greeted the women more warmly: "This year, for the first time in the history of the school, women are admitted to all courses of instruction, and the campus is now graced by the presence of ten [sic] co-eds." But after that, the newspaper basically ignored them.
Woman to receive degree (1923)
Mary Brumfield was the first woman to receive a degree.
Women's basketball team (1923)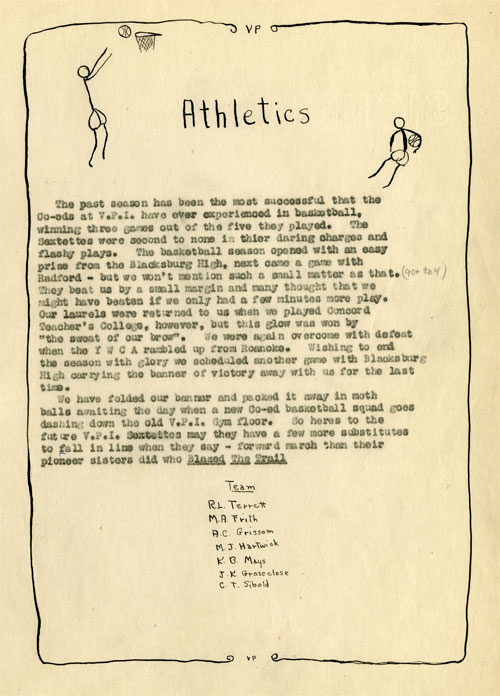 One of the first five women to enroll at Virginia Tech—Ruth Louise Terrett—formed a basketball team in 1923. The players called their team the "Sextettes" and later the "Turkey Hens." Writing in the 1929 Tin Horn (the yearbook the women put out in 1925, 1929, 1930, and 1931 because they weren't allowed in The Bugle), an anonymous "coed" speculated about how the women developed their athletic prowess: "'N' funny thing, seemed like the boys always needed fresh air as we came by. Up went the windows and down came the water as they seemed to be in their chief indoor sport. Along with the water came squeaky voices yelling and saying silly things to us. We became exceedingly alert and quick movers, in fact we became so efficient in dodging water that we decided to extend our athletic ability even further, and as a consequence of this we had a basketball team."
Touchdown in Miles Stadium (1926)
It's easy to find out the date of the first football game in a Hokie stadium or under a particular coach, but what about first touchdowns?
In the first game in Miles Stadium on Sept. 25, 1926, sportswriters paid a lot of attention to the "educated toe" of James Bushell "Scotty" McArthur for kicking extra points and two field goals, and they noted that the Virginia Tech "Pony Express" backfield ran all over Roanoke College, but nowhere do the accounts of the 47-0 romp tell who scored the first touchdown in the stadium. Noted one scribe, "Peake, Tomko, McEver, and McArthur repeatedly brought the crowd to its feet by their long gains and brilliant passes." We do know that Frank Woodfin Peake scored three TDs and Herbert Macauley McEver scored once. And then there was that educated toe.
Ph.D. (1942)
The first Ph.D. at Virginia Tech was awarded to Nathan Sugarman in chemistry.
Endowed fund (1948)
The Virginia Tech Foundation's pool of endowed funds is now made of thousands of smaller named endowments. The permanent gift that led the way for all the others and that still helps students from Hopewell, Virginia, was made by Mary Eppes to honor her ancestor, Francis Eppes.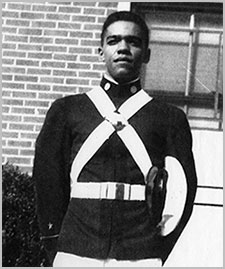 Black student (1953)
Not only was electrical engineering major Irving L. Peddrew III the first black student to enroll at Virginia Tech (in 1953), he was also the first black undergraduate student to be admitted to a historically white public school in the former Confederacy. The only black student on campus his freshman year, he was required to participate in the Corps of Cadets but had to live and eat off campus. Disillusioned by his experiences, Peddrew left at the end of his junior year and did not return.
Woman to receive Ph.D. (1953)
Betty Delores Stough became the first woman to earn a Ph.D. The degree was in parasitology.
Four-star general (1956)
Thomas C. Richards (general business '56) was Virginia Tech's first four-star general. He was deputy commander-in-chief of the U.S. European Command, a former commandant of the Air Force Academy, and head of the Federal Aviation Administration.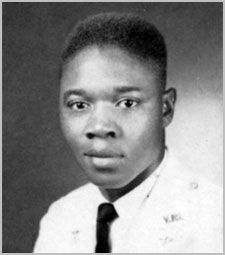 Black student to receive degree (1958)
The first black student to receive a degree was Charlie L. Yates, who earned a bachelor's degree in mechanical engineering with honors. Peddrew-Yates Residence Hall was co-named in honor of Yates and Irving L. Peddrew III, the first black student.
Woman commissioned (1959)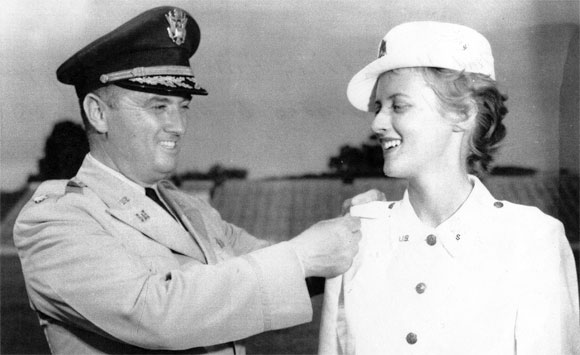 The "first woman to" who gained the most public notice was Patricia Ann Miller (general home economics '59), who, during commissioning exercises in Miles Stadium in June 1959, received a commission in the Army Women's Medical Specialist Corps as a dietitian. She had been denied admittance into the Corps of Cadets throughout her 12 quarters on campus.
First-team All-American (1959)
Football player Carroll Dale (vocational-industrial secondary education '64) was the first Hokie ever to be named first-team All-American in any sport.
---
Life at Virginia Polytechnic Institute in the 1950s and 1960s
---
NASA flight director (1960s)
Christopher C. Kraft Jr. (aeronautical engineering '44) was NASA's first flight director and was instrumental in the nation's first spaceflight, first orbital, first spacewalk, and the first lunar landing. In 1972, he became director of the Manned Spacecraft Center, later renamed the Lyndon B. Johnson Space Center.
Leading female engineer (1962)
Mary V. Berry (mechanical engineering '62) claims a string of firsts—the first woman registered as a professional engineer in Virginia and the first woman appointed to the State Board of Engineers, Land Surveyors, and Landscape Architects; the first woman to receive Tech's Distinguished Alumni Achievement Award; and the first woman to serve on the College of Engineering's Advisory Board.
Rhodes Scholar (1962)
William W. Lewis Jr. (physics '63) was Virginia Tech's first Rhodes Scholar and went on to earn a Ph.D. in theoretical physics from Oxford in 1966.
Touchdown in Lane Stadium (1965)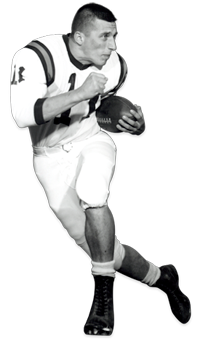 Unlike the first touchdown in Miles Stadium, the first Hokie touchdown by a varsity player in Lane Stadium on Oct. 2, 1965, was well recorded. The Gobblers were 80 yards from the end zone and trailing William and Mary 7-3 as the game wound down. With time running out, the home team mounted a drive down the field. Senior quarterback Bobby Owens (pictured) dropped back to pass and then scampered 13 yards for the score after finding his receivers covered. Tech won the game 9-7. (By the way, the first actual game in Lane was a freshman team battle against the University of Maryland on Oct. 1, 1965.)
And while the first Virginia Tech touchdown during the Frank Beamer era was exciting, it was just about the only bright spot in a dismal 22-10 loss to Clemson on Sept. 12, 1987. Jon Jeffries (interdisciplinary studies '99), who still holds the Tech record for most kickoff returns in a career, took a kickoff 92 yards for the only Tech TD.
Women's sport team (1970)
It wasn't until 1970 that Virginia Tech provided women with an officially sanctioned intercollegiate competitive sport: swimming.
Asphalt walks (1971)
The first asphalt walks across the Drillfield—two of them—were poured during the summer of 1971.
Endowed professorship (1972)
The first endowed professorship was set up by Thomas Brooks to benefit the forestry department. Brooks was a prominent Virginia lumberman who strongly supported what is now the College of Natural Resources and Environment.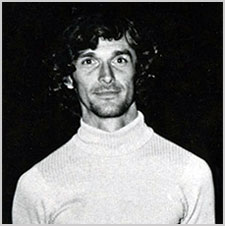 Olympian (1972)
Todd Scully, a one-time coach of Tech's cross-country team, served as an alternate on the Olympic racewalking team in 1972 and competed in 1976. In 1980, he was a Tech graduate student when he again was selected for the Olympic team, but the U.S. boycotted the games that year, and so technically he never competed while studying at Tech. "It was disappointing to everybody," Scully remembers. "You just spent four years making progress and improvement, and you end up not being able to use it. Between '76 and '80, I think I set seven world records. ... I was ready to compete."
Corps women (1973)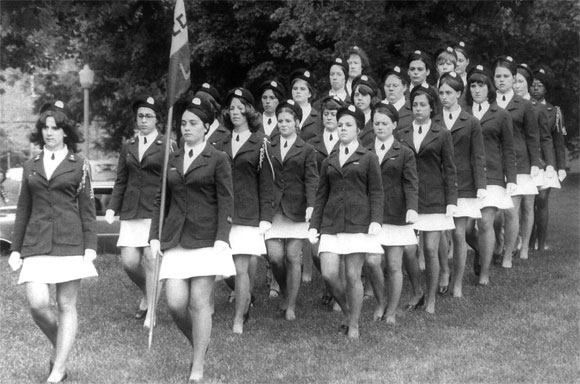 In a notable national first, the Virginia Tech Corps of Cadets in 1973 was the first corps anywhere in the U.S. to admit women, predating even the service academies by a year. The first two females to sign up were Deborah J. Noss (management, housing, and family development '75) and Cheryl A. Butler (art '76), with a total of 25 joining that year to form the all-female L Squadron. Brig. Gen. David S. Henderson, commandant, said the women's unit was started so that Virginia Tech women could have the opportunity to participate in the ROTC programs being opened to them by the military services (in fact, Butler took the Air Force ROTC exam her freshman year and said she joined the corps as a sophomore primarily because she did well on it). Since the number of men electing on-campus military life had declined since the corps was made voluntary in 1964, Henderson also anticipated that the inclusion of women "might reverse the declining trend of recent years."
Marching Virginians (1974)
When the Marching Virginians first took the football field on Sept. 28, 1974, in the midst of a dismal loss to Houston, most fans probably had no idea that the 120-member band had been a unit for just 10 days. It was cobbled together in a matter of months at the request of then-President T. Marshall Hahn Jr., who had decided "Tech needed a big-time band to have big-time football," said Tony Distler, who was then head the Department of Performing Arts and Communication and the person Provost Les Malpass called on to make it happen.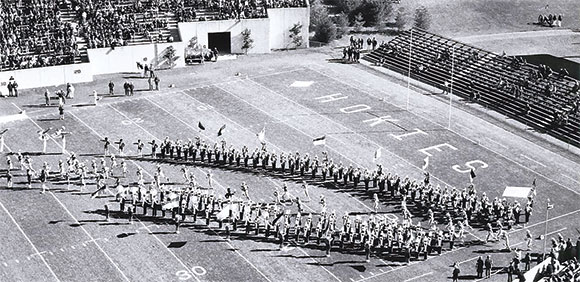 Tech did have the Highty-Tighties, but only Corps of Cadets members were allowed and their numbers had dwindled to the point that it was impossible field the size band Hahn envisioned. In addition, Distler said, Hahn thought that talented musicians in the 97 percent of the student body who weren't cadets should have a chance to play in a marching band. The first director, Roger Heath, brought Purdue University's internal, student-run system—similar to the way the corps is run—with him. "It's the only big-time band in the United States that's still run that way," Distler said. Though he doesn't remember the first song played by the Marching Virginians, he knows that "Bridge Over Troubled Water" was in the repertoire.
Though retired, Distler maintains his position as "voice" of the Marching Virginians, and the tower on their practice field is named the Tony Distler Marching Virginians Tower.
Heath, the first director, said the inaugural year was full of challenges. "That summer while we were deciding what to call the new band, we were ordering new instruments and trying to find a place to put them; we were looking for a practice field and indoor facilities for rehearsals; we were deciding when, how, and where we could do a training camp before school in the late summer. We were writing to every prospective band member we knew about, we were interviewing new students on campus during orientation, and we were designing and ordering new uniforms. We had no traditions, and the only measuring stick of our success was how we compared to the high school bands from which we had emerged."
World-record pole vaulter (1977)
Irene Spieker (health and physical education '78) was the first woman in the world to pole vault higher than 8 feet when she set an unofficial world record at 8' 1/4" during the indoor Mason Dixon Games in Louisville, Kentucky, in 1977. At the time, women had just started pole vaulting and many meets didn't even include the event. In fact, Spieker was actually the premier female runner for Virginia Tech—not a pole vaulter—with school records for the indoor and outdoor mile, 1,500 meters, and 3,000 meters. "… I feel kind of guilty over all the attention I've received," she said at the time. "I don't feel like 8 feet ¼ inch is very high. I haven't worked that hard."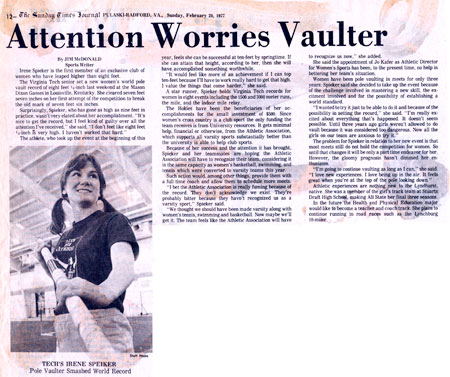 In 1979, Spieker broke the national record five times in the same Mason Dixon Games and cleared 10 feet. Although the International Association of Athletics Federation didn't start recognizing an official world record in the event until 1992, most record charts list that 1979 vault as the first unofficial record. It stands at 16 feet 7 inches now.
Woman executive (1980)
Sandra Sullivan was named vice president for student affairs, becoming the first woman to hold a university-wide executive position.
Spin-off company (1985)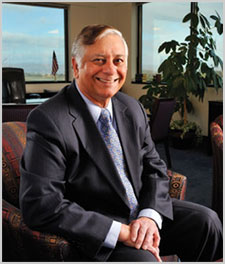 Vinod Chachra (M.S. industrial engineering '68, Ph.D. '71) pioneered more than a couple of important Virginia Tech firsts. In 1983, after serving in several roles starting in 1972, he was named vice president of computing and information systems, the first such vice president at any public university in the nation. In 1985, he was asked to lead the first spinoff company formed from a Virginia Tech intellectual property—VTLS Inc. (Virginia Tech Library Systems), an automated circulation and cataloguing system created for Newman Library. "During the first 19 months of the company, we were losing a thousand dollars a day, including weekends," Chachra has said. "There was a lot of negative cash flow going on."
But after a major breakthrough in 1987, VTLS became the first tenant at the Virginia Tech Corporate Research Center (CRC). Now, VTLS provides creative software solutions to a diverse customer base of more than 2,100 libraries in 40 countries. Although the Virginia Tech Foundation sold its shares of the company years ago, the Foundation has used the profits to make other crucial investments in the CRC, leveraging dividends from that first spinoff into advancements for other innovations.
African-American regimental commander (1985)
Derek A. Jeffries (architecture '87)
Female regimental commander (1987)
Denise A. Shuster Greenfield (international studies '88)
Undergraduate Olympian (1988)
Vernell "Bimbo" Coles (housing, interior design, and resource management '03), who played guard on the 1988 U.S. basketball team, was Virginia Tech's first undergraduate and the first student-athlete to go to the Olympics.
VERnet (1989)
Virginia Tech was the principal developer of VERnet, the first regional network of research networks using the Internet Protocol. The National Science Foundation-funded project connected the majority of the commonwealth's colleges and universities, government agencies and schools, and several private research and commercial organizations to the larger network that we now call the Internet.
Female provost (1995)
The university appointed College of Human Resources Dean Peggy Meszaros as senior vice president and provost, the highest administrative position ever held by a woman at Virginia Tech.
Nobel Prize (1996)
Robert C. Richardson (physics '58, M.S. '60) won the Nobel Prize in Physics for discovering how helium-3 can transform itself into a liquid that flows without friction at temperatures near absolute zero.
2000s
"Enter Sandman" (2000)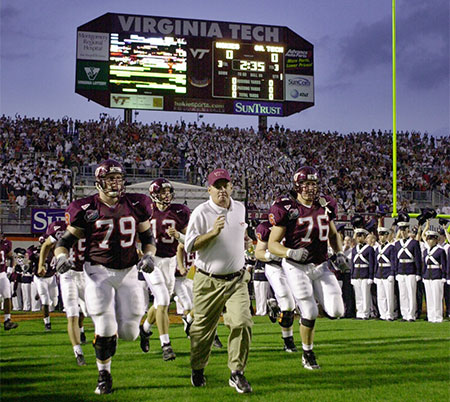 When Virginia Tech added a fancy new scoreboard to Lane Stadium ahead of the 2000 season, the athletics marketing team decided to use the scoreboard for an entrance video. The group considered "Welcome to the Jungle" by Guns N' Roses and "Sirius" by the Alan Parsons Project before settling on Metallica's "Enter Sandman." The song was first played on Aug. 27, 2000, for the season opener against Georgia Tech—the famous "Lightning Bowl" that was canceled after the teams had taken the field but before kickoff. Fans also will remember that game for lightning striking ESPN analyst Lee Corso's car shortly after he picked against the Hokies.
Caldwell March (2000)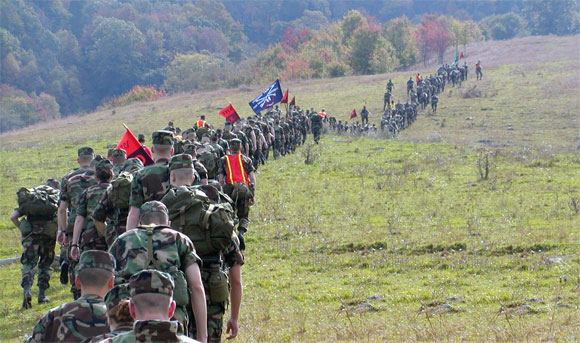 Twenty-first century Virginia Tech cadets have all taken approximately the same route first trudged by William Addison "Add" Caldwell and older brother Milton M. "Mic" Caldwell to get from Sinking Creek in Craig County, Virginia, to Blacksburg to enroll at VAMC, but what has become a cherished tradition for the corps didn't actually start until 2000. Germination for the Caldwell March came in 1997, when Col. Ed Schwabe, deputy commandant of the corps, participated in a university-sponsored 125th anniversary march commemorating the Caldwells' trek. At first he thought about doing the entire march at one time, but that would have required overnight field equipment for hundreds of people, so the trek is split in two, with the fall march marking the end of what is known as the Red Phase of cadet training and the spring part marking the end of freshman training.
Homebuilt supercomputer (2003)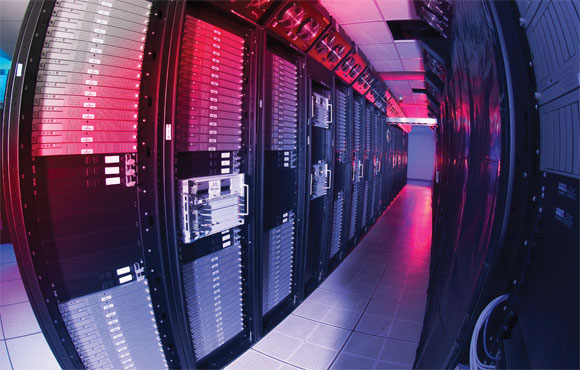 System X, Virginia Tech's first supercomputer, was assembled in the summer of 2003 by faculty members, staff, and students for a mere $5.2 million, and at the time was ranked as the world's most powerful and cheapest homebuilt supercomputer (third-fastest supercomputer in the world). By comparison, the fastest supercomputer at that time cost approximately $400 million to build. Made up of 1,100 Apple PowerMac G5 computers, System X surpassed the original processing speed goal of 10 teraflops. The computer was retired in 2012.
Female African-American regimental commander (2006)
Christina Royal (sociology '06) (below, left)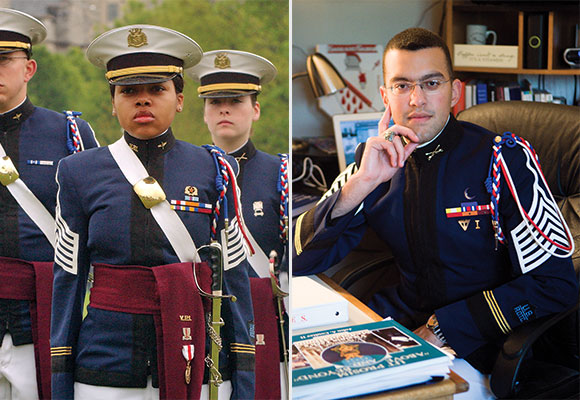 International-student regimental commander (2008)
Adnan Barqawi (business management '09) (above, right)
Humanoid robot (2008-10)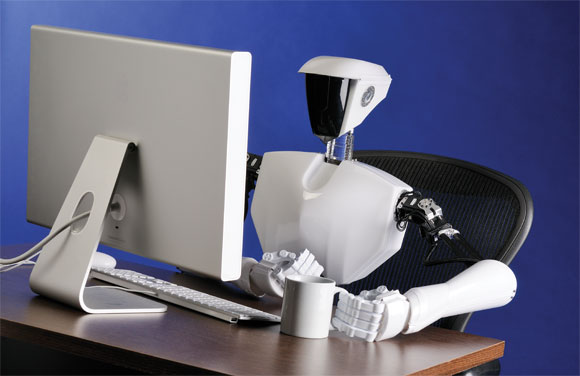 CHARLI (Cognitive Humanoid Autonomous Robot with Learning Intelligence), born in the College of Engineering's Robotics and Mechanisms Laboratory, was the first untethered, autonomous, full-sized, walking, humanoid robot with four moving limbs and a head built in the United States. His legs and arms move and gesture thanks to a combination of pulleys, springs, carbon fiber rods, and actuators. A subsequent version went on to dominate the international robot soccer competition, known as RoboCup.
Lavender commencement (2009)
The first Lavender commencement ceremony for LGBT students was held.
Moss Arts Center performance (2013)
On Nov. 1, 2013, the Philip Glass Ensemble christened the Moss Arts Center's Anne and Ellen Fife Theatre in the Street and Davis Performance Hall. The sold-out performance featured contemporary music performed live by Glass and his ensemble accompanying the film "Powaqqatsi: Life in Transformation." The performance was chosen to launch the inaugural season based on not only the extraordinary sensory power of the music and imagery, but also for the timely and compelling international themes and questions it raises. The Blacksburg Children's Chorale joined the ensemble for the performance.
---
Richard Lovegrove is an editor with the marketing and publications unit. Mason Adams and intern Eli Heilker contributed to this story. Other excerpts first appeared in "History and Historical Data of Virginia Tech," an online publication that was written by former University Relations director of publications Clara Cox (M.A. English '84), who updated the "Historical Data Book" first penned by Jenkins M. Robertson in 1972.