ALUMNI PROFILE
Power Couple
Kirk and Noel Schulz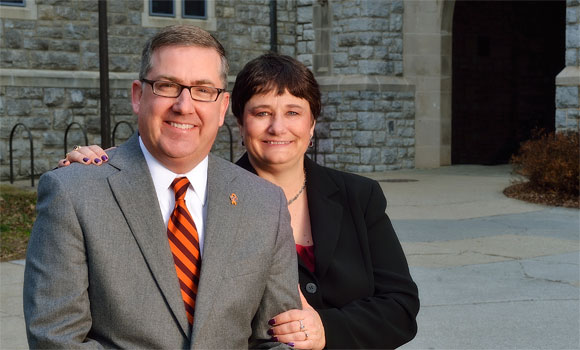 Kirk ' 86, '91 and Noel Schulz '88, '90 visited Blacksburg in December 2013 to speak at commencement. When they started dating, Noel lived in the east wing of Eggleston Hall, pictured behind them. In the archway, they shared their first kiss. Photo by Jim Stroup.
A purple polo shirt at a Virginia Tech alumni event? Dr. Gerald Zeavin (biological sciences '77) had his reasons.
In late August, a dozen Hokie alumni had gathered for a Wednesday evening happy hour at a microbrewery in Manhattan, Kansas, home of Kansas State University (K-State) and its mascot, a purple Wildcat. As the alumni exchanged pleasantries, Zeavin explained his attire: He had heard that the K-State president is a Hokie, so he'd worn purple, just in case.
Sitting to Zeavin's left at the end of the table, Noel Nunnally Schulz (B.S. electrical engineering '88, M.S. '90) nodded in confirmation and looked at her husband, Kirk Schulz (B.S. chemical engineering '86, Ph.D. '91), who sat directly across the table from Zeavin.
"That's me," said Kirk, also clad in purple, with a laugh. "It's true."
In 2009, Kirk was appointed president of K-State, the land-grant university in Kansas. Noel, the Paslay Professor of Electrical Engineering at K-State, served as the 2012-13 president of the Institute of Electrical and Electronics Engineers' Power and Energy Society (PES). Their titles aside, the Schulzes' down-to-earth demeanors—which allowed the couple to quietly blend into a gathering of Hokies—have endeared both Kirk and Noel to their university community.
"Our career"
The future couple first met in the summer of 1984 by way of Virginia Tech's Baptist Student Union (BSU). Noel, a Blacksburg native, was preparing for her freshman year; Kirk, originally from Norfolk, Virginia, was a junior transfer from Old Dominion University. The two started dating after a spring 1985 missions trip.
Noel served BSU as vice president of programming, and Kirk was elected president. Rev. Roland Byrd, the BSU director from 1972 to 1998 who conducted their December 1987 wedding ceremony, said he probably didn't envision Kirk and Noel simultaneously leading a university and a professional society, "but I don't know that I'm overly surprised."
The Schulzes' teamwork started early. Kirk was directing the energy engineering Ph.D. program at North Dakota State University (NDSU) in the mid-1990s, when Noel—knowing that because a university rarely hires its own doctoral graduates, she couldn't pursue the degree at NDSU—investigated other doctoral programs in electrical engineering. With Kirk holding down the fort as a single parent in Fargo, Noel earned her doctorate at the University of Minnesota in Minneapolis.
"At the time, you're never quite sure if everything you're doing is exactly right," Kirk said. "[We] decided that we were going to make some of these decisions with no regret."
The Schulzes decided to enable each other. "Noel talked about when we were dating that she wanted to live outside the United States at some particular point," Kirk said. "When it looked like I might be competitive for a university presidency, I told her, 'If you're going to do it, you've got to do it now. I can handle the boys.'"
So, in 2008, Noel spent a semester on sabbatical in Wales. Once a month, Kirk and the boys—one in high school and one in middle school at the time—traveled to Europe to see Noel and the continent. "I think it's always looking for ways to make stuff happen as opposed to not," Kirk said. And they see that attitude and flexibility in their sons: Tim is a graduate student at the University of Tulsa, and Andrew is a rising sophomore at Oklahoma State University.
At Mississippi State University from 2001 to 2009, Kirk rose from director of the chemical engineering school to dean of the James Worth Bagley College of Engineering to vice president for research and economic development. The couple recognized that in order to avoid appearances of favoritism, Noel's best leadership opportunities were outside the university setting. After serving as PES secretary from 2004-07 and treasurer from 2008-09, Kirk nudged her toward the presidency. "Kirk has always encouraged me to lean in to take [leadership] opportunities when maybe I didn't think I was ready," Noel said.
At PES, an international organization of more than 32,000 members that unites power and electric professionals from industry, government, and academia, Noel became one of two female presidents in the society's 130-year history. Focused on attracting women to PES, she established an affinity group for members, Women in Power.
Easily accessible and responsive, Noel was much younger than a typical president, which "speaks highly of her capabilities and acceptance among her peers," said Virginia Tech's Saifur Rahman, the Joseph R. Loring Professor of Electrical and Computer Engineering and a former PES vice president who mentored Noel and taught her in Tech classes. "She is very focused. When she puts her mind to it, she sees it can be done. She's very hard-working."
Through the years, the Schulzes have supported each other. Describing the journey, Noel made linguistic choices that stood out: a plural pronoun, "our," and a singular noun, "career." "If you look at our career," Noel said, "it's been a team effort."
Leading K-State
Preparing for a ceremony to renew a formal partnership between the university and the U.S. Army's 1st Infantry Division, which is based at Fort Riley, adjacent to Manhattan, the Schulzes entered the K-State alumni center's foyer and began greeting attendees in fatigues and suits.
At the reception, prior to the ceremony, K-State Provost April Mason quickly offered to talk about the Schulzes. In 2010, a search committee had contacted her, but she was content at Colorado State University. Then an email appeared in her inbox, from a "Kirk S." at K-State. "I thought, 'What is this? Is it another member of the search committee?'" Instead, the email was from Kirk, saying simply, "Your name has come forward. Would you like to talk about it?"
The president's approach intrigued Mason, and Kirk's philosophies toward higher education resonated with her own. "He's someone who's willing to take on difficult tasks, who's willing to be consultative, someone who has tremendous enthusiasm and energy," Mason said.
As the ceremony began, Kirk, sitting with Noel at the front row of tables, stared down at his phone. Those who know him, however, realized he wasn't disengaged. Just the opposite, in fact, as Kirk snapped a photo of a speaker and tweeted it.
Taking to social media was a conscious decision, Kirk said. "One of my frequent criticisms of administrators when I was a faculty member is that they are really bad at communicating. Everybody's working hard, but nobody around them knows what they're doing."
When Kirk was chemical engineering department chair at Michigan Technological University, he hired Jason Keith, now the interim engineering dean at Mississippi State. Keith learned from his mentor that communication—whether via social media or a simple email to a former colleague—shows the "human side of an academic administrator," he said.
At K-State, Kirk articulated a clear vision: to leapfrog the university into the list of the top 50 public research universities by 2025. Kirk introduced "K-State 2025" and sought campus-wide buy-in on how to achieve the lofty goal through a strategic plan. The impact of such aspiration has resonated widely, as evidencd by five consecutive years of private-giving records; giving rose from $81.5 million in FY09 to $152 million in FY13.
"His enthusiasm is infectious, and I think that's why he's been so successful in the development arena," Mason said. "People can see his vision."
"[K-State 2025] was so effectively communicated and embraced that one cannot find anyone associated with the university, including state legislators, that cannot tell you about this vision," said Andy Tompkins, president and CEO of the Kansas Board of Regents, which governs the state's public institutions. "Kirk's vision for the university, coupled with a strong strategic and campus master plan, is his most notable accomplishment."
Kirk said the boldness of the goal has permeated the campus climate and the aspirations of alumni. "Sitting down with a donor, the first thing we say is 'This is where we're trying to go as a university and we want you to help us get there.' That's a powerful argument, a powerful statement, and we've seen some early success," he said.
Noel, meanwhile, has leveraged her role as first lady to empower women. Building upon similar efforts with PES and previous universities, she launched the Women of K-State initiative to connect women faculty, staff, and students. Also serving as the associate dean for research and graduate programs in the College of Engineering, Noel spearheaded a program, now in its second year, to take pre-tenure faculty to Washington, D.C., to visit federal agencies that provide research and development funding. For younger faculty members, the trip demystifies the process of interacting with funding agencies, said Mason, who this year traveled with the faculty members. "Coming back, their feet weren't touching the ground," Mason said of their enthusiasm as they grasped the possibilities. Added Mason, Noel is a "very defined leader in her own right," one of "boundless energy."
Energy is required for a university president and spouse. In Manhattan, a small community, there's little downtime. "I think the life of a university president is in a fishbowl, and you'd better like that because if you don't, you're going to be miserable," Schulz said. "I like the fact that we can be eating [downtown, and people] say hello to you and talk about football or whatever."
As the Hokie alumni event wound down in late August, several alumni posed for photos with the Schulzes. When one alumna tweeted a photo with the president, he retweeted the image right away, adding "It was fun!"
Genuine and engaged to the end, the power couple said their goodbyes and slipped out without fanfare.