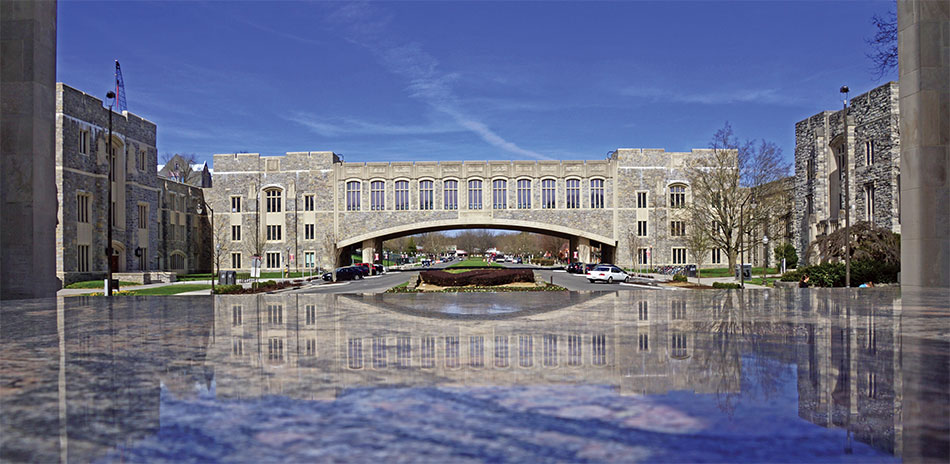 A photo taken by College of Engineering (COE) Dean Richard Benson captures Torgersen Bridge, reflected on War Memorial Court's cenotaph, as a tribute to former COE Dean and President Emeritus Paul Torgersen, who died March 29. For more on Torgersen, see "Teacher, President" in this edition.
---
Reaching for the clouds
Tom Tillar '69
Vice President for Alumni Relations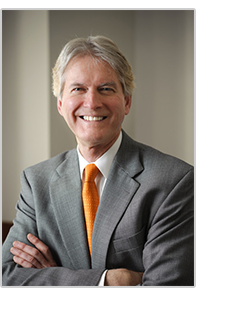 In March, I had the distinct pleasure of visiting with two of our alumni, both living in Texas—Christopher C. Kraft (aerospace engineering '45) and Patrick M. Matthews (finance '02). Despite their age difference, each has had a career associated with "clouds."
Kraft, one of our earliest aerospace engineering graduates, retired as director of the Johnson Space Center, where the mission control center is named in his honor. He worked in aeronautical research for more than a decade before joining the newly formed NASA and its Space Task Group. As NASA's first flight director, he was associated with America's first human spaceflight, first human orbital flight, and first spacewalk.
Kraft has vivid memories of his experiences at Virginia Tech, where he was part of a class during World War II that was accelerated to complete degrees a year early. As a cadet and member of the baseball team, he recalls the renowned Bosco Rache and other professors who influenced his choice of aerospace engineering. He also is proud of the honor he received 50 years ago, when Virginia Tech declared a Christopher Kraft Day to celebrate his achievements in the space program.
Matthews had a different kind of early career touching clouds—cloud computing—that started during his years at Virginia Tech. At one point, he took time off to create a dot-com, which eventually grew into an email-hosting start-up in Blacksburg called Webmail.us. After returning to complete his degree, he devoted time to expanding his company, later selling it to Rackspace. He then worked as a Rackspace executive for six years as senior vice president for cloud computing and also in a corporate development role.
Today, the San Antonio resident is an angel investor and advisor to dozens of young companies who describes his time-out from college as a period that inspired him to follow his dream and create a company from an idea. Community service, perhaps influenced by his time at Tech, remains an important value in Matthews' life, represented by his volunteer role with Big Brothers Big Sisters of South Texas.
I was truly delighted to visit with two proud Texas Hokies and learn how the university has helped shape their career choices and pathways. Their reach for the clouds has certainly benefited many lives and industries.
---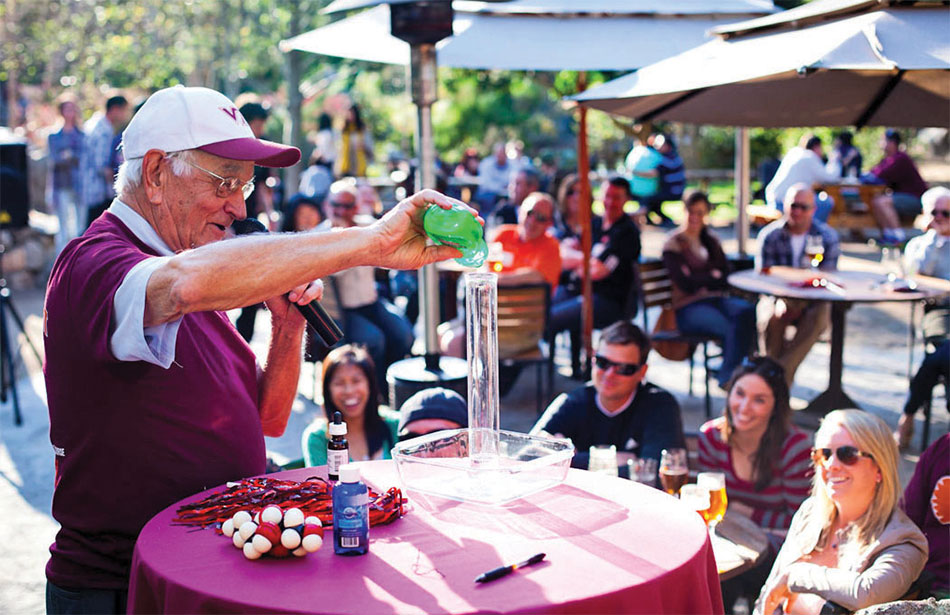 James Wightman is one of the most sought-after speakers for alumni chapter events.
Alumni Association chapters across the country host various events that feature inspiring Virginia Tech faculty and administrators, providing an opportunity for attendees to learn about university initiatives and programs while enjoying fellowship with alumni in their communities.
In 2014-15, the roster of speakers included university administrators and faculty favorites, who traveled as far as Seattle and San Diego and, more regionally, to Roanoke and Richmond. Topics were as diverse as the locales, from Alumni Distinguished Professor Rosemary Blieszner's "That's What Friends Are For" to Vice President for Student Affairs Patty Perillo's "Student Life: Then and Now." Maj. Gen. Randal Fullhart visited chapters to provide an update on the growing Corps of Cadets, while Dave McKee, director of the Marching Virginians, discussed the ongoing construction of the band's rehearsal facility.
This year, the Alumni Association celebrated two popular speakers—both Alumni Distinguished Professor emeriti—who reached the milestone of delivering more than 100 presentations. Civil War scholar James I. Robertson Jr. spoke on a variety of topics, including "Untold Civil War Stories" and "The Presidency: What You Want and What You Get." And James Wightman, a retired chemistry professor, delivered a presentation on his most requested topic: "The Chemistry of Beer," an entertaining examination of the chemistry behind brewing.
The chapter speakers' program serves as a valuable outreach opportunity for the university and the Alumni Association. Each occasion brings the university closer to alumni who may not otherwise have such access to campus personalities. Likewise, faculty and administrators enjoy networking with alumni to learn firsthand the impact and influence the university has had on the personal lives and careers of alumni.
Recent chapter speakers
Stephanie Adams, Professor of Engineering Education
Whit Babcock, Director of Athletics
Rosemary Blieszner, Alumni Distinguished Professor of Adult Development and Aging
John Boyer, Senior Instructor, Geography
Cyril Clarke, Dean, Virginia-Maryland College of Veterinary Medicine
Randal Fullhart, Commandant, Corps of Cadets
Nikki Giovanni, University Distinguished Professor of English
Cynda Johnson, Dean, Virginia Tech Carilion School of Medicine
David McKee, Director, Marching Virginians and Concert Bands
Lu Merritt, Senior Director of Development for Intercollegiate Athletics
P. Buckley Moss, Renowned Artist and Philanthropist
Patty Perillo, Vice President for Student Affairs
Paul Quigley, Director, Virginia Center for Civil War Studies
James I. Robertson Jr., Alumni Distinguished Professor Emeritus of History
Timothy D. Sands, President
Edward Spencer, Vice President Emeritus for Student Affairs
Tom Tillar, Vice President for Alumni Relations
Jesse Tuel, Editor, Virginia Tech Magazine
Ruth Waalkes, Executive Director, Center for the Arts, and Associate Provost for the Arts
Peter Wallenstein, Professor of History
James Wightman, Alumni Distinguished Professor Emeritus of Chemistry
Craig Woolsey, Associate Professor, Aerospace and Ocean Engineering
---
2015 reunions and homecomings
Six action-packed weekends for alumni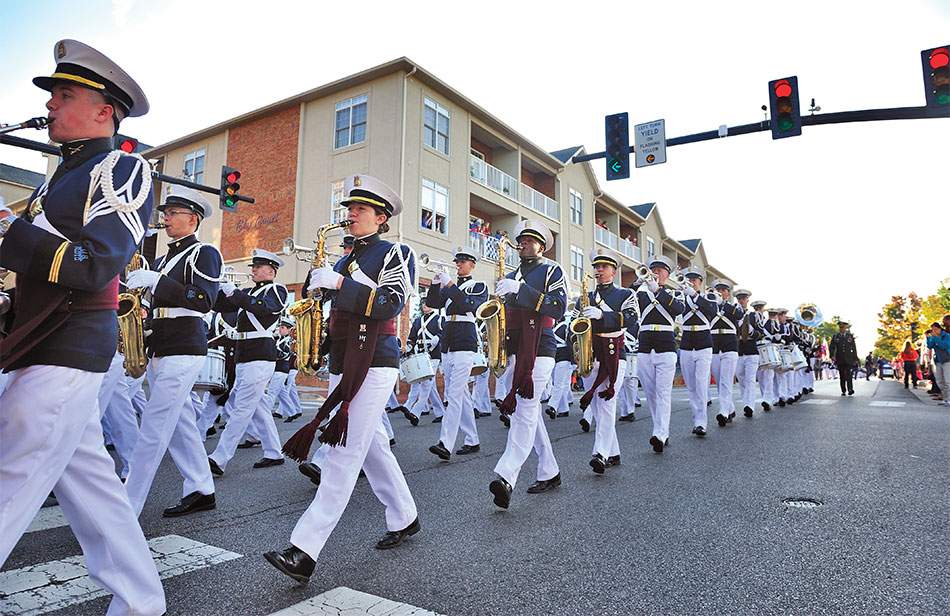 The Highty-Tighties in downtown Blacksburg; photo by Chelsey Allder
For more information on the 2015 homecomings and reunions, visit the Alumni Association's website.
Sept. 7 — Ohio State
Class of 1990 – 25th reunion
College of Agriculture and Life Sciences homecoming
College of Veterinary Medicine homecoming
Sept. 12 — Furman
College of Natural Resources and Environment homecoming
Corps of Cadets homecoming
Oct. 3 — Pittsburgh
Class of 1975 – 40th reunion
College of Architecture and Urban Studies homecoming
Pamplin College of Business homecoming
Oct. 9 — North Carolina State
Class of 1980 – 35th reunion
Class of 1970 – 45th reunion
Graduate School homecoming
Multicultural alumni homecoming tailgate
Marching Virginians homecoming
Oct. 24 — Duke
Alumni Association open house and tailgate, Holtzman Alumni Center
Class of 1965 – 50th reunion
College of Engineering homecoming
Highty-Tighties homecoming
Young alumni reunion
Resident Advisor and Residence Hall Federation alumni reunion
Nov. 21 — North Carolina
Class of 1985 – 30th reunion
College of Liberal Arts and Human Sciences homecoming
College of Science homecoming