Perspectives from a rising sophomore
by Timothy D. Sands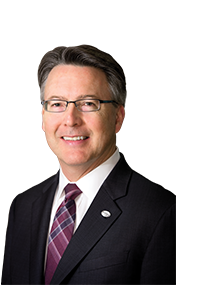 As we begin the next academic year—my second—Virginia Tech will welcome its biggest first-year class ever. More than 6,000 in number, the Class of 2019 will also be among the most academically prepared and certainly the most diverse of any class in our history. We chose to open the doors just a little bit wider to accommodate some of the demand that was evident in the pool of 22,500 applicants, a record number for us that was 8 percent larger than the previous year's. We thank the General Assembly for its support in providing opportunities for Virginia-resident students.
Although the surge in interest this year was exceptional, it is the latest evidence of a sustained trend: the increasing alignment of Virginia Tech's strengths with the aspirations of this generation, the commonwealth, the nation, and the world. Our strong STEM and health degree programs, complemented by an increasing emphasis on the humanities, the arts, and the social sciences; our development of integrative degree programs that has generated a buzz on campus and across higher education; our "hands-on, minds-on" approach to guided experiential learning; our commitment to innovation, entrepreneurship, and commercialization; and our land-grant heritage of bringing the fruits of our discoveries and the latest knowledge directly to the people of Virginia and the world are all attributes that stand strong in the context of the world that our graduates will enter. What I believe truly sets Virginia Tech apart, though, is our unparalleled sense of community in the spirit of Ut Prosim (That I May Serve). Increasingly, prospective students, faculty, and staff are coming to understand that Virginia Tech is just the kind of institution that we need for today and, even more so, for the future.
As the coming year unfolds, you will hear about several initiatives that we have already launched. I hope that one or two of these projects will draw you in as an active participant. Partnering with Gallup, we are polling Hokie alumni to reveal and understand the associations between the Virginia Tech student experience and thriving in later life. Among alumni, we are measuring engagement in the workplace and well-being in the financial, physical, community, purpose, and social dimensions. Our preliminary results support the conclusions of a national study that found that well-being and engagement are strongly associated with two general categories of experiences in college: 1) the support of mentors and the inspiration offered by faculty, and 2) guided experiential learning, such as internships, deep engagement in student organizations, undergraduate research, and study abroad programs. Virginia Tech will be looking for your help in creating opportunities for mentorships and internships in the coming months. We are also piloting an effort, tentatively known as "VT Stories," to capture the wisdom of our alumni as a tool for mentoring our current students.
As the past academic year drew to a close, I announced a long-term visioning initiative for the coming year that will provide the context for future strategic plans. What does it mean to be a global, 21st-century, land-grant university? How will we position Virginia Tech, in light of long-term trends in public support and demographics, to be stronger than it is today? We will engage the entire Virginia Tech community in this endeavor.
From the perspective of a rising sophomore president, I am even more energized and excited about Virginia Tech's future than I was one year ago. Until you engage with the Virginia Tech community, you cannot fully appreciate the power of this network of people, who are dedicated to working together to make the world a better place—more resilient, more sustainable, healthier, and more secure.
To the future!
Timothy D. Sands, Virginia Tech's 16th president, took office on June 1, 2014.