Big university, small-campus experience
by Larry Hincker '72, '94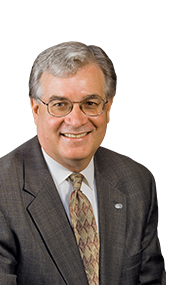 I break with personal tradition in this column. I hold the opinion that, notwithstanding my role as university spokesperson, public-relations types operate best in the background. I hope you'll indulge me as I offer a few thoughts about a treasure we share: Virginia Tech.
In a few months, I will conclude more than 27 years at Virginia Tech, including 25 years at the helm of University Relations, our marketing and communications department. During that time, I've met many caring and committed Hokies. More importantly, I've written or directed numerous stories about you—our passionate alumni, bright students, high-achieving graduates, and extraordinary professors.
We have come a long way since the days when explaining our name—Virginia Polytechnic Institute and State University, VPI, Virginia Poly, VPI&SU, Virginia Tech, that awful Vaaaah Tech—was part of any introduction. I once drove a world-famous BBC science writer from Roanoke to campus for a speaking engagement. All along the way, I extolled the virtues and world-class achievements of our university. As we climbed the I-81 grade to Exit 118, he read the highway sign. "Oh, look!" he said. "We're close to Virginia Tech. Is that near your campus?" The sad truth, I swear.
Today, Virginia Tech is known around the world. We consistently rank among the nation's best public universities. Applications for undergraduate admission hit record levels this year. Our graduates are in demand for great-paying jobs. Tech ranks among the nation's top 40 research universities. The days of thinking of Tech as "the state's best-kept secret" are gone, and I am happy to have been part of the brand team that narrowed the litany of monikers and helped shine spotlights on university excellence.
I've also been around long enough, though, to be wary of placing too much stock in one's own propaganda. This nation has many excellent universities; heck, there are even a few other decent ones in Virginia.
But in one notable regard, Virginia Tech is matchless. I cannot imagine any other university with a stronger sense of community and shared values or a tighter bond among its alumni. Have you ever met a Hokie who wasn't an immediate friend upon introduction? Do you recall your first freshman days, stumbling toward class, lost and late, crumpled map upside down, only to be set right by a caring, experienced student? (Admittedly, the maps are now on smartphones.) Whether tailgating in the shadows of Lane Stadium or before a big bowl game, you always find instant friends in orange and maroon.
Sometimes, I think the campus is as warm and friendly as the rolling mountains of Southwest Virginia. As a consultant once exclaimed while reviewing through-the-roof statistics from student-satisfaction polling, there truly must be something in the Blacksburg water.
However, in a variation of lyrics sung by James Taylor, we've seen dark days that we thought would never end. The trauma that befell this campus eight years ago might have crumpled a university that couldn't rely on such a strong coterie of faculty, staff, and students—and especially alumni with such ardent concern for fellow Hokies.
As chief promoter of Virginia Tech, I had long known, if only analytically from survey statistics and the like, that the institution was a big university with many attributes of a small school. It was only after that tragic event that I viscerally experienced this. Alumni too numerous to count returned to campus to help students, faculty, staff, and administrators cope and recover.
We all know that the heartbreaking tragedy of 2007 does not define us. Today, Virginia Tech is as strong as any time in its history. The university's researchers and scholars continue to astound us with their discoveries and insights. A Virginia Tech degree pushes open ever-widening doors. The physical campus expands almost overnight. And yes, the leading edge of the boomer generation is making way for younger, yet no less talented campus leaders. But one thing remains unchanged: the almost indefinable Hokie bond that blossoms early in our lives and grows ever stronger.
Larry Hincker '72, M.B.A. '94, is the associate vice president for university relations and the publisher of Virginia Tech Magazine.