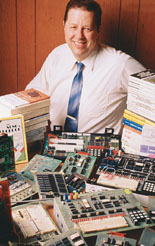 Pioneers in microprocessor technology
by Su Clauson-Wicker
Twenty-five years ago, when the average computer took up more space than a professorial office, a Virginia Tech engineering professor and a chemistry graduate student developed a consuming passion for tinkering with early microcomputers.
Even when the esoteric obsession threatened to derail progress in their academic careers, chemical engineering professor Peter Rony and graduate student Jon Titus continued to experiment with the gadgets, improvising with eight-bit chips and solderless breadboards. By 1974, they were telling anyone who would listen that the large, expensive computers would soon be replaced by microcomputers and that the little devices would be used in everything from automobiles to stoves and office equipment.
Now the computer revolution has occurred. Titus' Mark-8 microcomputer resides in the Smithsonian Institution's "Information Age" display, and aging computer "geeks" around the world remember cutting their microcomputer molars on Rony's Bugbook series, the first microcomputer workbooks aimed at the novice.
These two men deserve recognition for their pioneering role in microcomputer education, at Tech and in the world. No timeline of technological firsts is complete without their mention.

The Computer Museum in Boston lists Titus, in 1974, as the first person to market a personal computer kit, and Rony's Bugbook as the first microcomputer textbook. Titus' trainer microcomputer and the workshops for professionals that Rony taught in the mid-1970s are also very likely to be firsts or near-firsts, although no authority has made that claim definitive.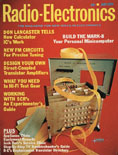 "You may recall that Steve Jobs and Steve Wozniak didn't market the first successful personal computer (Apple II) until 1976," Rony says. "In some ways, Jon and I may have been in the wrong place at the right time. I think few people at this university understood the implications of the microprocessor chip at the time."
In 1972, Rony sought to use computer technology to automate a catalytic reactor in his research lab. But he had a problem. He couldn't understand the expensive minicomputers used at the time or the highly technical manuals issued by their manufacturers. "They were intended for electronics technicians, and there was no support for the average person," he says.
Nevertheless, Rony made it his personal mission to learn how computers worked. His quest took him to the chemistry department, where he found Titus, instructor David Larsen, and others who spoke his language and used microprocessors in their work.
Within a year, Rony had convinced his department to require a microcomputer interfacing lab using low-cost, solderless, "breadboard" microcomputers Larsen devised. Titus had put his graduate work on hold while he marketed his Mark-8 computer kit. Rony and Larsen began offering workshops to faculty and professionals through Tech's Continuing Education Division. They went on the road; IBM even flew them to their corporate headquarters to help the company switch from analog computing.
In the summers, Rony wrote a series of seven "Bugbooks," as he devised interfacing and programming experiments using the microcomputer. Some editions used input from Larsen and Titus. The books were translated into German, Japanese, Italian, and Spanish. They eventually sold a total of 350,000 copies worldwide, Rony says, and were used by a range of readers from professional engineers to high-school drop-out prison inmates.
"We were entrepreneurial in our professional style," Rony says. "We saw a need, and we focused on it. I began to enjoy the process of organizing information on this new subject to make it suitable for the classroom."
Jon Titus finished his Ph.D. in chemistry in 1978 and is now vice-president and editorial director for Test and Measurement World and Test and Measurement Europe magazines. Professor Rony has been teaching chemical engineering at Virginia Tech for 26 years.
Home | News | Features | Research | Philanthropy | President's Message | Athletics | Alumni | Classnotes | Editor's Page