No Picnic:
Search and rescue hard work for student volunteers
by Richard Lovegrove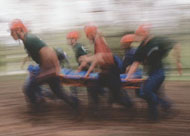 Greg Sazonov(geology '97) spent most of his first search and rescue mission scraping off deer ticks (two people came down with Lyme disease), battling mosquitoes that frequently covered every part of his body except his eyes, and wading through swamps. In addition, the elderly Eastern Shore man he was looking for was dead by the time searchers found him in a briar thicket that was so dense no one had thought to check it out.
Despite the hardships and the heartbreak, Sazonov -- who was 17 and living in Northern Virginia at the time -- was anything but discouraged by his first experience. He learned some lessons about being prepared, and he saw firsthand how important search-and-rescue work is. His search team on that mission included some of the missing man's friends, who had already started to grieve for their buddy. "I could see how much they cared about him and loved him," Sazonov says.
Sazonov, who graduated from Virginia Tech with a degree in geology last winter, continued his new-found passion when he enrolled at Tech. He joined the all-volunteer Southwest Virginia Mountain Rescue Group, one of only two search and rescue groups in Virginia made up primarily of college students. He now works for Lifeline Ambulance in Blacksburg, but continues as president of the search and rescue group. "I love the outdoors, and I saw I could help people doing these things," Sazonov says.
John O'Shea brought the same passion to Blacksburg when he arrived to earn his master's degree in applied experimental psychology. He wanted to try search and rescue "because of a combined love for the outdoors and wanting to help people in a unique way." He hooked up with the Tech group when he talked to a student wearing a search and rescue T-shirt. And he stayed hooked. He's now training officer for the group while he earns his Ph.D. in human factors engineering. "It's an emotionally trying thing," O'Shea says. "I enjoy it quite a bit."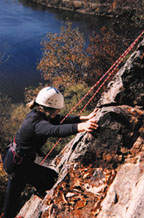 Virginia Tech's search and rescue group was started in 1987 by members of the Virginia Tech Corps of Cadets. Generally, the group has about 60 members, but the roster changes frequently because students graduate or leave school. They also lose people who discover they want the quicker payoff of working with a rescue squad. "People get excited thinking they're going to run out and save a kid," Sazonov says. "But the fact is we can search for days and not find anything. And you've made a tremendous emotional commitment." O'Shea, in fact, was stunned the time he actually found an elderly man who had wandered away from Blacksburg's Warm Hearth Village and had become entangled in a fence. "It was such a surprise to actually see him," O'Shea says.
The group gets approximately 20 to 30 calls per year from all across Virginia and into neighboring states to help search for lost children, missing hikers, people who may have been abducted, and elderly people suffering from Alzheimer's. Group members also help during natural disasters, such as bad ice storms.
No one is required to go on any particular search, but the group usually turns out 10 to 15 people per call, which is considered a good response. Winnie Pennington, search and rescue coordinator for the state Department of Emergency Services, says she finds the student groups highly dependable, partly because they can juggle their schedules more easily than can adults with families and jobs. "They tend to be very reliable, except during exam times," Pennington says.
Search and rescue work requires more than just a love of the outdoors and the desire to help others. Training is a necessity. According to Pennington, search and rescue is so stressful that volunteer responses to a situation must become automatic, much as those of a firefighter in a burning house. "The training is important because we can say that, yes, this person knows what they're doing," Sazonov says. "You can leave them out in the woods without worrying about them becoming another victim."
Training is done on three levels. An inexperienced team member must first learn basic search tactics and then go out on an exercise to see what a real-life situation is like. They get to ford streams, battle through briars, and deal with poison ivy. "We very rarely hike on trails. It's not this stuff you see on TV," O'Shea says. They also must learn basic survival techniques and buy the "10 essentials," such items as a knife, whistle, map, compass, and first-aid kit.
Volunteers who want to become a team field member, the second level, must find points on a map at night, and have to bivouac out of their backpacks overnight. "You don't go out with a sleeping bag, a tent, or Kentucky Fried Chicken," O'Shea says. At the third level, field team leader, the volunteer is in charge of all tasks. "We're very serious," Sazonov says. "You're pulling people out of the clutches of death."
On top of all the training and the time spent on searches, group members must worry about money. Virginia Tech and the Student Government Association provide some funding, and Lifeline Ambulance provides some equipment and refreshments, but state and local money is almost non-existent. So members conduct car washes and bake sales and, of course, pay for some of their own expenses.
Pennington is one person who is impressed by how much the students give. "They're very civic-minded; they're very community-minded. I'm sure this will carry over into their adulthood," she says. "Every time I send them out they give 110 percent."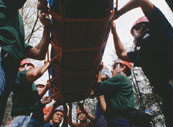 Search and rescue groups save state money
Most citizens of Virginia are unfamiliar with the volunteer network of search and rescue (SAR) groups, but they depend heavily on them.
The Virginia Department of Emergency Services coordinates, summons, and sets standards for SAR groups, but lacks a direct legislative mandate to conduct SAR activities itself. Its administrative support for SAR amounts to just three-fourths of a full-time position.
In addition, local fire departments and rescue squads frequently have professionals trained in search and rescue, but a large mission requires more resources than can be mustered locally. That's when localities call the Department of Emergency Services for help.
Search and rescue volunteers also save the commonwealth money. In 1997, according to a study by the Virginia Search and Rescue Council Inc., 901 volunteers contributed 57,333 staff hours and traveled nearly 168,000 miles at a savings of $917,000 to the state. The study estimates that it would cost the state nearly $6.7 million to duplicate the volunteer system.
"There is no other resource to do what they do," says Winnie Pennington, state coordinator of search and rescue for the Department of Emergency Services. "I don't know what we'd do without them. I guess we'd (the state) spend a lot more money."
Home | News | Features | Research | Philanthropy | President's Message | Athletics | Alumni | Classnotes | Editor's Page