SHORT FEATURES ABOUT VIRGINIA TECH ALUMNI
CONTENTS
Alumni help build National POW Museum
Theatrical by design
National Academy of Engineering inducts alumni
Hudy moves upstream to lead nation's fisheries
Smithsonian exhibit features Clark's photography
Jones heads National Alliance of Black School Educators
Alumni band rocks the East Coast
Fain awarded Air Force medal
Fund established to aid uninsured cancer patient
Oh, brother!
Job search workshop on campus

Alumni help build National POW Museum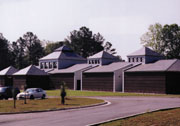 Several Tech alumni were involved in the construction of the National Prisoner of War Museum, which recently opened in Georgia's Andersonville National Historic Site.
Nancy Cocroft (architecture M.Arch '75) was architect and quality leader; Leonard Simpson (architecture M.Arch '89) was architect and project supervisor; and Bill Fornes (business administration '50), a former Korean War POW, helped fund the $5.8-million project as a coordinator for the American Ex-Prisoners of War.
The museum's dark brick barracks and three granite towers convey the look and feel of a prison. Tall iron gates open to a narrow path leading inside, where visitors are "captured" -- a voice yells "Halt!" and bayoneted rifles are raised.
A documentary narrated by former Joint Chiefs of Staff Chairman Colin Powell begins the self-directed tour.
Conditions for POWs are recreated in rooms that simulate the Vietnam War's "Hanoi Hilton" and a hand-dug escape tunnel under a German prison camp.
Designated in 1970 by Congress as a memorial to the estimated 800,000 POWs in American history, the Andersonville National Historic Site is the site of Camp Sumter, where nearly 13,000 Union soldiers died in captivity during the Civil War.
Theatrical by design
You may not see the faces of these theatre arts alumni, but chances are good you've seen some of their work. An exhibit, "Designers at Work," at Virginia Tech's Perspective Gallery in late winter featured the theatrical design work of Tech costume, lighting, and scenic designers.

Ellen Doak (theatre arts '78) has created sets and art for many feature films, including Wall Street, Goodfellows, Six Degrees of Separation, Malcolm X, and Billy Bathgate, as well as commercials, live shows, and television shows such as Law and Order.

George Sarofeen '76 designed thse costumes for theme parks and stage shows.
You also may have seen scenic designs by Howard Cummings (theatre arts '76) on the wide screen. He recently worked with Francis Ford Coppola on John Grisham's The Rainmaker, which stars Danny Devito and Matt Damon. Since moving to Los Angeles three years ago, Cummings has worked on such notable films as The Usual Suspects, The Spitfire Grill, The Long Kiss Goodnight, and The Trigger Effect, produced by Stephen Spielberg. Right now, he's designing for Double Jeopardy, a Paramount Pictures thriller with a November 1998 release date.
Amy Appleyard (theatre arts '89) is a New York lighting designer with more than 55 credits in Broadway and opera, including Don Pasquale by the New York Metropolitan Opera and Roundabout Theatre's 1997 production of Chekov's Three Sisters.
Scenic artist Kelly Ryner (theatre arts '88) recently finished working as assistant art director for the CBS show, Everybody Loves Raymond, and is supervising a team of scenic artists finishing the Universal Studios park in Osaka, Japan. Ryner has done scenic work with Warner Brothers, CBS, Movie World, and American Playhouse.
The exhibit was dominated by costumes created by George Sarofeen (theatre arts '76) for the Paramount on Ice production of Blockbuster. Since 1978, Sarofeen has designed period, contemporary, and Las Vegas style costumes for theme parks, stage shows, and industrial shows.
Richard Von Ernst (MFA '81), costume designer for film and television, contributed a design for a suit worn by actor Don Johnson in the Nash Bridges television series and a costume worn by Patricia Arquette in The Linguini Incident.
Back to Contents

National Academy of Engineering inducts alumni


Alumni Edgar Starke Jr. (metallurgical engineering '60) and James E. Turner Jr. (agricultural engineering '56) were elected recently to the prestigious National Academy of Engineering (NAE).
Starke, the Earnest Jackson Oglesby Professor of Materials Science and University Professor of Engineering at the University of Virginia, directs the university's Light Metals Center. He is a former dean of UVA's School of Engineering and Applied Science and a visiting scientist at Oak Ridge National Laboratory.
Turner, president and chief operating officer of General Dynamics Corp., is rector of the Virginia Tech Board of Visitors. Turner came to General Dynamics in 1988, after serving 25 years with Newport News Shipbuilding Co. of the Tenneco Corp. and six years with Westinghouse Corp.
Starke and Turner were among 84 newly elected members of the academy, which honors those who have demonstrated "unusual accomplishment in the pioneering of new and developing fields of technology."
Hudy moves upstream to lead nation's fisheries

After spending seven years slogging through streams in the national forests of western Virginia, Mark Hudy (fisheries and wildlife '78) moved to Washington, D.C., in December to become the U.S. Forest Service's National Fisheries Program Manager.
The promotion puts him in charge of the aquatic resources of the nation's 156 national forests, including more than 200,000 miles of streams and 2.1 million acres of lakes from Alaska to Puerto Rico. Hudy is now responsible for developing budgets and policy, as well as working through fisheries issues with members of Congress.
"Our mission is three-pronged," he says, "to protect, restore, and enhance the aquatic resources of the national forests. Most of the wild trout left in the country are in national forest lands."
Hudy, former fisheries biologist for George Washington and Jefferson national forests, skips several midlevel desk jobs usually required before going from the field to the high-level Washington post. He has the reputation as one of the forest services' most competent fisheries biologists, as well as someone who works well with the public.
Hudy made the news in Virginia for dumping limestone into five trout streams in recent years to reverse the deadly effects of acid rain. The technique has so far proven effective.
Smithsonian exhibit features Clark's photography
Roy "Chip" Clark Jr. (biology '69) has been a photographer for the Smithsonian's National Museum of Natural History since 1973, capturing scientists on film in Africa, the Dominican Republic, Cuba, Guatemala, Belize, Bolivia, Canada, and across the United States.
In celebration of Clark's 25-year career, the museum's exhibition "Natural Selections, Museum Photography by Chip Clark" features 33 large-scale photographs by Clark.
Photographs include 126-year-old bird eggs; well-preserved human remains removed from a cast-iron coffin; a zoologist hanging on to a stranded sperm whale during a violent storm; and an underwater shot of a botanist collecting algae.
The National Museum of Natural History is located in Washington, D.C. The exhibition runs from April 30 to September 7, 1998.
Jones heads National Alliance of Black School Educators

Lois Harrison-Jones (Ed.D '81) recently became president-elect of the National Alliance of Black School Educators (NABSE), a 6,000 member, nonprofit organization headquartered in Washington, D.C.
During her two-year term as president-elect, Harrison-Jones will chair all NABSE programs. She has pledged to expand memberships and affiliates, to identify and research best educational practices, to be vocal on legislative matters concerning education, and to help increase the ranks of African American educators in decision-making positions.
NABSE's focus is on quality education for children of African descent. As Harrison-Jones puts it, NABSE's mission is "to provide for the entire country what we consider would be best educational practices for a diverse population."
Harrison-Jones will be installed as president of NABSE in 1999. But for now, she is enjoying the flurry of activity associated with her board duties: "For two years, I'll be working as hard or harder than I will for the two years I'm president," she says.
Alumni band rocks the East Coast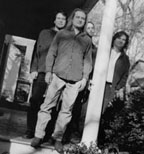 In the early '80s, Virtual Machine was a mainstay of the Blacksburg music scene. That band is now defunct, but former members Allen Kitselman (architecture '84) and Jim Ball (biology '84) still make their own brand of progressive roots rock in Genghis Angus.
The Washington D.C. band's new CD, 12 Days (Adenachrome Records), sold 1,000 copies in the first two weeks of release. John Mellencamp's guitarist helped produce the disc.
The senior vice president of Atlantic Monthly liked Genghis Angus so much she started a management company to promote the band.
Kitselman, songwriter and guitarist, describes his band's sound as "southern" -- owing more to R.E.M., however, than to classic southern rock bands like Lynard Skynard. Ball is the band's drummer.
Genghis Angus' fortune seems to be on the rise. "We're starting to get calls from record companies, sniffing around," says Kitselman.
Fain awarded Air Force medal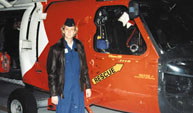 Lt. j.g. Stacie Fain (physical education '87), of the U.S. Coast Guard, has earned the Air Force Medal of Achievement for her part in last November's rescue of an Air Force F-15 pilot who ejected from his plane 80 miles off Virginia Beach.
Fain was co-pilot of the rescue team's HH-60J helicopter, commonly known as the Jayhawk. Strong winds and 20-foot waves made it difficult to find the downed pilot, who floated in his life raft on 57-degree water for an hour. He was suffering from mild hypothermia when rescued.
The search-and-rescue aspect is what Fain likes best about her job. "It's exciting when you recover someone and he's okay, because the ejection process is not simple," she says.
Fain received her Coast Guard commission in 1992 and her wings of gold in 1996. She is based at the Coast Guard Air Station in Elizabeth City, N.C.
Fund established to aid uninsured cancer patient
The Agricultural Education Society at Virginia Tech has started a fund to pay for medical treatment for Charles Johnson (agricultural economics '97), who was recently diagnosed with lymphoma, a form of cancer.
Johnson's disease was diagnosed early, increasing the chances it will be curable. However, Johnson is no longer covered by his parents' medical insurance, and his student benefits will not cover the expensive treatments required.
Johnson was student teaching through Tech to receive teaching licensure in agricultural education when diagnosed with the disease. He is undergoing intensive inpatient chemotherapy at UVA.
"This is a terrible shock," said ag education professor Bill Camp, who set up the fund, "not only because you hate to see this happen to someone so young, but because he is very intelligent, one of the most articulate people that's ever walked through here."
Camp praised Johnson's outstanding leadership and teaching abilities. Johnson is a former state vice president for Future Farmers of America.
Tax-deductible donations may be sent to: Agricultural Education Society, 268 Litton-Reaves Hall, Virginia Tech, Blacksburg, Virginia, 24061-0343. Please specify "Charles Johnson Fund."
Oh, brother!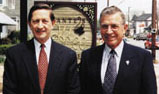 In the spring '98 Virginia Tech Magazine, we incorrectly identified Delegate William K. Barlow (left) as Joe Barlow (right) -- his brother -- in a picture of the Virginia legislature. Both Barlows are Tech alums. As the reader who pointed out our error said, "I am not sure which will be flattered by the mistake!"
Job search workshop on campus
Take advantage of our expertise to plan your job search. Career Services will offer a workshop for Virginia Tech alumni on Saturday, Oct. 24 from 8 a.m. to 5 p.m. on resumes, interviewing, and the job search today. You will gain access to numerous resources. To register for the $25 class, contact Leigh Anne Leist at (540) 231-6241 or leistla@vt.edu before Oct. 4.
Home | News | Features | Research | Philanthropy | President's Message | Athletics | Alumni | Classnotes | Editor's Page