Summer superstars
by Rock Roszak '71
For members of the Virginia Tech Corps of Cadets, summer means spending four-to-seven grueling weeks at Army, Air Force, or Marine officer training sites around the country and attending special courses, such as mountain warfare, airborne, air assault, or glider flight training.
Navy cadets, for example, travel all over the world. This past summer, our Navy cadets traveled to Alaska, the North Pole, Sicily, Bahrain, Denmark, and Scotland; cruised the oceans of the world; and flew various Navy aircraft.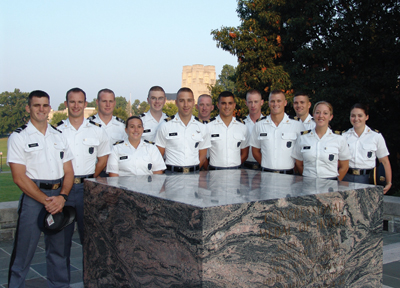 Outstanding summer performers, distinguished training graduates, and Olmsted travelers, from left to right: Michael Tekesky, Michael Luth, Jonathan Kaczanoski, Jennifer Stickler, Mark Amos, Neal Ballas, Mitchell Guard, Jeffrey Snell, Justin Hudson, Joseph McNamara, Andrew Archut, Giselle Slye, and Jennifer Harrison.
The Marines conduct Officer Candidate School (OCS) each summer, an intense seven-week training session at Quantico that is known to be one of the toughest of the summer challenges. This year, five of our 22 participating cadets were honor graduates, finishing in the top 10 percent of all officer candidates in the program--that's 23 percent of our cadets finishing in the top 10 percent nationwide. An example of our cadets' view of the OCS training comes from Cadet Jennifer Harrison's experience. After Harrison broke her nose on the first day of training, the medics advised her to go home and return next summer. Her response: "Go home? I just got here!" She completed her training as one of only 22 who graduated out of the original 55 members of her company.
The Air Force sends its rising juniors to a rigorous four-week leadership training camp. This summer, 29 Virginia Tech cadets, plus 2,300 others from across the country, attended encampments in Alabama, Florida, and South Dakota. All of Tech's cadets graduated, with four of them among the top 10 percent, designated Distinguished Graduates, and two others among the top 20 percent. Air Force cadets also trained with active duty units, and one cadet spent several weeks in Moscow for language immersion.
Thirty-seven Army cadets traveled to Ft. Lewis, Wash., for the Leader Development and Assessment Course. The Virginia Tech cadets performed spectacularly, exceeding national averages in every event and giving the best overall performance from all six senior military colleges (SMC): Norwich, VMI, Texas A&M, North Georgia, and The Citadel. Tech's cadets led the pack in the percentage of cadets who achieved an "exceeds standards" evaluation in leadership; they received the highest physical fitness test averages of any SMC; and they attained the highest percentage of SMC cadets to earn the coveted RECONDO Badge for achieving excellence ratings in nine evaluated events. Thirty percent of Tech's cadets earned the RECONDO Badge, compared to 17 percent nationally. Additionally, Cadet Michael Tekesky attended the Leaders Training Course at Ft. Knox, Ky., earning the top leadership award in his unit and achieving the highest male physical fitness score of all 1,130 cadets.
For the past two years, the corps of cadets has received a $10,000 grant from the Olmsted Foundation for foreign travel and cultural immersion during the summer. In late May, Cadets Neal Ballas, Giselle Slye, and Jennifer Stickler traveled to Chile for two weeks. They met with the U.S. ambassador to Chile, toured Santiago, and visited the Chilean military academy and military and cultural museums. The cadets agreed that a highlight was planning and conducting a field day for an orphanage in Santiago.
Summer in the corps of cadets is a time for invaluable leadership experiences. Ut Prosim.

Col. Rock Roszak '71, USAF (Ret.), is the alumni director for the Virginia Tech Corps of Cadets.