Safe and sound



Transportation accidents are a fact of life. And in their wake, it's a fact that the National Transportation Safety Board (NTSB) will arrive at the scene lightning-fast.


National Transporation Safety Board member Deborah A.P. Hersman '92 at an accident site.

An independent federal agency created in 1967 and employing some 400 professionals, the NTSB investigates every U.S. civil aviation accident--along with significant railway, highway, marine, and pipeline accidents--to flesh out factual records and make safety recommendations to avert future accidents.

Much of the work performed by the NTSB remains behind the scenes, but serving as the agency's "public face" are its five board members, each nominated by the president and confirmed by the Senate for a five-year term. Among those five is Deborah A.P. Hersman (international studies '92, political science '92), who was appointed by President George W. Bush and sworn in as the NTSB's 35th member in June 2004, one of the youngest members in its history.

At the midpoint of her tenure, Hersman has been the NTSB member on scene at a number of aviation, highway, rail, and transit accidents, most recently the November school bus accident in Huntsville, Ala., and the October aircraft crash into a New York City apartment building.

"Whether it is a school bus accident with a single fatality or a regional jet accident with 49 fatalities, every accident is a tragedy," says Hersman. "Our investigations have resulted in design changes for vehicles, improved emergency egress and access, and better qualified crews in all modes of transportation."

Before joining the NTSB, Hersman spent 12 years working on Capitol Hill, first as staff director and senior legislative aide to Congressman Bob Wise of West Virginia and then as a senior professional staff member of the U.S. Senate Committee on Commerce, Science, and Transportation. Not surprisingly, Hersman says that Virginia Tech afforded her that big first step on the road to Washington.

"Perhaps the most important opportunity that I took advantage of while I was a student at Tech was working with Professor Charles Walcott through the political science department's internship program. An unpaid internship for Rep. Wise during the summer of my sophomore year likely set in motion the opportunities that led to my current job--the unpaid internship resulted in a paid internship the next summer and then a job offer after graduation."

Married to fellow Hokie Philip Niel Plummer (mathematics '92), Hersman received an M.S. in conflict analysis and resolution from George Mason University and is a certified Child Passenger Safety Technician, which, as the mother of three sons under age seven, must come in handy.

Hokies at the NTSB (clockwise from left): Paula Sind-Prunier '89, Frank Hilldrup '82, Rafael Marshall '91, Dennis Crinder '79, Debbie Hersman '92, and Karen Roth Lanier '82.

"I have the opportunity to serve at an independent agency that is one of the very best in the government," Hersman notes. "Every day I look forward to coming to work because I believe what I do makes a difference."
---
Iowa values


ss

On Nov. 7, 2006, progressive Democrat and Iowa Secretary of State Chet Culver (political science '88) made history--again.

A former high school government and history teacher, as well as a football and basketball coach, Culver handily won Iowa's gubernatorial election, becoming only the second Democrat in the governor's mansion in 30 years and the only governor in the country who possesses classroom experience in the past 20 years.

Not surprisingly, one of Culver's major platforms is K-12 education, including new initiatives to increase teacher pay and expand enrichment opportunities for all school-age children in the Hawkeye State. In a nutshell, his successful campaign was rooted in four simple principles: to create jobs for the future; to ensure good jobs with good benefits; to lay the foundation by preparing Iowans for these jobs; and to share the progress with every Iowan.

Prior to winning the gubernatorial race, Culver served as Iowa's 29th secretary of state and, when elected to the post in 1998, was the nation's youngest secretary of state. Re-elected to the position in 2002, he created the Iowa Student Political Awareness Club, a nonpartisan statewide student organization dedicated to increasing civic and community participation among Iowa's young people.

All in all, "young" seems to be a recurring theme for Culver, a fifth-generation Iowan who began his political career as an environmental and consumer advocate in the Iowa Attorney General's Office. An editorial in the Oct. 29, 2006, edition of the Quad-City Times noted, "Culver, the teacher and coach, represents ideas we believe will keep the state on track and raise the state's profile among young people."

The youngest of four children and only son of former Iowa Senator John Culver--who served Iowa in the U.S. House of Representatives from 1965 to 1974 and in the U.S. Senate from 1974 to 1980--the Gov.-elect Culver is, by all accounts, well positioned to follow in his father's footsteps.

While at Tech, Culver was a scholarship player on the Hokie football team and went on to earn a master's degree in teaching from Drake University. He is married to attorney Mari Thinnes Culver, the fifth of six children of the late Judge William Thinnes, U.S. bankruptcy judge for the Northern District of Iowa from 1965-1985. The Culvers, who reside in West Des Moines, Iowa, have two children, Clare Honour and John William.

For more information about Culver, go to www.chetculver.com.
---

Then:
The historic 1955-56 cheerleading squad (from left to right): Conrad Knight '56, Bootie Bell Chewning, Matt McCulloch '56, Merle Funk, John McCaleb '56, Patsy Steckler Bean '58, Glen Justice '58, Jeri Hagy Justice, and Stan Rynex '57.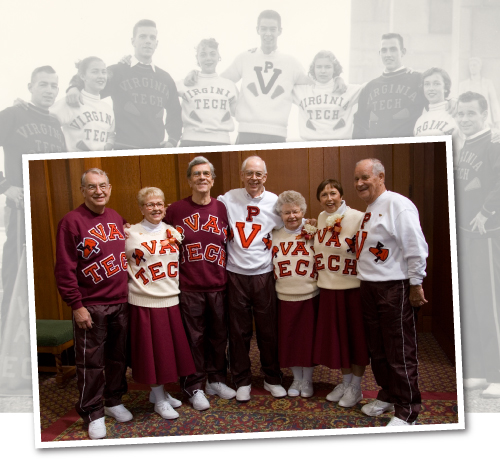 Now:
(Left to right:) Conrad Knight '56, Bootie Bell Chewning, Matt McCulloch '56, John McCaleb '56, Patsy Steckler Bean '58, Jeri Hagy Justice, and Stan Rynex '57. (Two cheerleaders from the original photo are missing: Squad members lost touch with Merle Funk, and Glen Justice '58 died in 1996.)
The 1955-56 cheerleading squad gave it the old college try once more prior to Tech's Oct. 21 homecoming game against Southern Miss. Decked out in new "old" uniforms, the former cheerleaders were recognized as being part of the first official coed squad (although it was by no means the first squad with females, as readers were quick to let us know; see Letters to the Editors). Former squad member John McCaleb '56, notes, tongue-in-cheek, "We look a little scrunched up but otherwise as beautiful as ever."