Pat and Nancy Artis
Pat (engineering science and mechanics '72) and Nancy Artis experienced firsthand the true value of education while they were college students: both held jobs that helped to finance their studies. Pat worked first as a co-op student with Ashland Oil and then for Robert Heterick, director of the University Computing Center; and Nancy, a biology student at then-Radford College, was a stenographer for the Housing and Urban Development Agency.
In 1986, after 15 years in the telecommunications and information technology industries, the couple founded Performance Associates Inc. Today, the Pagosa Springs, Colo.-based company, which serves several Fortune 500 clients, specializes in software products, education, and consulting related to the performance, sizing, and management of rotating magnetic storage.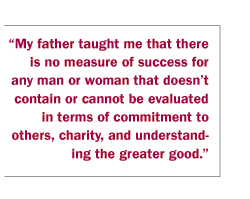 Such success, achieved by hard work, has allowed the Artises to support higher education in numerous ways. At Virginia Tech, Pat has served on several boards in the College of Engineering, and the Artises also have helped fund numerous student programs and events. Most recently, they made a bequest to the Department of Engineering Science and Mechanics for future scholarships and fellowships.
By making such commitments to Virginia Tech, the couple is looking ahead. Pat says that in the 21st-century marketplace of intellectual capital, Virginia Tech will produce "the people with the understanding and experience to allow the United States to continue to dominate the world economy." The university tagline, "Invent the Future," he notes, "is an absolute reality."
Of the couple's support of Virginia Tech, Pat says, "My father taught me that there is no measure of success for any man or woman that doesn't contain or cannot be evaluated in terms of commitment to others, charity, and understanding the greater good. It's really pretty simple: What do you believe is important and how do you want to be remembered?"

Pat Artis '72 explains why he's invested himself in the future of Virginia Tech (1:46).

Shelley Duke
California native Shelley Duke's support of Virginia Tech grew from her lifelong love of horses and riding. The owner-manager of Rallywood Farm in Middleburg, Va., and still a competitive rider, Duke has long relied on the top-notch clinicians and diagnostic equipment at the Marion duPont Scott Equine Medical Center (EMC) in Leesburg, one of three campuses comprising the Virginia-Maryland Regional College of Veterinary Medicine (VMRCVM).
Over the years, EMC founding director G. Frederick Fregin learned of Duke's past leadership as a West Coast investment banker and volunteer coordinator and asked if she would launch a volunteer program for the center. Duke responded by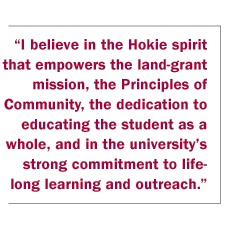 creating a range of opportunities for high school students from surrounding counties to participate in seminars and special projects at the hospital. Qualified volunteers now have an opportunity to get ahead in the field by gaining practical experience in the hospital patient barns; the neonatal/ICU unit; the departments of medical records, central supply, and admissions; and the campus library.
Her subsequent service as chair of the EMC Council Board--a position she still holds--brought Duke to the attention of former VMRCVM Dean Peter Eyre, who appointed her to the college's advisory committee. Approaching two decades of dedication and generosity to the university, Duke was named to the Virginia Tech Board of Visitors by former Gov. Mark Warner, and her outstanding service to Virginia Tech was recognized in 2006, when she was designated an honorary alumna.
"I believe in the Hokie spirit that empowers the land-grant mission, the Principles of Community, the dedication to educating the student as a whole, and the university's strong commitment to lifelong learning and outreach," Duke says. "The university has a simple but powerful culture that attracts leadership, which inspires cutting-edge discoveries to enrich the future for the commonwealth, the nation, and beyond. I will always be grateful for the circumstance of my association with Virginia Tech."

John Lawson
John Lawson (geophysics '75) learned early on that a Virginia Tech education is a strong foundation for the future. His father, Robert T. Lawson (mechanical engineering '48), helped found Virginia's largest building contractor, W. M. Jordan Company, which John today heads as CEO and president.
For Lawson, Virginia Tech is family. At age four, he began attending Hokie football games with his father, a tradition he upholds with his wife, Page, and their three children. Giving back to Virginia Tech is another Lawson family affair: both father and son have endowed scholarships in the College of Engineering and the College of Science. In addition, Lawson serves his alma mater as a member of the board of visitors. "I have personally benefited from my school and my industry," he says. "I have an obligation to give back."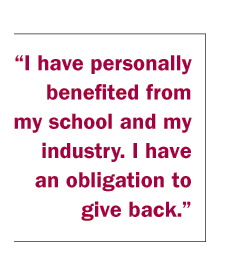 Co-chair of The Campaign for Virginia Tech: Invent the Future, Lawson worked with former Sigma Phi Epsilon fraternity brother A. Ross Myers (civil engineering '72) to make a gift to launch the Myers-Lawson School of Construction, which will be housed in newly opened Bishop-Favrao Hall.
"Virginia Tech has always had good building construction and civil engineering programs, but we have a chance to be the best," Lawson explains. "There are never enough graduating seniors to meet industry demand. We have an opportunity to double that output while adding programs and features, possibly even some that are unique to construction."
Looking ahead, Lawson expects the school to be among the best in the United States. "Within 10 years, we will have demonstrated just how successful our graduates can be in this field."
The lifelong Hokie also contributed significantly to the Lane Stadium West Side Expansion Project and is more than satisfied with the results. "What I like about our stadium is that it looks strong," he says. "It projects an image of our school and its people."
---



Also announced at the beginning of the campaign was a gift of more than $10 million from an anonymous donor, who wished
to encourage the planning of a new geosciences building. The Department of Geosciences, which celebrated its 100th anniversary last year, currently shares Derring Hall with the Department of Biological Sciences.




Garnett and Patsy Smith
Southwest Virginia natives Garnett and Patsy Smith are among the university's most loyal friends. Despite not being alumni, the Smiths have generously supported several initiatives at Tech, including the Art Museum of Western Virginia, the VMRCVM, the EMC, the Skelton 4-H Center at Smith Mountain Lake, University Libraries, Virginia Tech Athletics, and the President's Discovery Fund. Garnett also serves the university as a member of the Virginia Tech Foundation Board of Directors.
In recognition of the Smiths' loyalty and accomplishments, the university recently renamed its career services building the Garnett E. and Patsy T. Smith Career Center. The bronze plaque unveiled at the dedication praises the couple as "an inspiration of how a meaningful life is achieved not only through personal success but in service to others."
The Smiths, noted President Charles W. Steger at the time, "are living proof that hard work and determination can help you achieve any goal." Garnett, who took his first job at age 13 bagging groceries, worked at the local paper while attending high school in Pulaski, Va. In 1958, he joined a regional chain that grew into Advance Auto Parts and, 42 years later, retired as the company's CEO.
During the naming ceremony, Garnett made it clear that the couple's faith in the university is unswerving. "We're just absolutely convinced that Virginia Tech is the economic engine that is going to continue to drive Southwest Virginia, where we have lived all of our lives. We have seen, through the years, the great contributions that have been made here at the university. And we think there are great things on the horizon for all of us who are part of the Virginia Tech community."





Editor's note: For full campaign coverage, see the Fall 2007 issue of Virginia Tech Magazine, or go to www.campaign.vt.edu/campaign-vt.